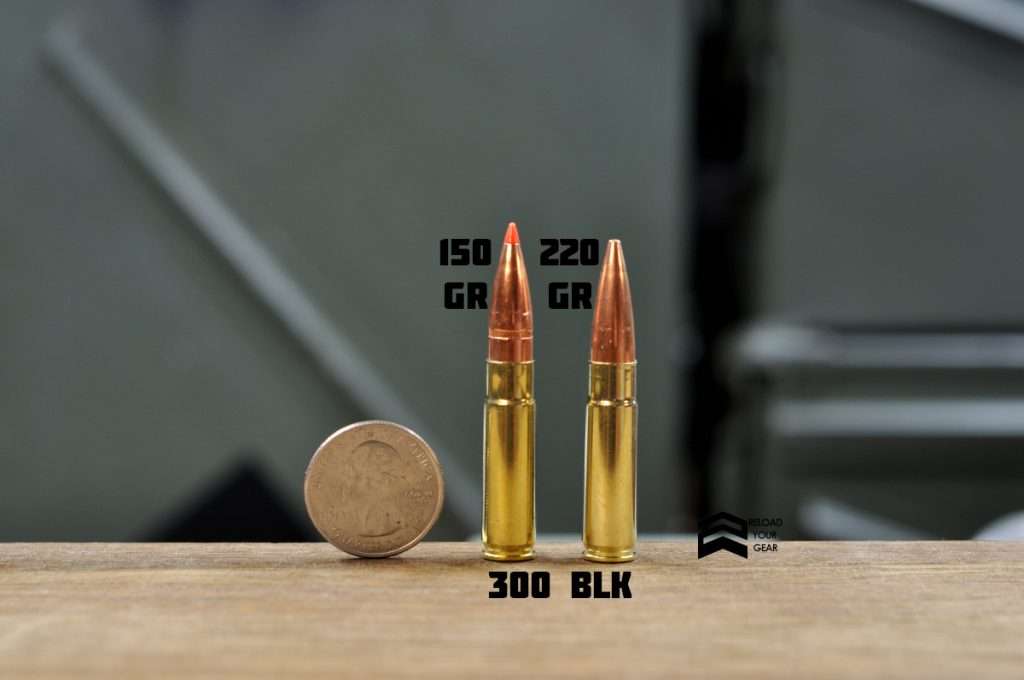 The 300 AAC BLK may not be able to replace the 5.56 NATO as your primary intermediate rifle cartridge, but that doesn't mean it's not an excellent round. In fact, there are plenty of applications where this cartridge performs incredibly. In this 300 Blackout ammo review, we'll list those applications plus more reasons why you should add this round to your ammo inventory.
300 Blackout Ammo Review
The 300 BLK is a favorite hunting and self-defense round among gun enthusiasts because of its versatility. You can fire it suppressed or unsuppressed. You can also produce subsonic and supersonic loads with it. Most importantly, it's more powerful than the 9mm cartridge and it performs excellently with the AR-15. 
The 300 Blackout is most potent when fired through suppressor-equipped short barrels or when using subsonic ammo. After all, it was designed for it.
Best 300 Blackout Ammo
Best for Plinking: Magtech First Defense 123gn 300 BLK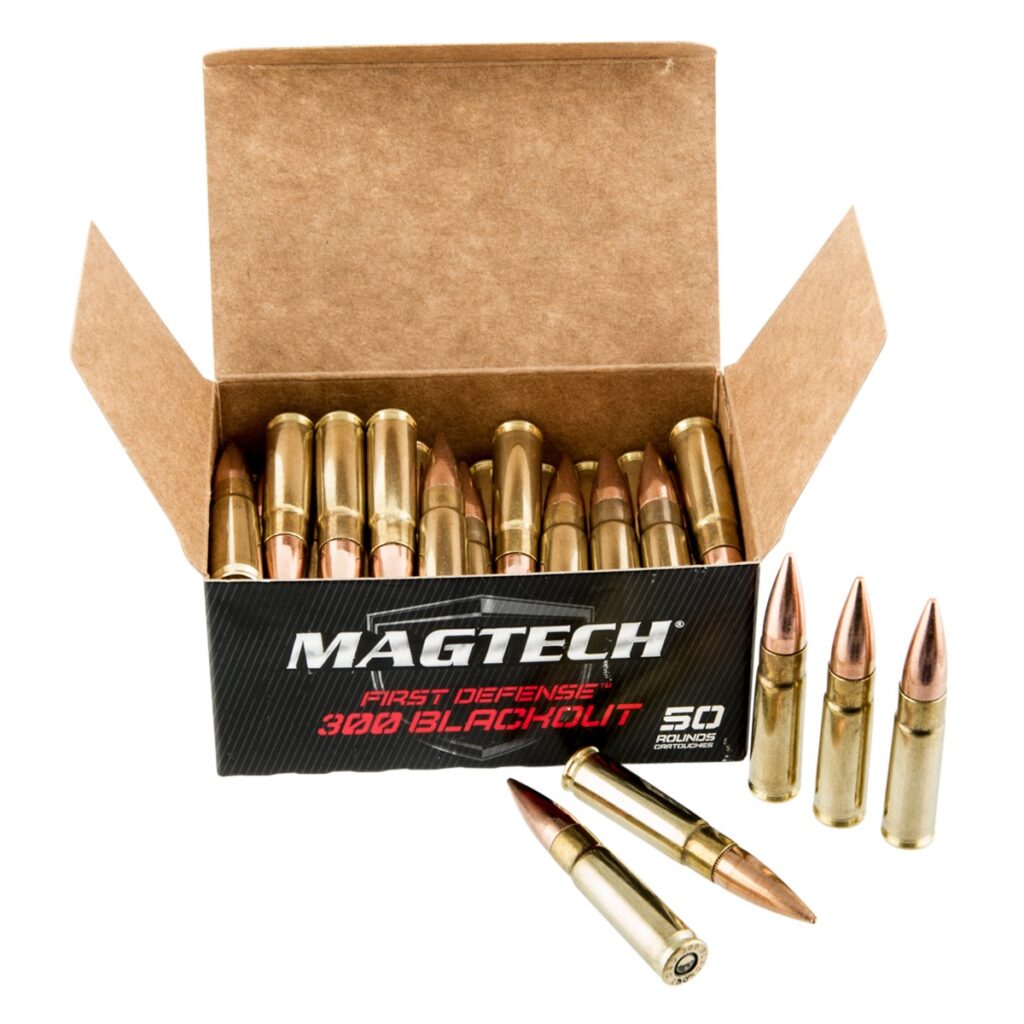 This 123-grain 300 BLK from Magtech First Defense is perfect for plinking, target shooting, or daily use because of its affordability. It runs cleaner than most 300 BLK ammo at the same price point. 
This brand's brass cases are boxer-primed and reloadable. The bullet and primer are also well-sealed and moisture-resistant, so they're perfect for long-term storage.
Pros
Supersonic (muzzle velocity=2,230 fps)
Muzzle energy – 1352
Bullet style: Full metal jacket(FMJ)
Affordable
Accurate
Fairly consistent rounds
Cons
Poor product handling during shipping
What Customers Say
I've shot about 1000 rounds of this and it shot clean with no issues. It's very affordable and will hit your target with no issues. I highly reccomend this item to anyone looking for affordable 300 blackout ammo.

Mgfalcone
Great price on 300 Blackout FMJ Ammo. I took it to the range several times and after shooting hundreds of rounds – zero issues/malfunctions. It is hard to beat it at this price, I will be buying more!

Vic
Best for Suppressors: Sellier & Bellot 200gn Subsonic 300 BLK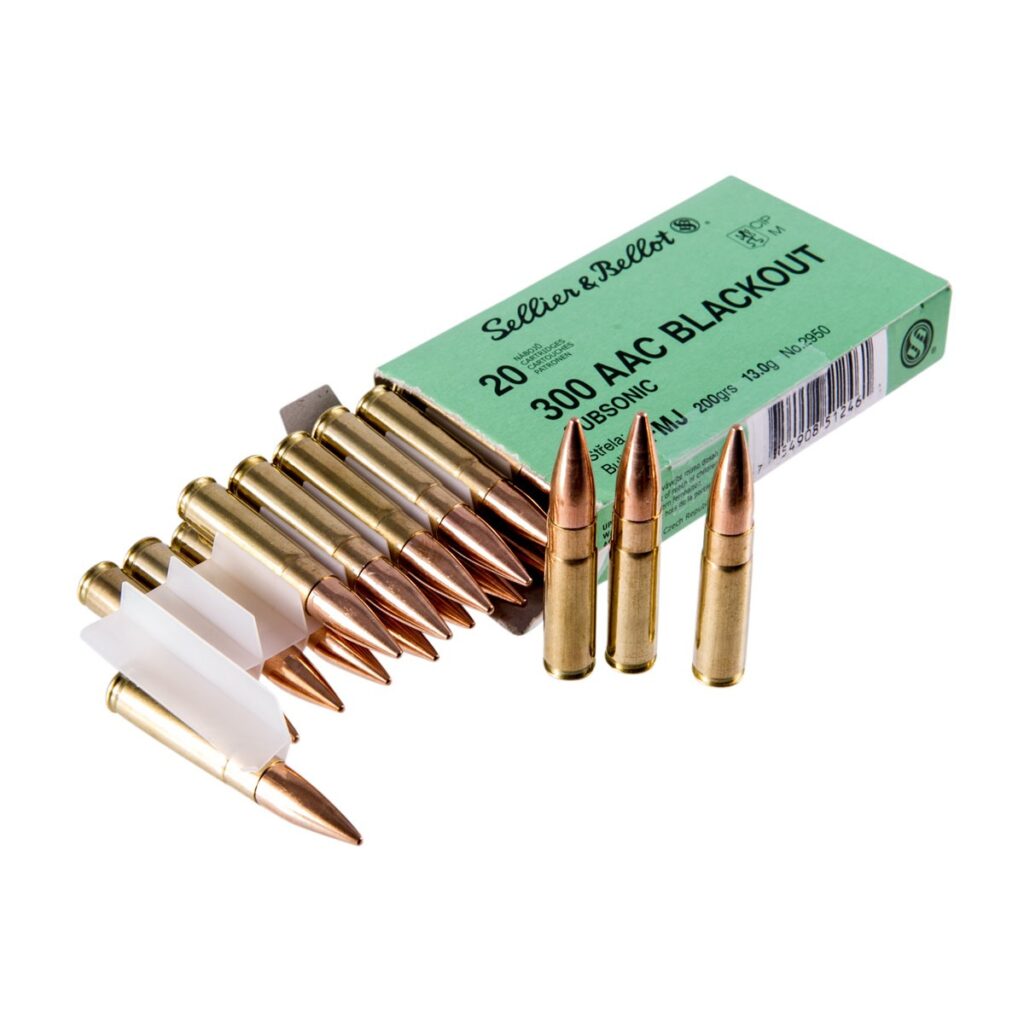 This 200-grain subsonic 300 BLK ammo from Sellier & Bellot is designed to achieve maximum sound reduction. So this is the best choice if your rifle is equipped with a suppressor. For half the price of its rival brands, this ammo runs just as clean even with all the blowback from the silencer.
Pros
Subsonic (muzzle velocity=1060 fps)
Muzzle energy – 499
Bullet style: FMJ
Affordable
Cons
Not accurate enough for hunting use
What Customers Say
Shot these out of a stock Daniel Defense AR with a 16in barrel and a silencerco suppressor. The bolt cycling and the round hitting the target at 100yds was louder then the actual shot. Gun cycled perfectly and I had zeros issues. Can't wait to go to the range again. Great round for the money.

DDM4
I was researching for a practice round that had the same point of impact as my "working" round. Which is the Hornady Sub X 190gr. I use an 8 1/2 in. Suppressed SBR. I found exactly what I was looking for with this S&B 200gr subsonic. Same point of impact, same great accuracy, at almost half the cost.

Catfish
Best for Home Defense: Fiocchi Ammunition – Hyperformance 300 AAC Blackout Ammo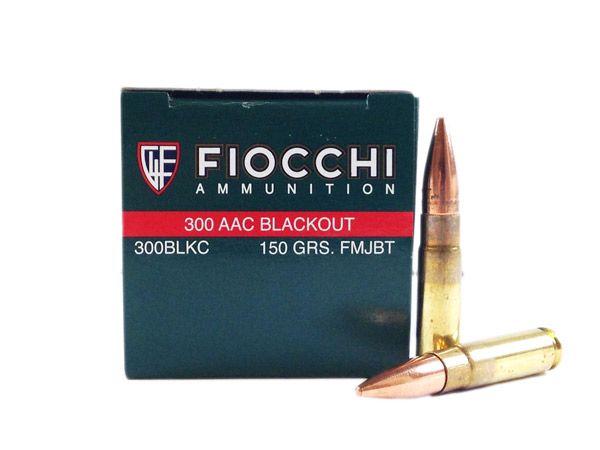 Aside from being an excellent home defense round, this 300 BLK ammo from Fiocchi Ammunition is great for high-volume shooting. Its tipped design delivers consistent expansion. It also guarantees minimal core-jacket separation, thanks to its superior weight retention. 
This flat-shooting round features improved long-range ballistics so expect consistent performance and immediate damage to your target.
Pros
Muzzle velocity = 2200 fps
Muzzle energy = 1343 ft – lbs
Bullet type: Polymer Ballistic Tip (PBT), Super Shock Tip
Flat shooting
Accurate
Thick jacket
What Customers Say
This order was to restock my supply of 300AAC hunting ammo. It is accurate and terminal ballistics are good. Grandson has one shot kills on deer out to 150 yards. I've only shot the ammo at 100 yard targets but wasn't disappointed in any way.

Mobuck
I use this ammo for hunting, hard hitting round at 100 yds +. Not had any misfires or jams.

Greyghostmike
Best for Hunting: Federal Power-Shok 150 gr Jacketed Soft Point 300 Blackout Ammo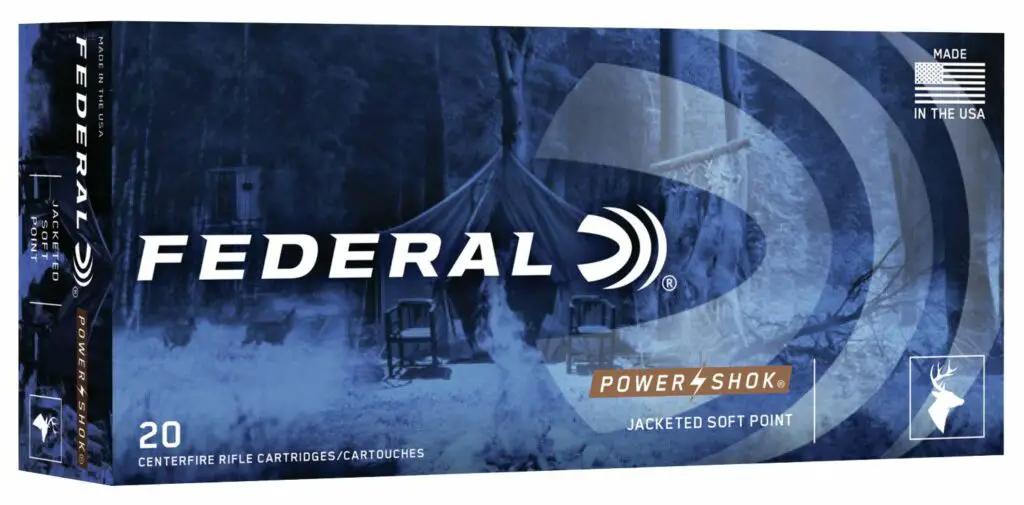 The Federal Power Shok 150-gr 300 Blackout ammo is the perfect choice for hunting with long barrels. Its consistency and satisfactory performance have been proven by many shooters, especially when targeting medium-sized to big game.
Pros
Affordable
Accurate
Consistent
Cons
May not fully expand in short-barreled rifles
What Customers Say
Very good ammo. Functions fine out of my rifle with great accuracy. Have not been hunting with it yet.

Dean
So far 1 6 pointer at 70 yards. Immediately dropped!

Chad M.
FAQs
How far will a 300 Blackout shoot accurately?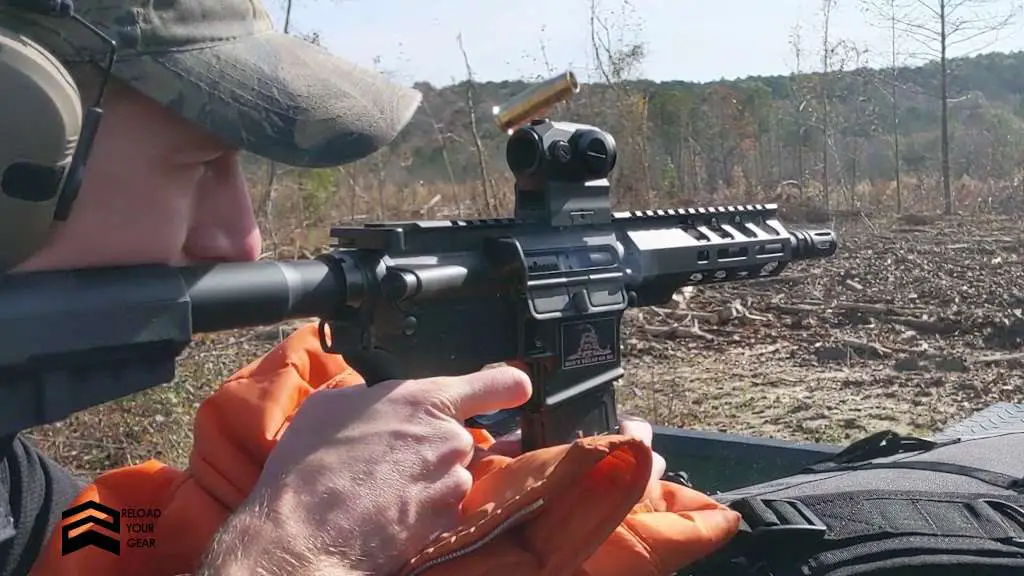 When fired from a 9-inch barrel, the .300 Blackout has an effective range of up to 480 yards. But when fired from a 16-inch barrel, it's effective up to 500 yards.
What is 300 Blackout ammo used for? Is .300 Blackout good for anything?
The .300 Blackout ammo is mostly used for home defense, self-defense, and hunting purposes because this cartridge performs beyond satisfactory when used for such applications.
Putting together a custom-built rifle? Check out our article on the best 300 Blackout uppers!