Best 300 Blackout Buffer Spring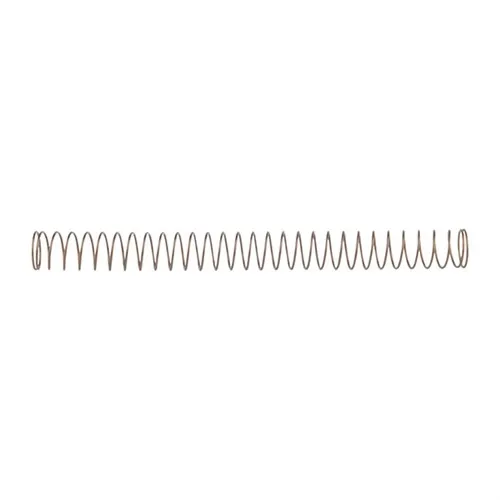 Nemo 300 Blackout Custom Carbine Buffer Spring
Guarantees a smooth and consistent performance.
Value: 9/10
Performance: 9.5/10
Cost: 8.5/10
Best Value Buffer Spring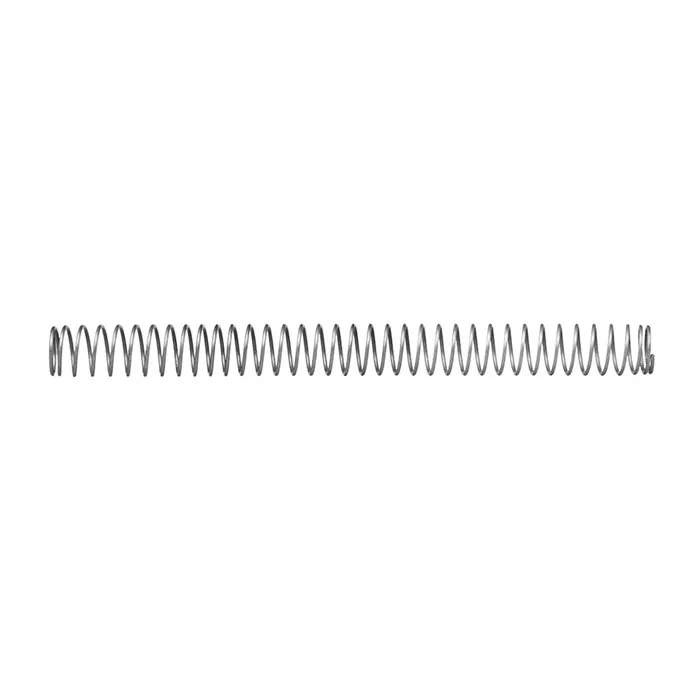 Aero Precision AR15 Carbine Recoil Buffer Spring
A favorite among most rifle owners.
Value: 9/10
Performance: 8/10
Cost: 9/10
Best Flat Wire Buffer Spring
Strike Industries AR Carbine Flat Wire Spring
Proven reliable even after thousands of rounds fired.
Value: 8.5/10
Performance: 8/10
Cost: 8/10
They may not look like much, but buffer springs (along with the entire buffer system) play an important role in a gun's operation. Don't settle for just any buffer brand when you can experience the .300 BLK's optimum performance. And investing in the best 300 Bĺackout buffer spring will result to a finely tuned and reliable build.
Features to Consider + How We Choose
The buffer system isn't just one of the optional gun accessories. Choosing your buffer assembly is as critical as choosing your 300 Blackout barrel. A rifle with a high-quality buffer system is less prone to excess wear caused by gas-blowbacks, and thus, will last longer. Read on to know which features you should pay attention to during the selection process.
Buffer Weight
A good buffer weight should always lock your rifle back once the magazine is empty. The heavier the buffer, the better recoil management. But if your buffer is too heavy, it might stop your rifle from cycling. And if it's too light, you won't feel any reduction in recoil.
There are five buffer types:
Carbine buffer – weighs 3 ounces
Rifle buffer – weighs 5.1 to 5.3 ounces
H3 – weighs 5.4 to 5.5 ounces
H2 – weighs 4.6 to 4.7 ounces
Heavy buffer (H) – weighs 3.8 ounces 
Buffer Spring Length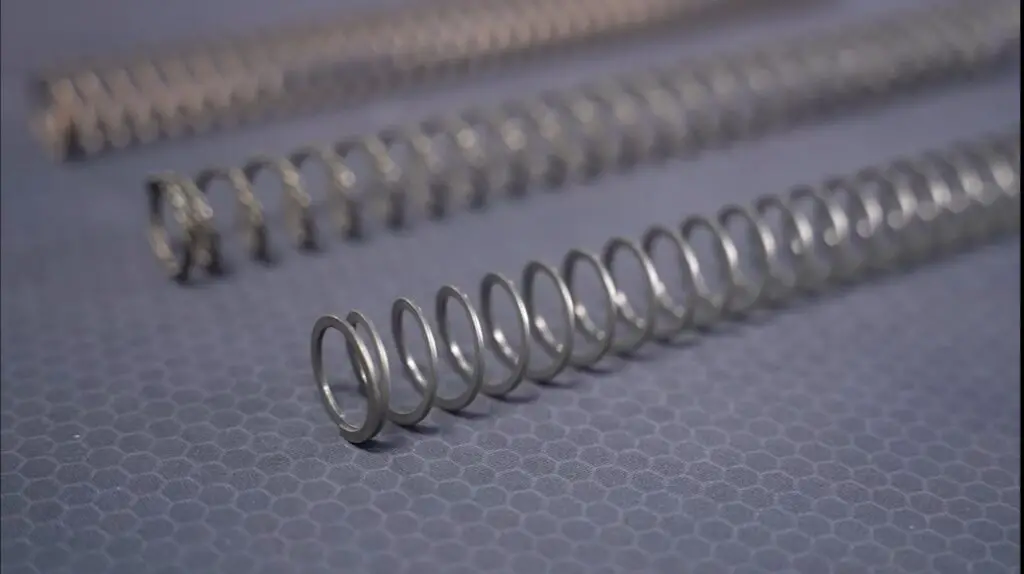 There are two types of buffer springs – carbine and rifle. A standard carbine buffer spring is 10.5 inches long, while a typical rifle buffer spring is 12.5 inches long. 
A carbine-length spring and buffer is used in carbine buffer tubes with a collapsible stock, and a rifle-length spring and buffer is used in A2 AR15s and rifles with longer buffer tubes and fixed stocks. These sizes are NOT interchangeable, it's critical that you only use the size appropriate for your build.
Subsonic or Supersonic Load?
When choosing a buffer spring, also take into account the type of load you'll be shooting. Only heavier buffers can handle recoil reduction and properly cycle large rounds such as a subsonic .300 AAC Blackout ammo. 
Also consider the spring's stiffness. Springs that aren't too stiff are ideal for shooting subsonic ammo and you need extra-stiff recoil springs for shooting supersonic ammunition.
Recoil Reduction
If your 300 BLK is short-barreled and uses a carbine-length gas system, you'll need a heavier buffer such as an H3 or an H2 paired with a carbine spring to help reduce recoil. Still, you might need a different type, and it depends on your gas system and barrel length.
Price
Most of the time, buying an entire buffer kit is more cost-efficient as you can be sure of their compatibility. But if you only need to replace your spring, that works too! And we've got just the thing below.
5 Best 300 Blackout Buffer Springs
Best 300 Blackout Buffer Spring: Nemo 300 Blackout Custom Carbine Buffer Spring
The Nemo 300 Blackout custom carbine buffer spring is designed particularly for the 300 BLK (in a carbine-length gas system), so rest assured that it will work wonders in your 300 BLK carbine. The Nemo buffer spring is constructed from stainless steel. This kind of material is more resistant to corrosion even when you're doing suppressed shooting regularly. This buffer spring has just the right amount of stiffness so it's perfect for shooting subsonic ammunition.
Pros
Made particularly for .300 Blackout 
Slightly stiff spring for subsonic ammo
Corrosion-resistant
Works with most factory ammo brands
Cons
Expensive
Not for supersonic ammo
What Customers Say
I installed this and have had no problems with cycling or the bolt locking back. I reload my own ammunition and don't run my loads to the very high end of the loading tables. I am very pleased with this product.

Rudy
Solved my subsonic ammo issue. Had some issues with supers might be because of the Sierra 110 gr hollow points looked like they jammed on the feed ramp. Any factory ammo ran good.

IronMan
Best Value: Aero Precision AR15 Carbine Recoil Buffer Spring
The Aero Precision carbine recoil buffer spring is compatible with any AR15 carbine with a collapsible stock. The only edge our top pick has against this Aero buffer spring is that it's tailored for the .300 Blackout. It has proven a smooth performance and quiet cycling through thousands of rounds fired.
Pros
Affordable
Quiet and smooth operation
Excellent recoil reduction
Cons
Only compatible with carbines
What Customers Say
Aero makes super high quality stuff, for the $3 you shouldn't be buying anything cheaper. Has worked great through thousands of rounds and no issues. Don't see the point of getting anything different.

Chandler Davis
Need a new buffer spring to replace another that was loosing its recoil. This spring did the trick. Great value for the money. Fit inside aero precision buffer tube no problem. For the money this is a no brainer. Good quality.

MG
Best Flat Wire Buffer Spring: Strike Industries AR Carbine Flat Wire Spring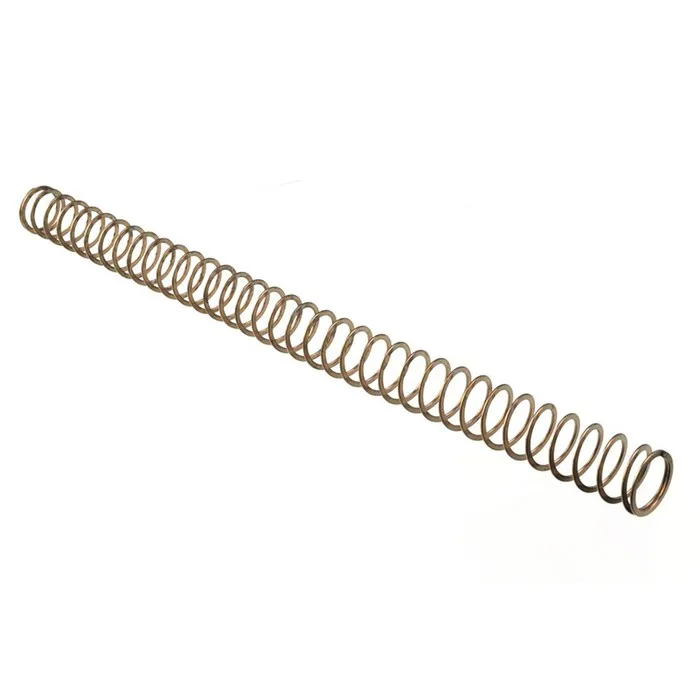 Our pick for the Best Flat Wire Buffer Spring will reduce the "twang" in your carbine buffer assembly. This buffer spring is durable enough to outlast the stock spring and is resilient enough against high cyclic rates, so every cent is worth it. Since this is a flat wire spring, it also offers better consistency and a longer service life.
Pros
Great "twang" reduction
Long spring life than most brands
Great consistency
Cons
Expensive
Only works with carbines
What Customers Say
Easy install, perfect function. No cons after 300 rounds.

MikeJ
This flat spring is way smoother and quieter than a bright spring, hands down one of the best on the market probably going to get a lot of hate for this but it is the truth so if you're going to buy an upgraded spring this is 100% the way to go.

GB
Smoothest Operation: JP Enterprises Gen 2 Silent Captured Buffer Spring System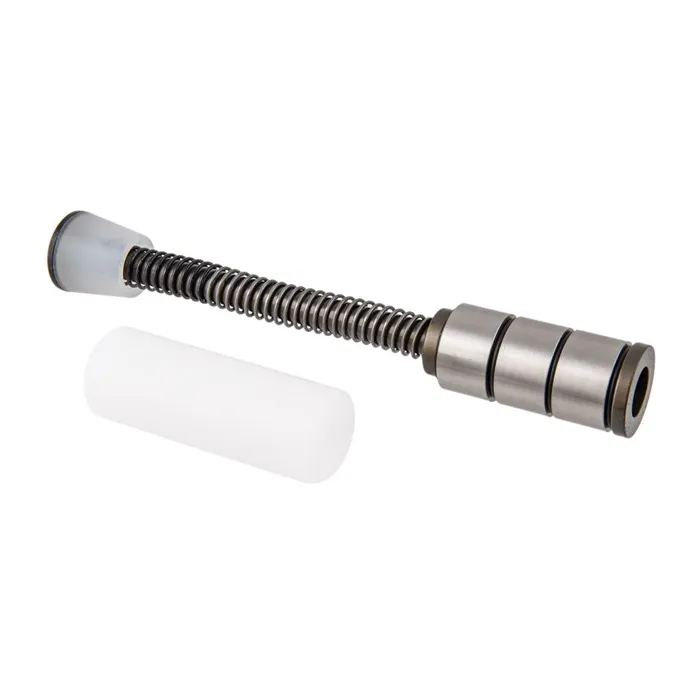 If you want to save time and money, you can purchase a complete buffer system. With this buffer assembly, JP Enterprises offers options for both carbine and rifle gas systems.
It features a well-balanced buffer spring and a JP LMOS buffer. This recoil system guarantees reduced friction and vibration. Not only will it eliminate spring reverberations but it will also efficiently manage the excessive cycling rate when shooting a suppressed gun. 
Pros
Works with subsonic and supersonic ammo
Quiet and smooth operation
Interchangeable buffers
Reduced recoil
Rifle and carbine options are available
Cons
Expensive
Short service life
What Customers Say
Sure beats the cheese grater spring. With the adjustable spring kit its super easy to tune for you application.

Dsand
You won't use a traditional buffer system ever again. This is a must have for the seasoned marksman looking to quell unwanted resonance. Very high quality construction JP Enterprise is well known for.

A.b
Geissele AR-15 Super 42 Buffer Spring/Buffer Combo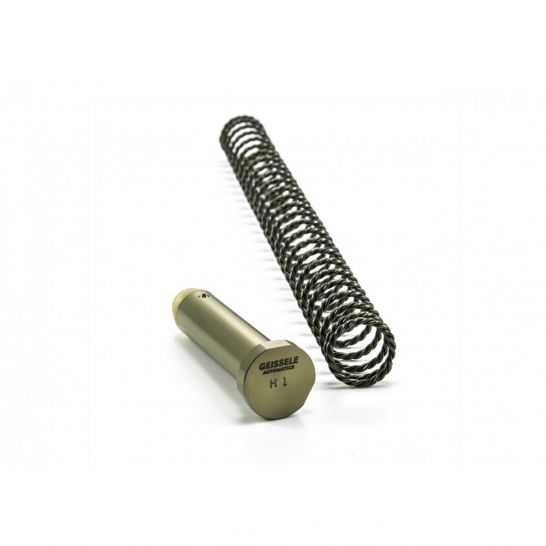 Our last pick stands true to its name as it offers super performance. The Geissele Super 42 spring rocks an extraordinary design that reduces spring failure, giving it an edge in reliability over other brands. Its return force is also 15% stronger than standard buffer springs. 
Pros
Affordable
Corrosion-resistant
Excellent twang reduction
Cons
Manufacturer do not recommend with subsonic ammo
Not compatible with rifle-length buffer tubes
What Customers Say
Good, practical option for higher strength spring and less twang in the buffer system.

Christopher S.
These are stronger than your standard carbine spring, but in all of the good ways.

Juan X.
Our Key Takeaways
Buffer springs tend to shorten over time, and a spring with insufficient length will no longer serve its purpose. So if you think you've already fired thousands of rounds of ammo, inspect your buffer spring if it needs to be replaced. 
While you're at it, you can also check your buffer for signs of wear so you can replace it as well. 
If you're putting together a custom build for the first time, you can start by learning the difference between Mil-Spec vs. Commercial buffer tubes.