Our Top Picks
Best On a Budget
Simmons 3-9x32mm Riflescope
This innovative scope guarantees unparalled accuracy and precision.
Check Price
Best Overall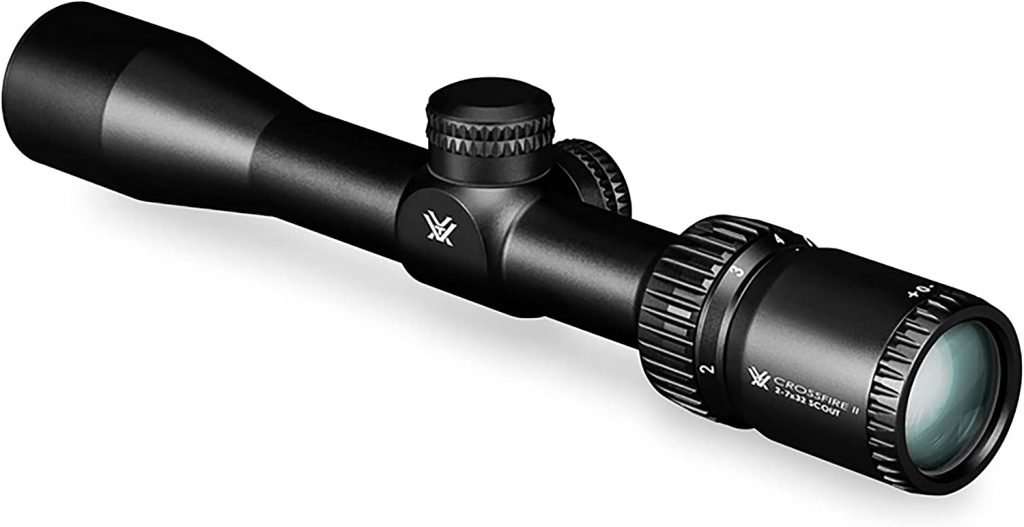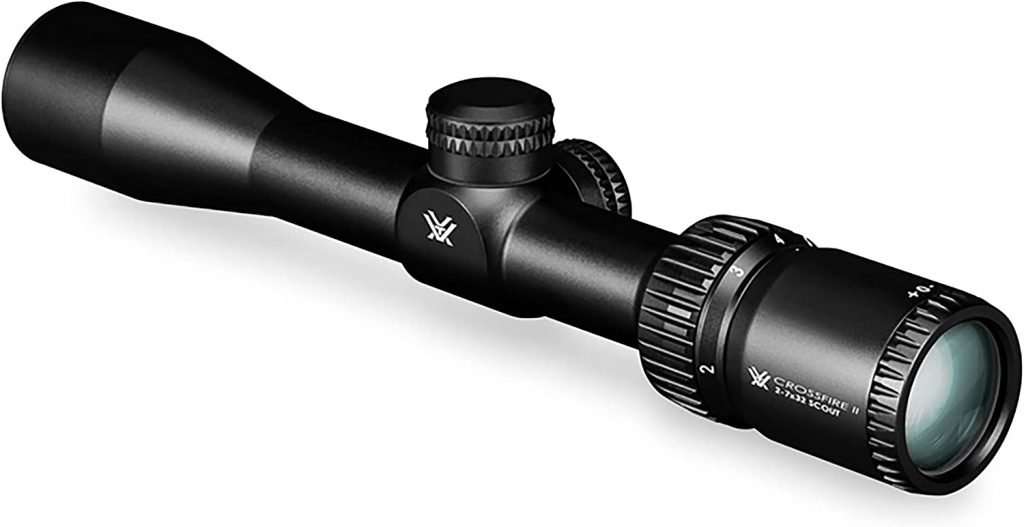 Vortex Optics Crossfire II 2-7×32 Riflescope
This scope is a combination of performance and affordability.
Best Scope for Beginners
UTG 3-12X44 30mm Compact Riflescope
This scope delivers superior optical quality at all lighting conditions.
Check Price
Best Scope for Long Range
Leupold FX-I Rimfire 4x28mm Riflescope
This scope guarantees a lifetime of rugged reliability.
Check Price
Most hunters consider the 17 Winchester Short Magnum (WSM) as the best rimfire cartridge on the market today – and we're not here to argue with that. Instead, in this article, we'll help you find the best scope for your 17 WSM.
So whether you're plinking targets or chasing varmints, we'll save you hours of research hunting down only the best 17 WSM scopes.
A Comparison of the Top 5 Best 17 WSM Scopes
Our Must-Have Features for the Best 17 WSM Scopes
Before going into which optic suits you best, let's look at the factors you need to consider to find the best 17 WSM scope.
Magnification Settings
The 17 WSM can be used for short and long-range hunting. And to optimize your rimfire's performance, look for a scope with a wide magnification range.
For a more detailed explanation, here's a helpful article on riflescope reticles.
Focal Plane
This depends on your preference. If you want your reticle to increase in size as you zoom in, then choose a scope with a first focal plane. First focal plane reticles allow your crosshairs to remain accurate relative to your target no matter how much you zoom in or zoom out.
On the other hand, the size of the second focal plane reticles remains the same regardless of your magnification. They are suitable for scopes with a limited magnification range.
Durability
Accidents are part of game hunting. So your riflescope needs to be sturdy enough to survive a drop, as well as wet rain and snow.
You won't have a hard time finding a durable optic, because all the scopes featured in this guide are shockproof, waterproof, and fog proof.
Parallax Adjustment
Parallax adjustment knobs are a great bonus for you to calibrate your scope and have better accuracy. These turrets can either be at the side, similar to windage and elevation adjustment knobs, or they can be adjustable objectives.
Parallax can be accounted for if you know how to look for it, but for quick shooting and repeatability, and adjustment knob is a great solution.
Best Budget Scope: Simmons 3-9x32mm Matte Black Riflescope
First from our list is the Simmons Riflescope. This remarkable optic offers great quality for a price that won't hurt your wallet.
What we love most about the Simmons Matte Black are its SureGrip rubber surfaces. This impressive feature allows you to firmly hold your scope even if you're wearing gloves. This makes the Simmons ideal for hunting in cold weather, or if you just love wearing gloves.
Another notable feat is its HydroShield lens coating that provides a crystal clear view of the target in all kinds of weather.
You won't have to worry about parallax with Simmons' perfect 17 WSM parallax correction from 50 yards to infinity.
The Simmons also offers a wide zoom range from 3x to 9x magnification.
However, a few customers complained about how the adjustment knobs weren't labeled clearly, so making adjustments is a little troublesome.
Other than this minor downside, this lightweight rifle scope is a great choice for your 17 WSM.
Pros
SureGrip Rubber surfaces
HydroShield lens coating
Quick target acquisition
Cons
Knobs doesn't click during adjustments
What Customers Say
"It was easy to sight in and I find the combo very accurate and fun to use. I am glad that I didn't order another set of mounts as some suggested in their reviews. I can't see why anyone should have any problems if you use common sense and do not over tighten. This is a very good scope with decent mounts."
"This has to be one of the best scopes I have used for the price. Excellent clarity – and even as my eyes are going "bad" to be able to dial in the crosshairs is another excellent feature."
Best Overall Scope: Vortex Crossfire II 2-7×32 Riflescope
Vortex produces some of the most durable optics on the market today. Their riflescopes are constructed from aircraft-grade aluminum, so they can survive a hard drop.
The Vortex Crossfire II has 2x to 7x magnification for short to medium-range hunting.
If you prefer hunting at first light, at last light, or any time of the day, the Crossfire's 32mm multi-coated objective lens won't disappoint you.
This reliable scope is also shockproof, fog proof, and waterproof for a smooth hunting experience.
What we love most about the Vortex Crossfire II are its windage and elevation knobs. The knobs click audibly, so you won't have to remove your eyes from your target while making adjustments.
One drawback mentioned by some users is that the view tends to get blurry when magnification is set to the highest or the lowest setting.
Pros
Affordable
Fast-focus eyepiece
Made from aircraft grade aluminum
Cons
View gets blurry at lowest and highest magnification setting
What Customers Say
"Very nice scope for the money. Very clear and great eye relief at 12 inches. Mounted it on my lever action 45-70 and it handles the recoil."
"I bought the Scout model to mount on an M1A and this scope is perfect. It is bright, clear, and it dialed in correctly and quickly. The eye box is very generous which is very important for a scout scope, and the eye relief is great."
Best Scope for Long Range: Leupold FX-I Rimfire 4x28mm Fine Duplex Riflescope
Leupold FX-I Rimfire takes pride in its proprietary light management system. This technology enables optimal light transmission and reduced glare for razor-sharp images even in the lowest light.
Leupold also ensures rugged reliability in its products, as each scope is sealed and purged with proprietary gases.
Each riflescope is also impact-tested using Leupold's recoil simulation machine.
The Leupold FX-I is also tested to perform in extreme temperatures.
However, a few customers complained about the long eye relief.
If you want a lightweight but incredibly durable scope for your rimfire, the Leupold FX-I is a great investment.
Pros
Cons
Lightweight
Low light performance
Lifetime Warranty
What Customers Say
"Its a Leupold, about the best there is. Sure it may cost a little more but then value and quality usually does. But you will never have an issue with it and it will always be crisp and clear while using it and you will be confident that the windage and elevation detentes will accurately work. Its a beautiful piece of art, as much as a simple rifle scope."
"This scope is clear and sharp, with good eye relief. Perfect for my .22 rifle. It's not the cheapest scope out there, but, as I always say, you only cry once, when you buy a quality item. And, as always, the great Leupold quality, workmanship, and lifetime guarantee!"
Best Scope for Beginners: UTG 3-12X44 30mm Compact Scope
UTG may not be the first brand in mind when it comes to high-quality optics. But you can be sure that the 3-12×44 Compact Scope has exceptional optical quality.
The UTG Compact Scope has emerald-coated, scratch-free lenses for a High Definition view of your target.
It's also good to know that UTG engineered this revolutionary scope using the True Strength Platform. This scope construction platform is patented by UTG and guarantees rugged durability and reliability for a long time.
The UTG Compact Scope also ensures parallax-free view from 10 yards to infinity. It's also completely nitrogen-filled and sealed, so a shockproof, waterproof, and fog-proof performance is guaranteed.
Despite its small size, this scope is a little heavier than most scopes.
We're also impressed by the Compact Scope's 36-color EZ Tap reticle, which makes this optic perfect for every weather condition.
The UTG 3-12×44 Compact Scope may be smaller than most rimfire scopes, but it offers an equally powerful performance.
Pros
Cons
True Strength Platform
EZ-TAP Illumination Enhancing(IE) Technology
Range Estimating Mil-Dot Reticle
What Customers Say
"..this is a great scope if you are on a budget but need something pretty accurate, buy it you won't be disappointed. Also comes with a battery, scope rings everything necessary."
"The optics are clear and the features are exceptional for a scope at this price point."
BSA Optics 7 Super Mag Riflescope
The BSA Optics 7 Super Mag Rifle Scope is calibrated specifically for the 17 WSM cartridge.
Its fully-coated 44mm objective lens can also be adjusted from 4.5x to 14x magnification. Talk about versatility, right?
BSA also made sure that this riflescope delivers a waterproof, shockproof, and fog-proof performance.
What's great about this scope is that its reticle can be illuminated in three colors – Red, Green, or Blue. It also provides ballistic ranging information on its crosshairs. So if you want technical accuracy, this riflescope is for you.
On the other hand, if you're looking for a lightweight scope, we wouldn't recommend the Super Mag as it's a little heavy and needs a lot of storage space.
Pros
Cons
Specifically calibrated for the 17 WSM cartridge
Dual grain turret
Adjustable objective
Warranty is limited to one year
A little heavy
What Customers Say
"Nice Scope. A bit large and heavy but great features and reticle."
"Great scope!! Purchased for a .17 WSM. It was like a marriage made in heaven. The scope was paired perfectly."
Frequently Asked Questions
How fast is 17 WSM?
The 17 WSM is a lightweight, high-powered rimfire rifle cartridge with an incredible muzzle velocity of 3,000 feet per second. Just imagine how much hunting ground you can cover with such speed.
What is a 17 WSM Cartridge Good For?
These tiny, high-velocity rounds are specially-designed to snatch varmints. Also, they are more than capable of slaying coyotes up to 150 yards. But with the perfect scope to match its power, you can take small game from even further.
What is the best scope magnification for 1000 yards?
If you plan on using your rimfire at more than 1000 yards, you'll likely want an optic with at least 18x magnification. However, it's important to note that high zoom settings can limit your field of view.
Conclusion
We hope that our buyer's guide helped you find the 17 WSM scope that fits your budget and preferences. If you want more helpful guidelines on how to choose a rifle scope, check out this article.
Last update on 2023-09-08 / Images from Amazon Product API