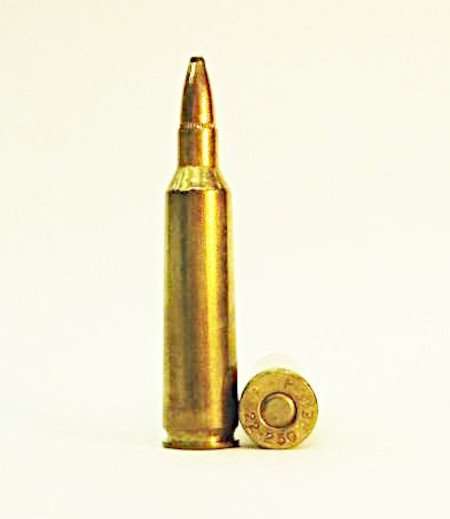 The perfect combo for a successful varmint hunt is the ultra-fast Remington cartridge and a high-quality scope. Get the best scope for your 22-250 rifle in this list we created just for you! 
Table of Contents
A Quick Glance of our Top 22 250 Scopes
Model
Leupold VX-Freedom Riflescope
Bushnell Banner Dusk & Dawn Multi-X BDC Reticle Riflescope
UTG 4-16X50 1" Hunter Scope
Vortex Optics Diamondback 4-12x40 Second Focal Plane Riflescope
Nikon Prostaff P3 Predator Hunter BDC Predator Riflescope
Dimensions
17.72 x 3.07 x 3.07 inches
4.92 x 0.79 x 0.79 inches
Optics
Leupold Twilight Light Management
Model
Leupold VX-Freedom Riflescope
Optics
Leupold Twilight Light Management
Model
Bushnell Banner Dusk & Dawn Multi-X BDC Reticle Riflescope
Model
UTG 4-16X50 1" Hunter Scope
Dimensions
17.72 x 3.07 x 3.07 inches
Model
Vortex Optics Diamondback 4-12x40 Second Focal Plane Riflescope
Model
Nikon Prostaff P3 Predator Hunter BDC Predator Riflescope
Dimensions
4.92 x 0.79 x 0.79 inches
If you're looking for a the best overall rifle scope, be sure to visit our write-up there.  It has lots of great information on the best manufacturers and optics in the space.  For a more detailed looked at the 22-250 and the things you're probably using it for, this article will have exactly what you need..
Understanding the 22-250 Cartridge
We won't just give you a list of products you can choose from.  Instead, let's understand how the 22-250 works, why most experienced varmint hunters love it, and which scopes match up well with the cartridge. 
What is the effective range of the 22-250?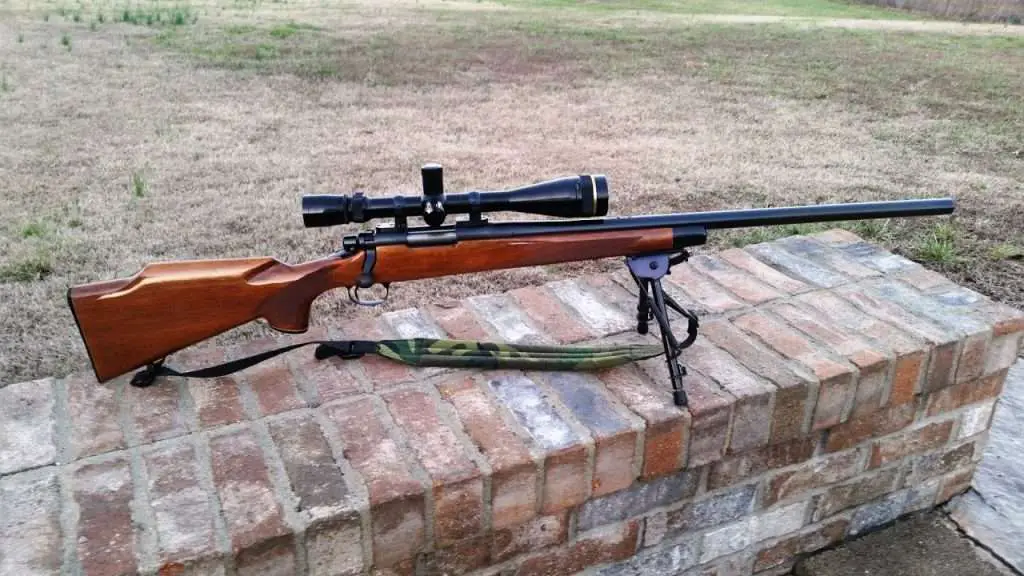 This depends on how much your bullet weighs. If you prefer shooting at a close distance (100-300 yards), lightweight 50-53gr bullets are ideal. While 68-80 grain bullets remain accurate from 300 to 600 yards. For long-range competitions, most high-power shooters prefer 77gr and 88gr bullets.
Bottom line – The heavier your bullet is, the higher the ballistic coefficient, the further its effective range and sustained energy down-range, and it's less affected by wind.
Speed
Most 22-250 cartridges manufactured today can travel up to 4000 feet per second leaving the barrel. Its incredible speed is what makes the Remington a favorite among hunters. 
Flat Trajectory
One of the Remington cartridge's impressive qualities is its ability to maintain its speed and flat trajectory even in a windy environment. This makes the 22-250 the ideal choice in hunting small game. 
Energy
This high-velocity flat-shooting cartridge has more to offer. The lightest 35-40 gr 22-250 bullets can withstand extremely high RPMs and practically explode inside prairie dogs or ground squirrels.
Is a 22-250 a good deer gun?
The 22-250 can inflict deadly damage on larger game such as deer, as practically all of the energy is expended in the body cavity with little or no exit wound. But before you get excited, check first if the state you're in has minimum caliber restrictions on hunting large animals.  It just doesn't have the punch to get through bone and shoulders for reliable kill shots at quartering angles.
What is a 22-250 rifle best for?
The 22-250 rifle is best for hunting small to medium game. Its speed is perfect for hunting skittish varmints at long ranges.
Low Recoil
The 22-250 Remington also takes pride in its low recoil. So you won't have to worry about anticipating the shot and can focus solely on your target and body control. 
Our Top 5 22 250 Scopes
Now we know what makes the 22-250 incredibly accurate and powerful. It's time to take a look at the best scopes available on the market today. 
Leupold VX-Freedom 4-12x40mm Riflescope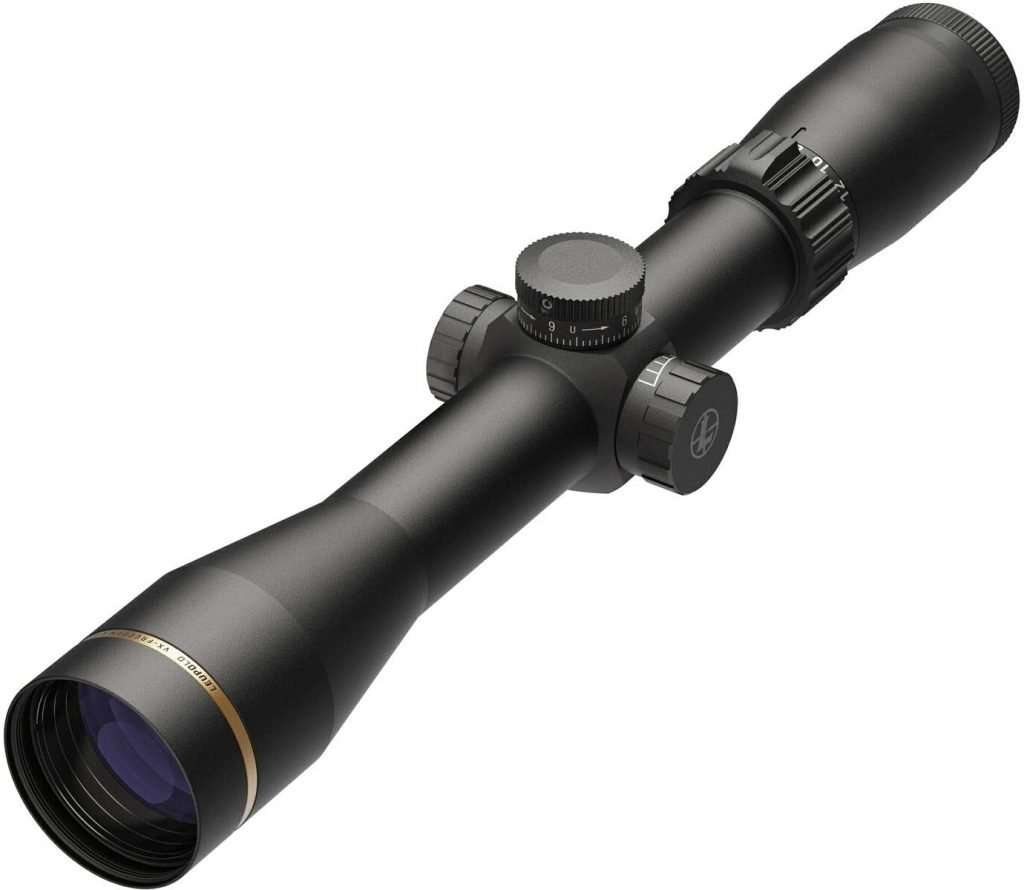 The Leupold VX-Freedom ensures high-quality images as it is manufactured by optics mogul Leupold & Steven. 
This scope uses the Twilight Light Management System. This technology allows optimum light transmission and reduced glare because of several layers of proprietary lens coatings. So you can hunt in the evening and still get crystal clear images.
Not only is the VX-Freedom made from 6061-T6 aircraft quality aluminum, but it's also impact-tested using Leupold's recoil simulation machine. 
It's also very impressive how this scope ensures optimum performance in the most extreme climate and pressure changes.
That's why we love VX-Freedom's durability in the harshest conditions and environment. 
Bushnell Banner Dusk & Dawn 3-9×40 Scope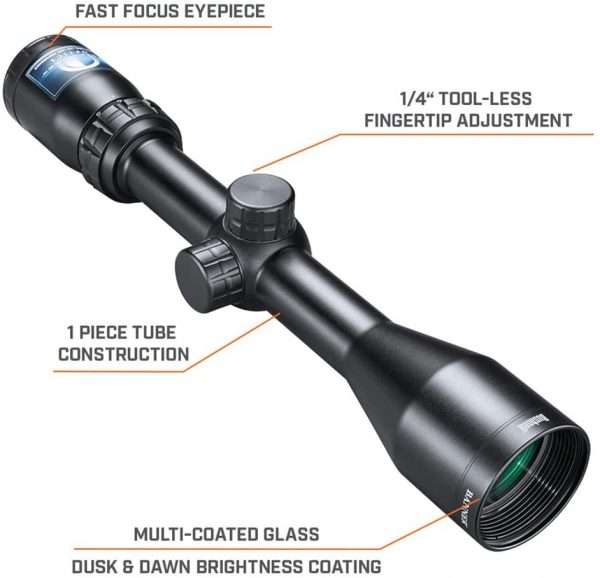 Who said affordability and high-quality can't go together?
Well, the Bushnell Banner Dusk & Dawn Scope proves them wrong.
Aside from 9x magnification and a powerful 40-mm objective lens, Bushnell Banner scopes are made of Dusk & Dawn Brightness (DDB) multi-coated lenses. These impressive lenses can perform even in the lowest light. So hunting during dusk & dawn is a breeze with this reliable technology. 
The Bushnell Banner Scope gives room for 3.3-inches of eye relief, although you don't have to worry about strong recoil with the 22-250. 
Target acquisition won't be a problem with the Bushnell Banner's Multi-X reticle and its 1/4 M.O.A. fingertip windage and elevation adjustment. That's not all, this scope is also waterproof, shockproof, and fog proof, as it is filled with dry nitrogen. 
The only feature missing compared to other long-range scopes is parallax adjustment, which is a minor setback if you're consistently shooting at similar ranges or how to check for parallax errors while shooting.
UTG 4-16X50 Hunter Scope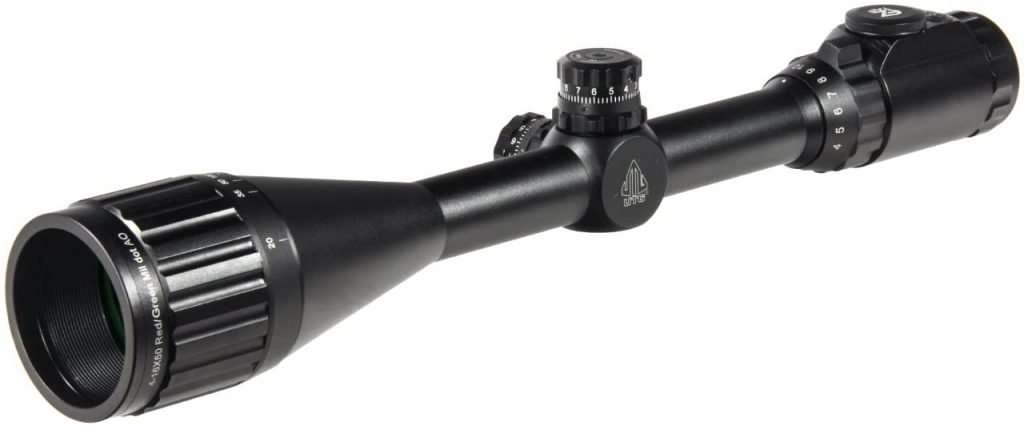 What matches a high-velocity bullet more than a scope with 16x magnification? 
Capped with a 50mm objective lens and anti-reflective, fully multi-coated lenses, you can smoothly blast off targets at a long distance with the UTG 4-16X50 Hunter Scope.
The UTG Hunter Scope also allows you to use a Mil-dot range-estimating reticle which provides increased aiming and shooting performance. Its emerald-coated reticle is also equipped with EZ-TAP Illumination Enhancing (IE) System with Red/Green dual-color mode and 36 color multi-color mode. This means you can hunt even in the lowest lighting condition.
What's amazing about the Hunter Scope is its illumination memory feature. This feat remembers the last color/brightness setting that you used with just one click!
UTG scopes are made from high-quality aluminum, ensuring shockproof performance. To add to its durability, the UTG Hunter Scope is purged with nitrogen, so you don't have to worry about moisture and fog. 
This innovative scope also comes with Picatinny/weaver rings, a 3″ sniper sunshade, and flip-open lens caps.
Vortex Diamondback 4-12×40 Riflescope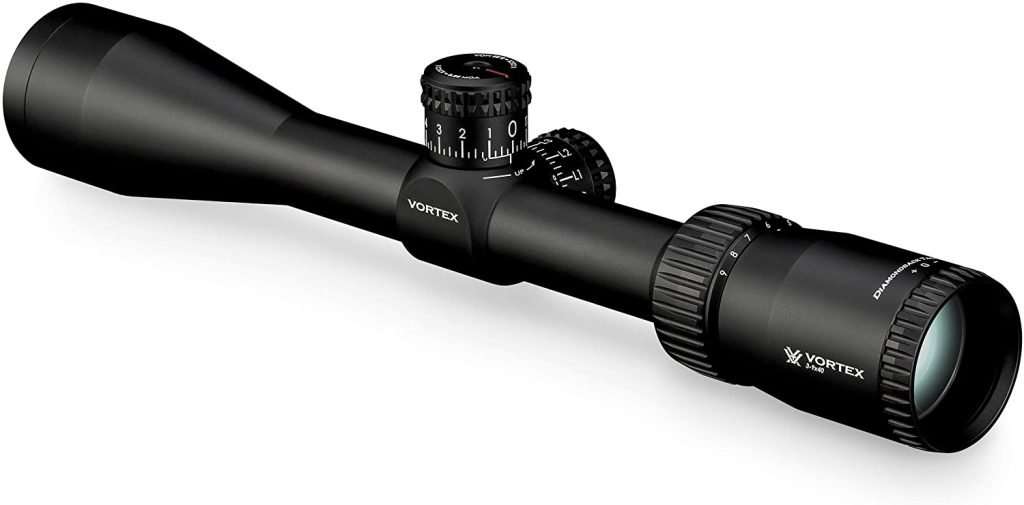 The Vortex Diamondback produces bright, razor-sharp images through its 4x multi-coated optical system. 
You can also easily dial accurate long-range shots with its tactical elevation and windage turrets. That and Vortex's ever-reliable parallax adjustment knobs. 
The Diamondback's 30 mm aircraft-grade aluminum housing is designed to survive the strongest recoil and impacts. On the 22-250, that's more likely to be from dropping a gun than the cartridge itself.  But, it doesn't hurt to have a durable scope!
This affordable scope is also argon-purged, making it fog-proof and waterproof. 
The Vortex Diamondback also offers a lifetime warranty in case of accidents on the range. So if you're looking for a high-quality 22-250 scope on a budget, this optic is for you.
Nikon Prostaff P5 4-16×42 Riflescope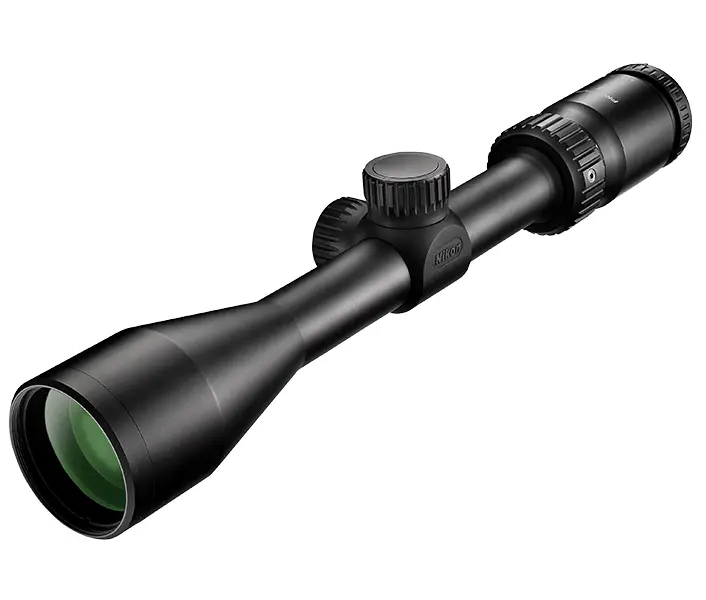 The Prostaff P5 is Nikon's latest addition to its series of high-quality hunting riflescopes. 
Take hunting to the next level with the Prostaff P5's quick focus eyepiece. This swift-turning aluminum ring enables you to quickly acquire your target with the help of its rubberized eye-guard. 
Not only that. Its optics has several layers of special coating for optimum light transmission. It also offers an incredible 4x zoom ratio that allows you to capture crystal clear images of moving targets at maximum magnification.
The Nikon Prostaff P5 is also nitrogen-purged to withstand internal fogging and thermal shock. It is also O-ring sealed to prevent moisture from seeping in.
What makes this almost perfect riflescope stand out is its durability despite being lightweight. Made from aircraft-grade aluminum, the Prostaff P5 is engineered for minimal weight and maximum durability.
If you're a sucker for high-quality optics, the Nikon Prostaff P5 is what you need.
Conclusion
No matter what 22 250 scope you choose to complete your power duo in varmint hunting, keep in mind that it takes experience to acquire the skills needed for the perfect hunt. So choose a good rifle and start shooting. Happy hunting! 
Last update on 2023-09-01 / Images from Amazon Product API