Our Top Picks
Best Overall
Sig Sauer MPX
Runs smoothly and is comfortable to shoot.
Value: 10/10
Performance: 9/10
Cost: 9/10
Runner-Up
Grand Power Stribog SP9A3
Solid performance for a reasonable price.
Value: 9/10
Performance: 9/10
Cost: 9/10
Best Budget
Ruger PC Carbine
Very accurate and minimal malfunctions.
Value: 9/10
Performance: 8/10
Cost: 10/10
Best AK Carbine
PSA AK-V 9MM MOE Picatinny Pistol
Packed with awesome features.
Value: 8/10
Performance: 9/10
Cost: 8/10
You're thinking of getting a pistol-caliber carbine but fear you'll waste your money on a cheap wannabe? You're in the right place because we prioritize value and efficiency when picking our recommendations. Check out which gun brands made it to our list of the best 9mm carbines.
6 Best 9mm Carbines
Best Overall: Sig Sauer MPX PCB 9mm 4.5" Pistol
Specs:
Barrel Length: 4.5"
Brace: PCP Brace
Rail Type: M-LOK
Capacity: 30
Receiver Material: Alloy
Finish: Black
Safety: Selector Safety
The Sig Sauer MPX PCB 9mm 4.5" Pistol is designed especially for competitive and professional shooters. It's also comfortable to shoot because it has a closed-bolt piston-driven system. It also features ambidextrous and AR-style mag release, bolt catch, and selector lever so anyone who's familiar with the AR15 can quickly adapt to it. Its gas-operated, short-stroke piston system also reduces recoil and fouling.
Pros
Comfortable to shoot
Detachable handguard
Ambidextrous controls
Smooth reloading
Crisp trigger
Cons
Pretty expensive
Accuracy issues are encountered when used with a suppressor
What Customers Say
This is a great addition to the Sig collection. Runs smoothly with various ammo types. Fun to shoot.

Nathan W.
Smooth no problems after 1k rounds and I still haven't cleaned it.

Donald N.
Runner Up: Grand Power Stribog SP9A3
Specs:
Action: Semi-Automatic
Caliber: 9mm
Barrel Length: 8″
Capacity: 30+1
Brace: SB Tactical Folding
Finish: Black
The Grand Power Stribog SP9A3 was originally designed for the Slovakian army as a full-auto machine gun. This is its civilian version, so this 9mm carbine is exceptionally robust and can handle a high firing rate. The SP9A3 is a roller-delayed blowback action so it's incredibly soft shooting. You won't feel as much blowback as you do in typical blowback actions. 
The SP9A3 comes with updated curved mags but is also compatible with older straight ones. Its magazine features steel feed lips that prevent cracking when leaving the mag fully loaded for a long time. It also comes with a full grip coupled with an SB Folding Brace that guarantees positive control & manipulation while shooting.
Pros
Reasonable price
Flat shooting
Non-reciprocating charging handle
Ambidextrous controls
Solid construction
Cons
Average-quality magazines
What Customers Say
So far. So fun. Came with 3 curved mags. Blast to shoot. If you have been thinking about trying one out and you have the $$ then go for it. You will not be disappointed.

Michael M.
I have had this a couple of months went through a couple hundred rounds and it very accurately out of the box. The only problem is the mag with 30 rounds. The gun will not accept the mag fully loaded. It works great with 25 rounds

Jimmy K.
Best Budget: Ruger PC Carbine
Specs:
Stock: Black Synthetic
Capacity: 17
Barrel Length: 16.12″
Overall Length: 34.37″
Barrel Feature: Threaded, Fluted
Thread Pattern: 1/2″-28
Weight: 6.8 lbs.
Material: Aluminum Alloy
Finish: Type III Hardcoat Anodized
Twist: 1:10″ RH
Grooves: 6
With the Ruger PC carbine, you can easily detach the barrel/forend assembly from the action. This feature will be very useful if you'll be cleaning your firearm or if you'll be storing it. Plus an adjustable Magpul MOE that allows you to choose from different pull lengths.
Both left and right-handed will love this PCC because it also comes with ambidextrous controls. This means you can efficiently use the charging handle and the mag release with either hand.
Pros
Affordable
Well-built
Interchangeable mag wells
Ambidextrous mag release and charging handle
Easy takedown
Threaded barrel
What Customers Say
This carbine was well worth the wait, and at a good price. I purchased an extended glock mag and a Ruger bag. It is so easy to shoot and very accurate. I am VERY happy with my purchase!

Kenneth L.
This is very cool for short range combat. We use fed hydro shock + p+ Inside of 200yrds.

Otto Lenke
Best AK Carbine: PSA AK-V 9MM MOE Picatinny Pistol
Specs:
Operation: Blowback from closed bolt
Barrel Length: 16.1 inches, cold hammer-forged
Rifling: 1 in 10-inch twist, six groove
Trigger: Single-Action
Feed: Detachable Ruger or Glock box magazines
Overall Length: 34.3 inches
Weight: 6.8 lbs.
Sights: Protected front blade and fully adjustable aperture rear
Length of Pull: 12.6 to 14.1 via three .5-inch spacers
Finish: Type III hard-coat anodized
The PSA AK-V 9MM MOE Picatinny Pistol operates like an AK but with a shorter pull on the bolt that's housed inside a beefy receiver and a thicker mag release lever. It's designed with a blowback-operated system that offers a smooth cycling action.
Its slide-catch is easy to use with a mag-well extension that's fairly comfortable to hold. Plus it features a magazine adapter that's easily detachable and converts the PC carbine so that it can feed from different style magazines.
Pros
Well-built
Low recoil
Very accurate
Easy takedown
Performs well when used with a suppressor
Cons
No threaded barrel options
What Customers Say
Has ran every type of ammo I've put into it, aluminum, steel, hollow points, etc. Very accurate as well, confident shooting to 100yds, no problem.

Damon S.
Great pistol! Build quality is fantastic. I added the SB Tac FS1913 brace and a Sig Romeo5 to complete the look and it just adds to the awesomeness of the pistol.

Gunphreek
Best AR Carbine: Angstadt Arms UDP-9 9mm AR9 Pistol
Specs:
Barrel Length: 6″
Barrel Finish: Black Melonite
Muzzle: A2 Style Flash Suppressor
Thread: 1/2×36
LRBHO: Yes
Magazine Compatibility: Glock 9mm Mags
Magazine: (1) 15 Round Glock Magazine
Length: 22″
Weight: Under 5 lbs.
The Angstadt Arms UDP-9 9mm AR9 Pistol is a high-end AR9 option. It has excellent ergonomics and construction. It also features a last-round bolt hold open on an empty magazine and a flared magwell for smooth reloading. Most of its features and controls are similar to a standard AR-15 so adapting to it won't be a problem.
Pros
Compatible with all aftermarket and factory Glock magazines
Very accurate
Lightweight
What Customers Say
Got my UDP-9 a few months ago and I love this gun! The Fit and finish are great. There is no play between the upper and lower like some of my other ARs. Doesn't like my ETS mags but everything else works fine. I haven't had a single issue and this runs like a sewing machine.

D.B
Best AR style 9mm I've ever shot….and Palmetto had it at my dealer in 2days! So, win, win!!

Peter L.
Best MP5 Variant: PTR Industries Inc. 9mm Carbine
Specs:
Action: Semi-Auto
Capacity: 30
Barrel Length: 16.2″
Length: 34.5″
Weight: 6.32 lbs.
Operating Systems: Roller-delayed blowback
Trigger Pull: 9 lbs.
Twist: 1/10
Color: Black
Carrier: Nitride Treated, Tungsten Weighted, Full Auto Bolt Carrier
This PTR Industries 9mm carbine features an aluminum handguard with M-Lok slots where you can attach all the M-Lok accessories that you need. It also comes with a built-in Picatinny rail that's welded to precision so you won't have to worry about getting your receiver squeezed when mounting the clamp-style rail.
It's a little expensive because it comes with plenty of accessories such as traditional iron sights and a sling mount.
Pros
Paddle-style magazine release
Fixed polymer buttstock
Can accommodate standard magazines
What Customers Say
Well I see HK makes a long barrel now I had two of these in the 80 s it's taken me this long to get another one it is accurate and fun to shoot like the real ones well made I saved the old shroud and put it on my PTR feels good to buy a gun made in the South I hope they make a 93 clone someday.

Tom G.
Best for Home Defense: CZ Scorpion Evo 3 S1 9mm Luger Carbine
Specs:
Capacity: 20+1
Magazine Type: Double Stack Polymer
Frame: Fiber-reinforced polymer
Grips: Polymer, adjustable for reach to trigger
Barrel: Cold Hammer Forged, muzzle threaded 18×1 right-hand and 1/2×28
Weight: 5.0 lbs
Safety: Ambidextrous thumb safety
Caliber: 9mm Luger
Barrel Length: 7.72″
Overall Length: 16″
The CZ Scorpion Evo 3 S1 features a sleek design and a lightweight polymer frame for better maneuverability. We also love its excellent ergonomics and it's really comfortable to shoot because you can barely feel the recoil. Plus it comes with a swappable, non-reciprocating charging handle.
Pros
Awesome aesthetics
Light recoil
Ambidextrous controls
Cons
It's heavier than most polymer frame carbines
What Customers Say
I finally had a chance to go to range. It was very accurate and had no function issues. The trigger is a pretty heavy pull but I'm sure that can be tweaked. It is a little heavy to fire without support. Perfect addition to collection.

Lee G.
Its s pretty popular gun, no need to explain that part, I owned mine for 5 years, 4 of them with a binary trigger, over 1k rounds later, still runs like new, no hiccups.

Mikeal T.
FAQs
What is the most popular carbine rifle?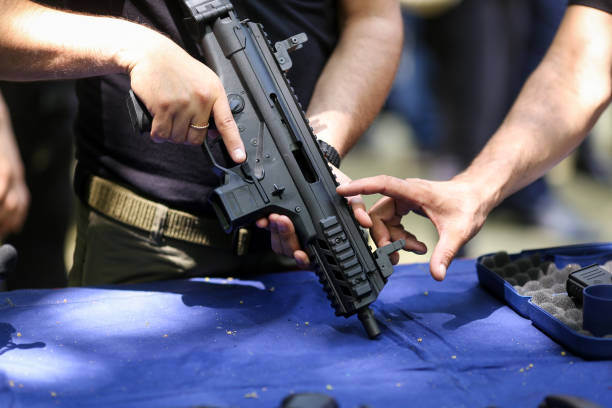 The most popular carbine rifle is the Sig Sauer MPX which is widely used by competition shooters.
What is 9mm carbine good for?
A 9mm carbine is good for competition shooting and home defense. It extends the range of the 9mm and retains its moderate recoil.
What is the effective range of 9mm carbine?
9mm carbines are effective out to 100 yards.
What is the best 9mm carbine rifle?
The best 9mm carbine rifle for us is the Sig Sauer MPX PCB 9mm 4.5" Pistol because of its top-tier features and performance.