Best Overall AR-15 Lower
PSA AR-15 Complete Classic Stealth Lower
This AR-15 lower can take a good beating on a regular basis.
Value: 9/10
Performance: 9.5/10
Cost: 9/10
Best AR-15 Lower on a Budget
Anderson Manufacturing AR-15 Stripped Lower Receiver
Don't be fooled by its low price, because this underrated lower is very reliable!
Value: 9.5/10
Performance: 8/10
Cost: 9/10
Best Overall AR-10 Lower
PSA Gen3 PA10 Stripped Lower
You can depend on this AR-10 lower's durability for years!
Value: 8.5/10
Performance: 9/10
Cost: 8/10
So many lower receivers, so little time? We got you! Finish your build in no time with one of the best AR lowers below!
Features to Consider + How We Choose
Not all lower receivers are the same, each brand has its pros and cons. Whatever gun you're building, whether it's an AR10 or an AR15, we've listed the must-have qualities of a reliable lower for you.
Upper Receiver Compatibility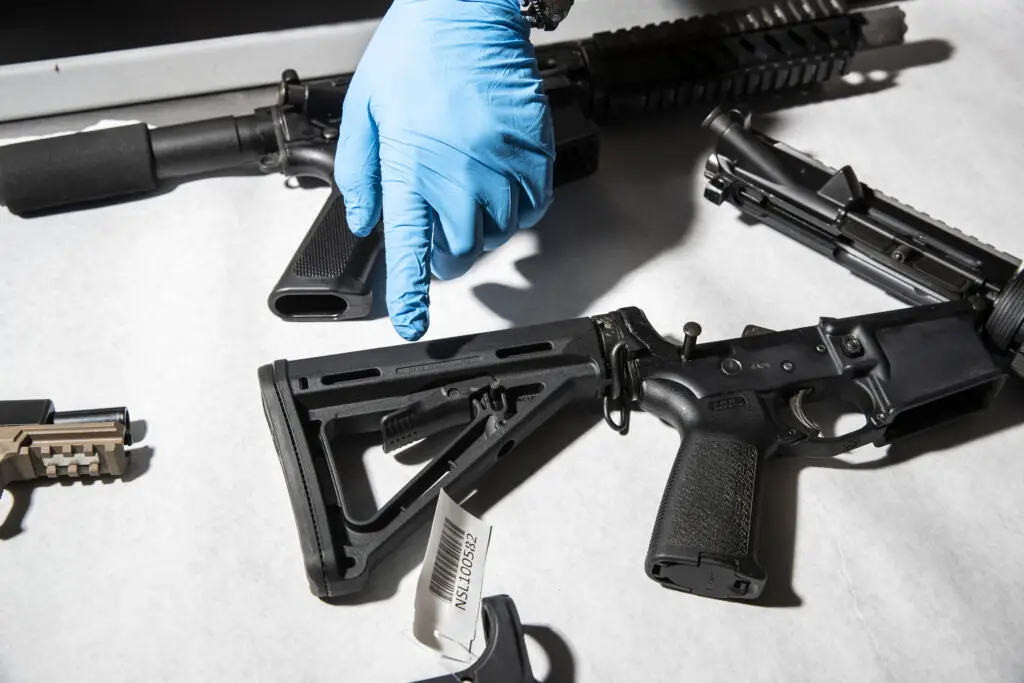 As you know, the AR-15 is standardized so you can pair almost any upper and lower receiver together, even if they're from different manufacturers.
But it's a different scenario if you're trying to build an AR-10, as AR-10 uppers are only guaranteed to fit lowers from the same manufacturer.
Included Components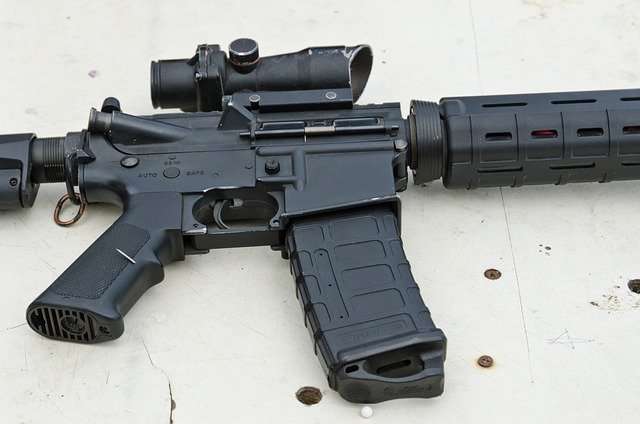 Since the lower receiver is composed of the fire control group, you should take a closer look into each of these parts to make sure you're getting the right one . . . unless you just want a stripped lower of course. But more often than not, buying a kit is a great way to save money on shipping and handling as long as you can find what you want in a bundle.
Trigger
There are generally three types – single stage, double stage, and binary triggers. And, they're either mil-spec style or drop-in triggers. Most AR-15 custom build owners upgrade to the drop-in trigger as they offer the widest selection of aftermarket triggers, but enhancing a standard mil-spec trigger can yield really good results too! 
The single-stage trigger is what usually comes with lower receiver kits. They should have minimal creep and zero stacking issues, but some polishing jobs aren't great and you may feel some grit and creep.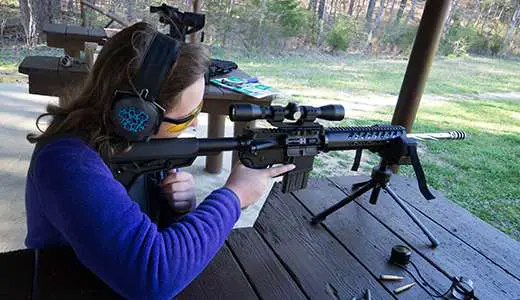 The double-stage trigger has a little amount of slack at the beginning of the pull. It's also more common on precision rifle builds than the single-stage because it has a lighter pull weight.
The controversial binary trigger is banned in some States, so check yours before getting one. 
You also need to consider the quality of the trigger lower's sear and disconnector because they're vital in the firing and recoil process.
Fit and Finish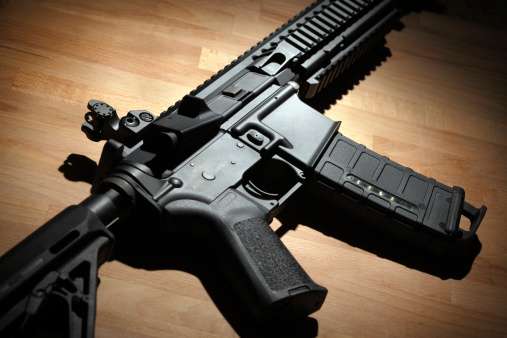 Tight fitment between your upper and lower will help you place more repeatable and accurate shots. So, the machining quality of the lower will have an impact on your rifle's effectiveness.
And naturally, you'll want a quality anodizing process to make sure it lasts!
This is just a minor detail, but if you want your build to be perfect, shop for a lower receiver that matches your custom build's design.
5 Best AR-15 Lowers
Best Overall: PSA AR-15 Complete Classic Stealth Lower
The PSA AR-15 Complete Classic Stealth Lower's great quality, is extremely easy to install, and is already fully assembled.
We've been really pleased with all of our loaners and purchased guns from PSA.
It's manufactured using forged 7075-T6 aluminum and comes with a sleek hard-coat anodizing finish for durability. It's also equipped with a standard carbine buffer, a Mil Spec diameter receiver extension, a staked M4 lock nut, and an un-notched hammer that's 9 mm compatible.
However, there were a few customers who commented on how basic the M4 stock and grip were. But, you can always find another kit at PSA with just the stock you want if you don't love this one.
Pros
Compatible with 9mm
Comfortable to shoot
Fully assembled
Easy to Install
Firm buttstock
Cons
Trigger has a slightly heavy pull
Basic M4 stock and grip
Bolt catch is a little sensitive
What Customers Say
Awesome lower. Slapped it on a 300 black out upper. Looks awesome. Would recommend to anyone, especially since I got it on sale at a great price. Now I just have to get my mitts on some ammo so I can do some shooting. 🤙

Adam M.
Love it! But I'm long-armed and wished it were a little longer. She looks so good though and I can adjust

Dave T.
Best on a Budget: Anderson Manufacturing AR-15 Stripped Lower Receiver
Anderson Manufacturing is next on our list. And don't judge it just 'cause it's cheap, because this lower receiver has a lot to offer.
This stripped lower receiver is machined to military standards and specifications and is also forged from 7075-T6 aluminum and coated with type III hard-anodizing finish. The best thing about this lower (aside from its affordability) is its compatibility with most popular AR15 calibers.
Pros
Affordable
Excellent fit and finish
Made in the USA
Cons
A little rough on the edges
What Customers Say
Great product and have made several quality builds with them. Will continue to recommend and purchase more as I need.

KBM1958
I have bought more than I can count on one hand. The builds are always flawless. They take a coating beautifully and always impress. Thanks and kudos!

Prometheus
Best for Precision Shooting: PSA AR-15 Complete Rifle Lower Receiver A2
Like most PSA AR-15 lowers, this complete rifle lower receiver A2 is machined to handle the AR15's toughness; thanks to its Type III Class 2 MIL-A-8625F hard-coat anodizing and 7075-T6 aluminum forging.
We also love its firm pistol grip and stock. This one has a classic handguard look if you like that too.
We've read feedback about how smooth this lower's trigger is and how it's machined with pure attention to detail. This is the classic FCG, so in theory, the enhanced triggers should be better. But like I mentioned above, you can always do your own trigger polishing job if you're comfortable with that.
Pros
Firm buttstock and pistol grip
Easy to install
Cons
Some reports of the stock being slightly loose
What Customers Say
For the price it's a well done lower. The only thing is that the A2 stock is not the charcoal grey in the picture; mine is flat black. Trigger is good; better than some mil-spec triggers I've shot. I put this lower with a 20″ HBAR barreled upper and it is one sweet shooter.

VAPatriotIII
Good quality complete lower. Actually a pretty good trigger pull weight. Buttstock was black so no CLP needed. Good choice for a service rifle clone build.

John C.
Aero Precision AR-15 M4E1 Stripped Lower Receivers 5.56mm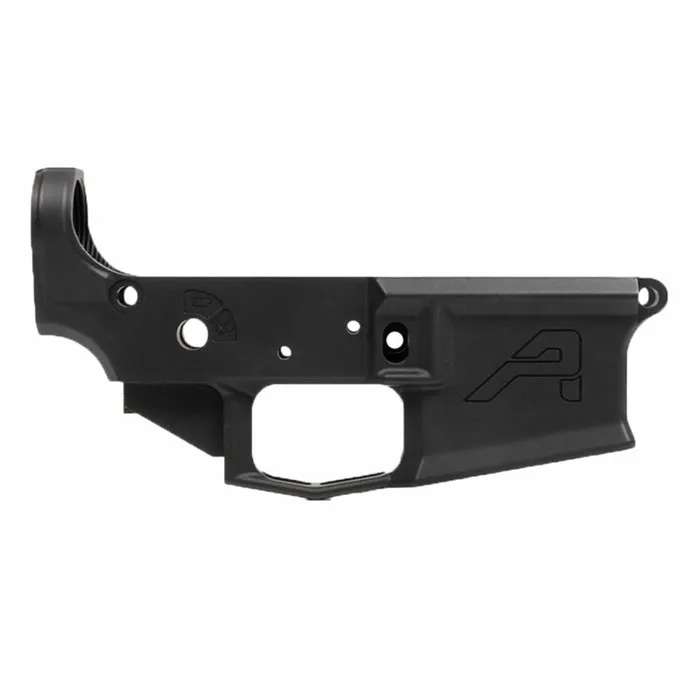 Aero Precision's entry is the M4E1 Stripped Lower Receiver that's been billet-machined for ultimate durability and compatibility with upper receivers from other manufacturers. Unlike most milled lower receivers that are bulky, the M4E1 sports a streamlined profile.
Another unique feature of the M4E1 is its integral trigger guard that offers more structure and rigidity to the entire lower. The trigger guard is also above-average in size, giving you more room for your finger especially when wearing gloves.
Pros
Lightweight
Compatible with all standard Mil-Spec AR-15 parts
Cons
Not compatible if you want enhanced controls
What Customers Say
Awesome lower! Quality fit & finish are first rate. I recently purchased 2 more. Im a very satisfied customer!

Patriot D.
What can I say Just a great piece. Looks great, assembles great, performs great.

Sean
PSA AR-15 Lower With Safe/Fire Selector
Our final AR15 lower pick has its fire selector marked "Safe" and "Fire" and is coated with a black hard-coat anodized finish. This lower receiver from PSA offers smooth operation and a great fit and finish without breaking the bank. We also love how it can accommodate most builds. It's the perfect lower receiver if you're into DIY. 
Pros
Perceptive fire selector switch
Compatible with most builds
Affordable
Cons
Trigger can be a little gritty sometimes
What Customers Say
Met all expectations! All parts fit like they should, perfect for the diy builder. Third psa lower I've owned. Wouldn't hesitate to get another.

Andrew K.
Lower is tuning like a top. Zero firing issues, zero issues with fitting components.

Dan C.
3 Best AR-10 Lowers
Best Overall AR-10 Lower: PSA Gen3 PA10 Stripped Lower
The Gen3 PA10 performs smoothly and is as reliable as any other PSA lower receiver. While the Gen3 version will still function when slapped into a Gen1 or Gen2 upper, they are slightly different visually, so we suggest using the same version for both your upper and lower receiver for better aesthetics.
Pros
Affordable
Compatible with Gen1 and Gen2 versions
Great fit and finish
Cons
The takedown pins are very tight
What Customers Say
Great piece. I'd never built an AR lower but it really is that easy.

Ethan D.
When a .223 won't cut it, but you really like the AR platform, this little beauty will let you step up your game.

Patriot Sailor
Best Budget: Aero Precision M5 308 Lower Receiver
The M5 lower receiver is affordable but durable as it's machined from 7075-T6 aluminum paired with a matte black hard-coat anodized finish. It comes with an integrated trigger guard and a safety selector that's compatible with almost any safety selector.
Its bolt catch is also threaded for a screw pin so you won't be needing a roll pin.
Cons
Quality control could be better
What Customers Say
Assembly went without a hitch. Rifle is accurate and will shoot all my reloads and any factory ammo I put through it. Since this is a large-frame AR I would advise getting the upper, lower and LPK from the same company.

Shooter M.
I love the fact that all of the roll pins have been threaded and included with Aero Precision parts. Perfect alignment and precision milling are my big selling points, and this has it.

AK H.
Lewis Machine & Tool Company MARS-H Stripped Lower
The LMT MARS-H stripped lower receiver has fully ambidextrous controls – from the safety to the mag release. But it comes with a catch – it costs more than $500! It's a great deal, if you'd ask us, because the MARS-H has top-notch ergonomics. Plus, it's proven its reliability in combat and is used by police and military officers worldwide including the British Army.
Pros
Fully ambidextrous controls
Precise tolerances
Hardcoat anodized finish
What Customers Say
This works fantastic. I'm gonna stick with it, no complaints whatsoever.

Valkyrie Training Solutions
Conclusion
Putting together a build from the ground up is fun and really fulfilling once you see the finished product. If you're uncertain on what to do, it's always best to seek professional help.