Our Top Picks
Best Overall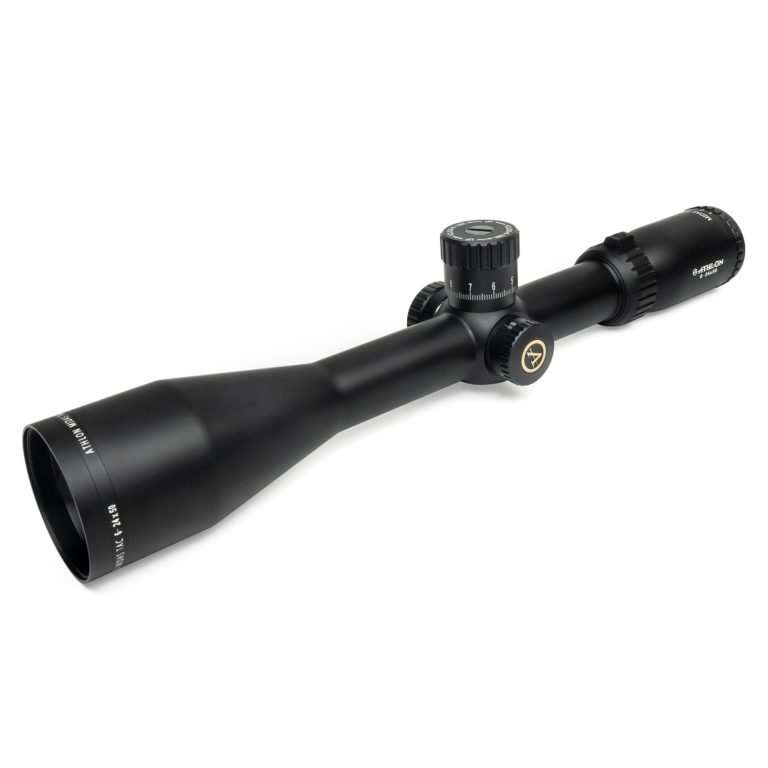 Athlon Optics Midas TAC 6-24×50 First Focal Plane Riflescope
Sturdy and reliable.
Check Price
Best on a Budget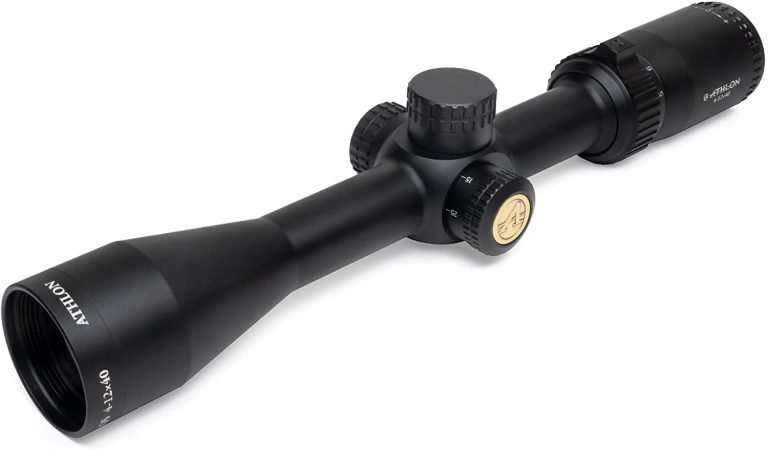 Athlon Optics Neos 4-12×40 Second Focal Plane Riflescope
Gets the job done at a very affordable price.
Check Price
Best for Long Range Shooting
Athlon Optics Cronus UHD 4.5-29×56 First Focal Plane Riflescope
Top choice for serious shooters.
Best LPVO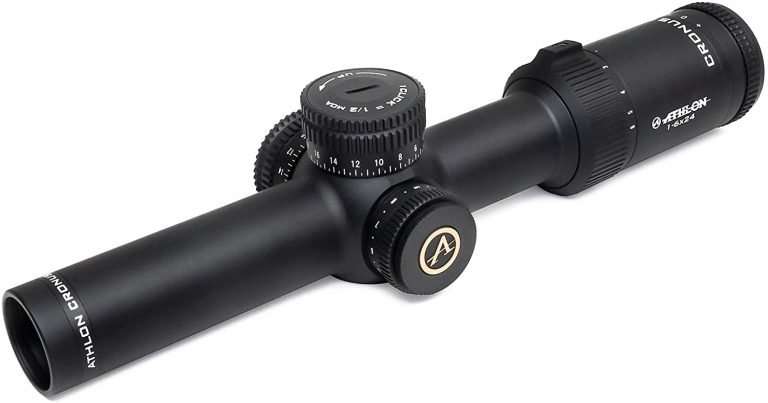 Athlon Optics, Cronus BTR, Riflescope
Best for beginners.
Check Price
If you're looking for a scope manufacturer that values quality and value for money, you're in the right place! Because in this article, we'll be reviewing the best out of the Athlon Optics family of scopes, so brace yourself!
Comparison of the Best Athlon Scopes
How We Choose + Our Must-Have Features
Magnification Range
The first thing you need to do is decide on the distance to which you'll be shooting most often. Then pick a magnification range from there, because magnification will play a big role in limiting or improving your shooting accuracy.
Focal Plane
The next thing to consider is choosing the focal plane that works best for you and your intended use. If you have no idea yet, here's the difference between first and second focal planes.
Most hunters and serious shooters are familiar with second focal plane scopes since they are the most common design. A second focal plane (SFP) riflescope makes the image increase or decrease in size with magnification while the reticle's size remains the same. This means that the sub tension or the reticle's size relative to the target is constantly changing.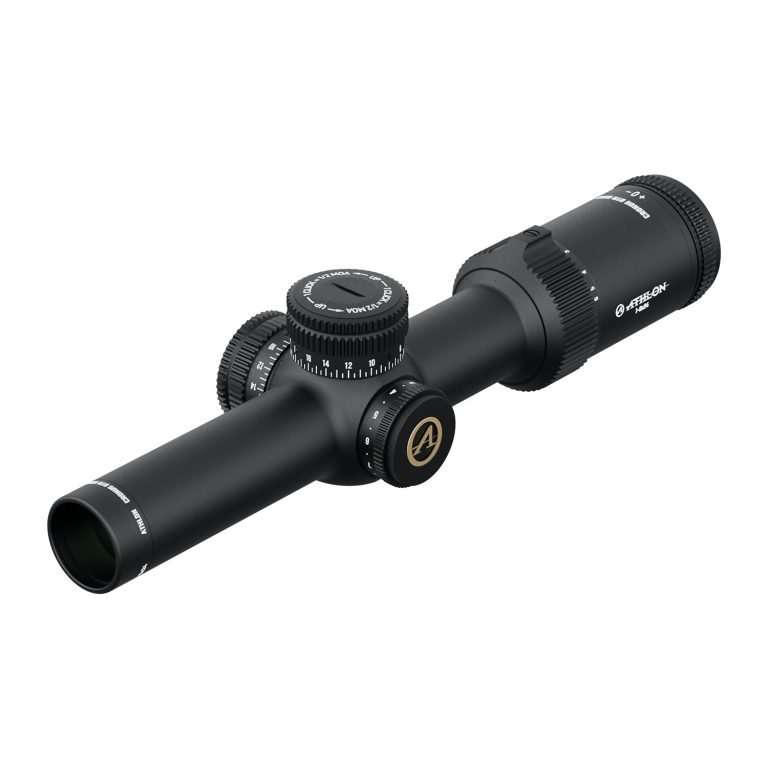 That means SFP scopes with BDC mil-dot or any ranging reticles only work at a specific magnification. SFP scopes are great for taking long-range precision shots on very small targets because its reticle remains thin even at high magnifications. With a simple duplex and a limited range of engagements, it can be a great choice.
And they're normally more affordable too!
With a first focal plane (FFP) rifle scope, the reticle changes in size with magnification relative to the target, so the sub tension remains constant on every magnification setting. This allows you to use the correct holdover point when taking long-distance shots and estimate range efficiently no matter the magnification. FFPs are best for quick-paced high-stress shooting scenarios with widely varying engagement ranges.
Reticle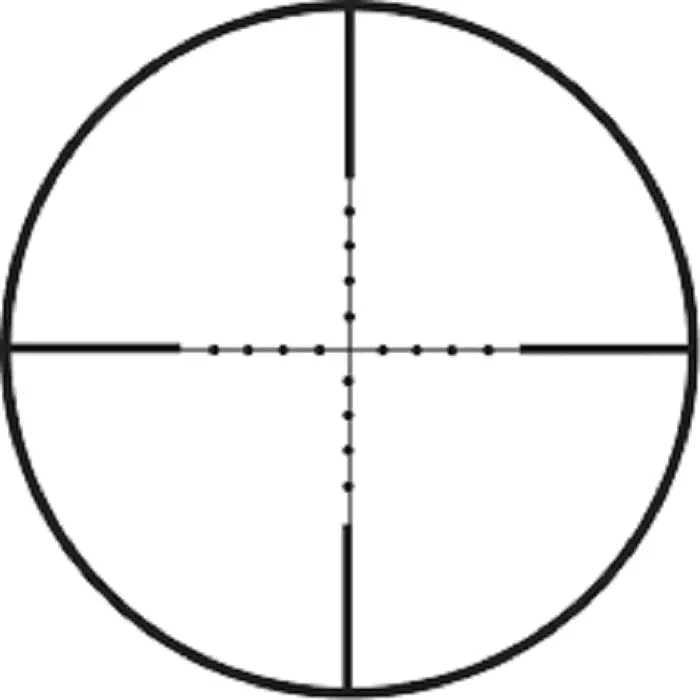 If you'll be shooting at long distances, you'll definitely encounter bullet drop. So using a scope that compensates for that and wind drift will help you extend your effective shooting range. If you have a reticle with holdover points, you won't have to dial in your ranges and can shoot more quickly.
Price
Finally, stick to your budget if you have one. Athlon offers a wide range of scopes, from cheap ones to premium optics, and all of those are of superior quality. We listed one from every price range among all of Athlons scopes, so keep reading to check them out.
6 Best Athlon Scopes
Best Overall: Midas TAC 6-24×50 First Focal Plane Riflescope
The Midas TAC FFP riflescope features turrets that track well and have smooth and audible clicks. It also has superior optical quality with impressive light transmission ability. The fully multi-coated optics also reduces light reflection, producing bright and crisp images. Plus, its lenses are coated with XPL coating, giving it added protection against scratches, oil, and dirt.
The Midas TAC FFP comes with the APRS2 FFP MIL reticle that's specially designed for long-range and competition shooting. This reticle helps you to easily make holdover positions and windage corrections as well as determine distance.
This scope is also equipped with a precision zero stop system that lets you lock your zero position and dial back to it with a precise stop.
Pros
Comes with a lifetime warranty
Great tracking
Edge-to-edge clarity
Cons
What Customers Say
"Outstanding scope! Audible turrets, really clear glass, outstanding reticle, and a zero stop. My fourth Athlon scope, won't be my last ."
"This is my first Athlon scope and it is fantastic. I zeroed it at 50 then 100 yards then spent the day shooting at 100 yards. The glass is clear, the zoom is smooth, and the turrets are easy to use with audible clicks. Looking in the store at other scopes that are way more expensive I don't see why you would pay more and I definitely won't for my next one either. I think I will be sticking with Athlon"
Best Budget: Neos 4-12×40 Second Focal Plane Riflescope
The Neos 4-12×40 SFP riflescope features an etched reticle so it has higher recoil resistance than regular reticles. Unlike other multi-piece tubes, Neos comes in a one-piece tube that's heat-treated for added durability.
It also comes with turrets that are re-settable to zero. These turrets also have protective caps that you can easily remove to access the inner adjustment knobs and easily reset the Neos scope to zero. However, when doing adjustments on the field, you can do it via coin. The Neos objective focus also offers sight picture clarity at a few hundred yards when set at the highest magnification setting.
Pros
Comes with a lifetime warranty
Affordable
Cons
Windage and elevation turrets are a bit mushy.
What Customers Say
"Took it outside to see how the glass was before I mounted it. Let's say clear as crystal is an understatement. A lot of optics get blurry when you go to high magnification at close range. Not this thing – 12X and at not even 50 yards I was seeing the individual specs of rust on the support pipes of my close targets. Angled up a bit and went to 300 yards and was still picture perfect and as clear as day."
"The scope is well built, the glass is very clear and the reticle is sharp. Impact tracking on my scope was exactly as it should be, it's mounted on a sporterized Mauser 98 in .243. I've heard great things about Athlon but wanted to start with lower-priced Athlon scope before I go all-in on a company I have no experience with. I have no apprehension at this point, these are worth it and if you do your part the scope will do its part."
Best for Long Range Shooting: Cronus UHD 4.5-29×56 First Focal Plane Riflescope
Just like the Neos riflescope, the Cronus UHD FFP riflescope comes with a precision zero stop system and XPL coating. Its extra-low dispersion glass reduces chromatic aberration.
This premium scope features a high-quality glass that's crisp and clear especially out past 1000 yards. This makes the Cronus ideal for tactical applications, long-range hunting, and precision long-range shooting.
Its elevation knob is also very tactile and clicks audibly. The Cronus riflescope is also equipped with parallax adjustment yard markings from 25 yards to infinity.
Pros
Extra-low dispersion glass
Easy to zero
Comes with a warranty
Cons
What Customers Say
"This is a great scope. Very clear glass and easy to zero. It's clearer than my Leupold. I actually bought a second one for my new rifle."
"I have now purchased 2 of these, they are very Impressive for the money. I have some pretty high tier optics (S-B, USO, and the like) and I have to say these are nice and at a very fair price point."
Best LPVO: Athlon Optics, Cronus BTR, Riflescope
Athlon's low-power variable optic has incredible glass clarity with no distortion at all magnification settings. It also comes with an easy-to-operate and user-friendly magnification ring, so you won't need to buy a throw lever.
The Cronus BTR also features tactile turrets with audible clicks and a locking mechanism. Doing quick changes is also hassle-free because the turrets are exposed. However, this can be an issue if you prefer hunting, as capped turrets provide protection against external impact.
The Cronus BTR also doesn't come with lens caps so you'd have to clean off your lenses often, else, you'd have to purchase one separately.
Pros
Wide field of view
Extra-low dispersion glass
Easy to zero
Comes with a warranty
Cons
What Customers Say
"I bought the Cronos 1×6 to go on an AR15 and wanted to save some money over the Zeiss that I ended up putting on the rifle. For the price, there is nothing out there even close!!!! I compared it to my Zeiss Divari and a Swarovski and it didn't measure up but those scopes are thousands of dollars more than the Athlon. A warranty is only as good as the people who back it up and Kevin gave me a refund for it, minus 3% which I thought was a bit tacky since I wasn't charged the 3% when I bought my scopes, I bought two Athlon scopes in the original transaction, he did give me a very nice Military discount though. Not only would I recommend Athlon both as a fantastic product for the price, the people that I dealt with were all very nice to deal with."
"This Cronus is absolutely the cream of the crop for a 1 to 6x in my opinion. I'll be spreading the word about Athlon."
Athlon Optics, Argos BTR, Riflescope
The Argos BTR riflescope is considered as the workhorse among all Athlon scopes. It comes with reliable locking turrets and uses the second focal plane, so it's great for long-range shooting.
Argos is also one of Athlon's most cost-effective scopes. It guarantees quick target acquisition in all lighting conditions. It's also zeroed easily and holds zero well. Plus it features a side parallax adjustment from 10 yards to infinity. It's more than capable of performing at long distances as high-end scopes.
A few tradeoffs that you'd have to deal with are that there's a slight image distortion at high magnification and it doesn't have long eye relief.
Pros
Compact
Affordable
Accurate windage and elevation adjustments
Cons
Short eye relief
Image distortion at high magnification
What Customers Say
"The scope is as big and heavy as you'd expect, considering the specs. (30mm tube, 24×50) However, the first focal plane (FFP) reticle zooms with the optics, so the mil dots stay accurate. For any kind of rested shooting, this scope is great. The only time it's not is when you want to hunt with a lower zoom setting. Since the reticle zooms out, it gets finer and finer and is sometimes hard to see at 10x, for example. The reticle lights up with a red LED when it's turned on, which is good for finding the reticle when you're after that pesky skunk who is stinking up the neighborhood. I would buy one of these again in a second. It's better than my high-end Hawke Sidewinder 30 for about the same cost, and it adds the very nice FFP feature."
"I love this scope. 5 shot group I pulled 1 shot my fault it was 38degrees. Easy zero. Rem700XCR/CT .308 with 20moa base, high rings, been to range twice shot about 50 rounds so far no issues! Don't let scope snobs talk you out of trying this! Glass is super clear even at edges and at all magnification's."
Athlon Optics Talos 4-16×40 Second Focal Plane Riflescope
Our last Athlon Optics scope pick may not cost much but its construction is as tight and solid as our more expensive choices above.
The Talos 4-16×40 riflescope's capped turrets click audibly and are easy to control. Setting its zero is a little exhausting but is worth it as it holds well even after a few hundred rounds.
It also comes with a glass-etched reticle that offers recoil resistance and a heat-treated aluminum tube for shockproof performance. It's also waterproof and fog proof. Plus its 4x magnification range and incredible low-light performance give you versatility when hunting.
Pros
Illuminated reticle
Affordable
Cons
Side focus knob is a little stiff at the beginning
Weak illumination at daylight
No throw lever
What Customers Say
"This is a great scope for the money! It has very good glass. The side focus and power adjuster were stiff at first but loosened up a bit with use. I'm sure over time they will improve even more. I mounted this scope in a Benjamin Marauder .25 Synthetic Stock with medium height rings. A perfect fit. Make sure you adjust your fast-focus eyepiece. This is a perfect scope for my Marauder. Get one of these scopes. You will be glad you did."
"Athlon is the best optic for the budget have them on every single rifle scaling from their lowest model this talos up to their Ares. Won't buy another brand to much scope for the money never had a issue with them and if I did I know they'd send 100 of them till it's rights, it's loyalty people I'm loyal to them and their loyal to me #AthlonUprise"
FAQs
Are Athlon rifle scopes any good?
Yes, Athlon is one of the most trusted optics brands. They make a wide variety of high-quality scopes that are budget-friendly.
Are Athlon Argos scopes good?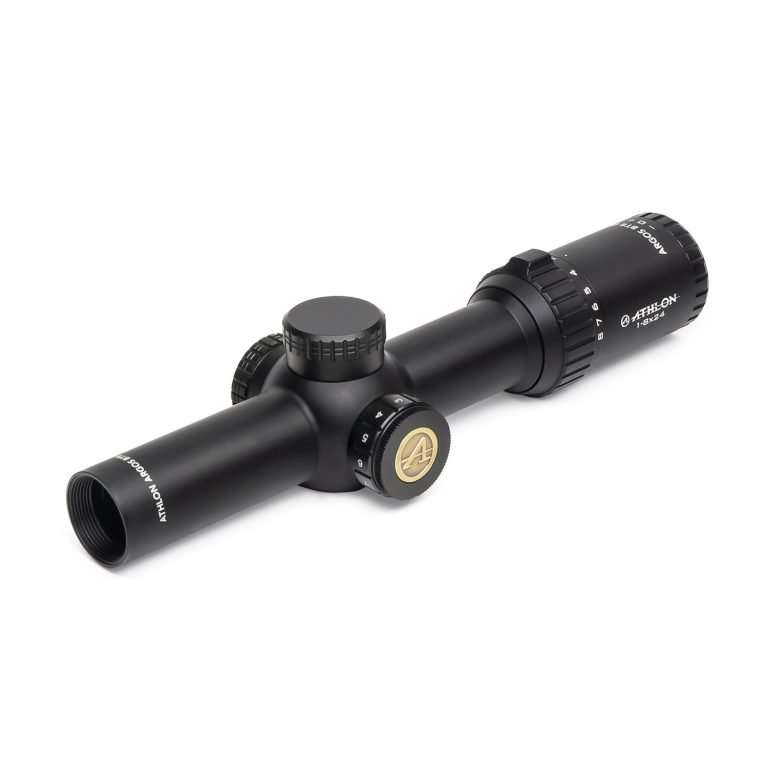 Argos is one of Athlon's top-tier scopes. It's specially designed for precision rifle series shooting and other long-distance shooting applications. Check out the detailed review above.
Are Athlon scopes made in the USA?
Athlon Optics is an American sports optics company but its scopes are manufactured in Japan.
Conclusion
Choosing a reliable scope is as important as choosing your gun, as it plays a big role in improving your accuracy and your shooting skills. If you've decided to get an Athlon scope, that's great! This brand is well-trusted by shooters all around the world so you won't regret it.
If you want to look at more options, here's an article about the best riflescopes.
Last update on 2023-11-25 / Images from Amazon Product API