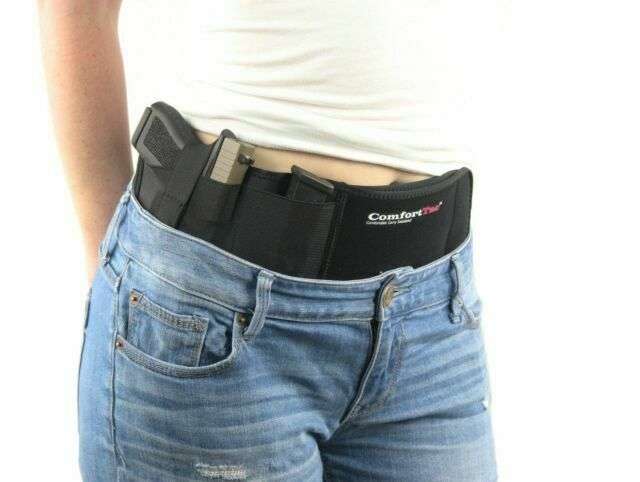 Our Top Picks
Best Overall Belly Band Holster
ComfortTac Ultimate Belly Band Gun Holster
This belly band holster is a combination of value and comfort.
Check Price
Best Belly Band Holster for the Money
Concealed Carrier Belly Band Holster
This belly band holster is perfect if you're budget-minded.
Check Price
Best Belly Band Holster for Fat GuyS
Fullmosa Mi Belly Band Holster
This belly band holster is stretchable but durable.
Check Price
Most Comfortable Belly Band Holster
Kaylle Belly Band Holster
This belly band holster is perfect for when you need to dress up.
Check Price
Best Belly Band Holster for Jogging or Running
BRAVOBELT Belly Band Holster
This belly band holster is great for athletic gun owners.
Check Price
Dressing up for an occasion or for a quick run makes concealment pretty challenging. Thankfully, belly band holsters are there to make EDC comfortable. Don't know which brand fits your concealed carry gun and body size? Keep reading for a list of the best belly band holsters you can choose from!
Comparison of the Best Belly Band Holsters
How We Choose + Our Must-Have Features
Choosing a concealed carry holster is made simple and easy in our buyer's guide below.
Comfort
This goes without saying, but we'll say it anyway. An uncomfortable holster is a worthless holster. Because even if you know how to defend yourself, if you get too distracted by the discomfort, all your training will go to waste. So go with the types of gun holsters that fit your waist snugly and make sure that it's compatible with your body type.
Material
A great belly band holster is made from stretchy, breathable materials so it won't pinch your skin or make you sweat. That way, it's comfortable even if it's worn the whole day on hot days.
Price
While the price of most belly band holsters doesn't go higher than $50, price is still a consideration, especially if you're saving up for more ammo and range time!
8 Best Belly Band Holsters
Best Overall: ComfortTac Ultimate Belly Band Gun Holster
Our top pick lives up to its name when it comes to comfort. As one of the most functional belly band gun holsters out there, ComfortTac is ideal for everyday wear.
ComfortTac can be worn in both Inside the waistband (IWB) or open carry styles, whichever you prefer. It can also accommodate most handgun sizes, which is great if you like rotating your firearms for your CCW.
Aside from being compatible with most body types, this unisex holster is also available in both left or right-hand draw designs. So, maybe there's no need to find a dedicated women's concealed carry holster.
Finally, ComfortTac features a built-in metal snap retention strap, so you can rest assured that your gun is secured all throughout the day.
Here's a video with more information about the ComfortTac Belly Band Holster.
Pros
Made from breathable neoprene
Can accommodate a variety of gun sizes
Cons
Magazine holster is a little shallow
What Customers Say
"Love the breathable fabric. A friend of mine has a similar holster and he almost creates sweat. I like the new clips. Much easier to secure my gun and to release my gun when I'm ready to take it out. I also like that the extra magazine holder is removable."
"I'm 5″5 and 118 pounds, and I've tried many ways to conceal my 9mm S&W shield. If you're a small female, it's nearly impossible. However this product is the closest I've gotten to being able to conceal and being almost completely unnoticeable. The band itself is comfortable, but if you're not used to wearing something of weight on your belly/hips, it might take some getting used to. I'm an army medic and I'm used to the weight of my gear, so I think this belly band is pretty comfortable."
Best Belly Band Holster for the Money: Concealed Carrier Belly Band Holster
One thing about this holster that stands out is the price. Here's what Tacticon had to say about their holster:
[B]est of all, our belly band holster only costs $20 or less.
Our next pick gets the job done for less than $20! Although there are a few downsides, the Concealed Carrier is an adequate holster option.
The Concealed Carrier Belly Band Holster is made from surgical-grade elastic that stretches to fit a 44" belly. It also features a spare magazine pouch that you can also use as a key or cellphone holder.
It's compatible with most gun sizes and conceals them properly. Now here come the drawbacks we mentioned earlier. One is that the retention strap takes a bit of time to unhitch. The second is that some customers complained that the velcro part of the elastic band scratches the skin as the band becomes narrow when stretched.
Pros
Affordable
Thick and durable material
Cons
Spare magazine pouch is a little small
What Customers Say
"The neoprene is great. A problem that I have with iwb holsters is that it's uncomfortable to have against your body, mainly due to sweat. This is a good alternative. Strong hook and loop. I have a feeling that it'll last. I haven't worn it on a hot day yet."
"Once you finally figure how to securely tighten it so it won't slide up or down (in my case, up) it is amazingly comfortable. I expected it to feel tight and press against my stomach and give me problems. It has to fit "tight" but doesn't feel tight, if that makes sense. I wear my G42, and put an extra magazine in the other pocket, so there is virtually no weight on the belt. Have no idea how it would work for a larger/heavier gun."
Best Belly Band Holster for Fat Guys: Fullmosa Mi Belly Band Holster
If you're one of the big guys and are worried that no belly band holster might fit you, the Fullmosa Mi Belly Band Holster has got you covered!
Fullmosa Mi is made from an elastic mesh material that's durable and has anti-sweat properties. Its XXL size fits an abdomen of up to 58" and is compatible with most small, subcompact, compact, and medium-sized guns.
The Fullmosa Mi also features 3 pistol holsters and 4 extra magazine pouches, so you can carry additional guns and magazines without feeling any discomfort.
What's great about this is that it costs less than 20 bucks!
Pros
Affordable
Allows multiple carries
Fits big guys
Cons
Material is a little thick
Velcro makes too much noise when unholstering
What Customers Say
"I was a bit hesitant to purchase because their wasn't any reviews but I'm definitely gladI did. VERY high quality for the price. Extremely versatile as well. If you really wanted to be cool, you could carry 3 firearms safely and securely in this thing if you wanted to lol. Very gladI made this purchase."
"I'm 5′ 7″ 185lbs. 34″ waist. I rdered a MD and just recieved this belly band today and inspected it. Its looks great. Well made and plenty of storage for my EDC item (light, 1 mag & P365). For those that mention a rough feel to the material…not so. It will not damage your weapon. Kydex put more wear on a pistol then this thing would. I've sat down, jumped and moved around like I normally do at work and NO ISSUES with things coming out of the pockets. It comes with 3 retaining straps. So nothing is coming out. Totally happy with this purchase."
Most Comfortable Belly Band Holster: Kaylle Belly Band Holster
While our best overall pick is the most comfortable among all our picks. The Kaylle Belly Band Holster offers almost the same convenience and comfort for a lower price.
This unisex holster is made from soft, breathable, and lightweight material that fits up to 45" belly circumference. It also features a magnetized retention strap that holds your gun securely and is easy to unlock when you need to. But granted, if you're smaller in stature it's likely to have more material than you need if you're looking for a dedicated woman's concealed carry holster.
The Kaylle Band Holster is also compatible with a variety of pistol sizes with 2″-4.5″ barrel length.
Pros
Made from well-ventilated material
Universal size
Cons
Holster's velcro has low quality
What Customers Say
"I've been looking for a comfortable holster now for some time for when I go off-road riding. The ones I've tried either are too rough against my skin or impede my riding due to bulk or it moves around too much. This is one of the best I've tried; it's soft (don't need to wear a base layer to protect my skin), my P238 fits perfectly and it even has an additional pocket for a mobile phone. I've already tested in on the trails and have had no problems. I like that it's a one size fits all so that if you're larger around the waist this will work for just about anyone."
"First impression was how soft it was. It fit perfectly around my waist. The Velcro they use on it is not bulky like typical Velcro. The band is very lightweight and discreet. The strap that holds the gun in place has a magnetized clip and doesn't take any effort to move it out of the way and pull the weapon if needed."
Best Belly Band Holster for Jogging or Running: BRAVOBELT Belly Band Holster
Our best pick for runners uses an easy snap button instead of velcro. It also allows deep concealment so you can wear tight clothes without printing.
The Bravobelt Belly Band Hoster can also be rotated up to 360 degrees so you can set it at any carrying position. This holster is compatible with major bands and fits guns with overall lengths of 4″ – 8″.
This band holster is soft and easy on the skin because it's constructed from CoolVent perforated neoprene material. That's why it's our recommended holster for gun owners with active lifestyles.
The owner, Rich, says
"[O]ne thing that sets us apart from the competition is that our system is ambidextrous.  The holster has a unique barrel exit that allows for left or right-hand carry, whereas others have a single exit. "
Pros
Easy to wash and clean
Universal size
Ambidextrous design
Cons
Material is a little thick
Holstering is a little challenging
What Customers Say
"I am not being paid to write a review and I did not receive a free product. I love my Bravobelt. It fits great and I can wear it at my waist, hips, or abdomen. It keeps my gun in place when I am jogging and does not chafe my skin! I highly recommend this product! For fitting purposes my waist is 27″, hips 37, abdomen is 33″. My husband and brother have both been borrowing my BravoBelt and they have 38″ abdominal areas. I hand wash mine and hang it to dry."
"Seriously love this thing. Versatile, and super comfy. If I'm wearing multiple layers I wear it over my first layer for easier access, but even when worn on bare skin it is so comfortable. It stays in place and its so convenient not having to worry when using the restroom like a waistband holster. If it shows through, I sometimes turn it around and lower it so the gun is at the small of my back. Just have to work with your outfit. But being fall/winter, almost all of my outfits work with this band. The little elastic button is easy to take on and off. This makes concealing a million times easier and ever since I got this I carry nearly everywhere I go. I'd say it's a must-have, especially for women who have a harder time concealing. Fits my Ruger EC9s flawlessly."
Bear Armz Belly Band Holster
Next on our list is another budget-friendly option that fits both single and double stack, compact, and subcompact pistols.
The Bear Armz Belly Band Holster is compatible with a wide variety of gun sizes. It also has an extra magazine pouch where you can also put your pepper spray or mobile phone.
We also love how comfortable the Bear Armz Holster is against the skin, even during hot days. The elastic band is also very durable although it can only stretch up to 42". Overall, the Bear Armz Holster is a reliable holster for its price.
Pros
Lifetime warranty
Excellent stitching
Great width
Cons
What Customers Say
"I was skeptical of the simplicity of this holster. However, upon receiving it I know I have a winner. The belt is soft to the skin with no itching or pokey spots. It holds my 1911 45 nice and tight with a place for the extra clip. It has a nice flexible strap to hold the pistol in place no matter the movement. It holds the weapon firm enough that even with a polo shirt on you do not see it. I spent over $250 for a custom leather shoulder holster that is uncomfortable and does not conceal well. This simple Velcro belt is the answer! I will be ordering a few more to hand out as gifts and to have a spare. Great product!!"
"I like this holster. Good quality and have had no problems. I use this more so in the winter when I'm wearing a sweater over my shirt. It stays in place and quick to put on. I carry a Springfield XP 9mm which is a fair size pistol. Keep in mind that the job of the holster is to carry the pistol safely and securely. As far as concealment, that will depend on what you are wearing and what you are toting… Don't expect a holster to perform a miracle. You have to do your part to make it work. This holster does make the job easier though. I would highly recommend this. You won't find a better "inside the pants" clip-on for the money."
Active Pro Gear Belly Band Holster
The Active Pro Gear Belly Band Holster has a very effective weight distribution system so it's comfortable to wear.
You can also wear it at various carrying positions, either IWB or outside the waistband for long periods without experiencing any discomfort. That's because all of the stress points are double-stitched.
Unlike other brands, the Active Pro Gear Holster has no belt clip that bulges through clothing and limits how low a holster can be worn on the waistline.
Pros
Comfortable to wear
Fast draw
Flexible fit
Even weight distribution
Cons
Holster's material isn't anti-sweat
What Customers Say
"I was wary of getting this holster. I carry an H&K . 45. It tends to be a little heavy and usually prints pretty well. I didn't expect it to fix the latter. Much to my surprise, it cut probably 98% of my print! The weight distribution of this holster is unbelievable. I had surrendered to the idea that it was always going to feel heavy and not very secure unless I wanted to sacrifice accessibility. This holster blew my expectations out of the water. It holds my pistol comfortably and securely. Highly recommended."
"I like this product. Very comfortable for all-day carry. The draw is not very fast due to the velcro security strap but if you remove the strap while walking around it is pretty fast. the strap is only needed if you are running and climbing. Keep in mind that this sits pretty high on the waist to be totally concealed so the draw is slower than outside holsters."
LIRISY Inside The Waistband Holster
This Lirisy belly band holster guarantees comfortable and no-print concealment for guys of all sizes. And it features a snap button strap that snaps quietly and keeps your gun secured.
The Lirisy IWB Holster is made from thin and breathable neoprene material. It's also equipped with a spare belt clip holster where you can put an extra magazine.
However, we noticed that the holster tends to come off the pants while drawing if you're not wearing a belt.
Pros
Universal size
Affordable
Available in right and left-handed version
Cons
Holster tends to come off during draws
What Customers Say
"Very comfortable and durable. This holster conceals very well and the strap button keep the weapon secure but easy to access if needed. I wish they made one big enough for red dot /flashlight combo attachments because I would be the first to purchase it. This is a great quality product and I would highly recommend this holder for any conceal carry handgun. I have a M&P Shield .40 Performance Center and it fits like a glove."
"Comfortable concealed carry holster. My S&W fit perfectly with no mods. The clip is strong enough to stay in place when the gun is drawn from the holster. The material is soft enough to be carried against the skin but strong enough to not tear (as others have). For the price I would recommend this as either a primary or secondary holster."
FAQs
Which belly band holster is the best?
If comfort is your top priority and you're willing to spend a little more, then we recommend the ComfortTac Belly Band Holster. ComfortTac is made from surgical-grade elastic so it provides maximum function and comfort.
While it's not the best solution for big guys, the ComfortTac Belly Band Holster is number one when it comes to comfort and value for money, that's why it's our best overall pick.
Are belly band holsters good?
Yes, a belly band holster is a safe way to keep your gun well hidden while giving you quick access to it when necessary.
Can a fat guy use a belly band holster?
Yes, a fat guy can definitely use a belly band holster! Size is not a barrier to a comfortable CCW. We recommend the Fullmusa Mi Belly Band Holster if your belly size is above average. It can stretch up to 52" so you'd have no problem if you're within that size.
What is a belly band holster?
A belly band holster is an elastic band worn around your torso where you can place your gun. Aside from providing comfortable concealed carry, a belly band holster also gives you flexibility in clothing options, as it can be worn under almost anything while concealing your firearm.
If you love carrying everything on your EDC list, it's time to look for the best concealed carry purse.
Final Thoughts
No matter your body size, we're sure you found the perfect holster brand from our list above. If you still haven't decided which one to get, just remember that the best belly band holster is the one that makes CCW more comfortable and practical.
If you're not yet acquainted with the basics of self-defense, then it's time to start familiarizing yourself so you can be ready for potential threats.
Is concealed carry forbidden in your State? The best combat knife is a perfect alternative. Find out why.
Last update on 2023-09-24 / Images from Amazon Product API