Best Overall
Bushnell Legend Ultra HD Compact Folding Roof Prism Binoculars
Best for people who are always on the go.
Value: 9/10
Performance: 9/10
Cost: 9/10
Check Price
Best Binoculars Under $100
Nikon 8245 ACULON A211 8×42 Binoculars
Super light and easy to use.
Value: 9/10
Performance: 8/10
Cost: 9/10
Check Price
Binoculars come in handy when stalking or spotting prey from a distance. The best ones can also make bird watching and observing wildlife more enjoyable. If you're into one of those hobbies but don't want to splurge, you're at the right place! We've reviewed the best binoculars under $200 so you can set aside money for other gear. 
A Comparison of the Best Binoculars Under $200
Model
Bushnell Legend Ultra HD Compact Folding Roof Prism Binoculars, 10 x...
Nikon 8245 ACULON A211 8x42 Binocular (Black)
Nikon 16002 PROSTAFF 7S 8x42 Inches All-Terrain Binocular (Black)
Vortex Optics Crossfire Roof Prism Binoculars 8x42
Vortex Optics Diamondback HD Binoculars 10x28
Model
Bushnell Legend Ultra HD Compact Folding Roof Prism Binoculars, 10 x...
Model
Nikon 8245 ACULON A211 8x42 Binocular (Black)
Model
Nikon 16002 PROSTAFF 7S 8x42 Inches All-Terrain Binocular (Black)
Model
Vortex Optics Crossfire Roof Prism Binoculars 8x42
Model
Vortex Optics Diamondback HD Binoculars 10x28
How We Choose
We don't want you to compromise quality just to stick to your budget, so we listed the features you need to consider before buying a pair of binoculars.
Magnification
The right magnification lets you track your quarry discreetly at a sufficient distance. If you're planning to hunt in an open area, get binoculars with 10x magnification. But if you only plan to hunt at closer distances (like from a hunting tree stand), 8x magnification is more than enough.
Field of View/Eye Relief
Binoculars with 14 to 15 mm eye relief will help you observe for hours without feeling discomfort, especially if you have glasses.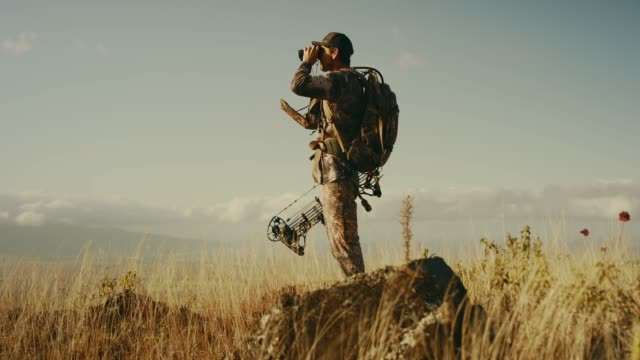 Field of view is the width of the area that you can see at a particular magnification. It's usually measured in feet at 1000 yards. Binoculars with a wide field of view allow you to track a moving target more quickly and easily and make it easy to pick up things surrounding your primary target of interest.
Lens Coating 
A great pair of binoculars have fully multi-coated lenses, and therefore, provide bright and clear images in all lighting conditions.
Twilight Factor
If you'll be scouting or watching birds at dawn or dusk, make sure to consider the binoculars' ability to gather light and perform well in these low-light conditions. This way your time in the field won't be limited.
Collimation
Collimation is the alignment of the images produced by the binoculars' left and right tubes. Simply put, a pair of binoculars that are not well-collimated displays a double image, and we don't want that. It's important to check if the binoculars you want to buy are out of collimation, so you can have them replaced or repaired.
If you haven't done it before, here's a detailed video on how to perform a collimation test on a pair of binoculars.
Material Quality
Finally, consider the binoculars' build and housing material. Accidental drops can't be avoided, especially if you use them regularly. We suggest getting binoculars with durable material and outer coatings for added protection against scratches and dents.
5 Best Binoculars Under $200
Best Overall: Bushnell Legend Ultra HD Compact Folding Roof Prism Binoculars
Don't be fooled by our overall pick's small size, because this pair of binos produce crisp images and perform extremely well in low-light situations.
The Bushnell Legend Binoculars are so comfortable to use that those with glasses don't even need to remove them to get a full field of view. Their leather carrying case also comes with a belt loop and easily attaches to a belt, making it great for backpackers and runners.
The Bushnell Legend Binoculars are also waterproof and fog proof, so they're handy even in wet climates. One downside, however, is that they're not great in low-light conditions.
Pros
Lightweight
Compact
Affordable
What Customers Say
"I got them for the small size to take in a shirt pocket on safari to Africa or on hikes around home. I have larger, much more expensive binoculars so I do know something about them and I was impressed at how bright and clear these are. I have been using these around home for birding just because they are so easy to use. Another advantage is that they are very adjustable for distance between the eyes and I have found some other binoculars that were too wide for me. I consider them to be a great bargain for lightweight binocs. I did not like the stiff neckpiece of the tether system so I replaced it with a black shoelace so the binocs and neckpiece fit into the nice leather case."

Ronwa
"These are great little products. They are small and will fit in a pocket or purse easily. The view is amazing!.. we attend quite a few concerts and at times I've wanted to see the band, these will allow us to see the band members now along with the wildlife at our house. I love that I don't have to remove my glasses to use them. The only downfall is the cheesy neckstrap. I will be looking for a replacement strap. The one that is included is made of some kind of vinyl and is next to impossible to attach. That's the only thing we've found so far tho."

Michigan Mom
Best Binoculars Under $100: Nikon 8245 ACULON A211 8×42 Binoculars
If you don't want to spend more than a hundred bucks on a pair of binoculars, the Nikon 8245 Aculon A211 Binoculars offer great quality images and details for less than that! That's because of its aspherical multicoated eco-glass lenses. These proprietary lenses guarantee a flat field of view and image brightness enhancement like no other.
The Nikon Aculon Binoculars also feature rubber-armored coatings so they won't slip even while using them in the rain or snow. These binos come with a heavy-duty neck strap and a soft carrying case. The lens caps need a little improvement design-wise, but they serve their purpose.
Pros
Come with a limited 10-year warranty
Long eye relief
Lightweight
Very affordable
Cons
They're not fog proof
They're not water-resistant
What Customers Say
"The lenses are superior. However, the right eye adjustment knob is very stiff and I wonder if this is a design defect. Overall they are the best binoculars I've had for birdwatching. In fact, the lighting and clarity is so good that I can practically count the "eyelashes" on the squirrels that visit the feeder."

Gypsycat
"Excellent binoculars for the price. They're easy to focus and quite sharp. People with a specialized need might not care for them but if you use binoculars occasionally and want something that's optically true with a diopter adjustment for less than perfect vision these are a good choice."

Joel Fritz
Nikon Prostaff 7S 8×42 Inches All-Terrain Binoculars
As a world-renowned manufacturer of high-quality optical devices, Nikon didn't scrimp on our next pick despite its affordable price. The Prostaff 7S all-terrain binoculars are one of the best in its class. These binos deliver fairly clear images with adjustments that are easy to use. Its turn-and-slide eyecups can also be adjusted to the eye relief that's most comfortable for you. Plus a rubber-armored body that ensures durability no matter the weather.
Pros
Lightweight and compact
Affordable
Adjustable eye relief
Waterproof
What Customers Say
I got these binoculars to spot trout in streams in Colorado. They work great. I am impressed with the image clarity, ease of use, and width of the field. These are great for anyone wanting a small set of binoculars in 8 power.

James
Great specs. Moved myself from 10X to 8X this year and bought seven binoculars, all at mid price (Vortex, Nkon and Carson,. This one stands up to best of them in glass and they way it handles (tight hinge, 3 stop twist up eyepieces, smooth focus wheel control with right tenstion across its entire range, lighter than similar which is good. All the binoculars I bought this year have great glass. What matters is the mechanical operation of the binoculars and this one is at the top.

KCla
Vortex Optics Crossfire Roof Prism 8×42 Binoculars
The Vortex Crossfire roof prism 8×42 binoculars come with twistable eyecups that you can conveniently adjust to get a wider field of view, especially those with eyeglasses. This pair of binoculars are well-balanced and deliver crisp images with minimal adjustments needed right out of the box. The Crossfire Roof Prism is constructed for any type of weather and its performance is almost comparable to Vortex's high-end binos but for a reasonable price!
Pros
Affordable
Waterproof and fog proof
Comes with the Vortex lifetime warranty
Cons
It gets a little blurry at higher magnification
A bit heavy
What Customers Say
They are pretty clear, with decent sighting. I noticed minor radial blurring in some spots when looking at farthest away objects. I found these to be waaay better than the quality of the budget spotting scopes.

Brown Card
Bought these binoculars for birdwatching, and have been delighted with them. They have come with me on local and international birding trips, and have worked great. The quality of the view is amazing, with clear and colorful images displayed. I was wary about spending so much on binoculars, but I feel that these are worth every penny and couldn't be happier with the immensely better quality than I have found in cheaper binos.

Joshua Ward
Vortex Optics Diamondback HD 10×28 Binoculars
The Vortex Diamondback 10×28 binoculars have more magnifying power than our previous pick. It offers excellent resolution, good color fidelity, sharpness and light transmission, and reduced chromatic aberration. It's well-built body is protected with Armortek coatings and its rubber armor guarantees non-slip grip.
Pros
Affordable
User-friendly
Comes with a case and a neckstrap
Waterproof and fog proof
Comes with the Vortex lifetime warranty
Cons
Rubber eye covers come off easily
Low-quality neck straps
What Customers Say
The clarity is unbelievable and the focus knob is super smooth but what really gets me is the solid feeling they have in your hand. The 10×42 version is compact, solid, and screams quality. These are lifetime binos!!!

Bridget
These binoculars were everything I was looking for. I hunt Indiana, so I don't have to glass too far. They feel super solid and not overly heavy. Perfect for the Midwest.

JNS
Conclusion
Whether you're getting your first pair of binoculars or your old one just isn't cutting it anymore, we guarantee that all our picks above will satisfy your optical needs without breaking the bank!
If you want binoculars with higher quality for a little extra, you can also get the best binoculars under $300. If you have to watch your expenses, the best binoculars under $100 are as reliable.
Last update on 2023-09-18 / Images from Amazon Product API