BEST OVERALL
Includes
Bore Cleaner, Lubricating oil, patches. 3-piece brass rod, 4 slotted ends, 5 phosphor bronze brushes, rifle/shotgun and pistol adapter, silicone cleaning cloth.
Cleaning rod, rod end accessories, cloth patches,cleaning solvent, oil, storage box, bore brush
Brass Thread Adapter (5-40 male to 8-32 female), Nylon Bore Brush x 2, Cotton Bore Mop x 2, Brass Jag x 2, Brass Slotted Tip
Dewey Fixed Handle Brass Rod and the Dewey Chamber Brush
Last update on 2020-04-10 / Images from Amazon Product Advertising API
Cleaning your gun is an essential element of gun maintenance that you absolutely have to nail if you are to get the most out of your weapon.
Rather than running around to pick up the odds and ends that you need, it makes far more sense to pick up a complete gun cleaning kit.
Finding the best gun cleaning kit takes some effort but who's got time for that?
That's why we've done the work for you with our review of the 5 best gun cleaning kits on the current market.
We also provide you with a comprehensive gun cleaning kit FAQ.
Our Reviews Best Gun Cleaning Kits
#1 Hoppe's No. 9 Deluxe Gun Cleaning Kit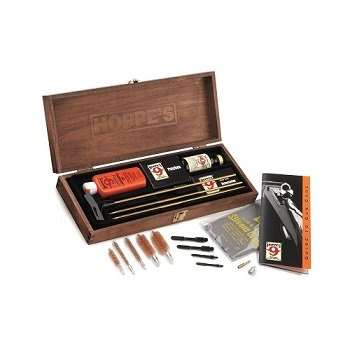 The Hoppe's No. 9 Deluxe Gun Cleaning Kit is a universal cleaning kit, meaning that it is designed to be used on a wide range of handguns.
The kit includes famous Hoppe's No.9 Gun bore cleaner, which is the most widely used and respected remover, of rust, powder, lead and metal fouling on the market. This bore cleaner will penetrate deeply and rapidly.
The case that comes with the Hoppe's No.9 Deluxe Gun Cleaning Kit does not come with a carry handle.
Your purchase of the Hoppe's No. 9 deluxe gun cleaning kit includes Hoppe's high viscosity lubricating oil, which is extra long-lasting and will not gum, harden or expire. 
You also get a 3-piece brass rod that features a ball-bearing swivel handle, allowing you to follow the bore's rifling. The phosphorous bronze brushes are fitted with stout bristles for more efficient cleaning.
Hoppe's No. 9 deluxe gun cleaning kit is the best that we could find on the current market. This is a universal kit so you can use it for more than one caliber of weapon. 
You get the best oils and solvents along with some very high-quality brushes and rods. Strongly recommended!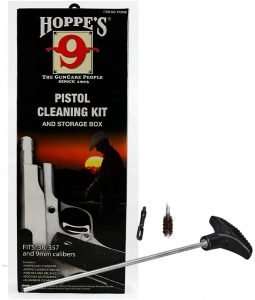 The Hoppe's cleaning kit provides you with a pretty comprehensive array of gun cleaning accessories. The cleaning rod is a one-piece aluminum metal structure with a black plastic grip. 
You do not get an extension rod because this kit is designed to be used with pistols rather than rifles. The rod end is threaded for tips or extension rods to be added. You also get four rod end accessories with this kit; a slotted end and three different sizes of jag. All of the jags are constructed from plastic.
The cleaning rod doesn't really rotate very smoothly within its plastic t-grip handle. As a result the rod does feel overly sturdy. You do not get very many cloth patches with this purchase, and they only come in two sizes. 
The patches supplied will allow you to complete no more than four separate cleans. The storage box that comes with your purchase is made of thin plastic and looks rather cheap. You get the basics here, but no top quality items and no extras.
The Hoppe Cleaning Kit includes  small bottle of Hoppes No.9 bore solvent. It contains two fluid ounces of this solvent. This is a very effective solvent that will do a great cleaning job for you. You also get a 2.25 fluid ounce bottle of Hoppe's lubricating oil. 
While it's true that this product is a little thinner than other gun cleaning oils, it still does an effective job. All in all, you get a functional but no-frills gun cleaning kit to get the job done.
The Hoppe Cleaning Kit is a basic budget priced gun cleaning kit. You will need to buy extra cloth patches. However, the amount of solvent and oil will last for as many as twenty cleans. This is a good kit for new gun owners.
#3 Raiseek .177 Cal & .22 Cal Airgun Cleaning Kit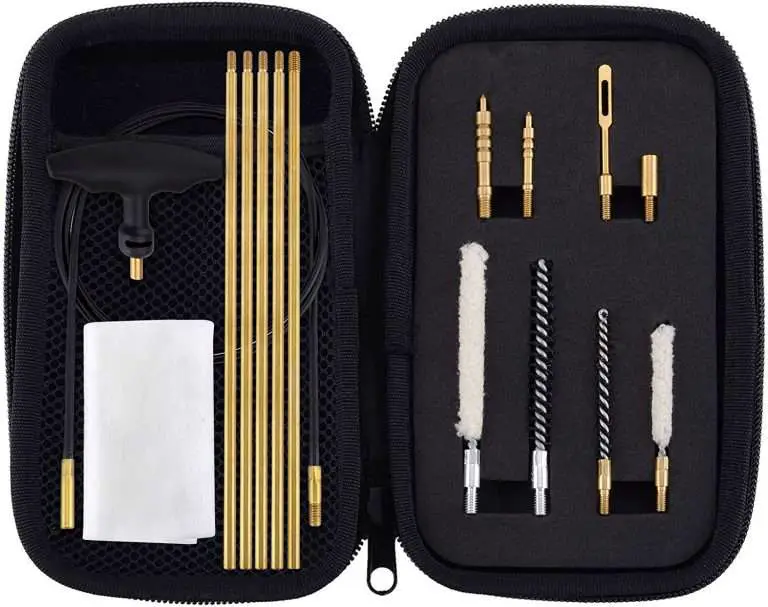 The Raiseek .177 Cal & .22 Cal Airgun Cleaning Kit provides you with a single kit to clean two rilfes; the .177 caliber and the .22 caliber airgun. 
The kit includes a 22 cal Nylon Brush, .22 cal Cotton Mop, .22 cal Brass Jag, .17 cal Patch Holder and Brass Jag, Rifle Rods, Cleaning Patches, 31.5 Inch Nylon Coated Cleaning Cable.
The Raiseek gun cleaning kit does not include any solvents or oils. You will have to buy these essential cleaning products separately. 
Be aware that this kit is made for an air rifle, not a real rifle. However, it should work just as well on a real rifle. The patches may be a little loose though.
Your purchase of this gun cleaning kit includes a zippered compact padded storage case to keep everything neatly organized. The case measures 6.5″ x 3.5″ x 2″. In total, the set comprises 16 pieces. These items are not cheap knock-offs. 
The cleaning rod, jag and slotted tip are made of metal. A threaded end on the brush screws into the rod in order to secure it in place. In addition, a nylon coating flex cable allows the feeding brushes to easily work their way into the barrel.
You can buy this product with absolute confidence, knowing that is covered by a lifetime guarantee.
The Raiseek gun cleaning kit is a comprehensive kit consisting of 16 high-quality pieces. The cleaning rod, jag and slotted tips are all made of brass. 
However, it does not contain any solvents or oils so you will have to purchase these separately. This is a good choice if you own a .77 or .22 rifle.
#4 Cobra Bore Cleaning Snake
The Cobra Bore Cleaning Snake is designed as a one-stop solution for cleaning your 9mm pistol. It consists of a brass weighted drop-through cord that easily slides through the barrel of your 9mm pistol. 
One simple pull is all it takes. Importantly there are no exposed metal parts that may damage your weapon as you pass the snake through it.
The Cobra Bore Cleaning Snake does not come with any oils or silicones. 
You will want to apply these lubricants to your gun after every ten cleans, so will have to buy them separately. This bore cleaning snake is only made to work with a 9mm handgun. 
You should be aware that the Cobra Bore cleaning Snake is not a replacement for a regular cleaning kit. That is because it will not get into all the nooks and crannies of your weapon.
The Cobra Bore Cleaning Snake is completely washable. It can be used and reused hundreds of times. This snake can be carried anywhere so that you can clean your weapon before you get home – even before you leave the shooting range!
The initial floss brushes the action and then removes loose grit and debris in the bore prior to the main scrubbing. Then the main floss will deliver 160 times more floss than a regular cleaning patch. 
The total length of the Cobra Bore Cleaning Snake is 5 inches.
Your purchase of the Cobra Bore Cleaning Snake is protected by a lifetime guarantee!
The Cobra Bore Cleaning Snake is a great little tool to allow you to clean out the barrel of your 9mm handgun anywhere, anytime. 
You should view the snake as an addition to rather a replacement for  a full cleaning kit. Buy it to clean your gun on the range or at home in order to reduce the time required between full kit cleans.
#5 Dewey Rods Chr-16 Chamber Cleaning Combo
The Dewey Rods Chr-16 Chamber Cleaning Combo is a simple two-piece kit designed to clean your AR 15 rifle (.223/5.56 Caliber). 
You get a CHR Chamber Rod and CH-16 Chamber Brush.
The Dewey Rods Chr-16 Chamber Cleaning Combo is a very limited set that consists of just two pieces designed to clean your AR rifle. 
You will need to buy oils and silicones along with cotton patches and a bore brush to provide a complete cleaning job on your weapon.
The cleaning rod on the Dewey Rods Chr-16 Chamber Cleaning Combo has a fixed rather than a swivel head. 
This makes it easier to turn the brush while inserting it so that the long bristles scrub the barrel extension.
The Dewey Rods Chr-16 Chamber Cleaning Combo is a simple two-piece kit that will do a great job of cleaning out the barrel of your AR rifle. 
However, this is a very limited set. You will need to also buy a bore brush and patches.
Do I need to clean my gun after every use?
No, you do not have to clean your gun after every use. Modern firearms do not need to be cleaned as often as in earlier times.
People who obsess over cleaning their weapon after every use run the risk of wearing out the parts early, or making them loose fitting after so much dismantling.
Of course, you need to strike a balance here because your firearm is an investment that must be maintained and cleaning is a vital part of that process. You should not need to clean your gun more than once a month.
When you clean your weapon, check it for worn-out parts. However, you should give your gun a quick wipe down with a cloth after every use. At that time you should also conduct a quick visual inspection of the weapon.
Can you clean a gun too much?
Yes, you definitely can overclean your gun. This is especially the case if you are dismantling the weapon every time you clean it.
You can also do damage to the gun if you are not using the best quality gun cleaning products. Be sure to stick with the gun cleaning kits that we have reviewed in this article in order to keep your gun in tip-top condition.
What is a gun cleaning jag used for?
A jag is a piece of metal that is designed like a plunger. You attach a cotton or synthetic patch to the jag and use it to clean out your gun barrel.
It fits tightly into the bore, which is why you need to match the jag to the bore of your weapon. The jag will allow you to remove fouling from the barrel, along with excess solvent and oil.
How to clean your pistol?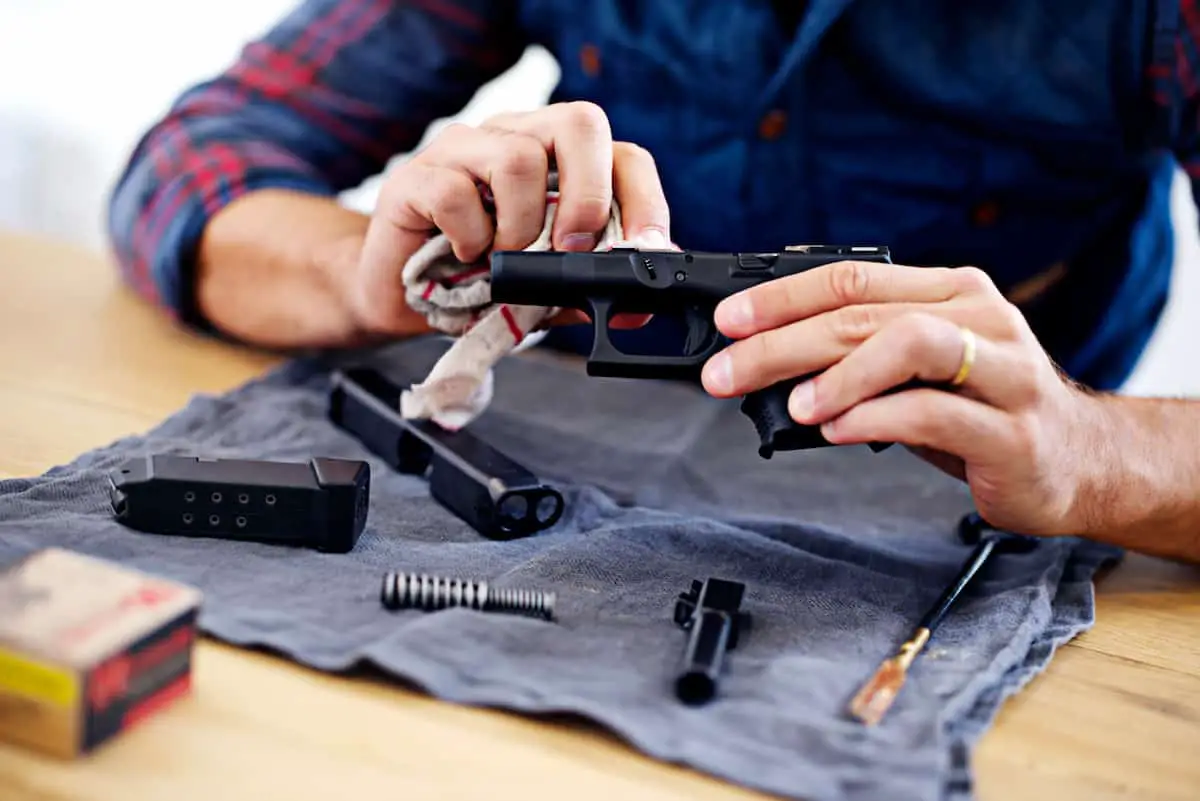 The first thing is to have your complete gun cleaning kit on hand. Then dismantle the handgun. The first part you will clean is the frame. 
Use a rag to clear off the surface gunk from the frame. Use a little solvent on a cue tip to get into the small nooks and crannies.
Next, you should clean the recoil spring. Use a dry wire brush to do this. You should not have any need to take the recoil spring apart.
Next move on to the barrel. Use a small amount of solvent on the barrel. Then put another small amount of solvent on your wire brush and work the brush actively inside the barrel in order to loosen and dislodge any grit that is contained there.
Follow this up with  jag and patches to thoroughly clear the barrel of gunk.
The final step before reassembly is to oil your gun. Don't make the mistake that most people do and over oil your handgun. Rather, apply some oil to a cue tip and use that to oil only the shiny parts of the gun. You can now reassemble the gun.
Do you have any gun cleaning tips?
Provide yourself with plenty of to work

Work under clear light

Use a fan to blow away solvent fumes

Organize your cleaning process in assembly-line fashion
How to clean your rifle?
Here is a 12-step process for cleaning your disassembled rifle:
(1) Lay the rifle on the table with the muzzle way for the body.
(2) Always clean the bore from the chamber toward the muzzle, being sure to keep the muzzle lower than the chamber. This will prevent bore cleaner from running into the receiver or the firing mechanism.
(3) Always use a bore guide to keep the cleaning rod centered in the bore during the cleaning process.
(4) Push several patches that are saturated with carbon cleaner through the barrel in order to loosen any powder fouling.
(5) Saturate a bronze bristle brush with carbon cleaner using a medicine dropper to prevent contamination of the carbon cleaner.
(6) Run the bore brush through the barrel at least twenty times.
(7) Use a pistol cleaning rod and a .45 caliber bronze bristle bore brush to clean the chamber. The brush should be wrapped in a patch. Rotate the patch rather than scrubbing it in and out of the chamber.
(8) Continue pushing through patches with carbon cleaner until the patches have no traces of black or gray and instead are green or blue. This will tell you that there is no longer any powder fouling in the barrel.
(9) Now push several patches that have been saturated with copper cleaner through the bore. Use a scrubbing motion in order to work the solvent into the copper. Allow the solvent to do its work for 15 minutes.
(10) While you are waiting, scrub the bolt with carbon cleaner moistened toothbrush. You can also wipe down the rest of the rifle with a cloth.
(11)  After fifteen minutes has elapsed, push a few patches saturated with copper cleaner through the barrel. They will appear dark blue at first to show the amount of copper fouling removed. Continue until the patches have no blue or green on them.
(12) Once the barrel is clean, dry it with several tight fitting patches. Dry the chamber with a .45 caliber bronze bristle bore brush that has a patch wrapped around it.
(13) Run a patch that has been saturated with rust prevention down the barrel and chamber.
(14) Put a small amount of rifle grease on the rear surface of the bolt lugs.
(15) Reassemble the weapon and wipe it down with a cloth.
How do you disassemble a rifle?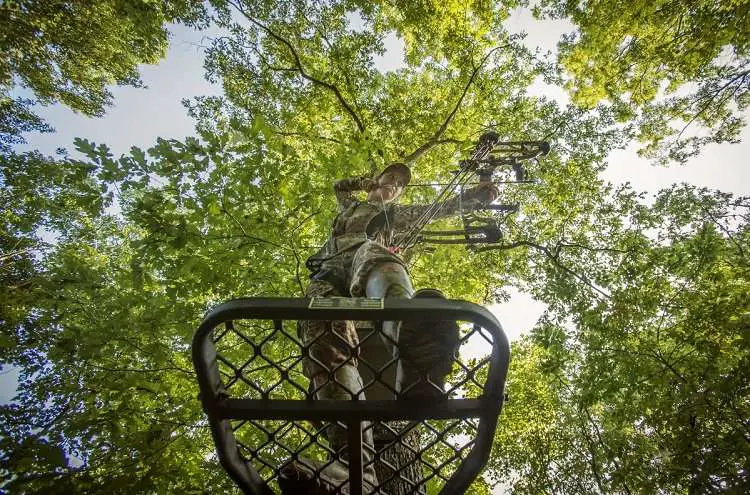 If you're thinking of taking your game hunting seriously, then you may have a hard of a tree stand. 
However, while lots of people have heard of it, many are still not sure of the purpose it serves and why they need one while hunting.
In a nutshell, a tree stand allows you to mount yourself up on a tree, but installing the tree stand so you are concealed amongst the branches, and your scent is off the ground.
Ultimately what this does is minimizes any sounds or noises that you make so that your game is not scared off and allows you send to blend in with the surroundings. 
A tree stand is extremely useful if you're someone that's looking to take hunting seriously.
How Does A Climbing Tree Stand Work?
For those that are not too familiar with climbing tree stands, these are tools that allow hunters to move on from one place to the other with a minimum amount of effort. 
Ultimately it allows hunters to hunt where the sign is the freshest. So here are a few tips on how to use a tree-climbing tree stand safely and maximize your hunting success.
The first step is choosing the rights climbing stand. Ultimately you need to consider the area you're going to be hunting in before you choose the stand. 
It is easy to terrain then you need a slightly heavier model. Ultimately the most important thing is that the stand allows you quick and quiet movement.
Next, you should choose the right tree. 
However odd this may sound, choosing a suitable tree for your climbing tree stand can have a huge impact on the ability to get off the ground and above the game's line of sight.
Next, you want to achieve the right treestand angle. You'll then want to secure the top and bottom section and secure your feet to the stand. 
Finally, secure yourself, and this will prevent you from falling off the tree stand. Once this is done, you can begin climbing using a sit and climb style tree stand.
What Should Be Worn When Climbing A Tree Stand?
When climbing while using a tree stand, a certain level of risk does come with it. 
It can be dangerous because when you fall from tree stands it can lead to injuries, and sometimes it can even be fatal. 
Therefore when using tree stands it should be done in a safe and effective way.
When climbing a tree stand or any tall structure, you should equip yourself with the fall arrest system. 
Ultimately this breaks your fall just in case you lose your balance or grasp and minimizes your injuries.
There are simple precautions that should be taken when using these stands, and here are some of them:
You should start off by practicing with your tree stand at ground level and gradually taking it higher.
Always ensure that you read the manufacturer's warnings and instructions before using a stand.
Proper tree stand placement is also crucial to ensure your safety, so ensure that the tree you choose is straight and has tight bark.
Whenever you get on or off, use the three points of contact, which are your legs and arms.
Always keep a firm hold on the tree as you as you get on or off of the tree stand.
Also, ensure that you take note of the maximum bodyweight and adhere to it. You should never come with a firearm in your hand.
Hunt Like A Pro
Hunters have been using tree stands for years. 
Tree stands help you hunt from an elevated position and gives you a greater advantage over your game.
It also offers you a wider field-of-view and keeps you out of the line of sight of your game. 
The risk of being detected is also reduced thanks to no longer being at eye level with your game.
Other benefits include scent control, thermals, greater blood trail, shot placement, and ultimately, it allows you to focus more on your game. 
So irrespective of what type of tree stand you choose if you are considering taking up hunting as a favorite pastime, a hunting tree stand will be priceless in your hunting tool arsenal.
Follow this 5 step guide to safely disassemble your rifle:
Point the rifle in a safe direction.

Put the safety in the "S" position.

Remove the bolt assembly.

Use the 1/2-inch combination wrench, loosen the front and rear mounting ring nuts on the scope, and remove the scope.

Loosen the front and rear trigger guard screws.

Lift the stock assembly from the barrel assembly.

Reassemble in reverse order.
What should you look for when buying a universal gun cleaning kit?
Here are the key considerations:
Caliber range – it is best to buy a universal gun cleaning kit that will work with a range of caliber weapons. Check the smallest and largest calibers listed in the description. Remember that the brushes must fit snugly in the barrel or they will be next to useless.
Number of brushes – the more brushes a kit has, the more calibers it will be able to clean. A really good universal gun cleaning kit will provide you with ten or more brushes.
Case – the kit should come with a carry case, complete with a handle.
Solvent and oil – make sure that the universal cleaning kit has a generous amount of solvents and oils, rather than the token amount that you find with many gun cleaning kits.
Picks – Be sure that the kit contains a number of picks in order to reach the hard to get to nooks and crannies of your weapon.
Accessories – The following accessories are nice to have but are by no means necessary – long cotton swabs, gun vise, slotted tip gun jag, gun cleaning mat, gun cleaning picks.
Conclusion
The best professional gun cleaning kit on the market right now is the Hoppe's No. 9 Deluxe Gun Cleaning Kit.
The next best gun cleaning kit is the HOPPE'S Cleaning Kit.
Rounding out our top three best gun cleaning kits is the Raiseek .177 Cal & .22 Cal Airgun Cleaning Kit.
Last Updated on