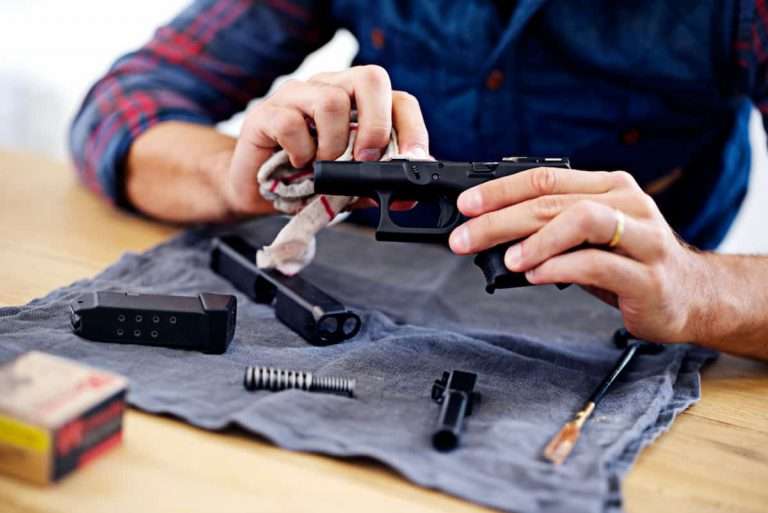 Think you can get by with an old t-shirt or a towel under your gun when you're cleaning it? Well, after you experience a quality cleaning mat designed just for that purpose, you may forever change your mind! Plus, you'll use them for decades if you find the one you love! So today, we're checking out the best gun cleaning mats.
Summary: Top 5 Gun Cleaning Mats
If you're in a hurry, here's a summary of our top picks.
Model
Real Avid Universal Smart Mat
Raiseek Rifle Shotgun Cleaning Mat
Handgun Cleaning MAT by Sage & Braker
Dimensions
17.2 x 3.46 x 2.24 inches
Material
Magnetic tray, oil-resistant material
Soft polymer, magnetic tray
Waxed Canvas, Wool and Leather
Model
Real Avid Universal Smart Mat
Dimensions
17.2 x 3.46 x 2.24 inches
Material
Magnetic tray, oil-resistant material
Model
Raiseek Rifle Shotgun Cleaning Mat
Material
Soft polymer, magnetic tray
Model
Handgun Cleaning MAT by Sage & Braker
Material
Waxed Canvas, Wool and Leather
Last update on 2023-05-28 / Images from Amazon Product Advertising API
Benefits of Using a Gun Cleaning Mat
The biggest benefit of a dedicated mat is reducing the oil stains from gun cleaning sessions. You can watch tv while wiping your gun without worrying about leaving stains in the living room! A close second is having a place to easily store small parts without losing them since many mats have containers or magnetics strips to help hold parts in place while you're working on your weapon.
DIY Gun Cleaning Mat: Should You Make One At Home?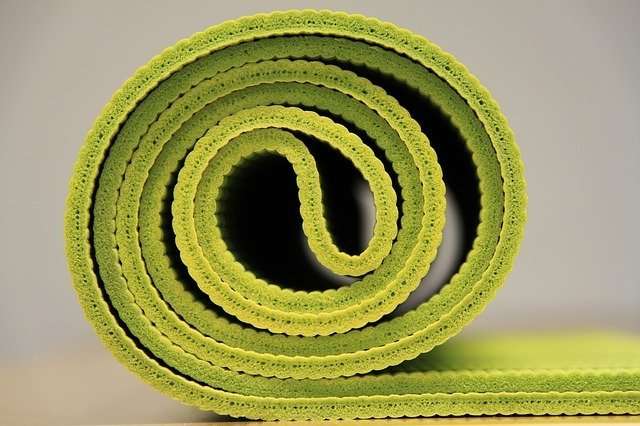 If you're into DIYing stuff, you may also create your gun cleaning mat. You can use your old yoga mat that's just sitting in your closet.  What's great about yoga mats is that you can easily roll them after every use. When creating your own gun cleaning mat, you also have the option to choose the size you want. The downside of using yoga mats is that they're not that as leak-proof and non-absorbent as the gun cleaning mats we've listed in this article. Plus, you won't have a handy location to store parts!
Characteristics of a Good Cleaning Mat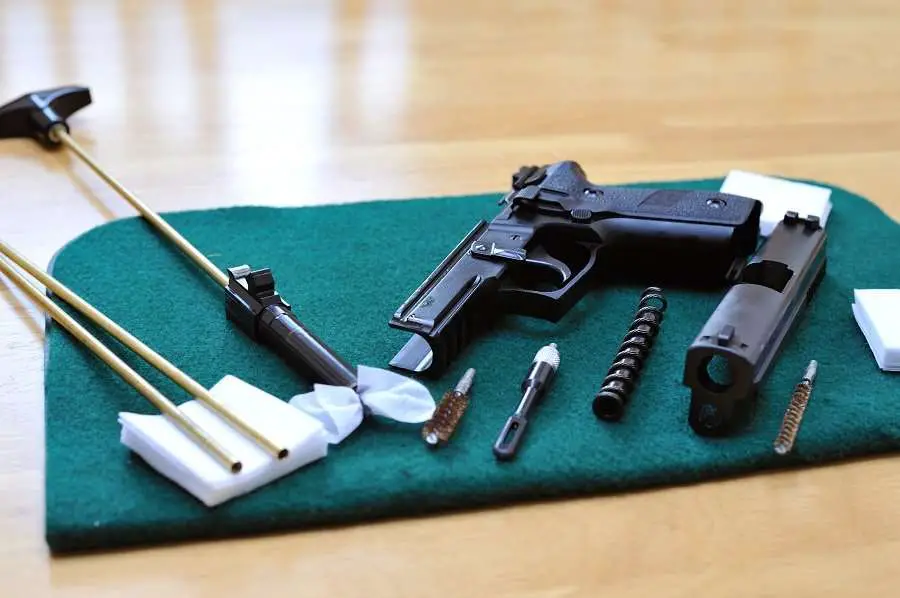 Aside from reducing the post-cleaning mess, there are more features that you need to look for in a good cleaning mat.
Size
You'll want a mat that has enough space for your guns, especially once it's disassembled. If you have more than one gun, pick a mat that works with all the firearms that you own. A gun cleaning mat with a parts tray is also a great plus. This allows you to keep the small gun parts in one place while cleaning so that you don't get to the end and realize that you lost a piece!
Material
One of the main purposes of a gun cleaning pad is leak protection. Although most mats on the market today will perform well, we still recommend looking into which material the mat is made of. I like gun cleaning mats made of neoprene or rubber. These materials are not just non-absorbent and leak-proof, they also offer better durability. Silicon and plastic mats also provide a smooth cleaning experience for less money.
Cost
Budget is important for most uses, so you also need to consider the cost of the gun cleaning mat. Thankfully, there are good enough cleaning pads out there that won't hurt your wallet.
Our 5 Best Gun Cleaning Mats
Real Avid Universal Smart Mat
Check Latest Price
Our favorite, the Real Avid Universal Smart Mat, stands up to its name. This impressive gun cleaning mat offers a smarter way to clean your gun. The Real Avid Smart Mat is a padded mat made of oil-resistant and solvent-resistant materials. It provides shock-absorbing protection that prevents your firearm from scratches. It's also large enough to handle shotgun and rifle cleaning. Accidental slips won't be a problem because of this Smart Mat's anti-slip table grip. One of the things we love most about the Real Avid Smart Mat is its magnetic parts tray. This tray enables you to keep your gun's tiny parts in one area for a more organized cleaning and to avoid losing them. This Universal Smart Mat can be used on all types of guns, from pistols to disassembled long guns. So it's like hitting the jackpot if you have a gun collection. However, if you only own a handgun, and don't want an oversized mat, you may want to take a look at Real Avid's Handgun Smart Mat. This mat is specifically designed for pistols, with the same impressive features as the Universal Smart Mat.
Raiseek Rifle Cleaning Mat
Check Latest Price
What's great about the Raiseek Cleaning Mat is that it has individual compartments designated for your gun cleaning tools. It has a small magnetic section where you can place your gun's micro parts and prevent them from getting mixed up or getting lost. Its bottom is covered with a non-slip coating so your mat stays in place while cleaning. The Raiseek Rifle Cleaning Mat is made from thick chemical-resistant rubber, making it leak-proof and easy to clean. Its elevated dividers also prevent oil and solvent from spilling into your table. You can also effortlessly store it as it can be easily rolled up. However, this mat is shipped rolled up, and it takes about a week of letting it lay flat for it to return to its original shape.
Tekmat Handgun Cleaning Mat
Check Latest Price
Tekmat Handgun Cleaning Mats provides plenty of padding for your gun as it's made from a 3mm-thick vulcanized rubber substrate. Its smooth thermoplastic fiber surface ensures that your firearm or table won't get scratched. These materials are so durable that Tekmat Gun Mats can last a lifetime. Tekmat Mats also have a printed schematic diagram of the handgun model that you own. It's also very portable and easy to store. Tekmat takes pride in its oversized mats. All their mats are designed to have plenty of room for your disassembled handgun. Tekmat offers over 60 designs of mats for different types of firearms. Here are a few of the available Tekmat Cleaning Mats on the market.
Sage And Braker – Waxed Canvas Gun Cleaning Mat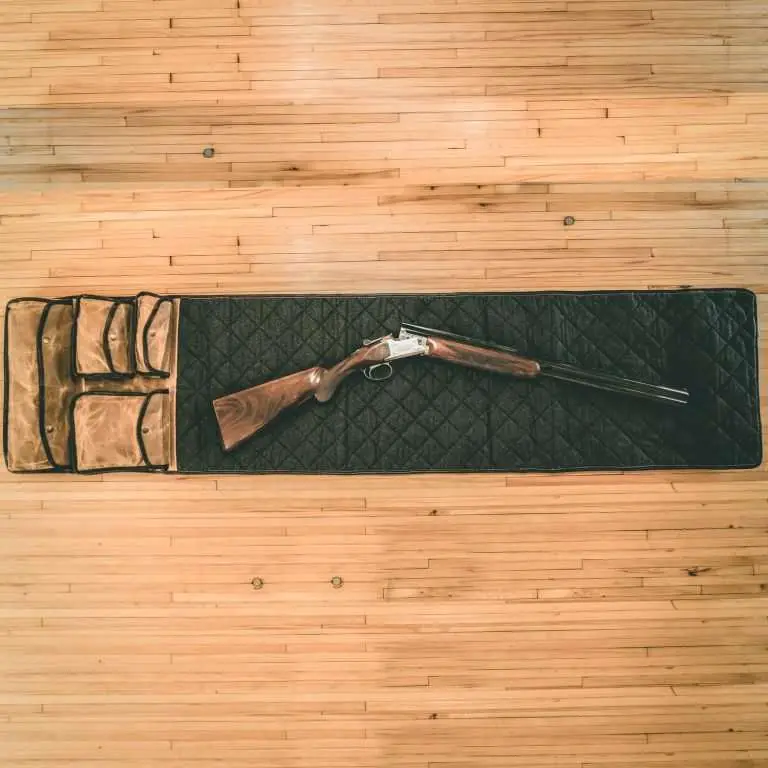 Check Latest Price
Sage and Braker Cleaning Mats are made from Crazy Horse leather, waxed canvas, and high-quality wool. These durable materials are bound together to create this super sturdy cleaning mat. Since thick wool is naturally oil-proof and water-proof, you can be sure that no liquid will be absorbed into your mat. It also has several pouches that can hold your gun parts and cleaning tools. Storing the Sage and Braker Mat is also sweat-free as you can just roll it and bind it in its leather straps. The best thing about this is that Sage and Braker offer free shipping! That's a great way to save a few bucks!
UsefulThingy Rifle Cleaning Mat
Check Latest Price
Unlike most cleaning mats, the UsefulThingy Cleaning Mat is made of absorbent materials. Despite this, oil or solvent won't reach your desk because of its oil-resistant bottom – zero mess guaranteed! It's made of thick and sturdy materials that don't slide or slip on any kind of surface. And it comes with a printed diagram of the AR rifle. You can also conveniently roll it up and store it in your rifle case. What's great about the UsefulThingy Cleaning Mat is that every purchase has a 60-day 100% money-back guarantee. So, you can rest assured that their products are of top quality.
Frequently Asked Questions
What are gun cleaning mats made of?
Gun cleaning mats are made of leak-proof and non-absorbent materials so you can easily wash or wipe off the cleaning solvent. This will allow you to store your mat with your other tools without getting them dirty.
Should a gun be cleaned after every use?
Ideally, your firearm should be cleaned after every use. That's most especially true if your gun was exposed to rain, dust, or any other external contaminants. Moisture in a closed area can quickly cause rust in your gun if it isn't protected adequately by oil. And, cleaning your gun religiously reduces the risk of corrosion and rust and keeps parts clean, ensuring smooth and reliable operation. That's especially true for precision weapons with tighter tolerances (think AR-15 vs AK-47). If you don't use your guns often, we also suggest that you clean your guns from time to time, mostly to monitor their health in your storage environment. Stored firearms can also corrode if not stored properly and cleaned regularly. Also, be sure to use only the
best gun cleaning supplies
so your firearms are well taken care of. Check out our article on
how to store ammo long-term
for more storage tips.
What is the best thing to clean a gun with?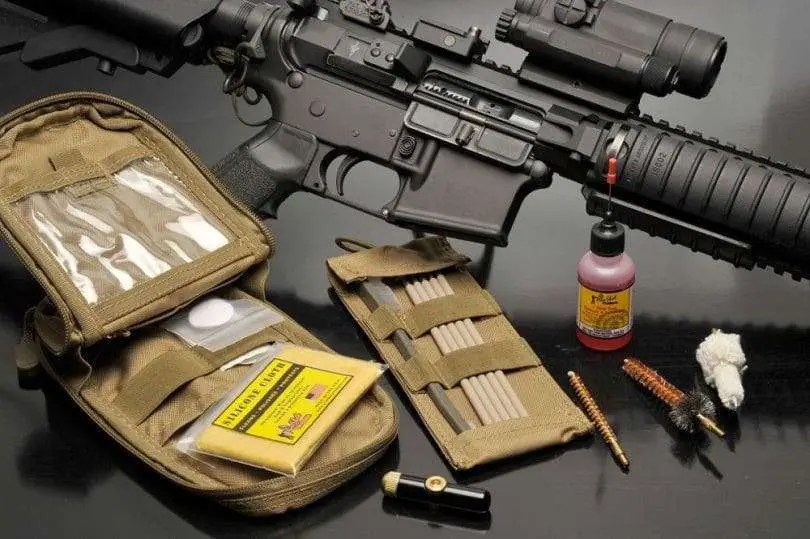 Here are the tools that you need for proper gun maintenance.
Lubricant
Applying a specialized gun lubricant on your firearm enables smoother action. It also protects your gun from rust and corrosion.
Cleaning Patches
It's important to wipe off any excess lubricant when cleaning your gun, as it will attract contaminants such as dust. Using cloth made of microfiber or cotton is the most effective way to remove leftover lubricants.
Bore Snakes
If you don't use your gun often, and you want a quick clean, you can use a bore snake. A bore snake is a piece of tapered cloth that you can insert inside your gun's barrel without having to disassemble it.
Solvent
Solvents are vital in removing dirt and debris from your gun. Aside from their cleaning properties, solvents also protect your gun from contaminants. The
best gun cleaning kit
contains all of these, so we suggest you get one.
What's the best gun cleaning solvent?
Gun cleaning
solvents
come in many forms. You may choose from liquid, foaming, aerosol, or CLP (Clean, Lubricate, Protect). They usually contain acetone, for effective dirt removal, and
heptane
, for oil removal. We cover what we think are the
best gun cleaning solvents in a full article on the subject.
How to Clean a Gun Cleaning Mat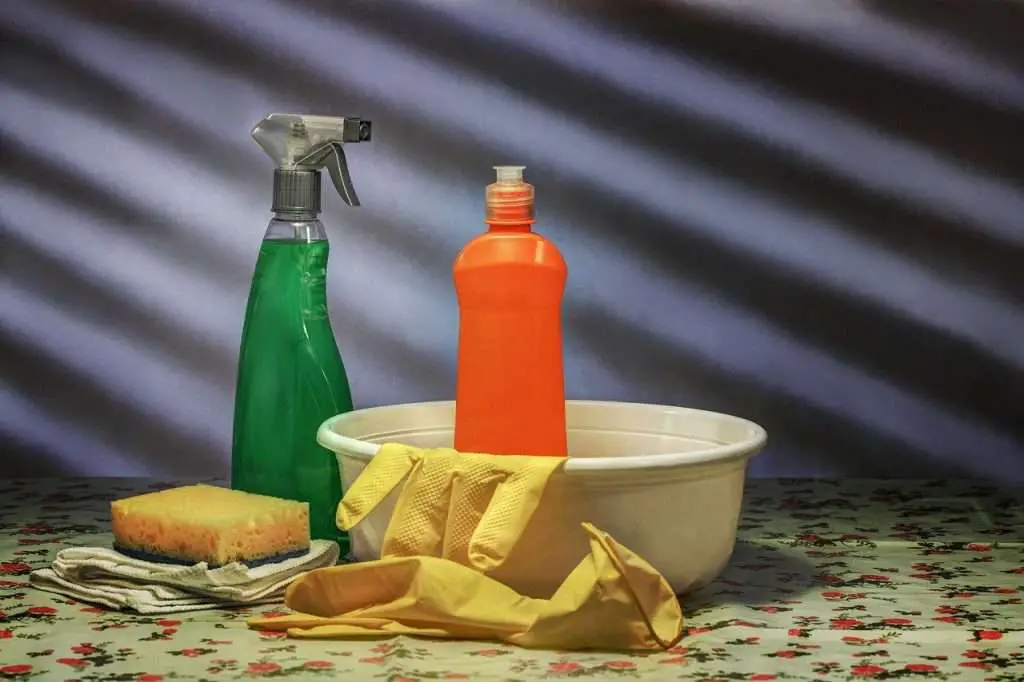 Most gun cleaning mats can be cleaned using
detergents
or soap. You can either wash your mat with soap and water or spin them in the washing machine. However, this depends on the mats' materials. Read and follow the cleaning instructions from the manufacturer before doing anything that might cause chemical reactions or damage to your mat.
Conclusion
We hope that we helped you find the gun cleaning mat that suits you best. Because we know that there's nothing more fulfilling than looking at your newly-cleaned gun. And it's better now that you no longer have to wipe off any mess on the table afterward.