Best Overall
Smith and Wesson M&P Shield 2.0
A favorite among seasoned shooters and beginners.
Value: 9/10
Performance: 9/10
Cost: 9/10
Best for Concealed Carry
Sig Sauer P365
One of Sig's best value handguns.
Value: 9.5/10
Performance: 7/10
Cost: 9/10
Best for Home Defense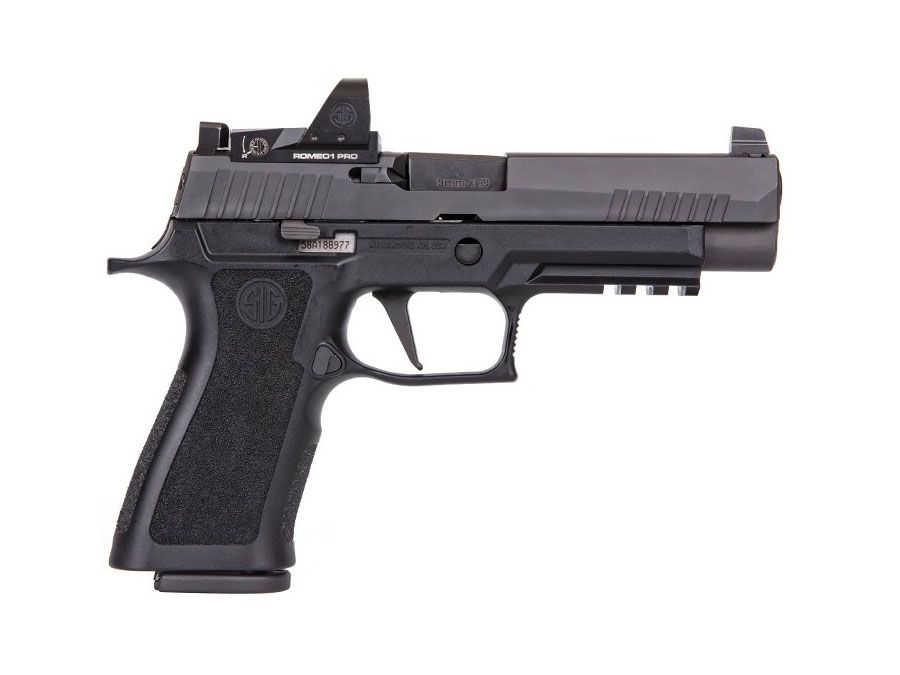 Sig P320 RXP
Reliable for home defense and as a concealed carry weapon.
Value: 8/10
Performance: 9/10
Cost: 8/10
Purchasing your first gun comes with a ton of pressure (and information overload, too!). And that's what we're here for! In this concise guide, we won't only review the best handgun for beginners, but we'll also help you choose one! 
Let's go!
Features to Consider
Semi-automatic Pistol vs. Revolver
The first thing you have to decide on is whether you want a semi-auto pistol or a revolver.
A semi-automatic pistol is a "handgun that automatically ejects and loads cartridges in its chamber after every shot." Most pistols sold today are semi-automatic pistols. 
A revolver, on the other hand, has a revolving cylinder containing multiple chambers. Each chamber holds a single cartridge. Revolvers are more powerful (mostly) but are bulkier and have less capacity compared with pistols.
For that reason, I recommend a semi-auto pistol for most beginners. They tend to be lighter, easier to comfortably carry if you choose, and easier to shoot well.
For a more detailed comparison, check out this article – Pistol versus Revolver.
Ease of Use and Safety
For a beginner's handgun (or gun), it's always better to get one with user-friendly controls and easy operation. If you don't have much shooting experience yet, that won't be a problem because everything gets better with practice. What's critical is that your pistol comes with a safety mechanism to prevent accidents.
You'll always want to remember the 5 rules of gun safety and use them. Additional mechanical safeties on your gun can be a backstop in case you forget one, which is important for beginners.
Caliber
Like we said, you just need practice to improve your shooting skills. And practicing a lot also means you need a lot of ammo, and that won't be cheap. So consider a caliber that's inexpensive to shoot and is easily available, like the 9mm.
Size and Weight
Size and weight play big roles in mitigating recoil. So if you're still getting used to the "kick," a heavier gun can handle recoil better. One disadvantage, however, of a bigger gun is concealability and comfort when carrying it for long periods.
And, we all simply have different hand shapes and sizes. So, a gun that your friend loves the feel of may not be great for you. That's why you should always at least hold and feel a gun out, and if possible, even find a friend to shoot theirs. Only then will you know how well you can handle it!
Some of our options below offer a balance on both features, but if you want to prioritize one over the other, that's fine too.
Price
Price also takes part in the decision-making process, and we all have different budget preferences. So picked a wide range of handguns below, from affordable to mid-priced brands, but all are cost-efficient and are definitely worth every penny.different budgets and needs.
7 Best Handguns for Beginners
Best Overall: Smith and Wesson M&P Shield 2.0
Similar to its predecessor, the Shield Gen 1, the Shield 2.0 is affordable, lightweight, and reliable. It has a 3-inch barrel and steel 3-dot sights for quick target acquisition. It also comes with two sets of mags (7 rounds and 8 rounds).
The more aggressive grip and lighter trigger were immediately noticeable on the line. Smith and Wesson clearly made an excellent carry pistol even better with the Shield 2.0.
Pros
Very thin for easy concealment
Lighter trigger
Expanded grip texture
More distinct trigger reset
Affordable (MSRP at Brownells: $539)
Cons
Only 7 to 8 round capacity in this single-stack
What Customers Say
"Very good shooting gun. The grip texture is much better compared to the 1.0. Gun has a little bit better of a trigger from the 1.0 shield as well. Overall I'm very pleased with the quality of the gun and its finish."

Seth
Best for Concealed Carry: Sig Sauer P365
The Sig P365 is perfect for everyday carry with its 3″ barrel length and three sets of magazines (10-round flush fit magazine, and a 10-round extended magazine, and a 12-round extended magazine).
It's chambered in 9mm, easily concealable, and comes with a crisp trigger. Its grip is made from textured polymer that offers recoil mitigation and comfortable shooting. The front and rear slide serrations allow easy manipulation and the slim-line rail is compatible with laser accessories.
Pros
Compact and lightweight
Affordable (MSRP at PSA: $599.99)
Three-point takedown
Cons
A bit too small for shooters with bigger hands
What Customers Say
Great trigger for a concealed carry gun. The upgraded grip module is a big plus. Very controllable. Shipping was very fast. Well done.

Jonathan H.
Great balance and feel. Easy to conceal and carry. Fun to shoot.

Tommy C.
Best for Home Defense: Sig P320 RXP
The Sig P320 RXP is a striker-fired polymer pistol with a composite frame. It features an XCarry Grip Module that's compatible with a detachable Magwell and grip weight. The modular design also makes the P320 RXP easy to take down and clean.
It comes with a striker safety, a disconnect safety, and a three-point take-down safety. This one-of-a-kind safety system allows you to release the striker without pulling the trigger.
Pros
Simple controls
Modular design
Reasonable price
Comes with an extended ambidextrous slide catch lever
10-round mag capacity
Cons
There's a bit of trigger overtravel
Heavy
Expensive
What Customers Say
10 stars! I love this gun. I have a compact as well and this one is much easier to shoot and feels a lot more comfortable in my hands. Occasionally the slide does not stay open after the last round but I chalk that up to it being brand new.

Chubi
Great shooter. Bought for my wife for the range and target. Ripped off 150 our so rounds of 115 and 124 grain, mix of new and reman ammo, not a single hiccup or thought of it.

D.G
Best for Accuracy: Heckler & Koch VP9
The HK VP9 is a heavy-duty gun for home-defense to everyday carry. It features a cold hammer forged cannon-grade steel barrel sporting a polygonal bore. Plus a machined steel slide with diagonal serrations front and rear, plus charging supports mounted on the slide's rear.
Its finger-groove grip has excellent ergonomics and comes with three changeable back straps and six changeable side panels so you can really dial the gun into your specific hand. 
Pros
Accurate
17-round capacity
Reasonable price
Ambidextrous controls
Crisp trigger 
Cons
Grip texture isn't that aggressive
A bit pricier than our other picks (MSRP at PSA: $799)
What Customers Say
Great ergonomics, size, weight, capacity, accuracy, and quality at a great price. Better than glock on all aspects.

Rob K.
It's just amazingly sexy, form-fitting in hand. Truly it is a work of art. I trust this gun with my life before I even shoot it . German engineering at its finest! The doing is tight but I'm sure it will lighten after I put a few hundred rounds down range.

Gerry H.
Best Trigger: Walther PDP 4.5″
The Walther PDP is an excellent pick for home defense and target shooting because of its reliability.
Aside from its buttery smooth trigger (no creep, short, light take-up, and short positive reset) the textured grip on the Walther PDP 4.5" offers a very natural feel and a solid feel. We also appreciate how it performs consistently no matter what ammo you feed it with.
Pros
Smooth and crisp trigger
18-rounds mag capacity
Reasonable Price (MSRP at PSA: $649)
Modular design
Cons
Limited aftermarket support
What Customers Say
Gun is great. Great for bigger hands. Works great and I like it a lot.

Carson W.
This is a beautiful handgun with Walther pedigree oozing in great shooting characteristics. Amazing trigger, accurate, and not at all snappy. Loves 124gr with zero FTF.

Todd R.
Glock 43 Single Stack 9mm
The magazine in the Glock 43 holds six rounds in a staggered Glock-design polymer magazine. Two mags (plus a magazine loader) come with this single-stack pistol. The first mag has a flat base plate and the other has a finger-rest extension. 
The aggressively textured grip has an integrated beavertail design for a higher and tighter grip. The Glock 43 is striker-fired and operates on a short recoil system, with its barrel hood locked into the large ejection port window.
Pros
Compact and easy to conceal
Mild recoil
Comfortable to shoot and hold 
Cons
Only 6-round capacity
Tedious takedown
Heavy trigger pull
Not great for big hands
What Customers Say
I love this gun, great for conceal carry.

Darry B. 
Crisp trigger, light recoil, easy mag changes. This is a perfect EDC.

Matthew H.
Springfield Armory XD Mod 2
The Springfield Armory XD Mod2 is an accurate and great value with excellent ergonomics. This is a classic gun that you can't go wrong with. It offers a solid feel, is very easy and comfortable to shoot, even with the extended magazine.
It's built on a polymer frame with a stainless steel slide, and chambered in .45 ACP, .40 SW or 9mm. This semi-auto pistol also comes in a sub-compact version (XD Mod2 Sub-Compact).
Pros
16 round capacity
Slim and ergonomic
Affordable (MSRP at PSA: $419.99)
Cons
It's a bit heavy for concealed carry
What Customers Say
I have shot thousands of rounds thru my XDs and have no issues with the grip safety, cocked or unlocked, and have had no issues with cocking the pistol in a smooth efficient manner while engaging the grip safety. Others may disagree but it's the main reason I stay with XD models.

William H.
The gun feels great in my hand and has fantastic ergonomics. The case is nicely designed too, to have the firearm and magazines cutout in it. The magazines are metal and appear to be pretty solid quality.

Jason R.
Conclusion
Now that you've chosen your handgun, congratulations! If you haven't, it's okay, you don't want to rush the process and end up with the wrong gun. :D
Have fun and welcome to the world of guns and shooting!