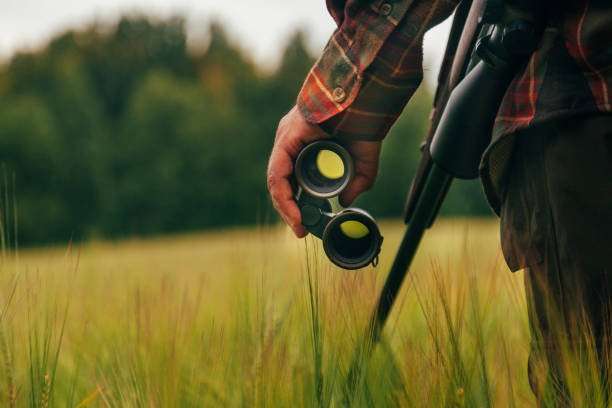 Our Top Picks
Best Overall
Leupold BX-4 Pro Guide HD 10x42mm Binocular
These binoculars have top-notch light transmission.
Check Price
Best Hunting Binoculars Under 100
Nikon 8245 ACULON A211 8×42
These binoculars are affordable and easy-to-use.
Check Price
Best for Long Distance Viewing
LEICA Geovid HD-R 2700 Binocular
These binoculars are great for use in low-light conditions.
Check Price
Best with Rangefinder
Vortex Optics Fury HD 5000 10×42 Laser Rangefinding Binoculars
These binoculars provide the most accurate range results.
Check Price
Binoculars allow us to easily scout game and watch them even behind shade and foliage. But are you sure you're using the right one? If you rely on binoculars regularly, you won't want to purchase the wrong size and brand. We're here to help you pick the best hunting binoculars so you better start reading!
Comparison of the Best Hunting Binoculars
How We Choose + Our Must-Have Features
Magnification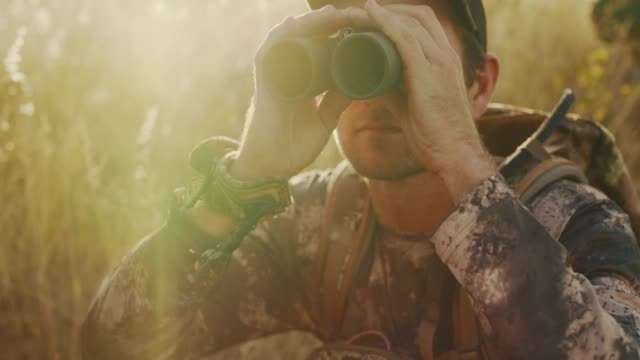 The first feature to consider is magnification because the right magnification allows you to track your game at a sufficient distance without frightening them.
If you're planning to hunt in an open environment, we suggest a 10x magnification. But if you want to hunt at closer distances, then an 8x magnification will do.
Size
Size matters a lot if you'd be moving around constantly, so it's best to get a lightweight pair of binoculars.
Keep in mind that the objective lens' size is directly proportional to the binos' weight. That's because of the amount of glass used in bigger objective lenses. If you want to get a light pair of binoculars that's powerful enough for your hunting needs, we suggest you get 8×42 binoculars.
Field of View
Field of view is measured in feet at 1000 yards. It's the widest area that you can see through a certain optical instrument. Binoculars with a wide field of view are useful when hunting in open areas. It allows you to track a moving target more quickly and easily.
Optical Quality (Eye Relief, Lens Coating)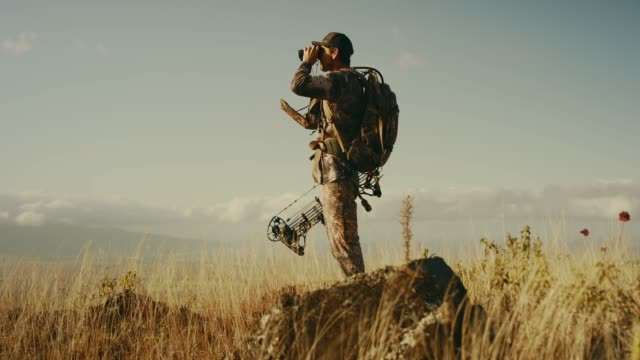 The best pair of binoculars offers razor-sharp images in all lighting conditions because of their fully multi-coated lenses. It should also let you, scout, comfortably for long hours and provide generous eye relief.
If you wear eyeglasses or sunglasses, we suggest getting a pair of binoculars with 14 to 15 mm eye relief so you can keep them on comfortably while hunting.
Price
Don't overspend. If you're on a limited budget, we have cost-effective binoculars below that perform as well as the expensive ones. Remember, a pair of binoculars is only an additional hunting accessory. What you want to splurge in is a reliable riflescope or bow, if you prefer bow hunting.
Accessories
Some binocular brands come with a lens cloth, neck-straps, and cases or harnesses. These accessories are great bonuses that provide convenience and help us secure our binoculars.
Here's a video on what to look for in the best pair of binoculars for more info.
8 Best Hunting Binoculars
Best Overall: Leupold BX-4 Pro Guide HD 10x42mm Binocular
Our best overall pick is number one in optical quality. When it comes to edge-to-edge clarity and glare reduction, Leupold never disappoints.
The Leupold BX-4 Pro Guide Binoculars have a generous field of view and perform incredibly in low light conditions so you can smoothly spot your target at dusk or dawn.
These binoculars have 10x magnification and an objective lens of 42mm. It's also equipped with a tripod-ready adapter so you can easily mount it anytime, anywhere.
Pros
Generous eye relief
Lifetime warranty
100% Waterproof and fog proof
Cons
They're expensive
They're a little heavy
What Customers Say
"Just received it, but like the clear, crisp images. Easy to focus, has a good soft case, adjustable neck strap. Slightly heavier than anticipated."
"These are by far the best binoculars I have ever owned. The ability to use it in low-light conditions is amazing! I use these for mainly hunting whitetails and 3D archery shooting. The ability to identify nubs on a fawn bucks head at 100+ yards and rings on a target at 40 yards is very useful. I would definitely recommend these optics if you are on the market for a new pair!"
Best Hunting Binocular Under 100: Nikon 8245 ACULON A211 8×42
Our next pick is not only affordable but also very user-friendly. That's because its incredible ergonomics make it lightweight and handy. And like any Nikon product, you can expect superior image clarity.
We also love how easy it is to do adjustments with the Nikon Aculon Binoculars' smooth central focus knob. Using these binoculars during the wet season won't be a problem because it's designed with non-slip rubber surfaces.
The Nikon Aculon is also extremely comfortable to use because of its turn-and-slide rubber eyecups, so you can hunt for hours without any discomfort.
Pros
Ergonomic, lightweight body design
Affordable
Multi-coated eco glass lenses
Cons
Lens covers are a little loose
What Customers Say
"The shell, caps, neck strap are all a big improvement over my Tasco 7×35 and feel more comfortable holding, but the most noticeable is the image view. The difference in magnification between my 7x35s and the Nikon 8x42s is much more than I expected. I debated over 10×42 vs 8×42 and went with the 8 for weight consideration and hunting in a wooded area. The reviews I read about 10s holding steady and finding a target in a more wooded environment was more difficult than with 8s."
"For the money you can't beat these! I have seen a lot of complaints about the lens covers and yes they fit loosely however you aren't paying over $200 for them. In fact, you aren't even paying $100. At the price you pay you can't expect everything to be perfect. Be careful with the covers and you will have no issues."
Best for Long Distance Viewing – LEICA Geovid HD-R 2700 Binocular
The LEICA Geovid Binocular gets the spot as the Best for Long-Distance Viewing. That's because it has a range of 10 to 1200 yards and has a generous field of view.
These binoculars also provide accurate hold-over/-under-compensation values by combining data from the rangefinder, inclinometer, temperature, and atmospheric pressure with installed ballistic curves.
The LEICA Geovid Binos also feature the Equivalent Horizontal Range (EHR) function that displays the EHR values for angle shots. This function gives the user more flexibility, particularly in steep terrains.
Pros
Fully multi-coated lens
Portable
Lifetime warranty
Large Center Focusing Knob
Cons
They're a little expensive
What Customers Say
"Best deal on the web. Best glass for the money plus best rangefinder for the money. The day they showed up, I ranged a small dose at 928 across my field without rest on the first button push. Paid $1200, can't beat this deal."
"Great Binocular/ rangefinder, but incredible hassle getting to Hawaii"
Best with Rangefinder – Vortex Optics Fury HD 5000 10×42 Laser Rangefinding Binoculars
Vortex delivers another high-quality optic in the Fury HD 5000 Laser Rangefinding Binoculars.
The mechanics on the Fury HD is exceptional. It's constructed with roof prisms for added durability and its lenses are covered in ArmorTek coatings for protection from accidental bumps and falls.
The Fury HD also features two target modes that allow you to choose the mode that provides the best range result for your current environment. We also love the Fury HD's Scan feature for easier ranging of moving targets.
Pros
Affordable
Intuitive and easy to use
One-handed operation
Lifetime warranty
Cons
The case looks a little brittle
What Customers Say
"Binoculars are great. They come with a case that straps around your chest. If you weigh more than 150 lbs the straps won't be long enough. I'm just getting a separate harness"
"I just used these on a 10-day hunt. They are great. Clear optics. I was able to range out to 2010 yards! That was the highest I could get it to range. I compared the built-in rangefinder to my handheld range finder and it's accurate. I'm very pleased with these and this purchase. Can't beat vortex warranty."
Vortex Optics Diamondback HD Binoculars
The Diamondback HD Binos are constructed from high-quality materials so they can withstand minor scratches. It also features three adjustable eye relief positions, so they're perfect for those with eyeglasses.
The Vortex Optics Diamondback HD Binoculars come in a GlassPak Binocular Harness that secures your binos whenever they're not in use. The harness also has small pockets where you can store your lens cloth or your phone.
For the price of less than $300, these binoculars provide incredible image quality. If you're looking for another budget-friendly choice, the Vortex Diamondback is one option to consider.
Pros
Waterproof, shockproof, fog proof
Lifetime warranty
Comes with GlassPak Harness
Affordable
Cons
What Customers Say
"I sent these to my father for Christmas. I overheard My cousins and uncles teasing him about his 1912 binoculars when I went for a visit. Turns out his binoculars really are from 1912! When he opened the package and went out to his porch and looked across the valley he told me he could actually see things on the far ridge! Vortex provides the absolute best bang for your optics buck in my opinion!"
"I was impressed right out of the box with the well-made padded case with neck strap and harness strap, a nice bonus. I've only used them for an hour or so as I just got them this morning. Even though it is raining and very cloudy I found these bins to be very bright and sharp. They outperform my Nikon's big time. I've looked through high price lenses and to be honest, my eyes can't tell the difference between the high-priced bins and these. These may be the best value to quality bins on the market. I highly recommend it!"
Steiner Predator Binoculars
Next on our list is the most lightweight pair of binoculars on the market.
The Steiner Predator Binoculars are not only portable and compact, but they're also incredibly versatile. They're great for heavy-cover or early-season hunting.
These binoculars deliver enhanced images in 3D quality! That's in addition to Steiner's proprietary Color Adjusted Transmission (CAT) game-sensing technology so you can see your target even when they're hiding behind bushes.
You can also cozily look into the eyecups for long hours, thanks to their silicone padding. The Steiner Hunting Binoculars are also constructed in an open-bridge design for a more comfortable grip.
Pros
Waterproof and shockproof
Lifetime warranty
Lightweight
Cons
Heavy lens covers
Neck strap loosens easily
What Customers Say
"Great glasses, I used them for antelope hunting in Wyoming. They did truly seem to allow animals to pop out of their surroundings in comparison with other binoculars we had with us. I did not care for the attached lens covers, they are heavy and flop all over when trying to use the binocs or put them in and out of a chest harness. I cut them off."
"First off, these are for hunters. The coating on the lenses is specified for this and will dull others. The glass is the clearest of any binos under 1000 dollars. You CANNOT go wrong with German glass. (Yes Steiner and still made in Germany with German cut glass). I have used them at the range and had no issue picking up a .270 hole on a target at 100 yards on a white target."
Bushnell Legend Ultra HD Roof Prism Binocular
Low cost doesn't always mean low quality. That's what the Bushnell Legend Ultra HD Binoculars have proven.
These binoculars get the job done and are also durable and reliable because of their waterproof and fog proof construction. Plus, the Legend's glasses are protected by water-repellent coating for comfortable tracking, rain, or shine.
The Bushnell Legend Binoculars are also constructed from extra-low dispersion glasses for enhanced image contrast and resolution. It also comes with a soft case and a neck strap for your convenience.
Pros
Comes with a rain guard
Affordable
Waterproof and fog proof
Easy to use
Cons
What Customers Say
"I like the bright optics and also the light weight of the product. I am using these for hunting this year replacing my old pair."
"These Bino's are very clear and sharp. Petty good edge to edge sharpness. They really shine in low-light situations. I have a few very good pairs of binoculars and these can really compete with those."
Celestron – Nature DX 8×42 Binoculars
The Celestron Nature Binoculars are constructed from rubber-armored, polycarbonate housing, so long-lasting durability is guaranteed.
Scouting won't also be a problem for glass wearers because the Celestron Nature features comfortable twist-up eyecups. These eyecups are equipped with a multi-stop function so you can position your eyes properly.
The Celestron Nature Binoculars deliver the same clarity and focus as more expensive brands. These binoculars also come with an instruction manual, a carrying case, lens cloth, objective lens caps, an eyepiece rain guard, and a neck strap.
Pros
Fully multi-coated
Waterproof and fog proof
Limited lifetime warranty
Cons
The diopter adjuster gets stiff over time
What Customers Say
"After evaluating a lot of 8X42s this turns out the best value for money. I tested more than 20 different under $200 brands, and these represent the best value for money. Don't hesitate to buy these. And if you travel to a developing country, donate them to a park ranger! those guys rarely have decent equipment and protect nature under very difficult conditions."
"Haven't used them much yet, but they appear to be a quality build with great optics and eye relief. The close focus is awesome with good FOV. They are great all-around nocs with an emphasis on nature. But also do pretty good for stargazing with the fully multi-coated lenses. They also serve well for general purpose use because they are fairly light, and manageable in size. Plus they are water/fog proof, so they'll be fine if you slip up and leave them out overnight, drop them in water…or spill your drink on them! You will not find a better pair of binoculars in this class. They also came very well packed for shipping which is also a plus."
FAQs
Who makes the best binoculars for hunting?
We recommend the Leupold BX-4 Pro Guide HD 10x42mm Binocular if you want binoculars for all-around use. These binoculars are top-notch in every aspect and functionality.
If you're on a limited budget, we've also got options above that will meet your scouting needs.
Which is better, 12×50 or 10×42 binoculars?
12×50 binoculars are great for long-distance scouting or viewing at low light. While 10×42 binoculars are perfect for outdoor use and traveling because of their portability.
Are 10X50 binoculars good for hunting?
10×50 binoculars are suitable for tracking game at long distances. They also give you the brightness advantage when hunting at dusk or dawn.
What size binoculars do I need for hunting?
This depends on how you'll be hunting. If you prefer sitting on your hunting tree while looking at your binoculars all the time, we suggest you pick one with an objective lens diameter of at least 40mm. This objective lens size is great for all-around use. But if you rarely use binoculars, a 30mm objective is more than enough. Plus, they're compact and easy to carry around.
What are the best binoculars for deer hunting?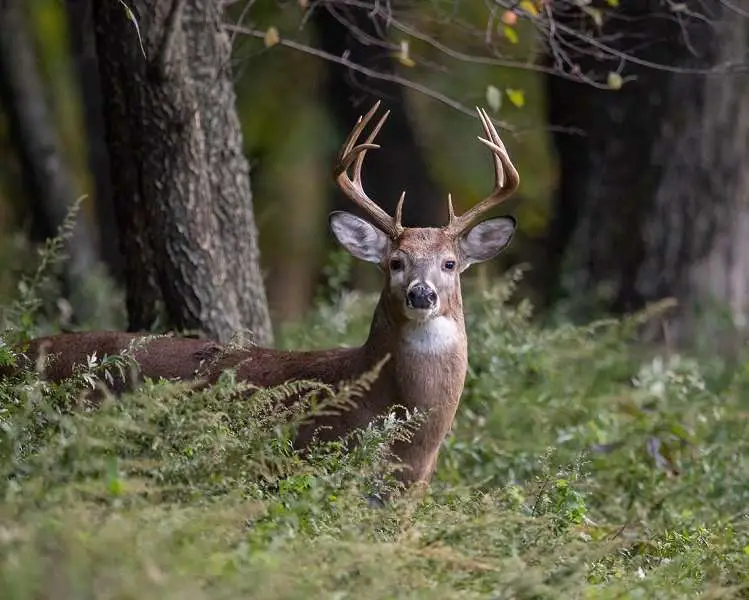 All of our picks above are great for deer hunting. But if you want the best among the best, the Leupold BX-4 Pro Guide HD 10x42mm Binocular guarantees lifetime reliability so it's worth investing in.
Are 8×42 binoculars good for hunting?
Yes, 8×42 binoculars are good for hunting as they'll give you a wide field of view while allowing you to move around comfortably.
You can also use these binoculars to spy on raccoons that are pestering your backyard. Learn how to get rid of them quickly from our article on how to scare a raccoon!
Bottomline
Investing in an excellent pair of binoculars will make hunting a lot easier. But if you don't rely on binoculars that much, a budget-friendly pair is more than enough. We're sure you've picked one from our choices above no matter your preferences.
Complete your hunting setup with the best riflescope from this guide and the best elk hunting boots!
Interested in raccoons? Learn how many babies a raccoon can have in this informative article!
Last update on 2023-09-03 / Images from Amazon Product API