BEST OVERALL
Model
Summit Treestands 81120 Viper SD Climbing Treestand
Lone Wolf Alpha Hang On II Treestand
Summit Treestands SU81119 Goliath SD Climbing Treestand
Millennium Treestands Blind
Size
18" W x 12" D seat size, 20" W x 26.5"
BEST OVERALL
Model
Summit Treestands 81120 Viper SD Climbing Treestand
Size
18" W x 12" D seat size, 20" W x 26.5"
Model
Lone Wolf Alpha Hang On II Treestand
Model
Summit Treestands SU81119 Goliath SD Climbing Treestand
Model
Millennium Treestands Blind
Hunting tree stands are extremely useful when you need time to prepare for a safe shot.
Since animals can detect the slightest movements on the ground, when a hunter is in a tree stand, they can move without being detected.
Another advantage is that the scent of the hunter is in the tree canopy and will not be given away to the nearby game as it would if a hunter were moving around on the ground.
Nowadays, thanks to the increasing popularity of game hunting, hunting tree stands are available in different types, sizes, and functionalities.
With various options to choose from, you need to know exactly what you need in order to make the best possible decision.
Below we'll take a look at some of the best hunting tree stands on the market for game hunters.
Our Reviews Of The Best Hunting Tree Stands
#1 Summit Treestands 81120 Viper SD Climbing Treestand, Mossy Oak
The Viper SD tree stand is designed to keep you concealed and comfortable while hunting. It's not the most popular model on the market and has been for the last 17 years.
It has a foam-padded seat that can either be raised or lowered for gun hunting, and you can either sit down or stand upon it.
There's also a handy front bar, which makes it easy to climb up and down the tree stand and also doubles as a resting place for your gun.
It weighs approximately 20 pounds, so it is quiet, comfy, and safe as well.
The Viper SD tree stand is built to last and covered by a five-year limited warranty by Summit.
One of the bonuses of this tree stand is that in certain parts of the platform, a sound-deafening technology is used, which basically reduces noise.
It also features a control cable retention system, which is the simplest and quietest cable attachment that's ever been designed.
Now there's no need to fumble with pins, nuts, bolts, or knobs.
Mounting and unmounting your tree stand has never been easier and can now be done with a pull of the trigger.
The tree stand also has rapid climb climbing stirrups. It's basically an ergonomic stir-up that allows you to quickly and safely get to your desired height.
Closed front climbing stand
Foam padded seat
Full body harness system
Cons
Stir ups could be stronger
Key Features
Size: 18" W x 12" D seat size, 20" W x 26.5″
Weight: 20 lbs
Weight Limit: 300 lbs
Rain Cover: No
#2 Lone Wolf Alpha Hang On II Tree Stand
The Lone Wolf Alpha Hang On II Tree Stand is probably one of the most lightweight tree stands in the range.
It only weighs 14 pounds and is small in size. However, it still gives you plenty of room to move around; and still fits into the tiniest trees that you find.
This tree stand is a perfect hang on for mobile hunters who want the lightest weight set up that's out there.
It's equipped with an offset bracket that enables right to left leveling on imperfect trees.
Alternatively, if you need to squeeze a tree stand into tight spaces, this is for you.
Lightweight
Great for mobile hunters
Backpack straps for easy mobility
Cons
Limited amount of trees you can get into
Key Features
Size: 14″ x 12″ x 21″
Weight: 14 lbs
Weight Limit: 350 lbs
Rain Cover: No
#3 Summit Treestands SU81119 Goliath SD Climbing Treestand
The Summit Goliath SD is in the original tree stand designed for bigger men.
It's a favorite among game hunters, and that's no wonder since it's packed full of features and benefits.
Although it shares the same comfortable designs, the wider top accommodates not bigger sized hunters and gives you a bit more room to move around freely.
However, it's still completely portable.
Dead metal, sound deadening technology has been used to keep noise levels down in the most critical parts of the stand.
The control cable retention system is important to give you the quickest and quietest cable attachment system ever made.
All you need to do is place the cable into the bracket, adjust the cable to fit onto the width of the tree, pull the log of the cable to the back of the bracket, and then the trigger automatically locks into place.
Rapidclimb stirrups are designed for comfort and are adjustable to fit any boot. Ultimately the main purpose is to keep the boot safely and securely attached to the platform.
It should also allow you enough time to reach your desired height as well.
This tree is made from high-quality aluminum and precise welds for absolute suitability and strength. Ultimately what you get is a robust and durable tree stand.
Foamed padded seat with back rest
Full body arrest harness system
Small size ideal for portability
Cons
Key Features
Size: 21" x 30.75"
Weight: 25 lbs
Weight Limit: 350 lbs
Rain Cover: No
#4 Millennium Treestands Blind, for L-Series Stands
This millennium tree stands blind can transform your ladder stand and fits most L-series stands.
It offers the ultimate weather protection as it's made from heavy-duty material that will give hunters protection from the elements and mildew as well.
It's quiet to the touch, so you don't have to worry about making noise and alerting the game.
It also has a zippered front entry, and multiple window configurations so you can customize how you view and conceal yourself while using this millennium tree stand.
It's made from a clever camouflage print design that blends in with the environment and will not startle or alert your game.
Offers weather protection
Conceals the hunter thanks to camo design
Customizable
Cons
Windows are small when closed
Key Features
Size: 37.5″ x 26″ x 3″
Weight: 13.25 lbs
Weight Limit: Not applicable
Rain Cover: Yes
#5 Summit Treestand
This tree stand by Summit is lightweight and practical. If you're looking for mobility, then this definitely is the tree stand for you.
It's small and light enough for you to carry in your backpack and set up is a breeze. At most, it takes approximately a minute or two to hook it up before you are seated comfortably.
Not only is this hunting seat affordable, but it's extremely durable as well.
If you're looking to carry as little gear as possible the next time you are hunting game, this is definitely the solution for you.
Small
Lightweight
Portable
Cons
Extra straps should be included
There are no shoulder straps to carry it from one place to the next
Key Features
Size: 18″ x 16″
Weight: 7.5 lbs
Weight Limit: 300 lbs
Rain Cover: No
Hunting Tree Stand FAQ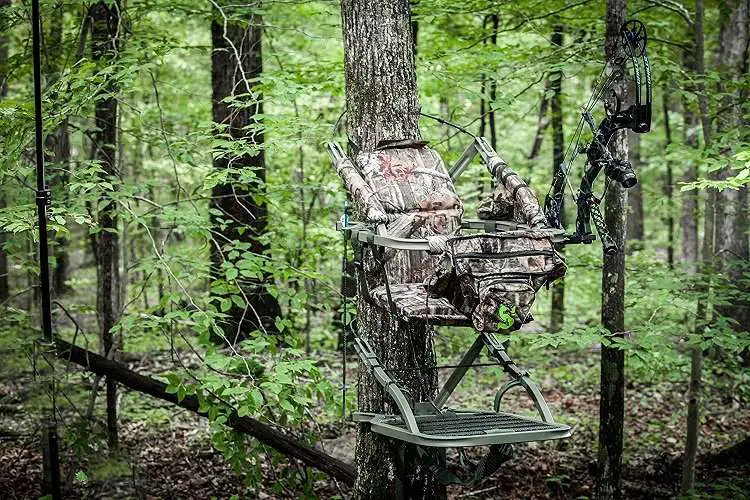 Tree stands have come a long way over the years and have huge strides in terms of comfort, ease-of-use and safety.
Most modern tree stands are lightweight and easily transported. With so many options on the market, it can prove to be quite a challenge to choose the right tree stand for you.
Below we answer some questions that will help you decide which is the best tree stand for you.
How High Do You Need To Be In A Tree Stand?
There are a number of tree stands on the market along with hunting options as well.
Just as you get different heights of ladders, the question remains how high does a tree stand need to be?
Unfortunately, there is no right or wrong answer to that question. There are several things to consider; however, that will help you make the best possible choice for your hunting location.
Firstly, the type of tree that you're considering hunting out of plays a huge role in this decision.
You can get away with hanging a tree stand lower if you are using cedar or pine that has low hanging branches as this will provide a fair amount of natural cover.
The only thing you'll probably have to worry about is ensuring that there are enough shooting lanes, especially where you anticipate your game moving.
If you are hunting in the bigger hardwoods trees do not have low hanging branches, the higher you place your tree stand, the better for you.
Twenty feet is often used as a benchmark.
This is enough to get you high so that you are out of the direct line of sight of your game but not high enough that you feel uncomfortable climbing up and down the tree stand.
Another factor to consider is that if you are using a climber, you'll be limited to the shape of the tree that you use.
So you cannot climb up on branches with the climbing tree stand, so you also want to get rid of large knots or abnormalities off of the trunk as these can prove to be obstacles.
Like they say different strokes for different folks.
Depending on the type of hunter you are, and the amount of experience you have, some hunters prefer to be higher up while others prefer to be lower.
What Does Tree Stand Do?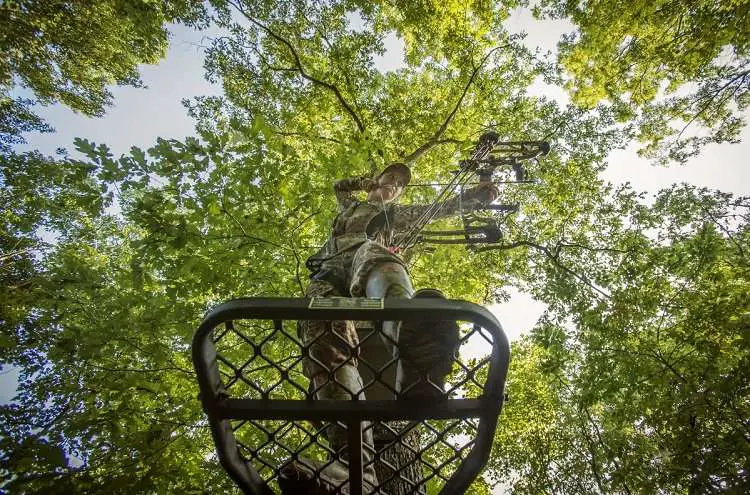 If you're thinking of taking your game hunting seriously, then you may have a hard of a tree stand.
However, while lots of people have heard of it, many are still not sure of the purpose it serves and why they need one while hunting.
In a nutshell, a tree stand allows you to mount yourself up on a tree, but installing the tree stand so you are concealed amongst the branches, and your scent is off the ground.
Ultimately what this does is minimizes any sounds or noises that you make so that your game is not scared off and allows you send to blend in with the surroundings.
A tree stand is extremely useful if you're someone that's looking to take hunting seriously.
How Does A Climbing Tree Stand Work?
For those that are not too familiar with climbing tree stands, these are tools that allow hunters to move on from one place to the other with a minimum amount of effort.
Ultimately it allows hunters to hunt where the sign is the freshest. So here are a few tips on how to use a tree-climbing tree stand safely and maximize your hunting success.
The first step is choosing the right climbing stand. Ultimately you need to consider the area you're going to be hunting in before you choose the stand.
It is easy to terrain then you need a slightly heavier model. Ultimately the most important thing is that the stand allows you quick and quiet movement.
Next, you should choose the right tree.
However odd this may sound, choosing a suitable tree for your climbing tree stand can have a huge impact on the ability to get off the ground and above the game's line of sight.
Next, you want to achieve the right treestand angle. You'll then want to secure the top and bottom section and secure your feet to the stand.
Finally, secure yourself, and this will prevent you from falling off the tree stand. Once this is done, you can begin climbing using a sit and climb style tree stand.
What Should Be Worn When Climbing A Tree Stand?
When climbing while using a tree stand, a certain level of risk does come with it.
It can be dangerous because when you fall from tree stands it can lead to injuries, and sometimes it can even be fatal.
Therefore when using tree stands it should be done in a safe and effective way.
When climbing a tree stand or any tall structure, you should equip yourself with the fall arrest system.
Ultimately this breaks your fall just in case you lose your balance or grasp and minimizes your injuries.
There are simple precautions that should be taken when using these stands, and here are some of them:
You should start off by practicing with your tree stand at ground level and gradually taking it higher.
Always ensure that you read the manufacturer's warnings and instructions before using a stand.
Proper tree stand placement is also crucial to ensure your safety, so ensure that the tree you choose is straight and has tight bark.
Whenever you get on or off, use the three points of contact, which are your legs and arms.
Always keep a firm hold on the tree as you as you get on or off of the tree stand.
Also, ensure that you take note of the maximum body weight and adhere to it. You should never come with a firearm in your hand.
Hunt Like A Pro
Hunters have been using tree stands for years.
Tree stands help you hunt from an elevated position and gives you a greater advantage over your game.
Whether your hunting using a bow or an air rifle, a tree stand offers you a wider field-of-view and keeps you out of the line of sight of your game.
The risk of being detected is also reduced thanks to no longer being at eye level with your game.
Other benefits include scent control, thermals, greater blood trail, shot placement, and ultimately, it allows you to focus more on your game.
So irrespective of what type of tree stand you choose if you are considering taking up hunting as a favorite pastime, a hunting tree stand will be priceless in your hunting tool arsenal. Of course, the best tree stand is useless if you have mediocre shooting skills. So make sure you get enough practice using the best crossbow targets (if you'll be using crossbows, that is).
Ready to catch some deer? Learn how to call them in on our article about whitetail deer sounds!
Scout for game easily even behind foliage and shade with reliable hunting binoculars or the best binoculars under $200.
Planning to camp out and hunt at dawn? Make sure you have the best wall tent stoves!
Interested in eagles? Learn when a bald eagle's head turns white from our latest article!
You Might Also Like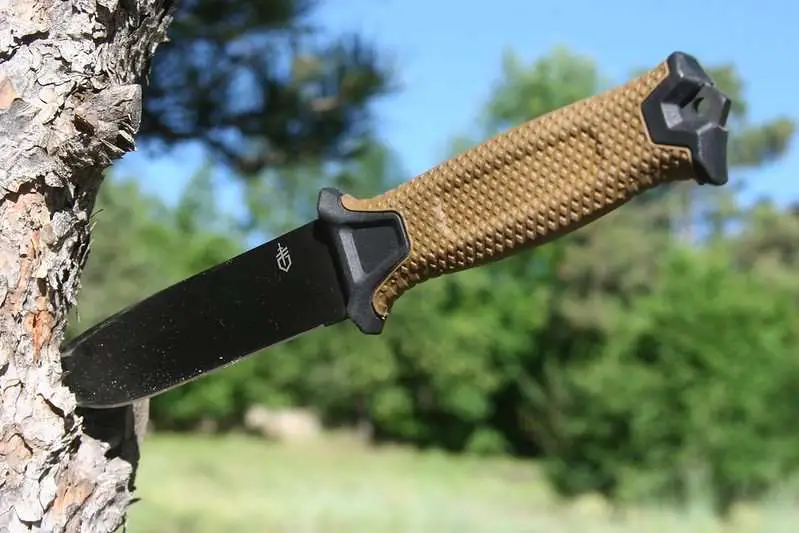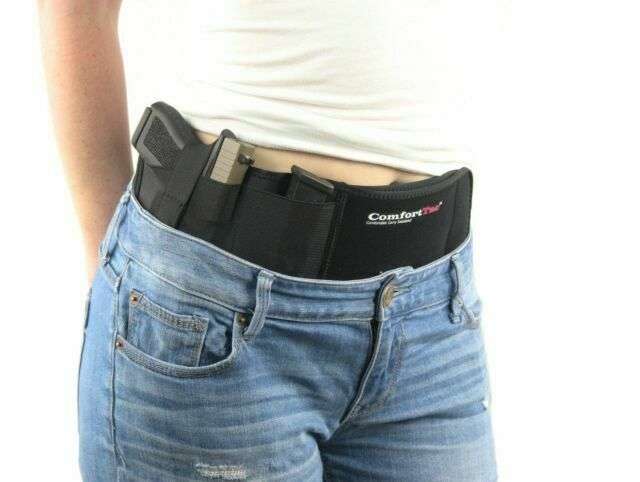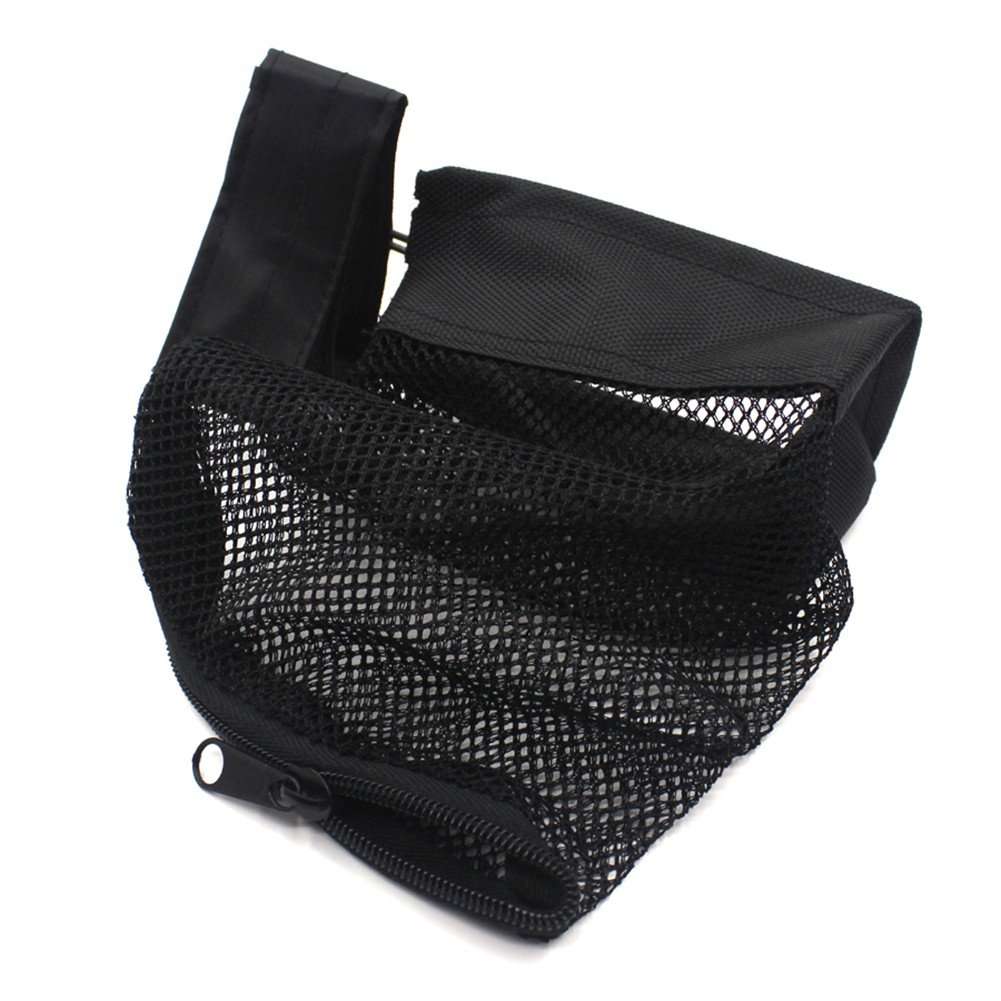 Last update on 2023-09-28 / Images from Amazon Product API