Frame Rate
Variable Frame Rate (2 fps to 30 fps)
Variable Frame Rate (2 fps to 30fps)
Variable Frame Rate (2 fps to 30fps)
Variable Frame Rate (2 fps to 30fps)
Last update on 2021-01-16 / Images from Amazon Product Advertising API
Infrared monocular, also known as night viewers, are extremely useful optical instruments that can be used for a wide variety of purposes, ranging from tactical activity to nighttime hunting, nature observation during low light conditions, and more.
These optical devices are great especially for tactical military use because the advanced models are equipped with advanced technology that allows the instruments to reveal more than 1000 feet of distance during darkness while they remain completely invisible to both human eye and other IR devices.
There are dozens of models of night viewers available on the market and choosing the best is not easy. 
But our infrared monocular reviews are here to help.
If you feel that this device is not exactly what you're looking for, have a look at our selection of top infrared monocular.
Our Reviews Of The Best Infrared Monocular 
#1 Bestguarder 6x50mm Digital Night Vision
In our opinion, the best infrared monocular available on the market is the Bestguarder 6x50mm Digital Night Vision, an optical instrument that can be used for multiple purposes including tactical field and recreational activity.
The optical performances of this device are excellent, the monocular featuring 6X magnification, a 50mm objective lens that guarantees a really wide field of view and optical zoom up to 5X.
But the outstanding optical clarity is not the only thing that impresses. 
What we really like about this instrument is the camera and camcorder function that enables users to record during day or nighttime. 
This feature makes the device ideal for observing wildlife.
The built-in infrared illuminator allows nighttime visibility up to 1150 ft. of distance and the emitted IR light cannot be detected by the human eye. 
This characteristic makes the device ideal for scouting, hunting, for surveillance and security or simply for nighttime navigation.
#2 BARSKA NVX100 Night Vision Monocular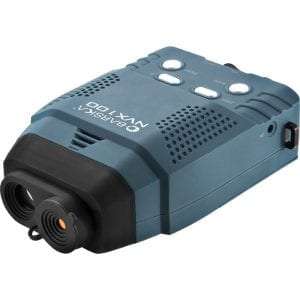 If you are looking for a monocular specifically built for tactical activities, a good device to consider is the NVX100 Night Vision Monocular by Barska.
Optical Performance
The NVX100 provides an excellent night vision and a great viewing distance of 328 ft. 
The instrument has a magnification of up to 3X and a 2X digital zoom that will enable you to use the instrument for short range targeting too.
Features
This night vision has a camcorder function, recording both images and video. 
The device can be easily connected to a television, enabling in this way the use as a surveillance camera while the built-in tripod mount allows you to use the instrument for nighttime observations of the tactical field or wildlife.
Accessories
The monocular comes with an SD card and mini USB cable, an AV cable, carrying case and neck strap, but the batteries are not included.
#3 Night Owl iGEN 20/20 Day/Night Vision Monocular
iGEN 20/20 infrared monocular addresses all those people who are looking for an instrument that provides distortion-free images and edge-to-edge clarity. 
Users are impressed with its performances, the only downside of the instrument being the weight.
Optical Performance
The optical performances of the iGEN are spectacular, the instrument coming with up to 2.6X magnification and a really wide angle of view. 
The instrument is parallax free from 16 inches to infinity and the intelligent infrared sensor automatically adjusts the amplification of the light to the actual level of darkness.
Features
This optical instrument is suitable for dual use during daytime or nighttime, the device featuring a camcorder that can record directly to external devices through the use of an RCA cable. 
The device also has programmable time-out features, an infrared start/stop option and several color output choices.
Accessories
It is unclear if the manufacturer provides any accessories for this night viewer. Nevertheless, its great performances make it an excellent choice.
#4 Carson Mini Aura Digital Night Vision Monocular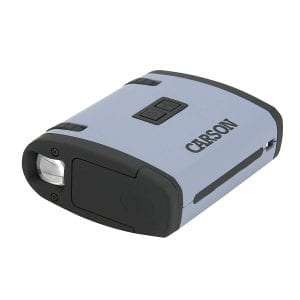 Mini Aura isn't a bulky tactical infrared viewer and it is extremely popular because it's tiny, compact, perfect to wear on your keychain and handy in many situations.
Optical Performances
Mini Aura doesn't have fancy performances but it is a more than reliable night viewer that can be used in many situations. 
The monocular boasts a 19-degrees angle of view, impressive for its tiny dimensions, and it can see at a distance of up to 82 feet in total darkness.
Features
Without a doubt, the main feature of this convenient night viewer is the reduced dimension. You will be able to carry the monocular in your pocket and have it at hand whenever you need it. 
The intensity of the view can be easily adjusted and the image is shown on a digital screen in black and white colors.
Accessories
The instrument comes with a soft carrying pouch but the three AAA batteries required for operation are not included.
#5 Xgen 2.1x Digital Night Vision Viewer
One of the best infrared monocular is the Xgen 2.1x by Night Owl. 
The users appreciate its compact dimensions and good vision, but some reported that the instrument is rather noisy.
Optical Performance
xGen has an excellent optical performance, featuring a 20mm objective lens and a field of view of 12 degrees. 
The distance of view of 200 ft. 
is also impressive and the viewer boasts 2.1X magnification power.
Features
xGen has pre-programmed illumination settings, a built-in infrared illuminator, and reduced dimensions. 
The instrument is excellent for hunting purposes, weighing only 7 oz. and having a length of only 4.8".
Accessories
Unfortunately, the manufacturer doesn't specify if there are any accessories included in the price.
#6 Solomark Night Vision Monocular
Last but not least, a reliable infrared monocular for sale that impresses with its outstanding characteristics is the Night Vision monocular by Solomark.
Optical Performance
This monocular is ideal for multiple purposes, from wildlife observation to scouting, guarding, surveillance or for nighttime navigation. 
The device has a 14 degrees field of view and an optical zoom that varies between 1 and 2X.
Features
One of the greatest features of this monocular is the illumination flexibility ensured by the 7 IR illumination levels. 
Apart from this, the device can be used as a camcorder and it has AV and USB functions as well.
Accessories
The instrument comes with communication cables and with a soft carrying bag.
Final Thoughts
Choosing the best infrared monocular was not easy, but after carefully considering the features and characteristics of all the proposed timepieces we reached the conclusion that the best of the bests is the Bestguarder 6x50mm Digital Night Vision​.
We like everything about this timepiece, beginning with the sleek, minimalist design. Our favorite is, without a doubt.
If you do not like our selection you can check others amazon has on offer.