Best Overall Long-Range Rifle

Ruger Precision Rifle
Versatile rifle with a huge aftermarket.
Value: 9/10
Performance: 9/10
Cost: 9/10
Best Budget Long-Range Rifle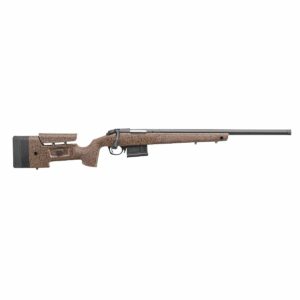 Bergara B14 HMR Bolt Action Rifle
Affordable and lightweight but is well-built.
Value: 9/10
Performance: 8/10
Cost: 9/10
Best Lightweight Long-Range Rifle
Sig Cross Rifle
Very comfortable to shoot.
Value: 8/10
Performance: 8/10
Cost: 8/10
So you've been target shooting for a while now and ringing steel at 100 yards has become like a walk in the park. Then it's about time you challenge yourself and push past that! But first, you need the best long range rifle; and we've recommended a few brands below that you'd like.
Features to Consider
Precision
The primary reason why you want a long-range rifle is to use it for precision shooting. An accurate rifle's barrel should have a twist rate that will effectively stabilize the bullet at extremely long distances. Most precision rifles have twist rates of 1:10 or 1:8. This means that for a 1:10 twist rate, the barrel completes 1 full turn for every 10 inches of its length.
Naturally, different calibers perform differently for every twist rate. A 6.5 Creedmoor works best with a 1:8 twist rate, while a .380 Win performs well with a 1:10 twist rate. A 1:10 twist rate is perfect for heavier-grain bullets.
Here's a tool that'll help you find the ideal twist rate: 
Price
If you're willing to splurge on a long-range rifle, make sure you're getting your money's worth. Review every feature and decide if you want those features or not and what you're willing to pay for them. 
Weight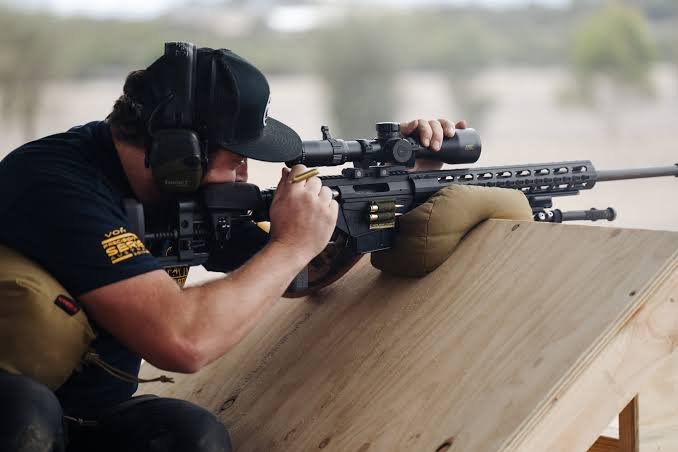 Most long-range rifles are heavy, but every shooter has different weight preferences on their rifles. Some want heavier rifles for better recoil mitigation, while others prioritize transportability and work around recoil by adding muzzle brakes. 
Accessory Compatibility
You'd want a rifle that's ready for customizations, such as rails for mounting accessories or a threaded barrel for muzzle devices. It would also be great if the rifle has a big aftermarket for when you want to purchase extra mags and other accessories.
5 Best Long Range Rifles
Best Overall Long-Range Rifle: Ruger Precision Rifle

Specs:
Caliber: 6.5 Creedmoor
Action: Bolt action
Capacity: 10+1
Weight: 10.70 pounds
Overall Length: 42.45 – 45.75 inches
Barrel Length: 24 inches
Barrel Twist Rate: 1:8″
Barrel Type: Cold hammer forged
Barrel Material: Chrome-moly steel
Muzzle: Hybrid Muzzlebrake
Finish: Matte Black Cerakote
Upper Receiver Material: 4140 chrome-moly steel
Lower Receiver Material: 7075-T6 aluminum
Lower Receiver Finish: Type III hard coat anodized
Trigger Type: Ruger Marksman Adjustable Trigger
Trigger Pull Weight: 2.25-5 pounds
Handguard: 15″ Ruger Precision Rifle Short-Action M-Lok Handguard
Stock: Ruger Precision MSR Stock
Safety: Reversible safety selector
Sights: No sights
Magazine: Includes two (2) 10-round Magpul PMAGs
The Ruger Precision Rifle features a cold-hammer-forged barrel with 5R Rifling at minimum bore and groove dimensions, minimum headspace, and a centralized chamber. It also comes with the Ruger Precision Rifle® Hybrid Muzzle Brake so you'll barely feel the recoil. 
Its recoil management system helps improve accuracy by isolating the recoil from the receiver's rear directly to its foldable buttstock. Plus its oversized bolt handle offers easy bolt manipulation for follow-up shots.
Pros
Affordable (MSRP: $1,499)
Very accurate
Light recoil
Huge aftermarket
Compatible with Magpul PMAGS, industry-standard AICS, and DPMS pattern mags.
Cons
Heavy
Creep is a bit more than acceptable amount 
What Customers Say
Shot 4" gong at 600yrds repeatedly right out of the box… once I got it dialed in this thing was driving nails… great value for long-distance shooting.

Jeremy C.
I have successfully hunted hogs with a Ruger AR 556 for several years. However I felt the .556 lacks the knockdown power I was looking for. I purchased the RPR in 6.5 Creedmore to give me this. I have not been disappointed! The rifle consistently groups at sub MOA and provides the power to put a hog down and keep him down with a single shot. The trigger pull is a short and crisp 2.5 pounds. Recoil is negligible. The only negative that I find is the weight. After adding a infrared scope and illuminator you will definitely want to add a comfortable carry strap.

Byron P.
Best Lightweight Long-Range Rifle: Sig Cross Rifle
Specs:
Caliber: 6.5 Creedmoor
Barrel Length: 18 In (457 mm)
Mags Included: (1) 5-round Polymer Mag
Mag Type: AICS
Action Type: Bolt Action
Stock Type: Sig Precision Stock
Barrel Material: Stainless Steel
Trigger Type: 2-Stage Match
Twist Rate: 1:8
Forend Type: Alloy
Grip Type: Polymer
Receiver Finish: Black Anodized
Overall Length: 38.5 Inches
Overall Width: 2.9 Inches
Height: 8 Inches
Threads: 5/8 Inches – 24 tpi
Accessory Rail: M-LOK
Weight (Oz): 6.8 Lbs.
Aside from its efficiency in precision shooting, the Sig Cross rifle is reliable for backcountry hunting because it's more lightweight than most bolt-action rifles. It has an adjustable butt pad that you can slide up and down according to your desired height. The skeletonized, foldable aluminum stock's length of pull is also easily adjustable through a screw, as well as the cheek comb riser. It comes with an aluminum handguard that's M-LOK compatible. Finally, its trigger pull weight can be adjusted from 2.5 to 4 pounds.
Pros
Affordable (MSRP: $1,599.99)
Ultra lightweight (6.8 lbs.)
Light trigger pull
Cons
Bolt action is not that smooth
Not that accurate with factory loads
What Customers Say
My Cross in 6.5cm has absolutely zero issues and has run flawlessly. I followed the barrel break in/lubrication procedures and have had no problems. Shot .5 MOA over the weekend with factory Sellier and Bellot 140gr FMJ.

atwoodatwood1820
I have owned my Cross for about 6 months and mine feeds perfect and the bolt goes home with ease chambering a round. I've shot a lot of different loads and 1/2 to 1" groups are about the average I've gotten at 100 yards. Not a bad rifle but I'd have probably held out for the Tikka I wanted.

5150miner
Best Budget Long-Range Rifle: Bergara B14 HMR Bolt Action Rifle
Specs:
Caliber: 6.5mm Creedmoor
Capacity: 5 Rounds
Magazine: AICS Detachable
Barrel Length: 22″
Barrel Type: No.5 Taper
Barrel Material: 4140CrMo steel Bergara barrel
Barrel Finish: Matte blued
Stock: Bergara HMR Molded with mini-chassis
Rear butt-stock: Adjustable cheek piece, and length-of-pull
Weight: 9.15 lbs
Bergara designed the B-14 HMR for hunting and competition shooting. It guarantees optimal precision and repeatable bedding with its free-floating button-rifle-honed barrel and integrated full-length mini-chassis that's been molded into the stock. It also features a two-lug system that consists of a sliding plate extractor and a coned bolt nose and breech that guarantee hassle-free cartridge feeding and extraction. You'll definitely enjoy how smoothly the bolt lift works especially with its extended knob. You'll want to fling rounds in and out endlessly.
Pros
Very affordable (MSRP: $1,199)
Lightweight (9.15 lbs)
Accurate
Smooth bolt lift
Cons
Heavy trigger pull
Mag capacity is only 5 rounds
Shorter barrel (22")
What Customers Say
I have had this gun a few months. Sub MOA with factory ammo. Shoots great and couldn't complain about anything for the price. I have shot out to 900 yards with no problems.

Red82
Very well-built and extremely accurate. Everything you could want out of the box, no need for upgrades.

BigGame42
Tikka T3x Tac A1 Rifle

Specs:
Action: Bolt
Magazine Type: Detachable Box
Stock Type: Folding, Fixed with Aluminum Bedding
Trigger Type: Two Stage
Muzzle Type: Threaded
Magazine Capacity: 10+1
Caliber/Gauge: 6.5 Creedmoor
Twist Rate: 1:8″
Orientation: Right
Safety: 2-Position
Barrel Material: Cold Hammer Forged
Receiver Material: Steel
Stock Material: Aluminum
Receiver Finish: Black
Stock Finish: Black
Barrel Length: 24″
Overall Length: 44-1/2″
Weight: 10.4 lb
The Tikka T3x Tac A1 rifle comes with a 24-inch threaded barrel, M-LOK style rails at the front, an AR-type grip, and a foldable stock. The stock is solid and you can hear a positive click when you're folding it and when you're snapping it back. The stock is also adjustable with your cheek weld or if you want to add spaces or QD mounts and swivels. The adjustable trigger works smoothly with a crisp break. The actions on the T3x Tac A1 are buttery smooth because they're Teflon-coated. The bolt, in particular, slides nicely and easily because of its Teflon coating.
Pros
Adjustable trigger
Very accurate
High-quality magazines
Cons
Average-quality grip
A bit pricier than other brands (MSRP: $1,999)
What Customers Say
Fell in love with the Tikka instantly. It is quite a bit heavier than the MPR, but that's not a bad thing for precision shooting. Going back tomorrow to pick up my new Tikka with Vortex Razor. Can't wait to shoot it.

Kenneth B. Norris
It's the most accurate rifle I have ever shot! I love my tac a1!

Chris06Young88
Mossberg MVP Precision

Specs:
Action: Bolt
Magazine Type: Remington Magpul P-Mag
Stock Type: M-Lok Forend with Luth MBA-3 Adjustable
Trigger Type: Adjustable LBA
Muzzle Type: Threaded
Magazine Capacity: 10+1
Caliber/Gauge: 6.5 Creedmoor
Twist Rate: 1:8″
Hand: Right
Receiver Material: Aluminum
Barrel Finish: Matte Blue
Stock Finish: Matte Hard Anodized
Barrel Length: 24″
Length of Pull: 12-1/2″ to 16-1/2″
Overall Length: 43-1/4″
Weight: 10 lbs
Barrel Type: Medium Bull, Fluted
The Mossberg MVP precision rifle features a CNC-machined aluminum chassis and a free-floated medium bull contour barrel that promotes stability, rigidity, and precision. The muzzle is threaded so you can add a muzzle brake or a suppressor. One of our favorite features is the user-adjustable trigger that allows you to adjust the trigger pull weight from 3 to 7 pounds. 
The Mossberg MVP precision rifle has several glove-friendly features, such as the oversized trigger guard and the scalloped bolt handle that gives more clearance when wearing gloves (or if you have large hands). Above all, what sets this rifle apart from other precision rifles is its compatibility with standard AR-style magazines – that's convenience and capacity combined!
Pros
Affordable (MSRP: $1,400)
Compatible with standard AR-style mags
Adjustable trigger
What Customers Say
Nice weapon! Shooting lollipops at 100 yards.

Clintlamay
It's a real tack driver. It's a sub-MOA gun all day long.

tacticalandpractical1776
Remington Model 700 SPS Tactical AAC-SD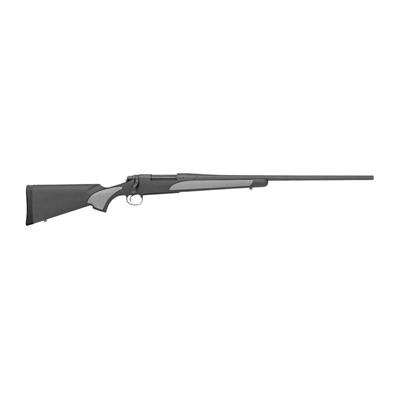 Specs:
Action Type: Bolt Action
Barrel Length: 24″
Capacity: 4-Round
Cartridge: 308 Winchester
Color: Black
Finish: Black
Front Sight: None
Length: 43.6″
Magazine Included: Hinged Floorplate
Magazine Type: Fixed
Muzzle: Plain
Rear Sight: None
Sights: None
Stock Material: Polymer
Weight: 7.5 lbs
The Remington Model 700 SPS Tactical AAC-SD features a heavy varmint profile barrel with a 1/10 twist rate. It also comes with an over-mold stock so it's very comfortable to use. The stock system is aluminum pillar-bedded and promotes accuracy along with the free-floating barrel. The well-textured grip also offers better control. The best thing about this rifle is how well-balanced and lightweight it is at the same time.
Pros
Very affordable (MSRP:$725.99) 
Very lightweight (7.5 lbs)
Smooth bolt action
Cons
Mag capacity is only 4 rounds
What Customers Say
Nice rifle. I have a Hogue stock and I had to slightly trim the rubber away from the barrel but other than that I love mine and had no issues.

Vanillagorilla9841
My first precision rifle, still got it. It's come a long way with all the additions. The best group was 1 Moa at 200 yards with half at shooting GM2 175gr fed. Insanely accurate.

Canadiangunguy5512
Conclusion
Long-range shooting is no joke. But with enough practice, the right rifle, and the right ammo, you'll definitely get the hang of it. Who knows, you might even be able to join a precision rifle shooting competition in the future! So now that you've chosen a long-range rifle, make sure it's chambered in a cartridge that's as efficient.
Also interested in air rifles? You'll love our article about the quietest air rifle!