It's no secret when we say this one thing: hunting at night without the best night vision rifle scopes is like trying to hit a ball – without seeing where the ball is coming from. Humans can't really see at night, at least not like feline predators do.
However, you can give those predators a run for their money by purchasing the best night vision rifle scope on the market. Considering today's technology breakthroughs, it's not that difficult to find something appropriate.
In this guide, we will show you exactly what to look for in a night vision rifle scope – as well as direct you towards a few good models. All of them are very popular; now it all depends on your preferences.
If you are in a hurry, below we have selected our TOP 3 choices for you to quickly view on Amazon. If you want a more in-depth review of these scopes, just scroll down below and view our recommendations.
Last update on 2019-08-24 / Images from Amazon Product Advertising API
Our Recommendations
Best Night Vision Rifle Scope for the money
Sale
Last update on 2019-08-24 / Images from Amazon Product Advertising API
If you want to get a rifle scope that offers great value for the money that you pay, then the ATN X-Sight II is definitely something you might want to consider buying.
This rifle scope is an improvement of the first X-Sight – and sold at a similar price.
It may not be the cheapest one on the market, but it's not the most expensive one either. It is actually considered "affordable" by many enthusiasts.
Still, it is the one that makes you think "this was worth the purchase."
Most of the time, you get what you pay for…
…and this one has a lot to offer.
This rifle scope can be used both during the day and during the night. Featuring a detachable IR illuminator, you will get a clear image no matter if it's clear or cloudy outside.
Some people were not as impressed by the infrared illuminator and suggested that you buy another one if the area is pitch dark. However, in most hunting circumstances, you will be able to get a pretty decent image.
You also have multiple sight options to choose from, allowing you to adjust for better clarity.
Plus, not only does this scope allow you to see, but it permits recording as well. This way, if you are going hunting at night, you'll be able to record every step of you inching into your game.
Featuring a 5-20 magnification and a 160 lp/mm resolution, this rifle scope can see pretty far ahead. Even if the object is at 500 yards, you will still get a fairly decent image.
The light levels are adjusted manually, so you can get your preferred image depending on the weather or sky conditions.
This works on AA-sized batteries, so it's highly portable. You will, however, have to carry spares around you – mostly because you will not be able to see anything on the screen.
Think of it as a digital camera or a computer monitor. If there is nothing to power it, then the screen will be blank. If the circumstances are dire, you may power it through a USB power pack.
It is affordable
It is easy to use
Many sight options to pick from
It goes through batteries fast
The IR illuminator is weak
---
Best Night Vision Rifle Scope under $2,000
Sale
ATN ThOR-HD 384 1.25-5x, 384x288, 19 mm, Thermal Rifle Scope w/ High Res Video, WiFi, GPS, Image Stabilization, Range Finder, Ballistic Calculator and IOS and Android Apps
Excellent Image Performance with 384x288 Sensor - it is the ideal night vision scope because it detects heat energy, instead of light. The technology allows you to see clearly in complete darkness
Ballistic Calculator - the system allows you to calculate the trajectory of your bullet, helping you to hit the target. It helps to improve your shot placement by adjusting your Point of Impact
Build-in Smart Rangefinder - will make your life easier than ever. Discover how using a rangefinder can help you improve your target shooting skills and become an expert at the range
Last update on 2019-08-24 / Images from Amazon Product Advertising API
This rifle scope comes in several versions, allowing you to choose the one that suits your preferences the most.
This particular version features a 384×288 sensor and is a great asset if you do a lot of night hunting.
The fact that it detects heat instead of light is a great option for night vision.
This way, you will be able to see your target even when it's pitch dark outside and you do not even have an illuminator.
The ATN ThOR features a Smart Rangefinder that will make it easier than ever for you to lock on your target. It also has a Smooth Zoom option that lets you magnify without losing the FOV.
Featuring HD photo and video recording, this rifle scope allows you to record every part of hunting your game – and also stream it through WiFi. This way, you can record and watch the video directly on your smartphone or tablet.
This scope also has a ballistic calculator that allows you to calculate the bullet's trajectory. This way, you will no longer be missing your target; you will get it from the first shot.
Featuring a 19mm objective focal lens, the image that this scope offers is fairly good (no matter if it's day or night). Plus, considering you have a 16 x 125 field of view, the range at which you can see is pretty good.
Weighing two pounds, this device is not the most lightweight one that you can find. It is, however, fairly shockproof – which speaks for its durability.
If you can stay in the same place while hunting for your target – or even better, place it on a mount – then the ATN ThOR rifle scope is a fairly good choice for you.
It does not require light to offer readings
The battery life is fairly long
Water resistant
It produces clear images
Packed with many features
Some users claim that it occasionally freezes
It can be fairly difficult to learn how to operate
---
Best Night Vision Rifle Scope under $1,000
Armasight FLIR Vampire 3X Night Vision Riflescope
Notice: By purchasing the FLIR PVS-7 the buyer acknowledges the product is subject to Export Administration Regulations (EAR)
Product cannot be exported, re-exported, resold, transferred or otherwise disposed of to any country without approval from the US. Dept. of Commerce, Bureau of Industry & Security in accordance with...
Diversion contrary to U. S. law is prohibited
Last update on 2019-08-25 / Images from Amazon Product Advertising API
If you are looking for a good 1st generation rifle scope with CORE (Ceramic Optical Ruggedized Engine) technology, then the Armasight Vampire 3X is a perfect choice.
Compared to other scopes from this generation, this one features a doubled-up resolution. At 60/70 lp/mm, you can see pretty clear images even if they were set far away.
This rifle scope is shockproof – all thanks to the multiple coats that its optics has received.
This way, its durability is also increased, allowing you to use it for a fairly long time.
The Armasight Vampire 3X also features an IR illuminator that allows you to see even in low-light conditions.
Furthermore, you have indicators that tell you when you are running out of battery or memory. It also features a set of pretty decent rechargeable batteries that may last as long as 40 hours.
The Vampire also has an adjustable reticle that lets you change the brightness level. This way, you may adjust it depending on the lighting conditions so that you can get the perfect shot.
Thanks to the aluminium construction, this scope is very durable. Furthermore, it is waterproof, which means that you may safely use it even when it's raining outside.
The CORE technology that features clear images at night
Waterproof and fog-proof
IR illuminator that is detachable
Solid construction that increases its durability
It is fairly heavy
The IR illuminator is not very strong for a long-distance shooting
---
Best Night Vision Rifle Scope under $500
Sale
Last update on 2019-08-24 / Images from Amazon Product Advertising API
If you are looking for a good rifle scope on a budget, then the Sightmark Photon XT is definitely a sound choice.
It is a great option if you plan on going for lengthy expeditions.
This highly versatile scope offers a high magnification that allows you to see at a fairly great distance. Its range of detection is at 130/120 yd/m, which means you will get a pretty decent view.
Considering its compact form, this scope is quite lightweight. Placed on a rifle, it will barely weigh you down, even if you are continuously moving around.
This scope is 30% lighter than any other night vision rifle scope on the market. It is, therefore, a fairly good option if you are hunting through the bushes.
This scope is also easy to adjust to get the perfect image. If you are a complete beginner when it comes to rifle scopes, the user manual explains everything very clearly.
Compared to other similar scopes, this one has a battery life that is 33% longer. This is thanks to the fact that it's not over-packed with unnecessary features that eat up from the battery.
A compact form that makes it easy to carry it around
Affordable price
High-quality image
Long battery life
It is lightweight
Not that many extra features
It is rather hard to mount
The focus can be sometimes off
---
Best Gen 1 Night Vision Scope
Last update on 2019-08-24 / Images from Amazon Product Advertising API
Those looking for something that will just do the job that it was supposed to do will appreciate this scope.
Having a 70mm lens focus and a 14-degree field of view, you get a fairly good look at what's happening in front of you.
This rifle scope features an ergonomic design that will not weigh you down. It is compact, but at the same time, it will allow you to see properly in the dark – without adding any unnecessary extra features.
Its titanium body is not only durable but shockproof and waterproof as well. Even if you are caught by the rain or drop the shotgun, it should not receive any damage.
The battery life depends on whether you need the infrared illumination or not. If there's no light and you're forced to activate it, then it will last you for about 20 hours.
On the other hand, if you have natural light around you (such as moonlight or stars), then you can use it for about 50 hours. In these circumstances, you won't be needing the battery-consuming IR.
Despite the fact that the scope is made from titanium, it is also lightweight. For this reason, most people believe it to be the best rifle scope to take with you on a long hunt.
Long battery life
Big magnification power
It is lightweight
It has a durable construction
High-quality image with great clarity
Affordable price
The IR cannot be changed since it's built-in
Still rather heavy compared to other rifle scopes
---
Best Gen 2 Night Vision Scope
Sale
Last update on 2019-08-25 / Images from Amazon Product Advertising API
This rifle scope can be used in plenty of situations: from hunting to troop missions.
Providing a 3x magnification, you can get a fairly clear image in the dark of whatever your target is.
The field of view is 18 degrees, which means that you will get a fairly wide view. The range of focus also goes from 3 meters to infinity, offering you a clear view of what's in the dark.
Featuring Proshield lens coating, this scope will resist through all kinds of abuse – therefore featuring outstanding durability. Furthermore, this coating helps gather the light particles so that you can get a fairly decent image.
The battery life is 30 hours if you use it without the illuminator and 15 hours if you activate the IR illuminator.
It's also resistant to weather, which means there will not be any problems if you suddenly get caught in the rain.
The brightness control of this rifle scope is also automatic, which means that it is a good choice for a beginner. Furthermore, you can enter the settings yourself if you have a particular setting that you are more comfortable with.
Last but not least, this scope is compact:
You may use it as a scope attached to your rifle, or you can use it as a monocular you carry in your pocket.
Many people that left night vision scope reviews claim they bought it as a monocular, but that it can also be easily mounted on a shotgun.
It is versatile and it can be used as both a night vision monocular and shotgun scope
It offers a clear image in total darkness using the IR illuminator
A multi-coated lens that improves the quality of the image
It is waterproof
The battery life is not that great
---
Best Gen 3 Night Vision Scope
Armasight Nyx-14 3 Bravo MG Night Vision Scope
Last update on 2019-08-24 / Images from Amazon Product Advertising API
If you are looking for the best gen 3 night vision scope, then the Armasight Nyx is definitely the most popular choice.
This versatile and highly compact product is so light that you won't really feel like you are wearing it. You can attach it to a helmet, a rifle – or anything else that will make your night journey more enjoyable – or safe.
Thanks to the many features that it provides, this one is a highly appropriate choice for military use. Furthermore, with its easy to operate controls, beginners and professionals alike can use this scope easily.
The Nyx is water and fog-resistant, which means it can withstand splashes if you are caught by rain – as long as you wipe it dry soon enough.
However, it is not waterproof. Thus, you will not want to carry it too much in the pouring rain.
Featuring a built-in illuminator, this scope will allow you to see objects even if it's completely dark outside (no moon, stars, etc).
Furthermore, since it's available in 1x, 3x, 5x, and 8x magnification, you can choose the one that's more appropriate for you.
The 8x will obviously show objects much closer – but at the same time, it will be much more expensive.
Lightweight construction
Mountable on anything from guns to helmets
Ergonomic design
It is durable
It offers a clear imaging
The standard model does not have magnification
You can't change the illuminator
---
Why Do You Need Night Vision?
When you are browsing for rifle scopes, you may be asking yourself this question:
Why on earth should you get something with night vision?
The answer to that is fairly obvious: you want to see in the dark.
It's not that obvious why you would want to go out with a rifle scope in the dark. Maybe you want to see some daytime animals at a time when they think they are safe or maybe your favourite animal is only active at night.
Or perhaps your last game session took you longer than you expected, so now you're lost in the woods, without the possibility to see anything. In such circumstances, night vision can literally be a lifesaver.
If you spend all of your time hunting during the day, then you might not have such a desperate need for night vision rifle scopes.
However, if there's a chance that you'll be going off at night, then it won't hurt to actually be prepared.
How Does Night Vision Actually Work?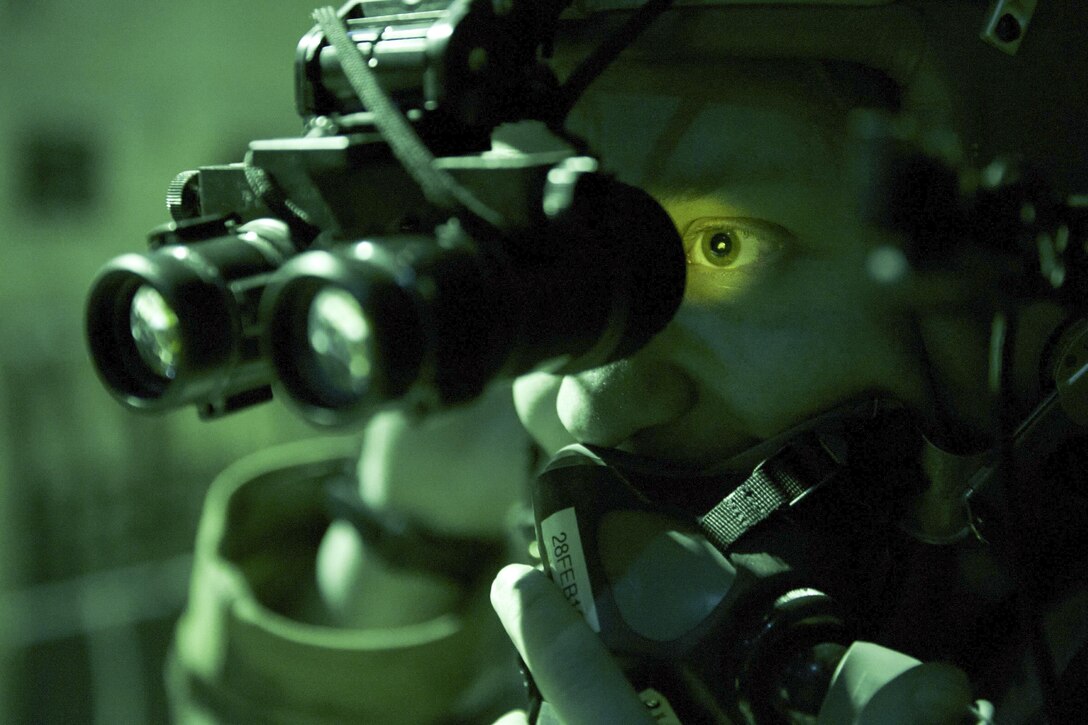 Explained as simply as possible, night vision takes the existing light in an environment, amplifies it, and then shows a clear picture when normally you would have seen nothing.
Basically, the objective lens would take light coming from the environment (moonlight, starlight, light coming from the city), take it through something called an "intensifier tube," and then convert the protons (light) into electrons.
The process continues on a microchannel level, being processed over and over until thousands of new electrons are created. These electrons will further be directed to a phosphor-coated screen – creating photons.
These photons are exactly what you need to get an image through a scope – only instead of getting a coloured, day-time image, you get a green image – thanks to the phosphor coating.
In other words, if the room is completely dark, with no light source, then night vision would not be as useful. If you take it in the woods, however, when you have light from the moon and stars, the story would change greatly.
Night Vision Scope Weaknesses
One of the most significant weaknesses of night vision rifle scopes is their actual ability to reflect light. Furthermore, this light reflection will make it more difficult for you to see at a longer range.
In other words, you would not get such a clear sight with a night vision rifle scope as you would with a day-time rifle scope.
Other conditions such as rain, for example, will affect the light reflection. The same thing applies to fog and the way it reflects the light.
Overall, here's what might hinder you:
Depth Perception: Your night vision device greatly affects your depth perception. If you are planning to watch a still creature, you're in luck. However, walking around with night vision may lead to a fuzzy image.
Dew: Dew or any other humid environment will reflect light, which can send your night vision into something of an "overdrive." Because of this, it might be difficult for you to distinguish the shapes around you.
Night vision is, therefore, a good option if you are planning to view a still target at a closer distance. However, if you want to move around in areas with a lot of reflected light, then this might become rather troublesome for you.
The Generations of Night Vision
In order to get the best night vision scope for a shotgun, you need to understand some technical aspects.
For instance, no night vision scope is the same. As technology progressed, they also went through certain changes.
Currently, there are four generations of night vision binoculars – although people are still getting the courage to jump into the 4th generation ones.
1st Generation
The first generation night vision rifle scopes first appeared in Vietnam, in the late 70s.
In the beginning, the size of these rifle scopes was massive – but they shrunk down as the generation progressed.
These scopes were the first ones to ever use passive infrared. They also needed moonlight to function – and without it, they were practically useless.
A first generation rifle scope is a good option for predator and vermin hunting. However, when going to a high-risk tactical application, these types of optics may not be the best choice for you.
2nd Generation
Second generation scopes are, obviously, an improvement of the first generation pieces.
While the first generation scopes were generally very bulky and difficult to carry, the second generation focused mostly on them being portable.
A good second generation scope would be lightweight as to not cause any difficulties – but would also be compact enough to fit into a bag.
Some second-generation rifle scopes are basically first-generation units that have received an update. Their sizes have, therefore, been changed to improve portability.
Generation 2 riflescopes are also placed into two categories:
Gen2 and Gen2+ (also referred to as Gen 2.5).
The latter is known to provide a better performance, mostly because it uses new technologies on fresh models.
Second generation scopes are a good option when it comes to serious tactical operations and high-risk missions. Even today, they are still used by reservists and noncombat troops simply because they are both effective and highly affordable.
3rd Generation
Generation 3 night vision scopes are what you see in most army troops nowadays since they offer more vision than second-generation scopes.
These night vision scopes are basically just 2nd generation rifle scopes that have been refined to catch more light and offer more clarity.
They also have a better sensitivity compared to second generation rifle scopes, which is why the image gets stabilized much quicker. Some of these rifle scopes even allow movement while also providing a clear, stable image.
4th Generation
Generation 4 rifle scopes are newer on the market, and they are very difficult to find – especially if you are looking on the civilian market.
Basically, gen 4 rifle scopes have their microchannel plate deprived of their protective coating. They did this because they discovered it would improve the clarity of the picture by at least 20 percent.
However, considering that there was no longer something to protect those plates, their lifespan is significantly decreased.
The Department of Defense requires that a rifle scope lasts at least ten thousand hours – and the chances are that a 4th generation tube will not last that long. For that reason, 4th generation rifle scopes have been deemed almost unusable.
On the other hand, if you have the money to spare on a scope that you know you'll have to replace soon, a 4th generation rifle scope will offer you a very good image.
Performance Factors for Night Vision Scopes
Some people may think that buying a night vision binocular and a night vision scope is virtually the same thing; however, this is not exactly true.
A binocular is made for observing a target. A scope, on the other hand, is meant to hit that particular target.
There are several factors that you might want to consider when it comes to looking for a rifle scope. These factors may vary depending on the generation, so make sure that you assess all of their qualities.
Infrared Illuminators (IR)
One of the first things you may want to check out when buying a rifle scope is whether it has an infrared illuminator or not. If it doesn't have a built-in one, check if you can attach one to the rifle.
A scope's infrared illuminator will basically allow you to shine an infrared light in the dark.
The scope can collect it – and therefore offer you a better, brighter image.
This feature is very useful in nights with nearly no lights. If the moon is hidden behind clouds or if you need the scope in indoor pitch dark areas, an IR would be something you really need to consider.
Range (Field of View)
When it comes to night vision scopes, the recognition range is very important.
You need to know how far it will be able to see in the night: how many yards it can go.
There are two ranges that you can find when purchasing a rifle scope: the total range and the recognition range.
The total range is less important than the recognition range. The recognition range is the actual distance that will give you a clear image.
The range is also decided based on what you want to observe or where you want to do it. Some manufacturers make scopes that are intended for watching the moon while others design them, especially for combat.
The recognition range is also dependent on how much light you get. For instance, a scope that has a 600-yard recognition range when there's a full moon may have less than 100 when the moon is hidden.
Clarity
The clarity of a rifle scope is very important – particularly if you are going for a tactical operation.
If you don't know what your target is exactly, you can't be pulling that trigger. The best night vision scope for shotgun will offer you a clear resolution with high lines per millimetre.
The higher the resolution, the clearer your picture will be. A high-resolution scope is particularly useful if you want to get a clear image of something placed at a great distance.
Weight and Size
If you are buying a night vision rifle scope, the chances are that you'll be carrying it around a lot and pointing continuously. In these situations, you will not want a rifle that will weigh you down and compromise your aim.
Keep in mind that the lower the weight, the more the quality of the scope may be compromised. In order to make scopes lighter, they may use lightweight materials that are not as durable.
Choose something of a medium weight – or something that you can handle carrying for long distances.
This will also depend on how you plan on using the rifle scope. If you'll be aiming while moving, you'll need something lightweight.
However, if you have the option of aiming just from one spot, you may go for a heavier – but more durable one.
Durability
Let's face it:
If you're going to pay a small fortune for a rifle scope, you may want to know that it will not break the moment your warranty goes off.
Is the material from which it was made any good?
Is it waterproof?
What is the recoil rate?
Some rifle scopes are more sensitive to shock than others and may only accept a certain type of rifles.
---