BEST OVERALL
Model
Pulsar Phantom 4x60 MD WPT Night Vision Riflescope
Bushnell 4.5X40 Equinox Digital Night Vision
ATN X-Sight II HD Smart Day/Night Rifle Scope
Evershop 12X50 High Power Monocular
Size
11.36 x 3.5 x 3.45 inches
BEST OVERALL
Model
Pulsar Phantom 4x60 MD WPT Night Vision Riflescope
Model
Bushnell 4.5X40 Equinox Digital Night Vision
Model
ATN X-Sight II HD Smart Day/Night Rifle Scope
Size
11.36 x 3.5 x 3.45 inches
Model
Evershop 12X50 High Power Monocular
Night vision rifle scopes have been on the market since 2010, and since then, technology has ensured that these devices have stick to substantial standards.
Night vision scopes are designed to mount on your rifle and are mostly used for night hunting.
Ultimately it works by gathering the light in its line of sight and turning it into a sort of daylight. So this gives you better vision and ultimately better aim when you're hunting.
However, since 2010, there have various models designed and released, so choosing the best one could prove to be a challenge.
Below are our top picks for the best night vision scopes. So let's take a closer look at the market leaders.
Our Reviews Of The Best Night Vision Scopes
#1 Pulsar Phantom 4×60 MD WPT Night Vision Riflescope
The Pulsar Phantom Night Vision Scope offers great value for your money.
This rifle scope can be used both during the day and during the night. Featuring a modular infrared illuminator, you will get a clear image no matter if it's clear or cloudy outside.
Its ultra-durable housing consists of a white phosphorus tube and a 60mm wide nitrogen-filled objective lens, so a weatherproof performance is guaranteed.
You also have multiple sight options to choose from, allowing you to adjust for better clarity. Plus, this scope also allows you to record your target.
This impressive riflescope also features a 4x magnification and its focusing knob for easy operation.
The light levels are adjusted manually, so you can get your preferred image depending on the weather or sky conditions.
The Phantom Pulsar works on AA-sized batteries. It also comes with a cleaning cloth, a remote control, a user manual, a modular infrared illuminator, and a weaver rail.
Lightweight
Long battery life
Delivers high magnification
Cons
Key Features
Size: 14.5 x 6.9 x 4.9 inches
Range: 765 yds
Resolution: 60mm
Magnification: 4x
Ballistic Calculator: Not specified
#2 Bushnell Night Vision Equinox Monocular
The Bushnell Digital Night Vision Monocular provides a wide field of view and an outstanding optical cavity that allows you to perform various activities in the day and night.
Created by the experts at Bushnell, this night vision scope incorporates high-performance glass objectives, long battery life, and an impressive zoom capability.
It's powerful included illumination feature is award-winning, and so is its night viewing functions such as a video recording, image capture, and daytime color.
As a bonus, it also has tripod mounting compatibility. Irrespective of the nighttime adventures you're pursuing, the Bushnell monocular is the tool for you.
Pros
Image and video capture
Daytime color
Adjustable IR brightness
Cons
Key Features
Size: 6.5 x 2.4 x 3.9 inches
Range: 229 m
Resolution: 40mm
Magnification: 4.5x
Ballistic Calculator: Not specified
#3 Night Owl Optics NightShot Digital Night Vision Riflescope
If you've been searching for a  fairly low-cost and high-quality night vision rifle scope, then the Night Owl Optics riflescope is just for you. It's also one of our picks for the best night vision scopes for coyote hunting.
The manufacturers of this device have addressed the needs of budget seekers and designed this night vision rifle scope.
Created for the shooting enthusiast, and the nighttime hunter, it allows you to see in the dark at distances further than any other night vision scope on the market allows you to do.
Compared to other night vision scopes that are priced approximately three times higher than the Night Owl Optics riflescope, its performance is truly outstanding.
So if you're looking for an inexpensive and lightweight rifle scope, which is easy to operate then look no farther.
Made from polymer construction it's extremely high quality and suitable for your pocket as well.
There's a flat spot on one of the cross bolts which can be reversed to operate in various mounts, specifically "weaver mounts".
This is mainly because the spacing between these weaver mounts vary.
Battery life is approximately 4.5 to 17.5 hours for each set of batteries. Ultimately this depends on how you use the scope and also the quality of batteries that you are using.
Pros
High resolution
Weatherproof
Made from engineered thermoplastic
Cons
Hard to focus with glasses
Key Features
Size: 13.2 x 2.7 x 4 inches
Range: 100-200 yds
Resolution: 640X480 display
Magnification: 3X
Ballistic Calculator: Not specified
#4 ATN X-Sight II HD Smart Day/Night Rifle Scope
The ATN X-Sight II HD Smart Day/Night Rifle Scope has a gentle robust case and nice design however it's more than just a rifle scope.
This device incorporates smart HD optics technology that allows you to make use of it in the day or night.
You get clear images anytime. It also has a RAV which is more commonly known as a recoil activated video function that gives you the ability to record all of your activities and make it easily available to share with family and friends.
If you're looking for a rifle scope that you can use in the day or night, then this is the one for you. The quality, is unwavering, irrespective of when you use it.
It also has a rangefinder which is built in that will make your life much easier during any activity.
It also eliminates the need for carrying around additional equipment as you can calculate the distance of your target and get the perfect shot each and every time.
Record full HD videos on all your adventures and share later on with family and friends.
The built in ballistic calculator allows you to forget about complex reticals and charts because all you need to do is enter the environmental data and the calculations will be automatically performed for you.
Ultimately, this allows you to hit your target even on the first try.
The built-in illuminator works with your night vision devices to give you three times better clarity at night.
The powerful battery pack also gives you 22 hours of continuous use without having to change batteries. It is easy to detach and can be used to power other devices as well.
Pro
Day and night use
1000 yards field of view
Video recording function
Cons
It is heavy
Product specifications
Key Features
Size: 11.36 x 3.5 x 3.45 inches
Range: 1000 yards
Resolution: 1080p at 30 fps
Magnification: 3-14x
Ballistic Calculator: Yes
#5 Evershop 12X50 High Power Monocular
Evershop may not be a famous brand but its high-power monocular performs as well as its competitors.
This monocular's solid framework is coated with shock-absorbing non-slip rubber armor so you can expect unparalleled durability. A waterproof, dust-proof, and fog proof performance is guaranteed.
The Evershop Monocular also allows the user to transfer photos and videos through its HD phone telephoto lens that's compatible with most smartphones.
This palm-size monocular promises crystal clear images even in long distances with its 50 mm large objective lens. Its built-in night vision function also allows you to capture in the lowest light.
The Evershop Monocular also allows one-handed operation so you can easily adjust the knob.
The package includes a tripod, a phone holder, a lens cloth, a hand strap, a cloth bag, and the user manual.
Pros
3280 yards range
HD phone telephoto lens
Shockproof, Waterproof, Fog Proof
Cons
The tripod can be a little flimsy.
Key Features
Size: 2.76 x 1.73 x 6.1 inches
Range: 3280 yards
Resolution: 12×50
Magnification: 12x
Ballistic Calculator: Not specified
Night Vision Scopes FAQ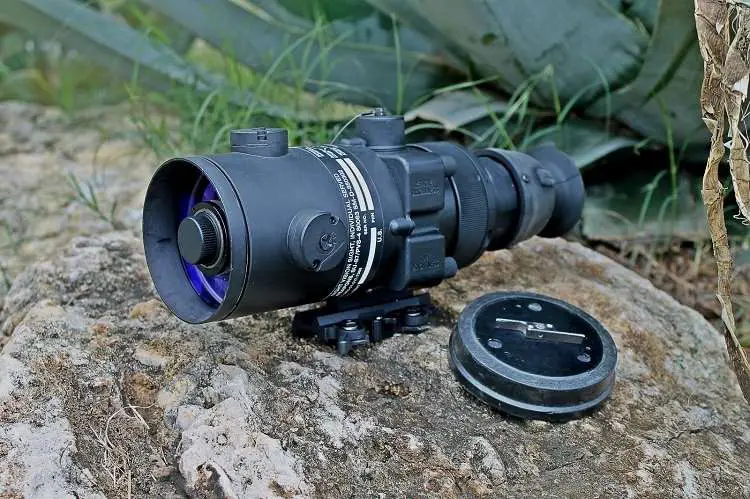 If you've often wondered what the difference between thermal and night vision scopes are, then you're not alone.
In a nutshell, thermal scopes pick up on radiation and don't need any visible light to create an image.
On the other hand night vision depends on some ambient light for detection so even if there's only light from the moon and stars, it's sufficient enough for night vision scopes to work.
Let's take a closer look at the differences between night vision and thermal scopes.
What's Better Thermal Or Night Vision?
When it comes to thermal and night vision technology, both are suitable for hunting at night. However, each type of technology comes with its own limitations and capabilities.
So before you shell out the cash, you need to know the differences between thermal and night vision technology.
One of the first things you need to understand is that thermal optics are not cameras, but thermal imagers.
They detect radiation, so the higher the temperature, the more radiation is given off.
Ultimately when hunting, thermal optics detect the heat given off by the game and ultimately create an image using this heat.
Thermal radiation or optics require no visible light and therefore, can be used when there's no light at all.
One of the advantages of thermal optics is that you will be able to spot even small animals far off.
However, the disadvantage is that since you're looking at a thermal image and not an actual camera image, it won't be as detailed as a night vision image.
Night Vision Requires A Light Source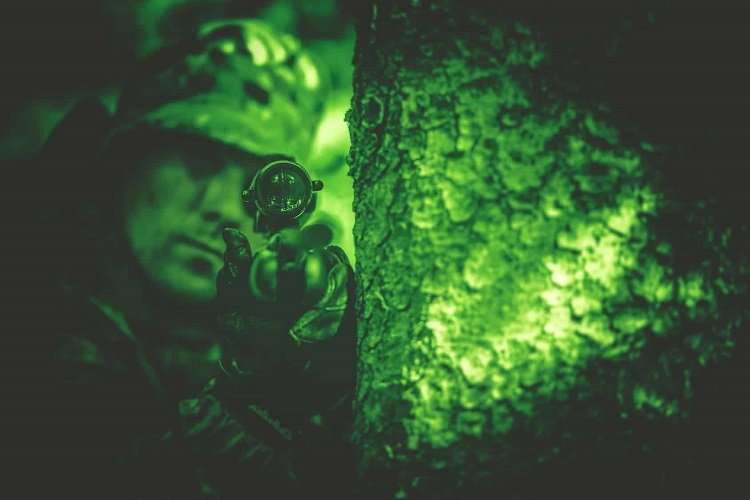 When using night vision technology, you should note that there needs to be enough light to produce an image.
In some cases, where shadows are present, it may be harder to see the image. IR illuminators are built into most recent night vision optics.
Night vision images are also more natural and elaborate. One of the advantages of night vision is that it easily mounts to rifles and readily absorbs recoil.
However, one of the disadvantages is that the night vision tubes that are used for the external light source are sensitive, to say the least, and prone to damage if exposed to extremely bright light.
Another drawback is that night vision optics can only be used at night and not during the day.
While thermal and night vision technology is used in the hunting arena, there are some questions you should ask yourself before deciding which to choose.
Light
The first question you should ask yourself is whether there is going to be light in the area that you're hunting.
If you are hunting deep in the mountains and there is no ambient light available, night vision is not going to work and thermal optics is your best bet.
Environment
You should already have an idea of the type of conditions you will be hunting in. So consider all of the factors to make an educated decision.
If you're hunting in fog, thermal imaging would be more suitable since it can detect game that's hidden by fog.
If you're going to be hunting in a place where temperatures go below freezing, or you need to hunt from behind a window or blind, then night vision would be more suitable.
Thermal imaging cannot work through glass, and the cold will also affect the quality of the thermal image.
Price
The price factor definitely plays a role in decision-making, as well. Night vision scopes are approximately a quarter of the price of most thermal scopes.
Both come with their own features and benefits. However, you should bear in mind that the more features each type of product have, the more it will drive the price up.
Can A Night Vision Scope Be Used In A Daylight?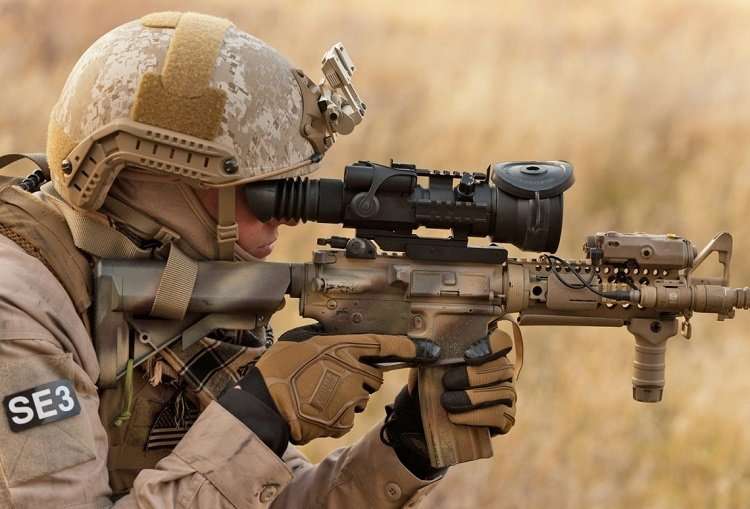 Lots of people often ponder on the question of whether night vision scopes can be used in the day. The short answer is no. It cannot be used in the day.
Night vision scopes have one basic requirement, and that is the presence of natural ambient light such as starlight or Moonlight.
This is what gives the scope a clear night vision picture. So if you attempt to use it during the day, even the slightest shadow will make the device completely unusable.
Also, modern night vision technology includes built-in modern infrared light illuminators that don't function in the day.
Another factor is that night vision scopes make use of tubes that gather external light sources and amplify it to create an image.
However, when these tubes are exposed to bright light, such as sunlight, it could permanently damage them and render your scope useless.
Therefore it is advisable only to use night vision rifle scopes at night.
What's The Difference Between Night Vision And Infrared?
The truth is that in applications where day and night cannot be distinguished, lives are at risk.
This is in cases such as the military, where it is important to establish visibility while not being visible.
In order to understand the differences between night vision and thermal imaging, you need to understand one basic principle, and that is night vision devices, daylight cameras as well as the human eye all function on a fundamental principle and that is visible light energy.
This energy needs to hit an object and bounce off it, then a detector receives it and creates an image out of it.
Ultimately, whether it is human-made technology or the human eye, enough light must be received in order to create the image.
So there's no sunlight to bounce off anything, they should at least be ambient light, and if there isn't either one of these, then there won't be much to see.
Thermal Imagers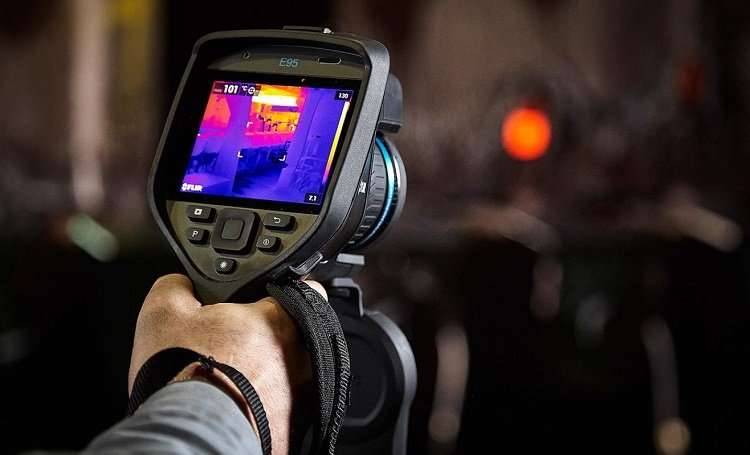 Thermal imagers work on different principles. While they are called cameras, thermal imagers are actually sensors.
These thermal imaging sensors basically create pictures from heat and not visible light.
Heat is also referred to as thermal energy, or infrared energy, and form part of the electromagnetic spectrum.
However, a camera that picks up visible light will not be able to pick up thermal energy and vice versa.
Thermal imagers detect heat; however, they also detect differences in heat, as minute as 0.01°C and automatically adjusts the display or imaging shades of gray with different colors.
In order to understand how thermal imaging or infrared technology works, you need to understand everything in life that gives off energy, even ice.
The higher the temperature of an object, the more energy it will emit. Ultimately this energy is called a heat signature.
Solid objects and things that can be picked up by a thermal imager include warm-blooded animals, machinery, engines, people, etc.
So irrespective of whether the heat is created naturally or mechanically, a thermal imager still picks it up.
Other objects that may have energy include vegetation, land, and rocks, which absorb the sunlight and heat from the sun during the day and gives it off at night.
Night Vision Devices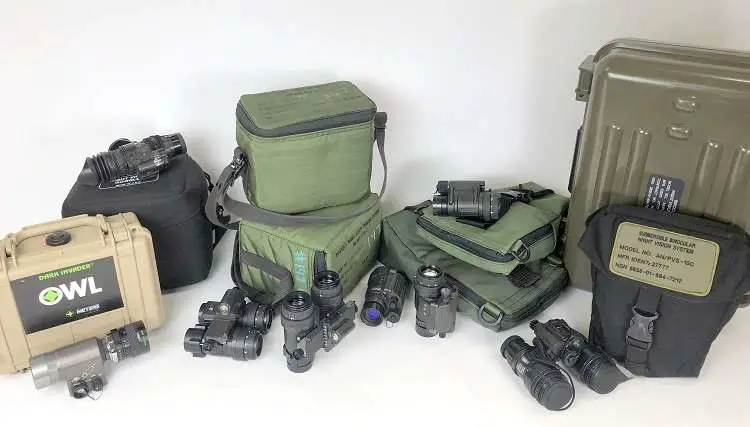 If you've ever seen those green looking pictures on TV or in movies, then that's exactly what night vision is.
Ultimately night vision goggles, scopes, and various hunting tools all make use of the same core technology.
It takes in even a fragment of ambient or visible light and magnifies it immensely to project a picture.
Cameras that make use of night vision technology have limitations, much the same as the naked eye.
So in no visible light is available, no image is available as well. This is why night vision goggles are not suitable for daytime use.
Thermal imaging, on the other hand, can give you clear pictures even when you're looking directly into the sun with it.
Scopes that make use of Infrared technology basically have a beam of near-infrared energy attached to the scope that bounces off the object.
Although it does work quite effectively and detects light to create the image, it does have limitations as well.
This is mainly because it also depends on reflected light energy. So images are often short-range and of poor contrast.
So as you can see, there is much information to take in when it comes to night vision, thermal, and Infrared technologies.
Ultimately, each one has its own advantages and drawbacks, and when in doubt, thermal cameras seem to be the best option for 24-hour imaging.
How To Mount A Night Vision Scope?
If you've never mounted a scope to a rifle before, you're probably wondering about how difficult it's going to be.
The truth is any scope you purchase is going to come with instructions and guidelines on how to go about mounting the scope.
Ultimately, the first thing you want to check that you are buying a scope that's going to fit on your gun.
Scopes are not universal; neither are guns, so you can't take it for granted that any scope is going to fit any gun.
They are even some scopes manufactured for specific shapes and brands of guns.
There are quite a few ways in which you can attach a scope to a rifle, and while some scopes are clip-on, others actually screw on when mounted to the gun.
Clip-on scopes are easier to add and remove while screw-on ones are a bit more difficult to remove since you require tools to do so.
Some tips to consider when mounting your scope is that you should not do it while your gun is loaded.
Follow the instructions that come with guidelines on how to attach the scope and always follow the manufacturer's instructions to ensure that your scope is mounted correctly and zeroed-in correctly, which will save you a lot of trouble down the road.
Night Vision Or Thermal Imaging?
Choice of scope is a hot topic with hunters around the world.
There are quite a few factors to consider when making your choice, such as the game that will be targeted, the conditions the scope will be used in, and the time of day it will be used.
So once you got an idea of exactly how you will be using your scope, you need to decide whether you want to opt for a night vision or thermal scope.
While night vision and thermal imaging sensors both assist the hunter in locating, detecting, recognizing, and identifying the target game animal, your choice of scope will have an impact on your activities.
Thermal imaging is best used to detect your game, while night vision is best used to recognize and identify the game.
Ultimately, if you're in doubt, always go for the thermal imaging sensor technology as it can be used 24 hours a day as opposed to just being used at night.
You Might Also Like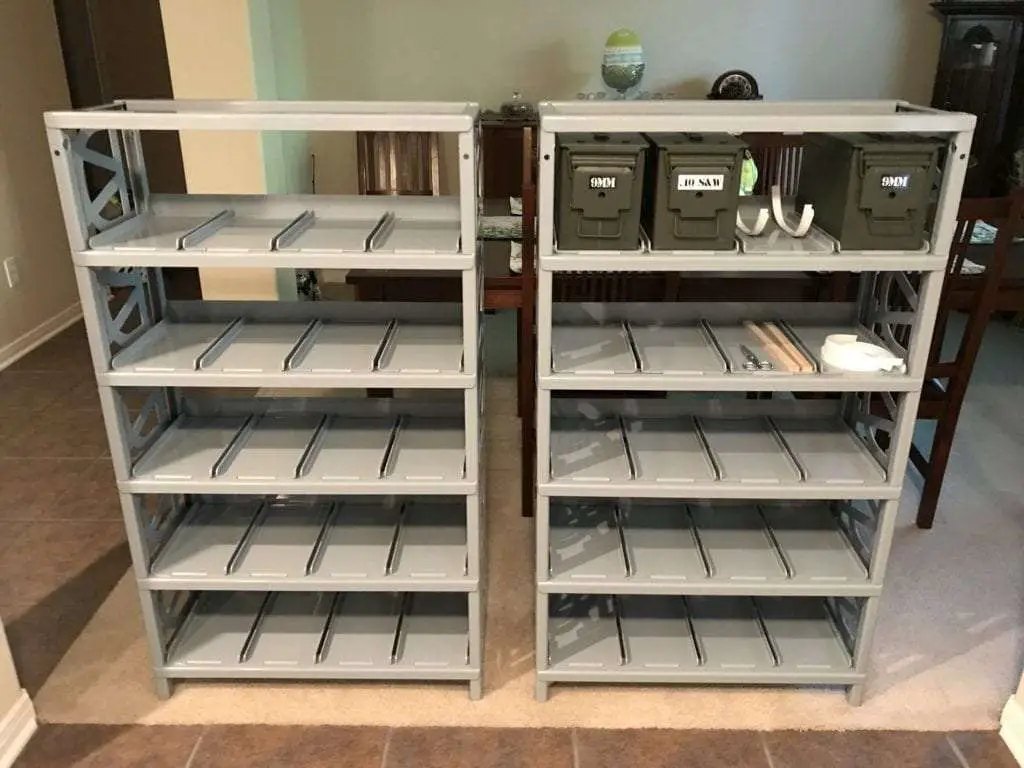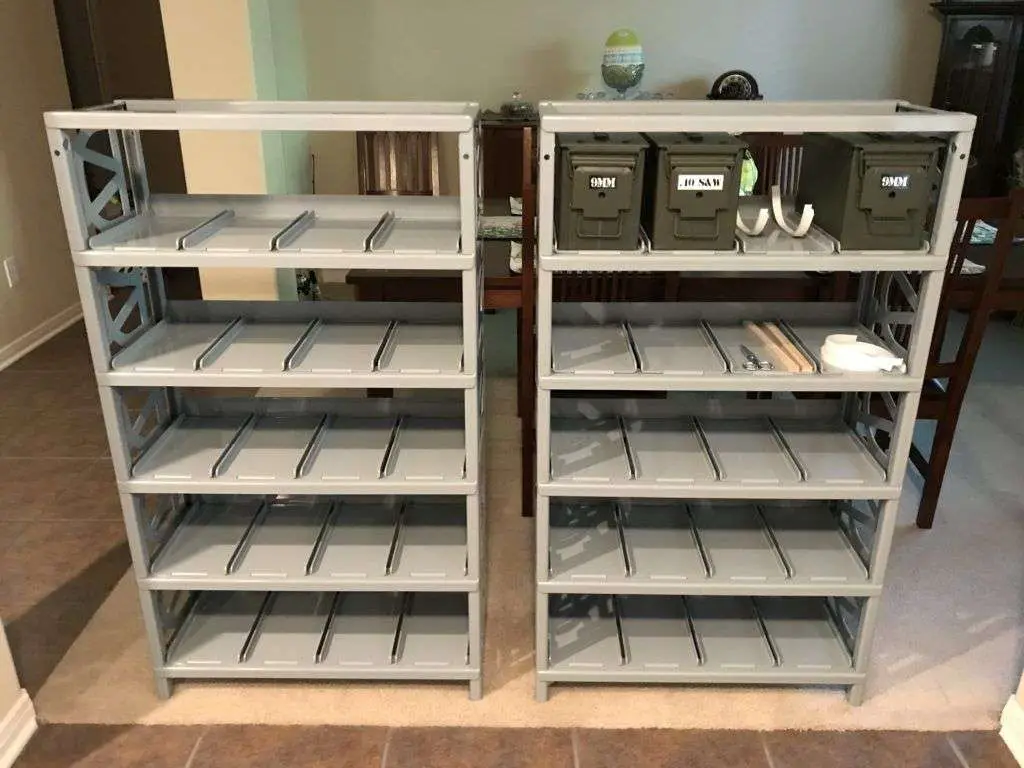 Last update on 2023-09-22 / Images from Amazon Product API