Best Overall
Model
Seiko Men's SKX007K Diver's Automatic Watch
Garmin Forerunner 935 Running GPS
G-Shock Rescue Concept Casual Digital Watch
Material (window)
Chemically strengthened glass
Display
Transflective memory-in-pixel
Transflective memory-in-pixel
Case
Fiber-reinforced polymer with stainless steel rear cover
Best Overall
Model
Seiko Men's SKX007K Diver's Automatic Watch
Display
Transflective memory-in-pixel
Case
Fiber-reinforced polymer with stainless steel rear cover
Model
Garmin Forerunner 935 Running GPS
Material (window)
Chemically strengthened glass
Display
Transflective memory-in-pixel
Model
G-Shock Rescue Concept Casual Digital Watch
Every outdoor enthusiast needs a watch to depend on.
Still, not every watch will meet your individual needs. Even the best military watch can't fulfill all your outdoor needs. The best outdoor watch has to be sturdy, durable, incorporate GPS tracking and have various other features.
Regardless of the sport you practice – whether it's hiking, skiing, running, trail running, or snowboarding, the best outdoor watch will become your trusty companion.
Since we know that finding the perfect product is quite difficult, we decided to ease the job for you.
We researched the market for the best outdoor watches and we've tested them in detail so that you can get an idea of what would work best for you.
Without further ado, let's proceed, shall we?
Our Reviews Of The Best Outdoor Watches
#1 Seiko Men's SKX007K Diver's Automatic Watch
If you want a watch that is designated for water sports, then a waterproof watch is your best bet.
And the Seiko SKX007K is a fairly affordable product whose quality is rather surprising for the price tag.
Seiko has always produced rugged watches that combine value and style. And this one makes no exception to this rule.
The case of the watch is made of stainless steel. This translates into a boost of durability. The craftsmanship of the watch is quite noteworthy, as well.
Also, the design of the watch makes it easy to read – even when you're underwater, in poor visibility conditions.
As for the face covering, it is non-reflective Hardlex Crystal. The best thing about it is that it's shock resistant.
While Sapphire crystal is more resistant to scratches and shock, Hardlex Crystal still does a decent job in this respect.
Moving on, the watch doesn't run on battery, nor do you have to wind it. It is equipped with Japanese 7s26 automatic movement.
Concurrently, note that the watch will stop working if you don't wear it for 40 hours or so.
Still:
How do you maximize the watch's durability, especially if you use it during swimming or water sports?
In order to ensure the water resistance of the watch, the gaskets feature a watertight seal.
Nonetheless, as you expose the watch to sea water or chlorinated pools, this might make the gaskets dry and brittle.
This is why it's essential to rinse the watch in fresh water after every use. At the same time, you should check to see if the Crown is screwed in completely.
What is more, you must make sure that the watch is dry after every rinse, to prevent the likelihood of rust.
While this watch is perfectly suitable for water activities, we wouldn't advise you to use it for baths or saunas.
The hot water combined with the steam and soap might deteriorate it, over the course of time.
Features
It is waterproof – suitable for all types of water sports
Fits well on the wrist
It is easy to read underwater
Bright lume
Though, scratch-resistant crystal
#2 Fitbit Versa Smartwatch
The Versa is presented as a watch for everyone. And it seems to fit into this category: it has a sleek, attractive design, and a great assembly of features.
In other words:
You will want to wear this round the clock, as opposed to taking it to the gym only.
Being made of the lightest metal, it looks really good. In comparison with other smartwatches, this won't look bulky on your arm.
Essentially, this watch prioritizes wellness and fitness tracking – what else would you expect of Fitbit?
The watch's new dashboard includes all types of information and statistics that, until now, were only available via the Fitbit app.
This refers to information concerning your latest workout sessions, calories burned, your resting heart rate, steps you take during an hour, and the list may go on.
It also tracks your daily walks and general workouts, including interval training and weight-lifting.
Another excellent characteristic is the related Cardio Fitness Level graphic – this indicates where you stand in comparison with people of the same gender and age.
A potential drawback could be that the watch lacks a built-in GPS.
That is to say if you want to take it out for running, and you want to track your route, you have to take your phone with you, as well.
Even so, the Versa has substantial onboard storage. You can store roughly 300 of your favorite tracks, and you can listen to them via the Bluetooth headphones.
This means that you can go to the gym without your phone.
Another great thing about the Versa is that it is surprisingly user-friendly. It runs on Fitbit OS 2.0, which is intuitive and effortless to navigate.
You can access the primary features of the watch with just a few taps and swipes.
Features
Excellent battery life
It has a sleek design
Excellent exercise tracking
Sleep tracking
You have a variety of watch faces to choose from
#3 Garmin Fenix 5​
If you're on the lookout for the adventure watches pick of the best, we believe that the Garmin Fenix 5 won't disappoint you.
In comparison with other products that are advertised as the best, this one actually comes ahead of the rest.
When you invest in a watch such as this one, you expect durability, user-friendliness, convenience, incorporated GPS, and other special features.
This particular watch is specifically crafted for the outdoors. It has a durable, rough design, and it looks as if it could take a punch.
Concurrently, the watch doesn't have a touchscreen.
And this makes sense, considering that when you're out there in the wilderness, it's much easier to navigate the interface with buttons.
You might be wearing gloves, or your hands might be sweaty – the scenarios are endless.
This isn't all:
This watch is also water resistant to 100 meters, which makes it quite suitable for the most challenging winter sports.
Moving on, the Fenix 5 can be presented as a fully-featured product. It comes with all the special characteristics you would expect from a training, outdoor watch.
It measures GPS distance and pace, it is equipped with a barometric altimeter, sleep tracking capability, built-in optical heart rate monitor, advanced navigation attributes, and thermometer.
As you can see, this watch makes no compromises in terms of performance and features. Simultaneously, the accuracy of the GPS is quite notable – this is really surprising.
The margin of error is of 3 percent only, making this watch one of the most accurate ones we've tested so far.
At the same time, considering the astounding combination of features, the battery life of the watch is quite remarkable.
Overall, while this watch is far from being affordable, it is one of the very best – meaning that it is well worth the price tag.
Features
Outdoor readable display
Excellent battery life
Durability
You can customize the display
Outstanding app data management
#4 Garmin Forerunner 935​
This product fits into the category of best outdoor watches under $500, and it has a lot to offer to every sports enthusiast.
It could be presented as a running and triathlon GPS watch – still, it offers much more than that.
It incorporates built-in heart rate monitor, as well as sleep and activity tracking.
What is more, it tracks down all types of sports, while featuring a compass for tracking, and a barometric altimeter.
In other words:
This is a barometric altimeter watch you can depend on.
Also, it is really comfortable to wear, and it looks really good.
Thanks to the 50-meter depth waterproof capability, you can shower with the watch on without worrying about a thing.
Essentially, this watch is tailored for running. Nevertheless, you can use it for tracking down your cycling and swimming activities, as well.
We tested the GPS for tracking distance and it performed as expected.
In reference to the accuracy of the watch, we were quite impressed in this area, as well.
What is more, the menu layout incorporates favorites at the top. That is to say, you won't have to go through every option to pick the activity you want.
Essentially, we appreciate the user-friendliness of the watch. As you scroll down, you'll get across the fitness tests such as the TrainingPeaks guided workout options or the HRV Stress.
This way, you'll feel as if you're working out with a personal trainer, as opposed to simply tracking down your activity.
Moreover, you can easily transition between distinct disciplines with a push of a button. It's actually the little things that make this watch worthy of your attention.
It analyses your activities in detail while being really easy to use. Hence, it is a great watch for both beginners and professional athletes that want to maximize their performance.
One minor complaint we would have is that the Garmin Connect app is a tad overcrowded.
In other words, it contains too much information, as opposed to personalizing it to the user.
The battery-life is pretty outstanding as well – you can use it at full capacity non-stop for two weeks straight, and after that, you can charge it.
Features
It is accurate
Personalized training effect
Long battery life
It has a sleek design
You get a vast diversity of data
#5 Casio G-Shock Rescue Concept Casual Digital Watch
If you're on the lookout for the best outdoor watches under $100, it will be difficult to find a better pick than the Casio G-Shock.
To start with, it features a circular moon graph on the top left of the display. Essentially, the moon phase indicator points the current phases of the moon.
It also performs an approximate calculation of the moon age – the margin of error being +/-1 day.
Another great thing is that the watch feels really comfortable on the wrist, even though it may look a bit bulky.
Evidently, your personal style and preference matter a lot in this respect, but the watch really looks good.
Also, if you're accustomed to G-shocks, you will find that using the watch is rather effortless.
Moving on, the display range for the stopwatch modes are of 999 hours, 59 minutes, 59.99 seconds. You may also choose the auto-start feature.
Concurrently, the alarm mode is a great characteristic, as well.
Furthermore, this is a shock-resistant watch, meaning that you won't have to worry about durability. Another useful characteristic is the chronograph with 12 and 24-hour formats.
In comparison with similar G-Shock products on the market, this particular watch is fairly easy to use.
The large buttons are also really helpful when you're hiking, biking, so on and so forth.
Plus, you should know that this item can withstand some harsh temperatures – which is exactly what you'd expect of the best hiking watch under $100.
G-Shock military watches are also a popular trend these days, click on the article link if you're curious.
Here's another dependable G-Shock watch – Casio G7900 review.
Features
It comes with a nice array of functions and features
Excellent price-quality ratio
Multiple alarms feature
It is durable and sturdy
#6 Timex Expedition Shock XL Watch
This watch is advertised as one among the US Military watch standard issue. And it's reliable and rugged enough to make it to the list of the Special Forces watches.
Maybe you're thinking:
There aren't any watches for me that genuinely address my needs.
Well, this one will prove that wrong. That is to say, it is the best watch for the money.
The Military personnel utilizes Timex watches and has done so for years. This is a testimony to their durability.
So, the watch can resist rough handling. The movement is quartz, being equipped with a reliable compass.
We couldn't necessarily argue that this is the best outdoor watch with a compass on the market, but for the price, it performs decently.
The hand band and the casing are both made of resin. Simultaneously, you can consider taking this watch to a swim. Still, bear in mind that the maximum depth is of 660 feet.
The manufacturer utilizes a unique feature – namely a lighting technique referred to as Indiglo.
This is engineered by Indiglo Corporation, which belongs to Timex. The backlight uses specific electro-luminescent lamps so that the watch facilitates different levels of lighting.
Timex provides an excellent performance in terms of shock resistance. And this opinion is supported by the majority of users.
So, if you're a convinced survivor and you need a rough, durable watch, this one will go through the harshest conditions.
Check out the Expedition Shock's counterpart in the women's military watches category.
Features
It has an excellent build quality
Digital compass
Waterproof band
Rugged and durable
#7 Suunto Spartan Sport Wrist HR Baro Watch
This item is the ultimate watch for hiking, skiing, snowboarding – insert your preferred sport here. You also get a barometer whose accuracy is quite impressive.
It measures elevation changes, which is of great importance during hiking trips. Nonetheless, most GPS trackers aren't really good at measuring elevation changes.
This watch is the exception, though.
The battery charge time is of two hours.
Still, how much does the battery last?
We were quite surprised that it lasted for days – days filled with rough hikes and workouts.
Nevertheless, we've also noticed that the battery life depends, to some extent, on the type of activity we engaged in.
That is to say:
About five hours of snowboarding might wear down the battery by 25 percent in one day.
You also have to set the reference altitude yourself. That's because barometers usually fall down when low-pressure systems are coming in.
This is why the manufacturer recommends checking the reference points on a regular basis.
An accurate altimeter can be really useful if you're going to the mountains. It is highly advisable to track down the elevation changes while hiking and skiing.
Another great thing about the Suunto sport watch is the Suunto Movescout platform.
This platform enables you to track down an overwhelming amount of sports. At the moment, you can track approximately 80 sports.
If you activate the GPS, you can easily set routes and points of interest. Alternatively, you might even track down the trail to where you've started.
Apart from the barometer, this watch comes with an optical blood flow measurement sensor that monitors your heart rate.
For the best results, you should wear the watch higher on your wrist.
Also, if this feature is primordial for you, you should get the additional heart rate measurement belt.
Looking for an all black watch that's as reliable? Here's our SUUNTO Core all black review.
Features
It looks great
It tracks a lot of data
It identifies and tracks over eighty different sports
Barometric altimeter that measures elevation
It is water resistant to up to 300 feet
What To Look For When Buying An Outdoor Watch?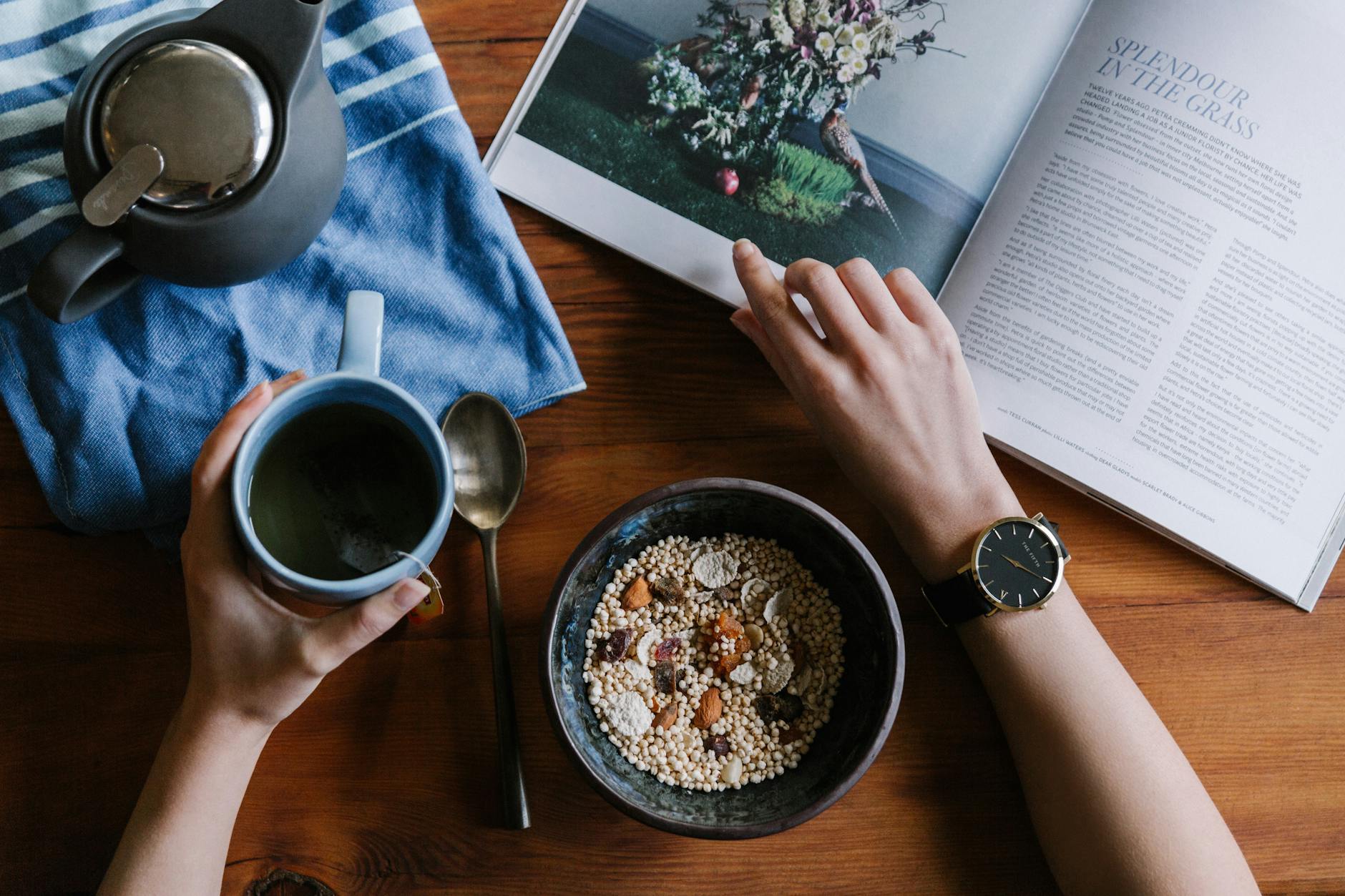 Getting the best sports watch isn't something that happens by chance. It is a very important purchase, so it requires special attention to various features.
We'll outline the most important ones. These are also the factors that we took into consideration when we reviewed the best outdoor watch.
Digital Vs. Analog Display
Most electronics can be separated into two main categories: analog and digital
And this applies to watches as well.
When it comes to analog watches, the time is presented by hands that spin around a dial, pointing a specific hour. The mechanism can be either mechanical or battery powered.
On the other side, a digital clock features a numeric display, indicating the time. The main mechanism of the watch is electronic.
What is the main difference between these two?
The way in which they display time and the technology they use.
Digital watches are more accurate when it comes to calculating time. That is because they display the minutes and seconds in detail.
Hence, many people prefer them – especially if they want to measure the time to the tiniest detail.
That is not all:
Digital watches utilize complex technology, including special features that aren't available in analog watches.
Some of the most common ones are a calculator, compass, GPS, and the list may go on. Evidently, the prices of the item will depend on the features it has.
Nevertheless, just because digital technology is associated with numerous advantages, it doesn't mean that analog watches should be dismissed.
As a matter of fact, if an analog watch utilizes a high precision movement to measure the time, it might be much more accurate than a digital one.
What is more, the most expensive and prestigious watches in the world are analog – this is mainly due to the way in which they look.
Still, when looking for the best outdoor watches this year, getting military digital watches make more sense. That's because it is sturdier and more appropriate for rough activities.
Special Features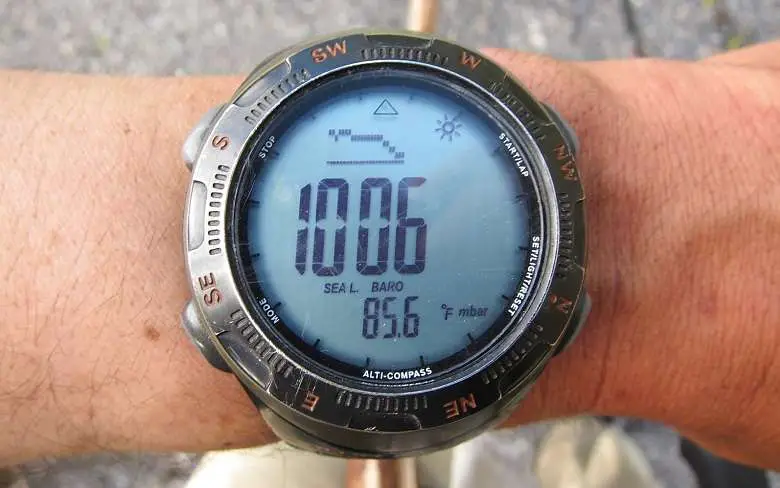 Like premium military watch brands, the best outdoor watch brands manufacture products that have all sorts of special features.
Essentially, these features are the ones that differentiate the best products from the average ones.
Some of these are a barometer, digital compass, GPS, full auto calendar, or POI navigation. At the same time, some watches feature training insights – these enable you to keep track of your training load.
Of course, there are other advanced features, such as heart rate monitor, Bluetooth, and the list may go on.
Still, it's up to you to establish which special features you need and which are useless from your point of view.
GPS
If you're new to the hiking trail, the last thing you want is to get lost. Thus, getting the best outdoor watch with GPS will prevent that from happening.
As a matter of fact, we consider that this is one of the most efficient features of an outdoor watch. That is due to its efficiency, safety, and practicality.
That being said, what are the main advantages of having incorporated GPS?
First of all, the watch will indicate the coordinates of your current location.
Second of all, you'll get access to real-time GPS-based information, including ascent, descent, distance, current speed, so on and so forth.
Moving on, the watch will also inform you of your current location in reference to the route. Not to mention that it could guide you towards important points of interest.
Concurrently, the GPS will help you in tracking and record your activities.
If GPS feature is very important to you, we have an article about the best tactical GPS watch.
Compass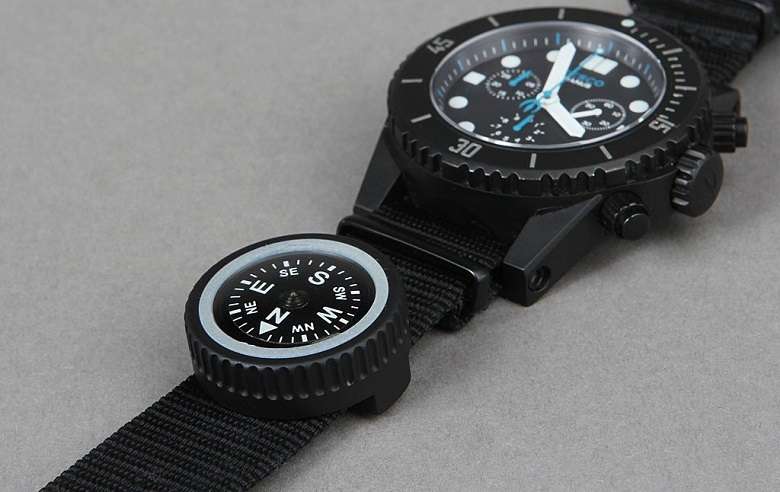 Some of the best outdoor watches 2016 have an incorporated compass. This feature can turn out to be really useful during your adventures.
To be more specific:
A compass will help you stay on the track, without veering too far from the trail, so that you eventually get lost.
While this is the worst possible scenario, if you aren't prepared, it might happen.
On that note, a built-in compass will let you know which direction you should go to reach your destination.
Nevertheless, it's worth noting that a watch with incorporated compass isn't as accurate as a compass. There is a margin error of 5° – so, do bear this in mind.
Barometer
To some people, having a barometer on a watch might not make sense. Still, mountaineering enthusiasts know that this characteristic is as helpful as it can get.
A barometer will allow you to anticipate the way in which the weather is likely to change.
We all know that when we're in the outdoors, we're at the mercy of Mother Nature. A barometer will indicate the atmospheric pressure.
This way, you can tell if the weather will improve or worsen.
So, if the atmospheric pressure increases, this means that the weather will be warmer. On the other side, if the atmospheric pressure diminishes, the weather will become unfavorable.
Meanwhile, a quick drop in atmospheric pressure could point to an unexpected storm.
So, not having a barometer is more than inconvenient; it might be dangerous as well. At the same time, this could prevent a lot of unwanted scenarios.
This is primarily why a sports watch featuring a barometer is more than useful. The barometer will inform you of weather changes that might affect your plans.
Evidently, your hiking habits will dictate if this characteristic is mandatory or not.
That is to say, if you usually go on lengthy hiking trips, a barometer will be essential to you.
On the other hand, if you want to get the best watch for running, this feature isn't mandatory.
It all comes down to this:
When and where will you be using your watch?
The answer to this question will tell you if you need a barometer or not.
Battery Life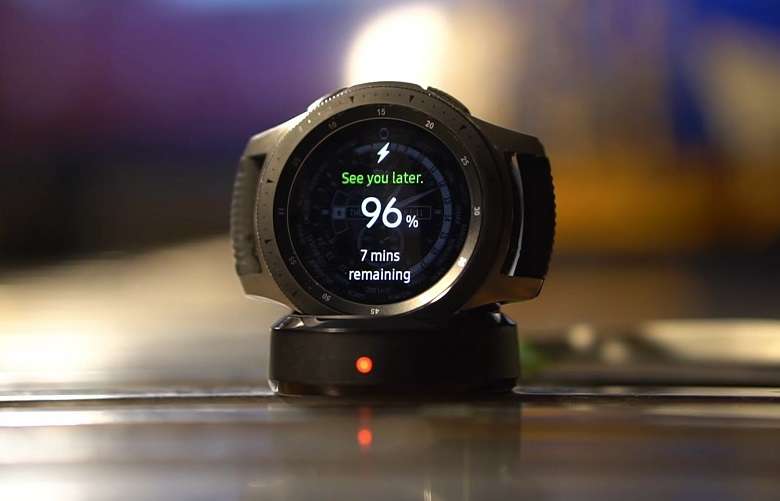 It goes without saying that the best mountaineering watches should have excellent battery life. If you want to get a sports watch, you must know that you can depend on it.
Let's think of the following scenario:
Your watch has GPS. You're hiking in the woods, and you're relying on the GPS for guidance. If the battery dies, this feature will become useless for you.
This is why you should ensure that the watch you get has excellent battery life. Evidently, if you're usually going on short trips, this might not be an issue for you.
On the other side, if you prefer wandering for hours, a watch with a long-lasting battery will serve you well.
So, make sure you take this into consideration when you look for the best outdoor watches for hiking.
Speaking of battery life, check out our article on the best tritium watches with batteries that can last for almost a decade!
Heart Rate Monitor
The heart rate monitor is an equally popular feature, as it can help you maintain a steady, regular strain during a hike.
It goes without saying that this characteristic can be really helpful during hiking, running, biking, or other outdoor activities.
Depending on how important this is for you, you should pick your watch accordingly.
Durability
It's only logical that the best watches for outdoor activities should be durable.
When you're hiking, biking, running, swimming, or doing any other sports activity, you need a watch that can easily resist dust, cold, impact, water and scratches.
It's as simple as this:
An outdoor watch should withstand the challenges that come with the territory. That is to say, it shouldn't let you down in the middle of your activities.
However, the good news is that there are many durable watches on the market to choose from. We've already reviewed some of the very best for you.
Yet, most importantly, they are created to address the individual needs of nature and sports enthusiasts, hikers, and backpackers.
Design Materials
The manufacturing material of a watch is imminently linked to its durability.
As a piece of advice:
You shouldn't give up on quality and craftsmanship for the sake of a few bucks.
This doesn't mean that you must spend a small fortune on your watch. Instead, you should look for quality before anything else.
A poorly made watch is likely to malfunction or break when you least expect it. This is why you should think of your watch as an investment.
Have a look at the way in which the watch is made and the materials used. This way, you won't regret your purchase.
These outdoor watches may be too modern for those who love the classic look. So we put together a list of the best vintage military watches in a comprehensive guide.
User-Friendliness
Some of today's modern watches are more user-friendly than others.
Considering that most products come with a range of individual characteristics, their user-friendliness can vary greatly.
Ideally, you should assess different product reviews before getting a watch. This way, you will determine if it is easy to use or not.
Final Thoughts
Without a doubt, shopping for the best outdoor watch under $200, $100, $500 can be difficult.
Nevertheless, we wanted to include products for every budget, and we hope that you've found an item on our list that addresses your needs.
Outdoor watches come with numerous features. But it's up to you to establish which one is mandatory for you. This is the key to getting the best bang for the buck.
Want to explore premium options that are as reliable as our picks above? Take a peek at the best swiss military watch.
You Might Also Like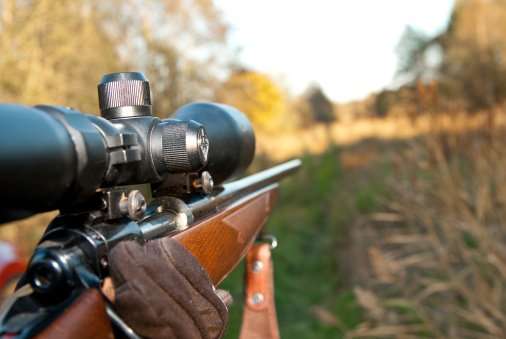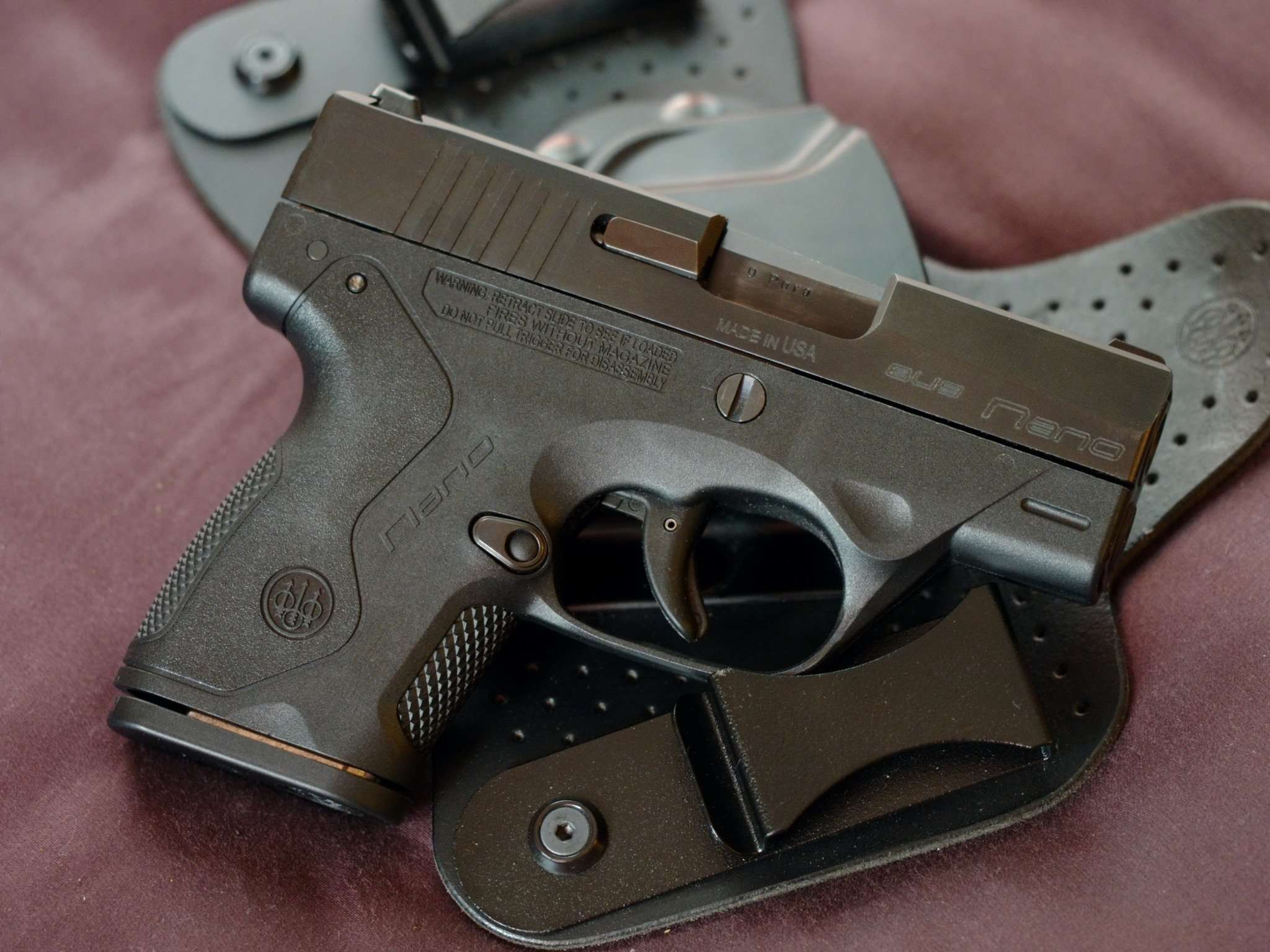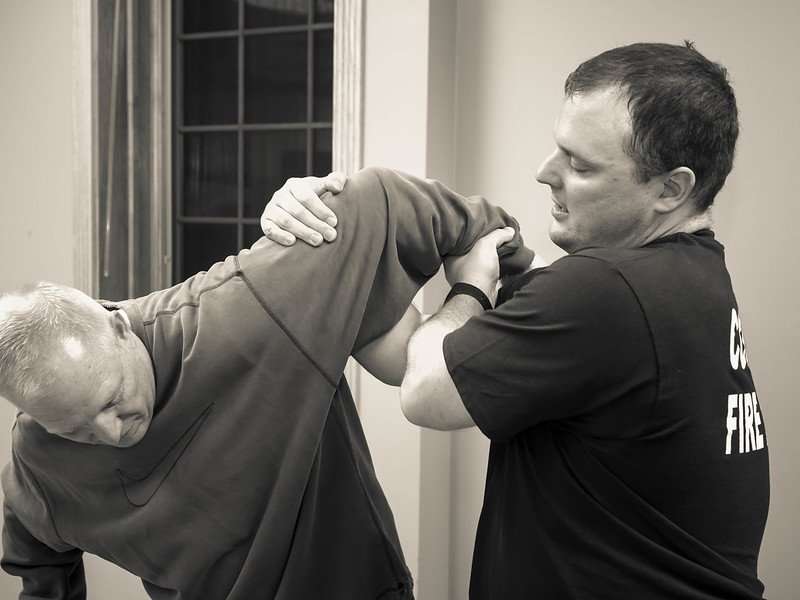 Last update on 2023-11-25 / Images from Amazon Product API