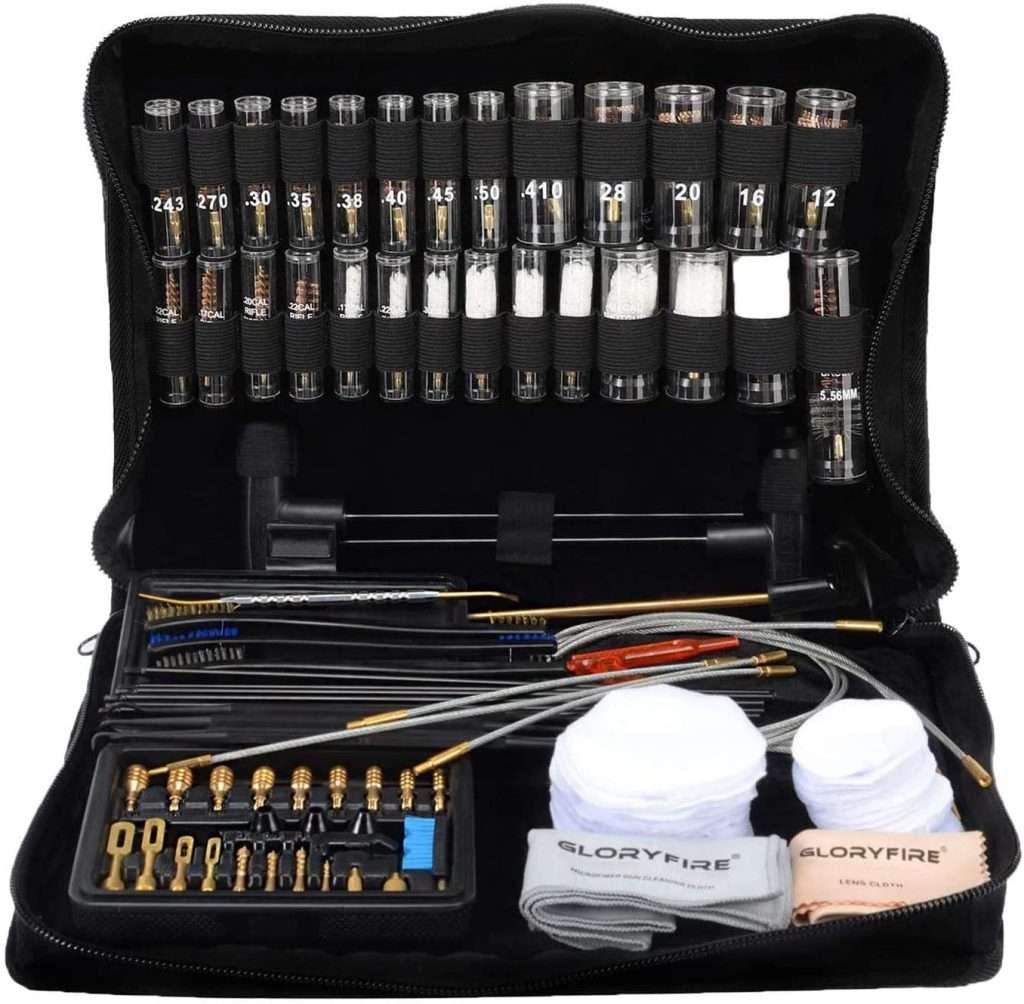 Gloryfire Gun Cleaning Kit
Best Budget Pistol Cleaning Kit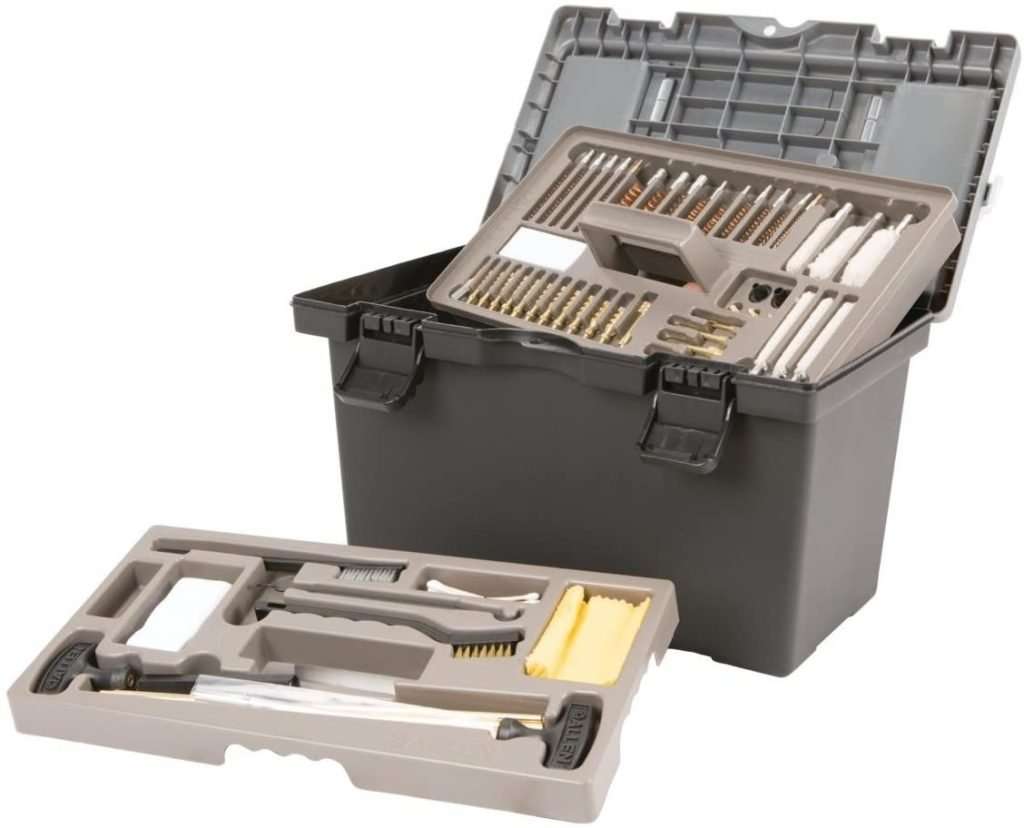 Allen Ruger Rifle & Handgun Cleaning Kit
Best Universal Gun Cleaning Kit
Otis Elite Gun Cleaning Kit
Best Travel Pistol Cleaning Kit
Real Avid Gun Boss Handgun Cleaning Kit
Having the proper cleaning tools for your gun is the key to keeping them in excellent condition. But it can be confusing to choose with the variety of kits available on the market. Don't look anywhere else, because this buyer's guide will help you pick the best pistol cleaning kit out there.
Comparison of the Best Pistol Cleaning Kits
Caliber
.17-.50/12, 16, 20, 28 and 410
12 gauge, 20 gauge, and .410 bore shotguns, standard rifle and pistol calibers
.17mm – .50mm/.410 – 12/10 gauge
.22 pistol, 9mm handgun, 357 magnum, .38 special, 40 caliber, 41 caliber, 44 magnum & 45 caliber
.22 caliber pistol and revolver
Last update on 2021-05-14 / Images from Amazon Product Advertising API
What should be in a gun cleaning kit?

When looking for a gun cleaning kit, look for a bore brush that's made of bronze. Bore brushes are used to remove excessive carbon buildup from your gun barrel so they have to be durable. Having nylon brushes would also be a bonus since they're great for cleaning delicate gun parts.
Bore mops or cleaning swabs are also essential in a gun cleaning kit. They are used to wipe off excess oil and residue from your gun's bore.
Cleaning rods are where you can attach tools to clean your gun barrel. Not all kits have them, but they're a great inclusion. If you prefer kits with cleaning rods, make sure that the rod is made from high-quality materials so they won't bend or break easily.
If you prefer bore snakes, we recommend you get one from our list, as they're the best on the market.
Cleaning patches are used to wipe your gun's bore and chambers with a cleaning solvent or a lubricant. Look out for patches that are made of high-quality fabric because they last longer.
Best Overall Handgun Cleaning Kit: Gloryfire Gun Cleaning Kit
Last update on 2021-05-14 / Images from Amazon Product Advertising API
The Gloryfire Gun Cleaning Kit contains superior-quality tools, from its reinforced rods to its aircraft-grade cables.
Gloryfire conducted thorough research and testing to make sure each tool is of the highest quality. This kit also lets you choose between a cleaning rod or a rope, unlike other brands.
The Gloryfire Gun Cleaning kit has tools for 10 different calibers. It's more expensive than some brands, but customers say it's worth the money.
We've read nothing but positive feedback for this outstanding kit, that's why Gloryfire is our best overall handgun cleaning kit.
Best Budget Pistol Cleaning Kit: Allen Ruger Rifle & Handgun Cleaning Kit
Last update on 2021-05-14 / Images from Amazon Product Advertising API
Allen Ruger made sure not to compromise quality while providing a budget-friendly option on the market.
What we love most about the Allen Ruger Rifle & Handgun Cleaning Kit are its cleaning patches. These patches are made of soft, knit cotton for easier cleaning, unlike synthetic patches. Since they're made of 100% cotton, they completely absorb excess oil and solvent, how convenient is that? You also get to choose from 3 different patch sizes.
We also admire how sturdy the brass cleaning rod that comes with this kit is, so as the many users that have tried it. The rod's handle also has a swivel for faster cleaning.
However, it would've been better if the kit had some space where you can put your solvent in. Overall, the Allen Ruger Gun Kit's quality is top-notch for its price.
Best Universal Gun Cleaning Kit: Otis Elite Gun Cleaning Kit
Last update on 2021-05-14 / Images from Amazon Product Advertising API
Unlike our first two picks, the Otis Elite Gun Cleaning Kit comes with a 0.5 fl. oz. Bio-CLP, so it's a complete package.
Its memory-flex cables are also made from aircraft-grade metals. These cables come in different lengths for unparalleled breech-to-muzzle cleaning. 
The Otis Elite Gun Cleaning Kit has an extensive variety of tools for different calibers – from rifles and pistols to inline muzzleloaders.
It's also nice that the kit's nylon carrying bag is portable. But it would have been better if it had more pockets for better organization.
Best Travel Pistol Cleaning Kit: Real Avid Gun Boss Handgun Cleaning Kit
Last update on 2021-05-14 / Images from Amazon Product Advertising API
If you often go to the range or travel for shooting competitions, a compact and portable kit like the Real Avid Gun Cleaning Kit is what you need.
Its weather-resistant travel case has individual compartments for each cleaning tool so they remain organized wherever you go. It's also equipped with a zippered ballistic nylon shell for protection against dirt and mud.
This kit contains every tool you need to clean 1911 pistols, modern handguns, and revolvers. 
Most customers mentioned that although this kit's cleaning supplies are not the best ones out there, they definitely get the job done.
Hoppe's No. 9 Boresnake with Den for Pistol
Last update on 2021-05-14 / Images from Amazon Product Advertising API
The Hoppe's Boresnake is perfect if you want to give your gun barrel a quick clean.
As one of the most trusted brands in the gun industry, Hoppe's guarantees a one-pass solution. Its bore snake has a built-in bronze brush that can remove carbon fouling in a single sweep. And its tail is 160x larger than a standard patch to completely eliminate any loose debris.
This kit also includes a compact carrying case for portability and easy storage.
Frequently Asked Questions
What is the best gun cleaning kit for a 9mm?
All the cleaning kits we've reviewed in this article are the best of the best, so whichever you choose will be a great choice. But if you'd ask us, we'd recommend the one from Gloryfire because its quality is guaranteed to last a lifetime. Plus you can use it if you want to add different calibers to your collection.
How often should a pistol be cleaned?
Should you oil the inside of a gun barrel?
Never apply oil to the inside of your gun barrel as this will result in barrel damage. However, if you'll be storing your gun long-term, you can use a heavier lubricant such as Barricade for rust protection. Then be sure to remove it by cleaning your barrel before firing.
Most of us believe that it wouldn't hurt spending a little more if that means keeping your guns in top shape. Some of us feel differently, and we respect that. At the end of the day, we all want the same thing – what's best for our guns. That's why we included all kinds of cleaning kits in this article, from the most budget-friendly to the most complete kit.
If you're looking for an article about the best shotgun cleaning kits, we've got that too!