Best Overall
Model
Casio G-Shock GW-9400-1CR Watch
Fanmis 2X08 Military Watch
Timex Full-Size Ironman Rugged 30 Watch
Best Overall
Model
Casio G-Shock GW-9400-1CR Watch
Model
Fanmis 2X08 Military Watch
Model
Timex Full-Size Ironman Rugged 30 Watch
Last update on 2021-12-24 / Images from Amazon Product Advertising API
Rugged watches are similar to yet different from the vast majority of sports watches. 
These watches are built to fit an active lifestyle and, most of the times, they adapt well to professional military use too. These models come with multiple features that can be exploited during adventures or other intensive outdoor activities.
Whether you are a passionate hiker, an occasional adventurer or a military professional, there are many reasons to buy a rugged timepiece. 
These devices are designed to measure much more than just time and they also keep track of your activities. 
In addition to this, they are built to last, being reliable, durable and extremely resistant.
But with so many models available on the market, choosing a rugged watch for men can be pretty daunting, especially if you don't know what special features and functionalities each model has to offer. 
For this reason, we narrowed down the list to help you decide which is the perfect timepiece for you.
Our Reviews Of The Best Rugged Watches
#1 Casio G-Shock GW-9400-1CR Watch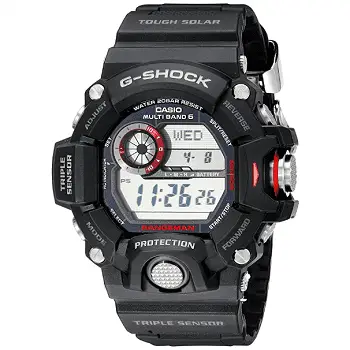 Casio is one of the most popular manufacturers of rugged men's watches, its G-Shock line timepieces being widely considered reliable, durable and functional.
From all the G-Shock watches, an outstanding rugged timepiece thought for intensive outdoor use is the GW-9400-1CR model.
This watch impresses with its multiple functions as well as with its sturdy design. 
From an aesthetic point of view, this watch inspires pure masculinity, its lines being consistent with the style of the other G-Shock models. 
GW-9400-1CR is a shock, water and mud resistant and equipped with multiple functions and features.
The G-Shock GW-9400-1CR has an intuitive display that shows the time, date, sunrise and sunset and the day of the week. 
The watch is also a reliable altimeter, barometer, and a digital compass. 
Regarding the battery, the watch is powered by a solar rechargeable battery that has a lifespan of 7 months when not exposed to further sunlight, an awesome characteristic in our opinion.
If you're into Casio watches, you'll surely love our articles about G-Shock military watches and our Casio G7900 review.
#2 Fanmis 2X08 Military Watch​
According to the users' reviews, the Fanmis 2X08 is a great alternative to the original G-Shock if you are looking for a less expensive rugged watch for sale. 
Since it is enjoying such great popularity, this is one model we couldn't ignore, and we have to say that even if it comes with limited functions it is perfectly adaptable to heavy outdoor use in extreme conditions.
The design is clearly inspired by the Casio G-Shock line, both the case and the wristband being made of black silicone. 
It may not be as bright and long-lasting as that of tritium watches, but its digital LED display is bright enough for easier time reading in the dark.
Another fun feat is its ability to change the background color, choosing the favorite from the 7 available options.
A drawback of the model is the lack of an altimeter and barometer function, but the watch is equipped with a compass. 
Overall, even if it doesn't rise to the standards of the best military digital watches, the Fanmis 2X08 can be considered the best military watch in the rugged watches category.
Check out our picks on the top military watch brands this year.
Writing a rugged watch review for this splendid Invicta timepiece was a real pleasure for us. 
The model is part of the manufacturer's Pro Diver collection and it is characterized by an extremely elegant design and outstanding functionalities.
With regard to its aesthetics, the Invicta 17884 sets itself apart from the competition thanks to the stylish round case plated with 18k gold. 
This luxurious look is enhanced by an analog dial with intuitive marks for the hours and chronograph functions. 
The luminous skeleton hands and the magnified date window are further elements that define the elegant line of this watch.
The dial is protected by a scratch-resistant sapphire crystal window and the black polyurethane wristband with golden details completes the design of this opulent timepiece.
Plus, its neutral color and design makes it a great choice for those who are looking to buy women's military watches.
When it comes to technical details, the movement is ensured by a Swiss quartz mechanism and the watch is suitable for the professional marine activity, being water-resistant at 660 feet. 
We can safely say that the Invicta 17884 is a perfect rugged watch that can also pass as one of the best vintage military watches because of its classic style and versatility.
#4 Armitron 40/8188 Watch
Returning to the more sporty style characteristic to the rugged military watches, another timepiece that impressed us and many other customers with its features is the 40/8188 model by Armitron.
According to many reviews, the 40/8188 is: "the exact definition of a great watch"
Many users are satisfied by its design, performances, and price. The round stainless steel case is complemented with success by the resin wristband. 
The digital display shows the current hour, date and day of the week. What's more impressive is it comes with the features of a tactical GPS watch, such as a countdown timer, a chronograph, and a second-time-zone.
The main drawback of this model is the acrylic dial window that is somehow unsuitable for a watch designed to be used during intense outdoor activities. 
On the other hand, it lacks an ABC function as well, but it is water-resistant at 330 feet.
#5 Timex Ironman Rugged 30 Watch
We decided to end our list with what it is considered one of the top rugged watches available on the market, the Ironman Rugged 30 by Timex.
Timex brand is famous worldwide for its reliable and durable timepieces and the Ironman Rugged 30 doesn't disappoint. 
The watch is characterized by a round resin case fully attached to an imposing resin wristband. It also comes in an all-black design like the one from SUUNTO Core. If you want to compare them,  here's our SUUNTO Core all black review.
The digital dial is protected by an acrylic window, maybe the only negative point regarding the design.
When it comes to performances, the Ironman Rugged 30 is sturdy, durable, water resistant at 330 feet and comes with many useful functions. 
Among these, we can mention the countdown timer and stopwatch, the three alarms and two time zones.
Coming in a wide variety of colors, the Timex Ironman Rugged 30 is suitable for both men and women and can satisfy the aesthetic desires of a wide range of consumers.
Final Thoughts
In our opinion, the best rugged watch available on the market is Casio G-Shock GW-9400-1CR. This timepiece is not only reliable like the best swiss military watch, but it is also built to resist almost any type of outdoor activity like most outdoor watches, a complete watch engineered for intense use.
What we like most about this model is its ability to recharge the battery using solar power and the extremely accurate ABC function.
With a watch like this you will never have to worry about getting lost or running out of battery even in the most extreme circumstances.
If you're looking for a watch that can survive combat use, here are our guides on Special Forces watches and the US military watch standard issue.