Best Overall
SOG Survival Hawk
This hawk will win you every throwing competition.
Value: 9/10
Performance: 9/10
Cost: 9/10
Check Price
Best on a Budget
NedFoss Throwing Tomahawk
This tomahawk's size is perfect for practicing wrist control.
Value: 8.5/10
Performance: 8/10
Cost: 9/10
Check Price
Best Lightweight
SOG FastHawk Polished Tomahawk
A short, catchy description
Value: 8/10
Performance: 8.5/10
Cost: 8/10
Check Price
A tomahawk's functionality doesn't end with chopping wood and as a self-defense weapon. In fact, there are fun and friendly competitions dedicated to them! If you're looking for a new hobby, this might be it! Pick a reliable weapon from the best throwing tomahawks below!
Features to Consider + How We Choose
Blade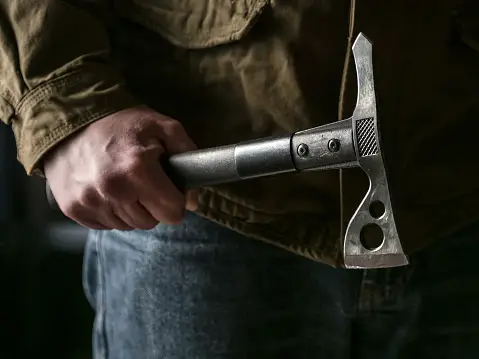 If you've yet to master distance judgment and a consistent throwing technique, or even if you already have, you'll want your tomahawk's blade to stick easily. Its edges should be sharp enough to stick in your target but soft enough to be sharpened efficiently when needed.
Your tomahawk's blade should be made from sturdy material such as stainless steel or it would be more durable if it's made from carbon steel.
Handle
Most tomahawks have their handles wrapped in paracord or rubber to promote better grip even when your palms are sweaty. You want your tomahawk's handle to be grippy enough not to slip from your hand until you're ready to let it go.
Overall Weight and Size
Your height and hand power also plays a critical role in getting a tomahawk that will work for you. The handle shouldn't be too short or too long, and the entire tomahawk shouldn't be too heavy or too light. A heavy tomahawk might be difficult to control and might give you wrist pain later on. On the other hand, if your tomahawk's too light, getting it to stick into your target might be a problem, unless you've already mastered the art of throwing.
5 Best Throwing Tomahawks
Best Overall: SOG Survival Hawk
Our best overall pick hits above its weight class as a tomahawk should. The blade is made from black stainless steel that's incredibly sharp and solid but just enough to be sharpened easily. What makes the SOG Survival Hawk perfect for throwing is because its handle is wrapped in a paracord for improved grip. 
Pros
Reasonable price
Large cutting edge
Paracord handle
Cons
The included sheath has poor quality
What Customers Say
This thing is made more for combat versus chopping wood. However, it'd work in survival situations in a pinch, especially with the paracord handle wrap.

ZF
It's a great little hawk, works as it should and far as I can tell so far it holds up really well.

Thevair65
Best on a Budget: NedFoss Throwing Tomahawk
The NedFoss throwing tomahawk features a well-balanced construction. This means you can adjust the amount of power used when throwing to get accurate results. The paracord surrounding the handle on this tomahawk can be removed for your convenience. The paracord is also covered in additional rubber reinforcement, so you won't have to worry about sweaty palms affecting your performance.
Pros
Affordable
Lightweight
Removable paracord
Portable
What Customers Say
Got these for my husband to practice at home with and he loves them. They look great and handle well.

Christine Waltz
Good balance and easy to throw but dull so had to get sharpened then ok!

EZ Finch
Best Lightweight: SOG FastHawk Polished Tomahawk
The SOG FastHawk Polished Tomahawk Is lightweight and easy to throw, allowing you to develop consistent throws at varying distances. However, getting it to stick needs a bit more effort and excellent wrist control as compared with other brands. You might also need to do a quick sanding on the handle from time to time to keep it smooth but it will remain grippy.
Pros
Lightweight
Affordable
Portable
Cons
It's too lightweight so it doesn't stick easily
What Customers Say
I use this as a hunting hatchet. Chops through bone and wood nicely. Keeps an edge well.

Jory
Excellent value for the price. Prompt delivery. The Fast Hawk is compact, light, well balanced and looks like it can take some rugged use. Love the lanyard loop and armor-plated handle.

Lilwolfaz
M48 Tactical Tomahawk
The M48 Tactical tomahawk is constructed from cast stainless steel. It comes with a grooved nylon-reinforced fiberglass handle for better grip. But unlike our other picks, its handle is neither rubberized nor wrapped in paracord, making it a little difficult to throw in wet conditions. The blade makes up a lot for the handle's deficiencies, though, as it's solid, sharp, and stays that way for a long time.
Pros
Well-built blade
Affordable
Lightweight
Cons
Low-quality sheath
The handle isn't wrapped in paracord
What Customers Say
Thought this wouldn't last but multiple years after purchase I couldn't be happier with the axe.

Blake Benedict
The balance is great, the handle is eh… but functional, I did a paracord wrap on mine to help with gripability if you will. I love the fact that this thing whistles when flying through the air!

Jay
Zenhosit Throwing Tomahawk
Our last pick is the Zenhosit Throwing Tomahawk. It sports a symmetrical anodized stainless steel construction that makes it durable, rust-resistant, and easy to throw. It's perfect for beginners because even if your throw lacks power, the tomahawk's weight and blade design is enough to stick into the target. 
The paracord is removable so you can unwrap the handle if it makes you uncomfortable. The handle also features a lanyard hole at the tip for utility. However, note that these tomahawks are thin so they're made only for throwing and isn't suitable for other uses.
Pros
Affordable
Well-balanced
Double-bladed
Cons
The paracord comes off easily
What Customers Say
I would for sure say these are a good deal since you're getting some pretty decently balanced axes and knives. I wouldn't account for them being competition grade, but they're good nonetheless.

Not Your Average Hiker
Both knives and axes are very sharp. Beautiful craftsmanship. The throwing axes are ready to use out of the box (the rope handles are already on the axes). The knives and axes both come with their own sheaths. They all have good balance.

Annette
Tomahawk Throwing Competitions
If you're interested in participating in a tomahawk throwing competition, here are the basic requirements:
The cutting edge should not exceed 4.5 inches in length.
The handle should not be shorter than 12 inches but not longer than 24 inches.
"An unsharpened edge for safety, what makes the tomahawk stick in the target is blade geometry and force of the throw."
Conclusion
You can also introduce throwing tomahawks to younger members of your family with this safe and effective tomahawk toy! Start 'em young!
If you're not into axes, you might be a knife guy (or gal)! Check out our favorite combat knives to know for sure!
Last update on 2023-09-09 / Images from Amazon Product API