Best Overall
Madison Supply EMT Trauma Shears
Premium shears that are recommended by many medical professionals.
Check Price
Best on a Budget
EMT Trauma Shears with Carabiner
High-quality trauma shears that won't hurt your wallet.
Check Price
Best Multi-Purpose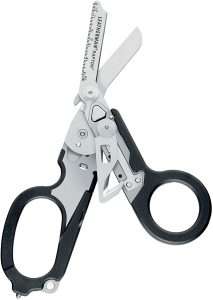 Leatherman Raptor Rescue Emergency Shears with Strap Cutter and Glass Breaker
A multi-functional tool that's built to last.
Check Price
You keep reading about trauma shears online, but you're wondering if it's really essential for your survival kit. We'll clear all your doubts in this article and give you a quick and accurate review of the best trauma shears available!
A Sneak Peek on our Top Picks
Model
Madison Supply Medical Scissors for Nurses, EMT & Trauma Shears - 7.5"...
Trauma Shears with Carabiner - Stainless Steel Bandage Scissors for...
LEATHERMAN, Raptor Rescue Emergency Shears with Strap Cutter and Glass...
Prestige Medical Prestige Medical Fluoride Scissor, Black, 7 1/2 Inch
XSHEAR® 7.5" Black Titanium Coated Extreme Duty Trauma Shears....
Material
Japanese surgical-grade stainless steel
Model
Madison Supply Medical Scissors for Nurses, EMT & Trauma Shears - 7.5"...
Model
Trauma Shears with Carabiner - Stainless Steel Bandage Scissors for...
Material
Japanese surgical-grade stainless steel
Model
LEATHERMAN, Raptor Rescue Emergency Shears with Strap Cutter and Glass...
Model
Prestige Medical Prestige Medical Fluoride Scissor, Black, 7 1/2 Inch
Model
XSHEAR® 7.5" Black Titanium Coated Extreme Duty Trauma Shears....
Features to Consider
Durability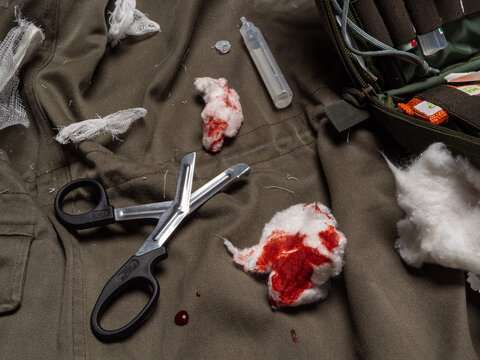 The best trauma shears should be able to cut through thick fabric such as jeans with ease and convenience. At the same time, it should allow the user to work without injuring the patient.
Price
Think twice before buying a surprisingly cheap pair of shears because most of them don't last long. If you're looking for an affordable trauma shears brand, our best value pick – the EMT Trauma Shears with Carabiner, should do the trick.
Material Construction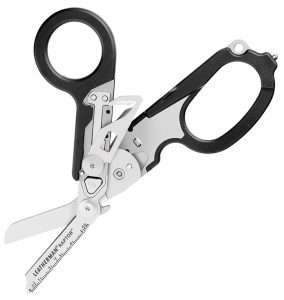 A durable and reliable pair of trauma shears are made from stainless steel for guaranteed hardness and malleability that's coated with fluoride or black titanium for additional resistance against corrosion. 
Size
Most medical personnel prefer trauma shears that can fit in their pockets or pouches. This allows them to conveniently carry the shears everywhere and easily access them during emergencies.
5 Best Trauma Shears
Best Overall: Madison Supply EMT Trauma Shears
Our best overall pick comes with an extra tough stainless steel blade. The blade features a milled serration design and is coated with fluoride for reinforcement. That's why it can cut through leather, bandages, jeans, cardboard, and fiberglass without problems.
The Madison Supply trauma shears are suitable for left and right-handed users. Plus its injection-molded polypropylene handles ensure comfort and ease of use.
These trauma shears also guarantee no gapping or bending even when working with tough material and under difficult situations. 
Pros
Ambidextrous
Comes with a 60-day money-back guarantee
Non-stick and professional-grade
Cons
They're quite big
The black coating comes off when cleaned with alcohol
What Customers Say
"Having an elderly relative with medical issues is bad enough, and then worrying about cutting the person makes for an even worse situation. Since he has to wear three-layer compression wraps on his legs, I feared cutting him when they needed to be taken off. Regular scissors were often awkward plus not very efficient, and I had to make certain to keep the point away from his leg. But with this wonderful product, I can cut away the wrap without worry. The Madison Supply scissors are sharp, yet the blunt tip keeps me from causing any additional harm. Wish I had purchased this very functional item much sooner."

A. Richard
"Great scissors! They cut clothes with a breeze. I'm a nursing student and need good bandage scissors, and I love these! They are a little big for my hands, but that's okay."

Destiny Fortich
Best Budget: EMT Trauma Shears with Carabiner
Our best budget pick is constructed from surgical-grade Japanese stainless steel and features injection-molded handles and tough built-in carabiners for your convenience.
Like our best overall pick, the EMT trauma shears come with a milled serrated style blade, so its durability is guaranteed. These shears have large openings for comfort and help the user make clean and precise cuts.
These shears aren't made for left-handed people, but many have sworn to use them comfortably with their left hand.
Pros
Comes with a lifetime warranty
Convenient to carry around
Rustproof
Lightweight
Cons
A bit difficult to use for those with small hands
What Customers Say
"These shears have been excellent! I started working in an ER several months ago and bought these since I was told I would regret not having a good pair of scissors. I've cut through leather and jean without any problem on multiple traumas that have come in. Of course, they also work well cutting open the stubborn medication packages and bandages as well. They've held up against some pretty rough months of work. They've also tolerated disinfecting well with no rust to be found. My concern was the carabiner might not hold up but so far it has! I can always find them in my scrubs and other staff is always jealous of them. Definitely worth the money and would purchase again."

Ivy
"I am a nurse in the OR and was looking for trauma shears that would cut through things like gowns and ACE bandages and also open glass medication vials with rubber tops. These shears are sharp and have been able to cut through everything I've needed them to so far and work great for opening the glass vial tops! "

Pkay
Best Multi-Purpose: Leatherman Raptor Rescue Emergency Shears with Strap Cutter and Glass Breaker
Just by looking at it, you'll know that the Leatherman Raptor shears are tough as nails.
The Raptor combines six tools into one multi-functional pair of shears. Aside from folding emergency response shears, they can be used as a carbide glass breaker, an oxygen tank wrench, a strap cutter, a ring cutter, and a ruler.
The Raptor also comes with an adjustable utility holster so you can conveniently carry it around. The holster has a locking release so it holds securely in every position. That's an improvement over the other options.
The only downside of these shears is that cleaning them requires more effort than most trauma shears, and they're a little expensive.
Pros
Comes with a 25-year warranty
Multi-functional
Foldable
Cons
Difficult to clean
Expensive
What Customers Say
"Absolutely love this product. Recommended to me by an EMT when I was asking questions on putting together an IFAK for work. Tested them out on some thick rawhide leather and I was impressed. I was even able to cut through three individual sheets of Kevlar from a level 3 soft plate armor vest. My only gripe is with some of the construction of this particular item and that there isn't a fixed blade version of it. All in all I rate it four and a half stars."

Michael S.
"The Leatherman Raptor is a must if working in a career field that involves trauma or emergency care. I have yet to use the ring cutter on the tool but the scissors are second to none when cutting through material. They can cut through jeans, leather, straps, and Carhartt material without hesitation. For the price you pay for this item, it is completely worth it when co-workers ask to use them when regular medical shears cannot get the job done. The product I bought came with a case that clips onto your waist. It is lightweight and barely noticeable while being worn. I would recommend this product to any person. I would give this product 5 stars except for the high price of the item. At the same time, you get what you pay for."

ER/Trauma Nurse
Prestige Medical Prestige Medical Fluoride Scissors
The Prestige medical scissors may be cheap, but they can cut through the toughest materials just as well as the more expensive brands. They can also handle abuse and hold up well for years like their competitors.
These scissors are made from 420 stainless steel that's coated with black fluoride for durability. Plenty of customers have also confirmed that the scissors still function well even after several years of use.
Pros
Affordable
Long-lasting blade sharpness
Lightweight
Temperature-resistant
Cons
The handles are a bit narrow
Short blade length
What Customers Say
"Cut well but bulky when trying to remove catheters out of an animal. Have used them for 3yrs and joked they were my playskool scissors. Everytime I am in surgery I curse them and finally threw them out today. For the price they are amazing, hopefully they are better in the human field."

Amazon Customer
"I bought these when becoming a firearms instructor to throw in the range bag's trauma kit. They work well, and for the past couple years, they've collected dust. They almost never get used, but are ergonomic and strong. I cut through some webbing, a tshirt and a CD with ease when I got them. Something about that semi-serrated dual blade that works on about everything. The ample space in the finger holes is appreciated, too. Worth the money, and I'm comfortable staking safety on them. Should work for most of your needs, too. They were recommended to me by a buddy who's an EMT."

John Scout
Xshear Extreme Duty Trauma Shears
Our last pick is twice as thick as most trauma shears ever produced. That's because it's built with razor-sharp Japanese 420J2 stainless steel. It also features a heavy-duty center bolt that won't loosen or bend even when cutting through thick fabric. Plus, it's coated with black titanium for resistance against corrosion.
Like our picks above, the Xshear Extreme Duty trauma shears guarantee safety for your patients as they also come with a reliable blunt tip.
Pros
Comes with a 90 Day Satisfaction Guarantee and 5-Year Warranty
Slip-resistant handles
Well-machined
Affordable
Cons
They're too big and heavy to carry around
What Customers Say
"Just think of these as the cutting equivalent of an off-road vehicle with low gears, it can keep chugging away through anything. These shears are a little different but work great. They can cut through layers of junk that wore out other shears within a couple of months. I don't use them as an EMT tool, I use them around the house and now that I have them I wouldn't be without them. They take a little more force to open than a regular shear and there is no spring assist so if you have a weakness in that area these may not be for you. That said these are really made for heavy-duty cutting and don't work as well on thin easy to cut items as other shears. In any case these are awesome shears! Hope that helps."

PearceReader
"The XShears aren't scissors; it's a tool!! It's thick, durable, and very sturdy. Has a very comfortable grip and texture. When I'm using it I feel like I'm using a Leatherman…if that makes sense to you. It puts all my other trauma shears to shame! Cuts through any fabric (that I have) like paper. I cut through a standard leather belt very easily. $40 for shears? I took a chance on it and the XShears are worth every penny. This is going directly on my IFAK. Matter of fact I just put in for another one…"

Joseph Reichart
Frequently Asked Questions
What are trauma shears?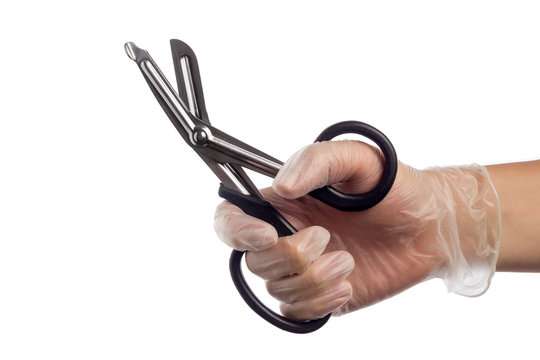 Trauma shears are a type of medical scissors that are usually used by medical personnel for emergency cases. These scissors' blades are bent at a 150° angle that allows paramedics or first responders to safely cut through a patient's clothing no matter how thick the material is. 
Can trauma shears cut a penny?
Yes, most of our picks above can cut a penny, not that you'd be using the shears for that purpose, though.
What is the difference between trauma shears and bandage scissors?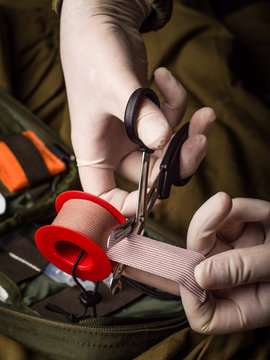 As the name implies, bandage scissors are designed to cut through very thin fabrics such as bandages. Bandage scissors can't be used to cut through anything thicker. Trauma shears, on the other hand, are tougher and are built to cut through thicker fabric and material. Using them to cut bandages can be inconvenient as they're too big.
Do nurses need trauma shears?
Yes, nurses and other medical personnel, especially first responders, need trauma shears. These shears are essential for them to be able to cut quickly through their patients' clothes during emergencies.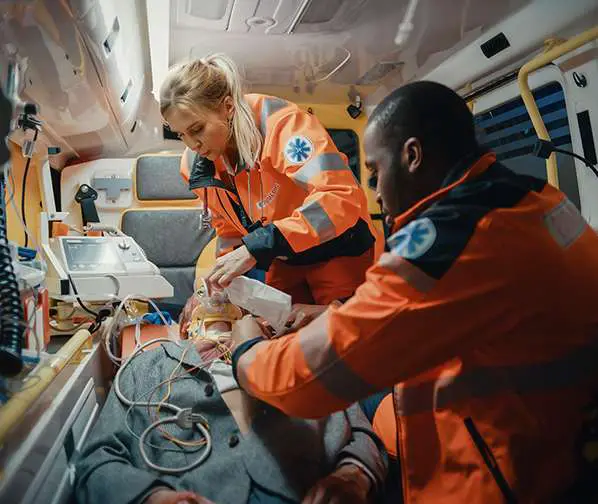 What scissors do paramedics use?
Most emergency medical personnel like paramedics use trauma shears to attend to injured patients quickly and safely.
Conclusion
Whether you're an Emergency Medical Technician, a military medic, or a survivalist looking to complete your emergency medical kit, all of our choices above are the toughest and most reliable trauma shears brands today. So you won't be disappointed with whichever you choose.
If you think you have too much stuff to pack, here are some of the items you don't want in your bug-out bag.

Are you into exploring stars and navigating without electronics? Our guide to celestial navigation will enlighten you!
Last update on 2023-10-01 / Images from Amazon Product API