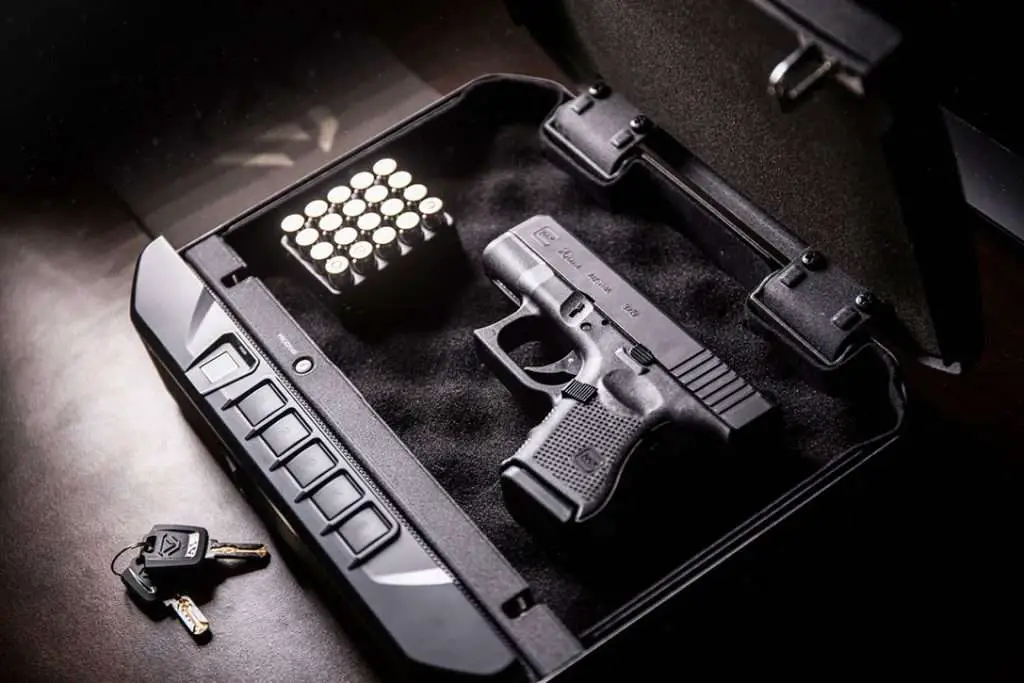 Owning a gun comes with a ton of responsibility. This involves keeping it secured when not in use while still having quick access to it when the need arises. If you travel a lot, or if you prefer bringing your gun to work, getting a safe for the car is the best option. Let's take a look at our picks for the best car gun safes this year!
Features to Consider
Security
One of the main reasons for getting a gun safe is security, so prioritize this feature. Most gun safes manufactured today feature high-quality locking mechanisms that are difficult (but not impossible) to tamper with. A backup mechanical key would also be a great bonus for when the batteries run out. How it attaches to a seat or somewhere else in your car is key to preventing theft!
Material Quality
There's no such thing as a tamper-proof safe. But manufacturers made sure that these gun safes are durable enough so "smash-and-grab" thieves don't succeed. They'd need more than a rock to break the safe and steal your valuables. That means they have to spend more time picking your safe's locks or getting tools. And hopefully, you'd have already called the police within that timeframe.
Size
Portability is another factor to consider. You don't want a gun safe that's gonna take more space than your luggage or your laptop bag.
Price
Even if you have an allotted budget, get a safe that offers great value for money. And all of our picks below are cost-effective for what they do.
5 Best Car Gun Safes
Best Overall: Vaultek LifePod
The Vaultek LifePod features dual-side compression latches and a rubber gasket seal to prevent moisture and dust from seeping into the safe. It also has the ability to float in water when loaded with 2 lbs of weight. This safe also guarantees impact resistance and superior durability as it has been drop-tested.
It features a micro-USB port that serves as backup power in case the battery fails. The battery, by the way, lasts up to one year.
The Vaultek LifePod also comes with a security cable that you can attach to a car seat. 
This safe, however, can only accommodate small-sized guns. You can download the template of Lifepod's actual size from Vaultek's website or you can check the list of compatible guns below.
Lifepod Series Fitment List:
Glock 43 and Two Spare Mags
Glock 27 and Spare Mag
Glock 23
Glock 19
Unity Tactical Glock 19 with an RMR and a Surefire 300
Glock 20 and Spare Mags
Glock 17 and Spare Mag
Glock 22 and Spare Mag
Ruger SP-101
Sig Sauer RXP XCompact with a Sig Sauer FOXTROT1 Light, and Spare Mag
Sig P365 and Spare Mags
Sig P225 Extreme Elite
Sig P365 and Spare Mags
Sig P938 Legion
Sig Sauer P320 Carry .45
Sig Sauer P226 Enhanced Elite (No Beavertail)
Springfield Hellcat
Springfield XDS 45
Springfield XDm 3.8 Compact .45 with 13 Round Mag
Taurus PT 40
Reference: https://vaulteksafe.com/support/what-fits/
Pros
Lockable
Water-resistant and dustproof
Lightweight
Airtight
Cons
Not TSA-approved
Not fireproof
It's only compatible with handguns
What Customers Say
"Overall, the LifePod is small, compact, and easy to program for a custom 4 to 8 digit code. The integrated latches on both sides help keep the case closed and sealed. I am looking forward to using this when traveling and taking trips. Fits subcompact and compact-sized Glocks without a problem."

Dr. Krappenschitz
"Very sturdy and solid case for locking up essentials, I keep mine in my SUV. Oh and excellent client service, very attentive and responsive to accessories."

John McLeod
Best Mid-range: SnapSafe Keyed Lock Box
The SnapSafe Keyed Lock Box is lined with slim-fit foam liners that you can remove if you want more depth. It fits full-sized 1911 pistols and 4-inch revolvers.
We also love that the box and the lock are made of tough and solid metal making them difficult to break into. Plus it has a hinge on the outside that's almost impossible to tamper with.
It comes with a space-saving design that ensures maximum storage capacity. It features a heavy-duty 16 gauge housing plus a 1500 lb. rated security cable. This cable loops around a stationary object (like a car seat) and is secured by placing the cable stud inside the lockbox before locking the box.
Pros
TSA-approved
Compact and portable
Affordable
Cons
Not fireproof
The locking mechanism can be picked with a decent tool
What Customers Say
"Car was broken into. Window was smashed. Had a gym bag taken. Safe was connect to my car seat. Was still left in the car and gun was safe. Guess I'm not going to the gym and it could have been worse."

Mike Lieu
"Oh man, serious!? This case is by far the best case I have ever owned. The cheap plastic case that came with my glock (G22- 40 cal) is cheaply made compared to this case. Glock can take some notes on this as an optional safety/security feature when purchasing a firearm. I'm doing a last minute travel and needed a case for my flight…can't really say I trust airline employees with my precious cargo and I'm certain this case is as good as it gets….cable and all. Highly HIGHLY HIGHLY recommend this product especially for the price."

Juno711
Best on a Budget: Case Club 4 Pistol Heavy Duty Case
Our next pick is affordable and flexible. It comes with foam inserts that can be removed to make room for handguns and magazines of different sizes. 
These military-grade pre-cut case foams are non-abrasive and won't absorb moisture or oil. Plus its O-ring seal is built into the lid making it fully waterproof and dustproof. It's also equipped with a rechargeable moisture-absorbing silica gel canister that helps prevent the formation of rust on your guns.
The Case Club 4 Pistol Heavy Duty Case can accommodate up to 4 pistols. This safe stands up to its name as it's built like a tank.
Pros
Large capacity
Comes with a lifetime warranty
Waterproof and dustproof
Lightweight
TSA-approved
Cons
Magazine slots are a little too big for mags
What Customers Say
"This is a great, sturdy case that gives me all the adjustable parts I need for a range case. I don't care so much for soft side range bags that don't have the ability to protect firearms and equipment like a hard case does. And I don't want to have to carry a range bag and a pistol case like I used to. I was able to customize this case to carry 3 pistols and the mags, ear and eye protection, markers, target clips, etc. It is a bit on the heavy side when completely filled but I prefer that for the convenience of having everything in one place. The case has a nice tight seal and strong closing clips that lock and mold opening for security or combination locks. I highly recommend this case and based on this one, I imagine any others from Case Club would be just as well designed and built."

CMP
"Case Club killed it with this! This is exactly what I was looking for when taking my pistols to the range. The case is solid, with proper holes for 2 locks, plus the latches have a knob that turns to lock, so you don't have to worry about them "coming off" in transit or even while just handling. If you are looking for a case to transport or even just store your pistols, I say don't even hesitate buying this. It's worth every penny."

Johnny Volatile
Best for Long Guns: Hornady Rapid Safe AR Gun Locker with RFID
The Hornady Rapid Safe AR gun locker comes with four RFID tags – two stickers, a key fob, and a wristband, giving you access flexibility. You can also access it via a digital keypad and a mechanical key for when the battery runs out or when the power fails.
This safe also comes with pre-drilled holes so you can bolt it down for added security. You can also connect it directly into a power outlet or use batteries. Its batteries can last a few years if you don't open the safe regularly.
The Hornady Rapid Safe AR gun locker can hold up to two long guns.
Pros
Easy to install
Certified child-resistant
Spring-loaded door
Cons
Not fireproof
Does not open quietly
What Customers Say
"I really like it and the setup was easy and straightforward. Works like a charm."

Sven Thiess
"This safe is fairly good and serves my purpose. It is NOT a real safe that would cause any concern for a determined thief. Also, it has holes for mounting it to a wall but they won't line up with your wall studs so you might as well just help the thieves carry it out to their car. The RFID feature is cool and works as intended. I recommend the safe but not as your primary firearm storage solution."

S. G. Harp
RPNB Gun Safe
The RPNB gun safe is RFID-capable and can be unlocked via an RFID card or an RFID key fob. It can also be opened via a backlit keypad if you prefer passcodes, plus it comes with a manual key for backup. 
The safe also comes in another model where it can be unlocked using biometrics instead of RFID. This model allows you to register up to 20 fingerprints. Take note that the biometrics model is a little more expensive.
The RPNB features a spring-loaded door that opens quietly and quickly. It also comes with pre-drilled holes and mounting hardware.
Pros
Comes with a one-year warranty
Shockproof handle
Smooth open and close operation
Cons
Can only hold two full-sized handguns
Batteries get drained easily
Not moisture-proof
Not fireproof
What Customers Say
"Just arrived today, initially impression is that its a great value. Easy setup, very sturdy, good storage space. It easily holds two full size handguns. It even closes with pistols stacked on each other. The electronics seem to be good quality too. I'll update if anything changes."

Joe H.
"Overall the setup and function of the safe is better than expected. Very easy to program, even though it only has four keypads you can program up to an eight digit code. You can silence the keypads as well. Fits nicely in my nightstand, but you do have to be mindful when opening because it pops right up and open so make sure you have plenty of clearance wherever you choose to place it."

Pierre Hines
SentrySafe PP1K Portable Gun Safe
Our last pick can accommodate one standard handgun and a few magazines plus a little more room for cash, so it's the ideal safe for travelers. It comes with a lid that's controlled by a gas-operated strut, which only goes from closed to fully open. It also features an interior foam that serves as added protection for your gun.
The SentrySafe PP1K is designed so that it delays for a few seconds when you enter the wrong code once, and it locks out for a while after a few wrong tries.
Pros
Cons
Can only be opened using a mechanical key
Not waterproof or fireproof
What Customers Say
"This is a high-quality safe. It is reasonably portable with a nylon handle, even though it is built very solid. The cable and attachment mechanism is great and very easy to use. Also, the locking mechanism engages in three places across the opening, using a cam-style system that seems very solid. Finally, the opening piston works well but isn't overkill (it is relatively quiet). This was a great purchase."

Greg T.
"I have had the safe for over two months now and access it almost on a daily basis. Not once has the biometric finger pad failed to open the safe. I feel 100% confident that the safe will open in an emergency situation and that I will have access to my firearm in less than 2 seconds."

Jo Momma
FAQs
Can you put a gun safe in your car?
Definitely! Putting a gun safe in your car provides convenience and quick access, most especially if you move around a lot. Just make sure to tether the safe securely to your car's trunk or a car seat.
Where can I hide a gun in my car?
You can hide your gun inside a car gun safe and put it in your trunk or under a seat. We listed portable, durable, and compact car gun safes above so check them out!
Conclusion
Let's face it, even the most durable safe can be tampered with and opened with the right tools, mindset, and determination. But as long as it's solid, compact, waterproof, moisture-proof, and secures your gun away from your kids or prying eyes, you're good to go! Our choices above have all these features so be sure to pick one of them!