When thinking about outdoor watches, the first product that comes to mind is a Casio G-Shock military watch. The Japanese manufacturer proposes a wide range of military watches but, since there is a fierce competition out there, why should you choose a Casio watch?
Since its birth, Casio company manufactured an impressive number of wristwatches that are characterized by a sole factor: their reliability. The materials used to manufacture the cases, wristbands, and internal mechanisms can only be defined as excellent, lightweight and durable while the G-Shock line, since its launch in 1983, is defined as capable of resisting to any adverse conditions, from heavy rains to electromagnetic waves.
But there is another reason why the G-Shock watches are so popular, they are affordable. In a world athirst of profits, Casio understood that keeping its timepieces accessible is the key to success. The range of prices is wide, but even if they have different features and performances, all G-Shock watches are built to last.
We hope that our Casio G-Shock military watch reviews will help you choose the right model for you.
---
1. G-Shock GA-100 Military Watch
The G-Shock GA-100 is a superlative watch defined by robustness and reliability. It comes with many functions, such as alarm clock, stopwatch, countdown timer, multiple time zones, it is water resistant and, basically, indestructible.
Regarding its design, the GA-100 has a sturdy yet aesthetical case, the model being characterized by a complexity of materials and a convenient analog dial designed specifically for high-intensity outdoor activities. In fact, both the case and the wristband are made of resin, the result is a lightweight watch that is comfortable to wear.
Regarding its functions, as already mentioned, the G-Shock GA-100 is certainly multifunctional. Designed especially for underwater activities, the watch is water resistant to 660 feet. Furthermore, it features an auto LED light with afterglow, although the intensity of the light is defined by many users as low.
Check Price on Amazon 3600+ Customer Reviews
---
2. G-Shock GD-120 Military Watch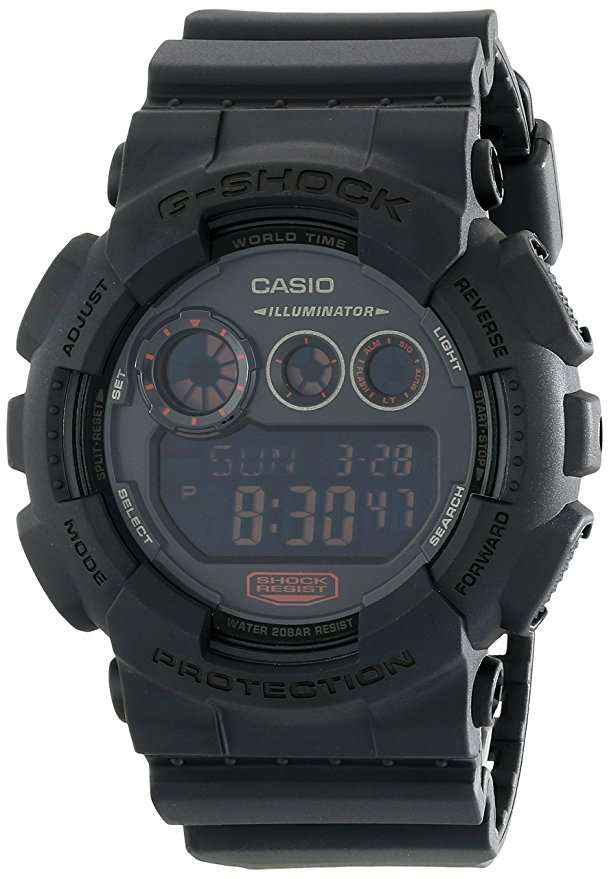 If analog dials are not your favorite, one of the top Casio G-Shock military watches to consider is the GD-120 model.
The main difference between the GD-120 and the GA-100 is the design, the GD-120 featuring an intuitive digital display rather than a classic analog dial. Other than this, the functions of the two timepieces are quite similar.
Specifically, the GD-120 features a calendar, a stopwatch, and a countdown timer, a daily alarm, and an auto-illuminator. In addition to these, the model also allows setting different times for four time zones while the World Time function displays the current time in the major cities around the world.
Just as the previous model, the GD-120 is made of resin and the display is protected by a mineral crystal window. The watch is shock resistant and water resistant to 660 feet.
Check Price on Amazon 250+ Customer Reviews
---
3. G-Shock Rangeman Military Watch
For the adventurer in you, Casio's Rangeman model is certainly a watch to consider. This is an outstanding Casio G-Shock military watch for men; the timepiece is characterized by an extremely masculine design and it features a lot of useful functions thought for high-intensity outdoor activities.
As Casio already accustomed us, the Rangeman is also made of resin but this time the manufacturer gave up to the classical black for a bolder color that fits like a glove the lifestyle of any adventurer or military professional. Apart from the color, another feature that makes this timepiece stand out is the layout of the display that shows the day of the week, the current time and the date.
Regarding the functions, Rangeman has the traditional basic functions present on all Casio G-Shock military watches, but in addition to these, it also has other useful features, such as a thermometer, altimeter, barometer and digital compass.
Although fully appreciated by most of the users, some reviewers complained about the Rangeman's negative display which is quite difficult to read in low to medium light.
Check Price on Amazon 770+ Customer Reviews
---
4. G-Shock GG-1000-1A5CR Military Watch
If you believe that Rangeman is not quite the perfect fit, another G-Shock tactical watch to consider is the GG-1000-1A5CR model.
This Casio timepiece is made of resin but the design strikes thanks to the different colors and textures that vary between the case and the wristband. The dial itself also has a more than impressive design, the analog dial being highlighted by the colorful elements.
Regarding its functions, the G-Shock GG-1000-1A5CR doesn't disappoint. In addition to the standard functions such as a stopwatch, countdown timer, calendar and daily alarm, this watch also features functions designed for professional military use such as a compass, thermometer and water resistance to 660 feet. Unfortunately, this model is not equipped with an altimeter or barometer.
Check Price on Amazon 390+ Customer Reviews
---
5. G-Shock GD-100-1B Military Watch
Lastly, the GD-100-1B might be the perfect choice if you are looking for a Casio G-Shock military watch for sale. This model is more than affordable yet reliable just as the other G-Shock series timepieces described above.
The GD-100-1B is characterized by the classic Casio G-Shock design. It has a round case made of black resin that perfectly matches with the resin wristband. The dial is a combination of analog and digital elements and displays the current time, date and day of the week, along with other elements destined to access the multiple functions.
With regard to the functions, this watch is not complex but it has all the essentials, such as an illuminator backlight, multiple time options for up to four different time zones, full calendar, and five independent alarms. In our opinion, this G-Shock watch is more than suitable for all those active men that require a watch designed for moderate outdoor activity.
Check Price on Amazon 1030+ Customer Reviews
---
Final thoughts
In our opinion, the best Casio G-Shock military watch is, without a doubt, the Rangeman. We believe that this watch encloses the essence of masculinity and virility, being an imposing watch completed by all its multiple functions.
With this watch, you will never have to worry about running out of battery while trying to find your way in the middle of nowhere, while its compass, altimeter, and barometer will help you know in each moment what decision to make while exploring the wilds.
Want to know more about military watches? Read our Military Watch Buyer's Guide.
Click for More Casio G-Shock Military Watch Options on Amazon
---