While the rates of violent crime have fallen significantly in the United States in the past 25 years, the majority of violent crimes are never reported to the police, and of those that are, most of those go unsolved.
Each person has the responsibility to keep himself as safe as possible from attack and assault, and to make a realistic assessment of his situation and his abilities.
Age, size, level of fitness, the laws where you live, and even your own beliefs will affect your plan to protect yourself and your family.
Firearms are one of the first things people think of when they are planning for their self-defense, but they may not be the best choice in all cases.
Not every location has the same laws about carrying, concealing, or even using firearms, so the gun owner has to be and stay up to date on applicable laws to avoid putting himself in legal jeopardy.
While, in general, we each have a right to use what is called "reasonable force" to protect ourselves and our property, there is also a concept called the "duty to retreat" if possible, without killing or seriously injuring the attacker.
The burden to prove to a jury that you were indeed acting in self-defense often falls on the victim, and decisions made in the heat of the moment are scrutinized out of context.
An event that starts with you being attacked may end with legal consequences punishing you for defending yourself.
For that and other reasons, many people consider and make self-defense plans based on methods and products that will disable your assailant without causing serious injury or death.
The primary purpose of these methods is to make yourself a less attractive target to would-be adversaries, to startle or temporarily disable or incapacitate a foe, and to give you time to get away, to attract help, or to get into a place where the attacker can't reach you.
All these goals can be accomplished without killing the bad guy or causing the permanent injury that can come back to bite you – the victim.
The following are five ways you can defend yourself from attack and assault without causing your assailant harm that may leave you legally vulnerable.
#1 Make A Scene To Scare Your Aggressor Away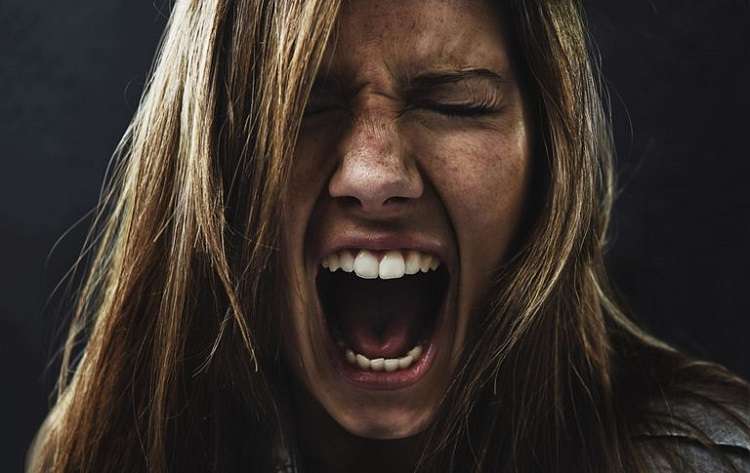 First, after making sure you have taken all the reasonable precautions to prevent being attacked, such as traveling in pairs, being aware of your surroundings, and making eye contact with the people around you, your first weapon is to make a scene if someone approaches you meaning to do you harm.
Scream, throw things, break things – whatever it takes to attract attention from passersby.
Criminals, above all, do not want to get caught and may decide that you are not worth the effort if others look your way or come closer to see what's happening.
Use the panic button on your key fob, the horn on your car, or one of the widely available noise-making apps and gadgets available to make earsplitting sounds to make the attacker flee.
Some can be connected to your purse or a child's backpack or stroller with a mechanism like a pin on a grenade, which, when pulled in a split-second situation, produces loud noises designed specifically to attract attention and to deter opponents.
#2 An Electrical Charge Will Stop Your Assailant In His Tracks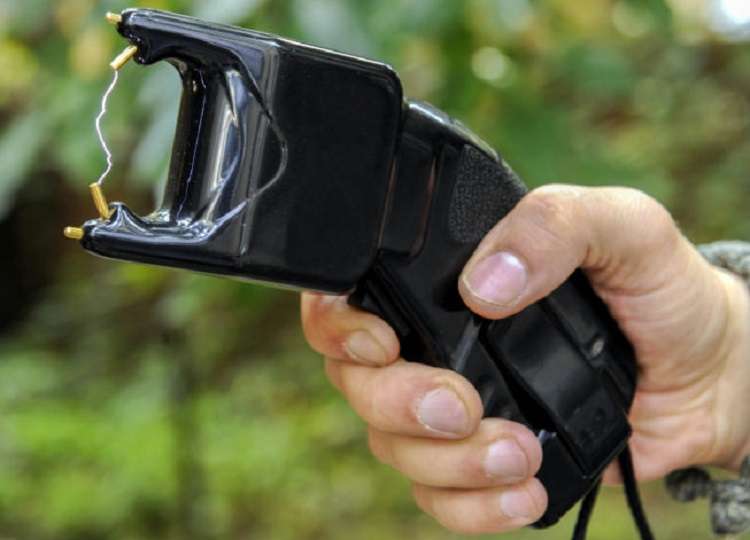 Stun Guns come in all shapes and sizes, delivering a non-lethal electrical charge when pressed against an aggressor.
The charge overwhelms voluntary muscles, causing them to stop working, and the victim of the charge is knocked to the ground, unable to respond so that you can get away and call for help.
Some models come in the shape of a baton, and the size of a flashlight, and can be pressed against an attacker's body.
When you activate the weapon, current flows from the wand into the assailant and interrupts the transmission of nerve impulses from the muscles to the brain.
In simple terms, he will have no voluntary control over those muscles for as long as the current is active.
Even when the current is stopped, it has been painful enough and enough of a shock to the body that the criminal won't be getting up quickly.
When he does, he will not be anxious to attack you again to be hit again with the electrical charge.
Other models may be longer, like a bat or a cane, allowing you to have a longer reach and to keep the would-be attacker from getting too close to you.
The cane-style weapons have the added benefit of providing extra support with walking for the elderly or mobility impaired.
Remember that the purpose of this type of weapon is to allow you enough time to run away, alert passersby, call the police or get yourself into a safer place where the attacker can't reach you.
Getting a concealed carry gun is another way to prepare for these kinds of situation.  Aside from getting a reliable gun, choosing a concealed carry holster and learning about the types of gun holsters are critical. Here's an article about the best belly band holster to help you get started.
Sale
Bestseller No. 2
#3 Pepper Spray And Mace Are Effective – But Beware
Pepper spray and mace is another choice for self-defense, disabling a person coming toward you when sprayed into his or her face.
In fact, quick-thinking people have used whatever is at hand in a given emergency, such as wasp and insect spray, window cleaner, and perfume or cologne.
A substance sprayed into an assailant's face will cause pain, disrupt vision, and make breathing difficult for at least a few moments.
The potential problem with this mode of defense is that if you are close enough to deliver a face full of chemicals to your attacker, you may also be close enough to be injured yourself by that is called "blowback" when the airborne chemicals come back into your own face, propelled by air movement or just by jostling and struggling between the two of you.
For this reason, look for models with a long, narrow spray pattern of at least several feet of striking distance. And again, remember that the purpose is to buy you enough time to get away to safety.
Sale
Bestseller No. 1
SABRE Pepper Spray, Quick Release Keychain for Easy Carry and Fast...
TRUST THE PROFESSIONALS: SABRE is the #1 Pepper Spray brand trusted by police and consumers worldwide, including New York PD, Chicago PD, and U.S. Marshals; Made in the USA
2X STRONGER: 4 out 10 violent crimes involve alcohol use by the offender - our max strength Pepper Spray is strong enough to use against a goal oriented attacker under the influence of drugs or...
Sale
Bestseller No. 2
SABRE ADVANCED Pepper Spray Keychain with Quick Release – 3-in-1...
TRUST THE PROFESSIONALS: SABRE is the #1 Pepper Spray brand trusted by police and consumers worldwide, including New York PD, Chicago PD, and U.S. Marshals; Made in the USA
2X STRONGER: 4 out 10 violent crimes involve alcohol use by the offender - our max strength Pepper Spray is strong enough to use against a goal oriented attacker under the influence of drugs or...
#4 Carry Small, Handheld Devices For Striking, Stabbing Or Jabbing
A fourth option is to use small, handheld objects 404 as a weapon.
One of the more well-known of this class is called a Kubotan and was first used in Japan by law enforcement officials.
A Kubotan is a cigar-length object with a pointed end that can be carried in a purse, a pocket, or on a key ring, and is used to jab or stab an opponent.
A tactical pen does the same thing, with a functional ballpoint pen included, and a hard pointed end that can be used as a weapon.
Keep your weapons secure with the rest of your EDC essentials in the best concealed carry purse and never worry about printing ever again.
Sale
Bestseller No. 1
The Most Loaded 6-in-1 Tactical Pen: Solves Other Brands'...
✅MADE OF ULTRA-STRONG AIRCRAFT ALUMINUM for self defense. Patented thread design at the handle and thumb head allow a thumb grip: the optimal way to fully transfer your power to the target. Won't...
✅LOW PROFILE, discreet yet effective self defense pen.
Bestseller No. 2
KEPEAK Military Tactical Pen, Professional Self Defense Pen, Emergency...
Emergency glass breaker: The tactical pen cap is made of tungsten steel, and the pen body is made of aerospace grade aluminum, which has excellent strength and portability. Break the window to escape...
Security: Hidden, low-key, unique attackers can suddenly have amazing attack capabilities, protect themselves from attackers and identify with DNA collectors
Other models are working flashlights with pointed parts where the light beam is that can be used to stab or scrape an attacker.
The above, of course, are small and useful only at close range. A combat knife is another excellent weapon that you can also use as a utility tool. Know where to buy the best combat knife in this article. You can even use a throwing tomahawk if you have one, it will surely scare a bad guy out of your home.
You may also choose a telescoping baton that folds down for easy carrying and concealment but can be stretched out to provide a longer reach to keep the aggressor at a greater distance.
#5 Learn Basic Self-Defense Moves That Work From Experts
Your fifth choice for self-defense without causing grievous harm is to learn basic self-defense moves, best taught in a class by experienced instructors where you can practice and get real-time feedback about your technique.
Most communities offer self-defense classes as part of an adult education curriculum. You may also find classes at a local community college or university.
If you aren't successful there, try contacting your local law enforcement agencies, who may be willing to put on classes if you can gather enough class members.
At least they should be able to direct you to instructors they would recommend as knowledgeable and reputable.
Self-defense techniques are not boxing or wrestling moves.
As with the above four methods, self-defense maneuvers are designed to break an attacker's hold on you or to cause severe pain or blindness to immobilize them so that you can break away and get to safety to call the police.
The methods must be learned and then practiced, repeatedly and regularly, so that they become second nature and can be performed perfectly when needed, even when you are startled, surprised, and scared.
If you want more in-depth information, there is a great book about self-defense on Amazon. You can check it out here.
Plan Ahead To Be Prepared
The bottom line is that every adult is ultimately responsible for his or her own safety and protection, and the best time to have these discussions and consider these choices are well before you need them.
Think about your own life, your own level of experience, and your personality traits, and be realistic about your level of mobility and fitness – there won't be much time to think or make adjustments if you are attacked.
Consider the five methods detailed above to defend yourself without inflicting serious harm or even death on any would-be attacker.
Educate yourself about the laws in your location as they apply to self-defense methods and practices, and stay up to date with any changes.
Get to know any professionals in your area who can help, and always stay vigilant. You may not get a second chance.
Last update on 2023-09-07 / Images from Amazon Product API