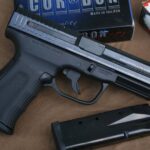 Editor's Rating: 7.0/10
Users' Rating (Click a star to rate this gun.)
Summary: Paul Markel's review of and rating for the FMK Firearms 9C1 Gen 2 pistol, including a description, range report, photos, pricing, specs and user ratings. (Click here to see all of Markel's handgun reviews.)
Editor's Review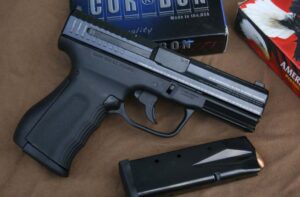 Every day in the United States potential gun buyers wander timidly into a gun shop or sporting goods store and browse for a handgun. Most folks reading gun sites and magazines are typically gun people, but there are a lot of citizens out there who are simply looking for "a gun." Colt, Smith &Wesson and Glock are merely names they've heard on TV or in their favorite action movies. These folks aren't shopping for a brand—they're looking for a gun that fits both their hands and their budgets.
In this category we have FMK Firearms. Operating under the radar of most people in the gun culture, FMK is plying its trade in the People's Republik of Kalifornia. Despite the shackles placed upon it by a hostile regime, FMK is diligently working to support the 2nd Amendment rights of every legitimate United States citizen. I've met with the folks from FMK, and they're passionate about their mission.
As a relatively small shop, FMK puts its primary focus on producing the 9C1 pistol. This particular review actually marks the second time I've been able to test out the 9C1. The first encounter was during a recent media event. FMK was on hand with several samples guns, and we media folks had a couple of hours to test fire the guns at an indoor range. I was favorably impressed by the FMK pistols and decided to secure one for a more detailed review.
The Details
The current incarnation of this pistol is the improved Gen 2 model. The 9C1 Gen 2 is chambered in 9mm and employs a double-action-only (DAO) striker-fired operating system. The high-carbon steel slide is mated to the black polymer frame with steel rails. The frame is contoured with shallow finger grips and features a soft rubber backstrap.
A dual-column magazine feeds the 9C1. Two styles are available: a 10-round version for subjects, and a 14-round version for citizens. Each 9C1 Gen 2 ships in a lockable hard case with two magazines. I did appreciate the fact that each pistol arrives with two magazines. Far too many economical pistols ship with only one mag.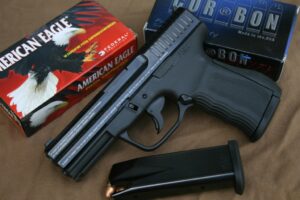 Regarding the controls, shooters will find a magazine-release button on the left side of the frame and a slide lock just above it. That completes the list—no decocking levers or manual safety switches.
Atop the slide, FMK has installed a set of three-dot sights. They include several different rear and front sights in each package to allow the end user to vary the sight height slightly.The pistol weighs 23.45 oz. empty and measures 6.85″ inches long. The total height is 5.09″ and the width is 1.14″. Essentially, the 9C1 falls into to the compact pistol category. It's not a pocket gun, but it's definitely more compact than full-size handguns such as the G17 or P226.
The 4″ barrel features six right -hand twist grooves. The sample featured herein has a black polymer frame, but numerous other colors are available. I've seen 9C1 pistols with od green, tan, and pink frames.
Last but not least, FMK has engraved the entire first 10 amendments to the U.S. Constitution (i.e., the Bill of Rights) upon the slide, along with "In God We Trust." As I noted above, FMK is passionate about the American freedoms, and it added the engravings to inspire and encourage others.
Range Time
For my live-fire testing I used 9mm loads from American Eagle (Federal), CorBon, and Hornady. Bullet weights varied from 115–147 grains. I thought the spectrum broad enough to give the gun a true reliability test.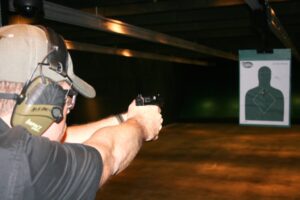 I began the testing process with my One Box Workout. Starting with a 50-round box of American Eagle practice ammo, I fired 10 rounds with a two-hand hold on the pistol, then 10 shots right hand only and 10 left hand only. I encountered no stoppages.
Magazine change drills were next. The 9C1 magazines do not drop free when you depress the release button; you must remove the mag with your support hand.
Next I performed slow-fire from a range rest with a chronograph in place. Despite the long DAO trigger press, consistent accuracy was not an issue. The shooter simply must get used to the trigger and learn to manage it.
Here are my results:
American Eagle 115-grain FMJ: 1,120 fps, 1.78″ group
CorBon 147-grain FMJ Match: 905 fps, 1.54″ group
Hornady 125-grain Training: 1,082 fps, 2.04″ group
Working within practical personal combat ranges—i.e., contact out to about 15 yards—I found the 9C1 was easily capable of putting shots into the preferred zone. While the trigger is definitely long and a bit heavy, the straight press helps the shooter control shot placement.
Bottom line:As long as the shooter does their part, the 9C1 can place rounds on target at practical ranges.
Several hundred rounds into the test I didn't encounter any stoppages. I was of course using factory fresh ammunition from reliable manufacturers.
Finally, felt recoil from this 9mm pistol was easily manageable, and the gun fit well in my hand.
Parting Thoughts
If I were king, I'd make a few improvements to the pistol. First and foremost, I would scrap the three-dot sight configuration. Fighting pistols need a large, easy-to-see front sight. The rear sight is merely present to support or aid the front sight, not the other way around. If I need to shoot a goblin with a handgun, I want the front sight to jump out at me. I don't want to play the "which white dot is the right one?" game.
From a personal standpoint, I'd prefer magazines that drop free for rapid reloading. I can live without it, but not happily so. The gun is also equipped with silly Kalifornia features such as a magazine disconnect and loaded chamber indicator. Treat all guns as if they are always loaded and you don't need to rely on gadgets or gimmicks.
These FMK guns are certainly priced to sell. During this review, I checked one online auction sights and found the average going price at right around $350. If I had a friend who was not a gun person but was looking for a gun for protection, I'd have no problem recommending the C91.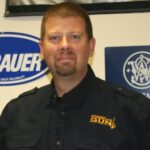 Paul G. Markel became a United States Marine in 1987 and served his nation honorably during peace time and at war. Among the many hats he has worn in his career, Markel has been a police officer, professional bodyguard, firearms instructor and gun writer. Markel is the creative director and host of "Student of the Gun," a weekly television show airing on the Sportsman Channel (www.studentofthegun.com).
The Specs
| | | | | | | |
| --- | --- | --- | --- | --- | --- | --- |
| Caliber | Capacity | BBL | OAL | Width | Height | Weight |
| 9mm | 10+1, 14+1 | 4″ | 6.85″ | 1.14″ | 5.09″ | 23.45 oz., empty |
9C1 Gen 2 Pricing & Shopping
MSRP: $399.95