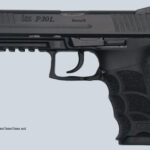 Editor's Rating: 8.0/10
Users' Rating (Click a star to rate this gun.)
Summary: Dave Spaulding's review of and rating for the Heckler & Koch P30L pistol, including a photo, range report and specs, and user ratings and comments. (Click here to see all Spaulding's gun reviews.)
Editor's Review
I don't own many firearms. Why? I view them as a tool, a means to an end, so I don't collect them for amusement. Please don't misunderstand, it's a great hobby and one that should be enjoyed. It's just not my hobby. My primary interest in firearms is how they can help me keep myself, and the ones I love, safe and secure.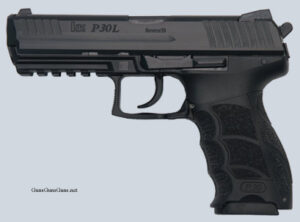 In this regard, I look at each gun and ask myself, "Where will this fit into my individual plan?" Yes, price is a concern, but it's not the overriding concern if a particular model meets a particular need. When selecting a handgun, I look for reliability, basic features and individual fit. The gun must be reliable, have high visibility sights, a good trigger and it must fit my hand. If it doesn't fit, can it be made to fit?
Law enforcement agencies worldwide go through a similar process when they select a gun for issue. Of course they want reliability, which directly relates to the quality of the firearm. Unfortunately, quality usually results in a higher price. Agencies are also interested in how well it will fit a wide range of hand sizes as well as how easy the gun is to repair.
When the Norwegian Police Services went looking for a new issue firearm to replace their Smith & Wesson Model 10 revolvers, these were the needs that they wanted to meet. After looking at a number of guns, they decided that the Heckler & Koch P30 was the right gun for them, but they wanted it with a longer barrel, better to meet the needs of the uniformed service that would not be concealing it. H&K met this demand with its new model, the H&K P30L (Long Slide).
The Gun
The P30L is one of the most modern police pistols to come along in quite a while. During its development, the designers felt the most important requirements were flexibility, functionality and as much safety as could be incorporated into a weapon. Ergonomics of the grip are probably the best on the market because the backstrap inserts and lateral plates for the sides are all interchangeable. This means the grip's entire 360-degree surface can be changed in combination with the ambidextrous slide and magazine release levers; the P30L can literally be built to fit the hand of most any shooter!
H&K didn't make any compromises regarding safety features. The P30L has a self-decocking, double-action hammer with a firing pin block that eliminates the need for a manual exterior-mounted safety lever. The advanced loaded chamber indicator, which is easily seen and felt, positively indicates a round is in the chamber, though I prefer a "see it to believe it" press check.
Another worthwhile feature: the open square notch, slant-back rear sight with Luminova dots (non-tritium) that allow fast and accurate target acquisition even under poor lighting conditions. These sights are drift adjustable and are quite robust. Some feel Luminova is a cheap way of offering a night sight, but this is simply not true. In many places around the world, tritium is illegal even for government agencies, and Luminova is a most effective alternative.
As stated above, the P30L is a decocking double/single-action pistol, which incorporates a long first pull with subsequent short strokes. Many agencies around the world view the first long pull as a safety against involuntary discharge due to inter-limb response. (Basically, this is when one hand flexes due to the action of the other, such as when the right hand fires a shot due to sudden flexation of the left as it's used to struggle with an attacker.) While this is certainly debatable, a longer trigger can't hurt in an attempt to keep this from happening.
The spring and hammer fall on an H&K will likely dent and fire even the hardest of primers, so if you're using this gun somewhere in Africa, you'll probably like this feature.
In my experience, the double-action pull on H&K pistols is usually hard, and I suspect it's due to the fact H&K pistols are used all around the world and the quality of ammo is suspect at best in many regions. The spring and hammer fall on an H&K will likely dent and fire even the hardest of primers, so if you're using this gun somewhere in Africa, you'll probably like this feature. However, here in the United States where ammo quality is usually excellent, the long, hard double-action trigger will affect shooting. I've always handled this by changing the hammer spring and replacing it with one from Wolff Springs, and if I were to carry the P30L, that would probably be the case once again. That said, H&K pistols do slick up as you shoot them.
I like the decocking lever's location because it doesn't interfere with the placement of my shooting-hand thumb. The decock lever of the USP, unlike the 1911, does not permit easy placement of the shooting hand thumb. Thankfully, the P30L removes it completely from contact. The small button is located on the rear of the slide on the left side, making it easy to manipulate with the support-hand thumb.
In the early days of semi-auto transition among American law enforcement agencies, it was the practice to decock the pistol before any movement was undertaken. Obviously done in the interests of safety, many instructors now tell their students to merely point the gun in a safe direction, keep their finger off the trigger and go. If an additional shot is needed, the much more accurate single-action trigger will be in play. Of course, if you feel the need to drop the hammer, the button on the rear of the slide is easy to use.
The P30L is about as ambidextrous as any handgun can be. In addition to the modular grip, the magazine and slide-lock levers are located on both sides of the pistol for easy access. The slide-lock levers are a bit longer on the L model as compared to the original P30. I must admit the one feature I don't like about H&K handguns is the magazine release lever that requires a downward push to eject the magazine. Because I have small hands, it doesn't matter if I use my thumb or trigger finger, I can't release the magazine without some shifting of the gun in my hand. Nevertheless, the new L-shaped lever used on the P30L is easier to use—a backward press will release the magazine.
Like all modern autopistols, the P30L has an integrated Mil-Std-1913 Picatinny rail molded into the polymer frame to mount white lights and laser sights. The slide is coated in a Hostile Environment blue finish, while the slide is contoured and radiused with front cocking serrations, which I happen to like due to the aforementioned press check.
The big difference between the L version and the original P30 is the longer barrel length. Because the 9mm cartridge is more effective with greater velocity, this isn't a small thing, and I'm sure this wasn't lost on the Norwegian Police Service. Besides, a longer barrel will lead to a more accurate gun, which is always a good thing. The only way to know was to take the P30L to the range and see what it could do.
Range Report
For our test, I was able to cobble together 500 rounds of various hollow points from Winchester, CorBon, Federal, Black Hills, Remington, Hornady and even some old Triton Quick Shock ammo. In addition, I found some 9mm reloads stored in my attic for more years than they should have. Some of the rounds were actually green, but I decided I would see if the H&K would feed and fire it. As I stated earlier, H&K pistols turn up in parts of the world where firearm maintenance is non-existent, so ammo like this may very well be what some poor fellow must depend on for his life.
At 25 yards with one handed, slow fire, Yahle put together a four-round group in which three of the four rounds touched at 20 yards.
I tested the P30L's accuracy from a Hornady Delta Rest placed 25 yards from several Birchwood Casey Dirty Bird targets, which are much like their popular Shoot-N-C targets but have their own plastic backer and are not of a stick-on design. I tested velocity by shooting five rounds of each load across the screens of a Shooting Chrony chronograph placed 15 feet from the muzzle.
My shooting partner, Jack "Happy Jack" Yahle, a moniker that I gave him after seeing how much happier he was after he retired from 25 years in law enforcement, stepped up to test his ability with the P30L. At 25 yards with one handed, slow fire, Yahle put together a four-round group in which three of the four rounds touched at 20 yards. I think this is a pretty good indicator of just how accurate the P30L is.
The remainder of the shooting session consisted of a number of combat drills including double and triple taps, holster skills, multiple targets, speed loads and other exercises. The P30L did not miss a beat throughout the range session, including the discolored reloads.
After 500 rounds, the trigger action became a bit smoother, but I still think that if I were going to carry the P30L I would want to experiment with a Wolff Spring to see if I could slick it up a bit without sacrificing reliability. The history of gunfighting has revealed that the person who gets the first solid hit usually prevails, so a smooth DA trigger would be worth pursuing only if the gun is totally reliable. Otherwise, all you have is a paperweight with a really great trigger action.
Conclusion
The Heckler & Koch P30L and traditional compact P30 will make a very formidable team for any law enforcement agency, officer or legally armed citizen. I'm not concerned about the stopping power of the 9mm with the quality of today's ammunition. In a world of compromise, some choose not to. Choosing to carry a pistol from HK compromises nothing.

Dave Spaulding is a 28-year law-enforcement veteran, retiring at the rank of lieutenant. He's worked in all facets of law enforcement—corrections, communications, patrol, evidence collection, investigations, undercover operations, training and SWAT. He currently operates Handgun Combatives, a handgun-combat training program, and he's authored more than 800 articles for various firearm and law enforcement periodicals. In 2010 Spaulding received the Law Officer Trainer of the Year award, and he's also the author of the best-selling books Defensive Living and Handgun Combatives.
The Specs
| | | | | | | |
| --- | --- | --- | --- | --- | --- | --- |
| Caliber | Capacity | BBL | OAL | Width | Height | Weight |
| 9mm | 15+1 | 4.44″ | 7.56″ | 1.37″ | 5.43″ | 1.72 lbs., unloaded |
Pricing
MSRP: $1,075