Editor's Rating: 9.0/10
Users' Rating (Click a star to rate this gun.)
Summary: Nick Jacobellis' review and rating of the SIG Sauer P226 Enhanced Elite pistol, including a range report, photos and specs, and user ratings and comments.
Editor's Review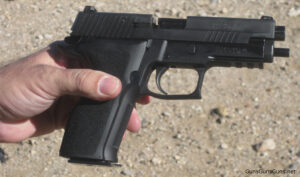 I became a fan of SIG Sauer pistols as soon as they were made available in the United States. At the time this occurred, I'd just transferred from New York City to the Freighter Intelligence Search Team of the U.S. Customs Service in Miami. In the ensuing years, I continued to carry 9mm and .45 ACP caliber SIGs on duty through a variety of assignments.
My first personally owned SIG was an original carbon-steel 9mm SIG P226, which was followed by a parkerized 9mm SIG P226. I had this pistol parkerized because carbon steel offered little or no real corrosion-resistance. Even though I never had a carbon or blue steel firearm rust or corrode on me because I took good care of my equipment, I thought it would not hurt to have at least one of my SIGs parkerized to provide some extra protection while stationed in Miami. Anyway, years later SIG would manufacture their pistols with a nitron-blackened stainless steel slide to make their pistols considerably more rugged and able to withstand hard-core use in harsh salt water environments.
Last fall I learned of a new P226 model, the Enhanced Elite. I arranged to get one from SIG to test and evaluate, and I've written up my impressions here.
The Details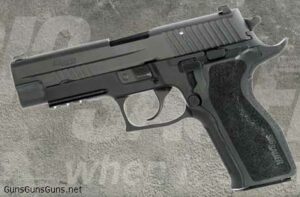 SIG Sauer's Enhanced Elite (EE) model takes the same features common to all of SIG's Elite series pistols and combine them with the ergonomic, one-piece, reduced-reach grips used in SIG's E2 pistols. The P226 EE is chambered in .357 SIG, .40 SW or 9mm. The frame sports a black, hard-anodized finish, and the slide is finished in nitron.
An updated stippling pattern on the one-piece reduced-reach grip;Other features include:
A beavertail frame with front-strap checkering and an accessory rail;
front cocking serrations;
SIG's short-reset trigger system;
SIGLITE night sights; and
"Elite" engraving on the slide.
The SIG P226 EE's contoured frame provides slightly different ergonomics on this pistol. Personally, this more aggressive grip design didn't make a difference to me, but it might to you. If you find the ergonomics and reach to the trigger of a classic P226 too large or not as comfortable as you would prefer, take a look at a P226 EE.
The fact that the P226 EE comes standard with an extended beavertail is something I didn't like initially—I can live without one and have for decades, and this feature can actually get in the way when you carry concealed in an inside-the-pants holster. However, I've started carrying a pair of SIG 220 Compact .45s that also have this feature incorporated into their frame design, and I'm used to it now.
Range Report
Based on decades of experience shooting SIG pistols, I've found it to be very unusual when a SIG malfunctions in any way. As you can therefore imagine, I was stunned when the test pistol SIG sent me to review for this article malfunctioned several times.
To make sure the problem wasn't magazine related, I used a relatively new P226 magazine from my 9mm SIG P226 Navy model to see if the test pistol came with a defective magazine. I did this because in some 25 years of shooting SIGs, I did once run into one factory defective magazine on a brand new P229 in .40 SW. As soon as I changed magazines, the P229 worked just fine. In this case, however, the magazine change didn't correct the problem.
I immediately contacted the folks at SIG to let them know something was definitely wrong with their 9mm SIG P226 EE. I sent the pistol back to SIG, and the reliability problem was corrected by a factory technician who discovered that the extractor spring was below minimum specifications, which resulted in this pistol experiencing a number of failures to successfully extract empty brass. Naturally, this also presented a feeding problem.
Even though the pistol that was returned to me functioned flawlessly, I mention the initial problem because it's important for all of us to remember that even the best firearms manufacturer can ship a defective pistol just as the best automobile manufacturer can produce a lemon on occasion.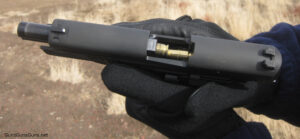 In this case, the repair job was easy. At my request SIG sent me a detailed repair report with the pistol that included a notation about the factory ensuring that SIG P226 EE serial number UU674128 was repaired and successfully test fired while using 124-grain Speer Lawman TMJ/CF ammunition, 147-grain Speer Gold Dot Hollow-Point ammunition and 147-grain Winchester Ranger T series ammunition with no failures noted. The factory technician who fixed and tested this pistol also sent me a target that he says he engaged at 15 yards. It shows a group of five rounds of 124-grain Speer Lawman TMJ/CF ammunition clustered dead-center on the paper target SIG uses when they test pistols for accuracy.
Once repaired, the test P226 EE turned out to be an excellent performer on the range. I fired it on three different occasions with my oldest son, who is a city police officer and a big fan of SIGs. To test accuracy, I engaged a TQ19 police Firearms Qualification Target from various close-quarter-battle distances and found the pistol shot just as good as any other 9mm SIG P226 I've owned. I also did some long-range shooting from 25 yards and beyond and had no problem destroying a piece of dry driftwood that was leaning up against the dirt berm at my favorite range in the desert.
Final Thoughts
For those of you with small hands or who like shooting a pistol with a slightly shorter reach to the trigger, I strongly suggest you take a look at the P226 EE. I give it a nine-star rating because I personally prefer a standard, classic P226 Navy that gets a 10 out of 10 in my book (the Navy has an extra coating on certain parts that makes it more corrosion resistant).

Nick Jacobellis is a medically retired U.S. Customs Agent and former police officer who was physically disabled in the line of duty while working as an undercover federal agent.
The Specs
| | | | | | | |
| --- | --- | --- | --- | --- | --- | --- |
| Caliber | Capacity | BBL | OAL | Width | Height | Weight |
| 9mm | 15+1 | 4.4″ | 8.2″ | 1.5″ | 5.5″ | 34.4 oz. w/mag |
| .357 SIG | 12+1 | 4.4″ | 8.2″ | 1.5″ | 5.5″ | 34.4 oz. w/mag |
| .40 SW | 12+1 | 4.4″ | 8.2″ | 1.5″ | 5.5″ | 34.4 oz. w/mag |
Note: This pistol is not California or Massachusetts compliant.
Pricing & Shopping
MSRP: $1,200
Retail: $1,030 @ Blue Ridge Firearms—