Users' Rating (Click a star to rate this gun.)
Summary: Mike Boyle's review of and rating for STI's Trojan pistols, including a range report, STI's photos, specs and MSRP, and user ratings and comments. (Click here to see all of Boyle's gun reviews.)
Editor's Review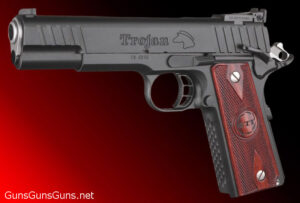 I received a 9mm version of STI's Trojan 5.0 1911 pistol (the Trojan 5.0 is also available chambered in .38 Super, .40 SW and .45 ACP). Built on an all steel Government frame, the Trojan weighs in at 36 oz., which is still within my limits for all day carry, but diminishes both muzzle flip and felt recoil of the 9mm Parabellum to just about zero.
For ease of manipulation, fore and aft diagonal serrations have been cut into the slide. The front strap features STI's proprietary tire tread STIppling for a positive grip. The Trojan's trigger guard is undercut so the user can take the highest possible hold. Other qualities include a checkered mainspring housing and an oversized ejection port to enhance reliability.
Vital controls are just where you expect to find them on a 1911. The knuckle relief high-rise beavertail grip safety features a palm swell for positive deactivation. The stock Trojan is equipped with a single-side thumb safety, although this southpaw opted to go with an ambidextrous version.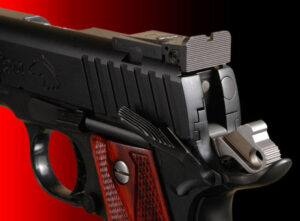 As the name implies, the Trojan 5.0 features a full-length 5″ barrel that brings the 9mm cartridge up to its full potential. The barrel is ramped and supported with a match-grade bushing. A one-piece steel guide rod is also used in the Trojan package.
What really sets the Trojan apart from many other pistols in its class are the high-quality working parts used to achieve outstanding shooting qualities right from the box. STI's trigger features a stainless steel wire EDM cut with a trigger take-up adjustment. The shoe of the long, curved trigger is made of glass-filled nylon polymer with a set screw for over-travel adjustment. An STI commander hammer, along with an S-7 sear and titanium strut, contributes to the pistol's reliable function and superb trigger pull.
The Trojan's rear sight is fully adjustable for windage and elevation. One of the available factory options offered by STI is a fiber optic front sight, a real bonus for getting on target quickly. The red fiber optic sight by Dawson does indeed deliver the goods and comes highly recommended.
Metal surfaces are finished in a low-luster matte blue. This provides a striking contrast to the thin cocobolo grip panels. Held in place by a pair of hex head screws, the panels are nicely checkered and sport the STI logo.
The pistol shipped in a black plastic case with a single nine-shot magazine. My only disappointment with the package is that I wish it had come with at least one spare magazine. Well, you can't have everything, but I keep trying!
Shots Fired
I shot the Trojan for several months, and I rate performance and reliability as top shelf. In my experience, many 1911s require a break-in period before becoming entirely reliable. The Trojan ran like a top right from the box. To date, function has been picture perfect, and the Trojan has digested ball, hollow-point and frangible ammunition without missing a beat.
I fired a representative sample of 9mm ammunition through the Trojan to assess its performance. The requisite five-shot groups were fired from 25 yards. Ammunition was also chronographed to see if the 5″ barrel did increase muzzle velocity and enhance terminal performance.
Accuracy potential was most impressive. Using a Hornady Delta Rest as an aid, I was able to shoot several bragging size groups. Five shot clusters were tighter than I can usually achieve with a 1911 pistol, illustrating that the Trojan is indeed of match-grade quality. Top dog was Corbon's 147 grain FMJ match load, which averaged 1.5″. Throughout my testing, I was able to print several other groups that measured well under 2″. Considering that testing was conducted during a cold January day, I'm pretty confident group spreads could be reduced even further.
As expected, the Trojan's 5″ tube yields higher muzzle velocities than other auto pistols. CorBon's all copper DPX hollow point screamed through the chronograph screens at 1,330 fps. Winchester's highly rated 127 grain Ranger SXT +P+ load averaged 1,251 fps. Terminal performance of both these loads is excellent and favorably compares with the .357 Magnum using like-weight bullets.
Here are all my velocity and accuracy results:
Ammo
Avg. Muzzle Velocity

Avg. Group Size
(from 25 yards)

CorBon DPX
115 gr +P HP
1,330 fps
3″
CorBon Match
147 gr FMJ
894 fps
1.5″
Federal HST
124 gr JHP
1,188 fps
2.125″
Federal HST
147 gr +P JHP
1,025 fps
2.125″
Speer Gold Dot
124 gr +P JPH
1,227 fps
2.625″
Winchester Ranger SXT
127 gr +P JHP
1,251 fps
2.5″
On my Lyman Trigger Pull Gauge, the hammer falls when just a hair over 4 lbs. of pressure is applied to the Trojan's gas pedal.
As indicated earlier, felt recoil is very mild in this all-steel pistol, allowing shooters of every skill level to easily handle the Trojan. Mild recoil, minimum muzzle flip and a good trigger allowed me to perform at my best. Firing at a cardboard IPSC target from a distance of 7 yards, I was able to place hammers (2 quick shots, 1 sight picture) in the A-zone with splits in the 0.16–0.18 second range. With my .45 ACP 1911s, this is outside my ability.
The point: The Trojan 5.0 9mm allows me to shoot faster, more accurately and with a greater margin of comfort than a .45 ACP. What's not to like?
No Apology Required
Some months ago, I was at the local gun emporium returning another 1911 I had for testing and evaluation. One of the hired hands looked over the pistol and remarked "nice gun, too bad it's only a 9mm." In his mind, the 9mm chambering somehow diminished the appeal of an otherwise fine pistol.
I don't intend to descend into the quagmire of the endless debate of 9mm vs .45 ACP. I find it amusing, however, that some folks still can't see the forest for the trees. While I don't consider myself an advocate of either the 9mm or .45ACP, I do try to make an informed decision based on reality.
With ball ammo, the .45 ACP clearly has the edge. A miss or peripheral hit with either a 9mm or .45 ACP will prove equally ineffective. On the other hand, I doubt if the terminal effects of a proven high-quality expanding 9mm such as the CorBon DPX, Federal HST, Remington Golden Saber, Speer Gold Dot, or Winchester Ranger SXT, into the heart/lung area would be any less decisive than a .45 ACP.
If the more manageable 9mm helped one to perform at a higher level, I wouldn't consider it a poor choice.
A little over a year ago, I was trying to work my way back to form while recovering from an extended illness. Both my grip and upper body strength had been severely depleted, and I had difficulty shooting my .45 ACP at any kind of speed. A 9mm pistol, on the other hand, allowed me to climb out of the hole and regain my skills. It was a lesson I won't forget.
Conclusion
The Trojan 5.0 9mm proved to be a very user friendly, accurate and reliable pistol of the highest quality. It stands as a viable alternative to the .45ACP, and with the right ammunition, is entirely suitable for self-defense. Shooters with smaller hands who have difficulty managing a double stack, hi-cap pistol, would benefit by going to the single stack Trojan.
There are any number of glitzier 1911 pistols out there, but very few perform as well as the Trojan. Potential users who rate performance as their number one criteria would do well to check it out. As noted above, in addition to the 9mm reviewed herein, the Trojan is also available in .45 ACP, .38 Super, and .40 S&W. I don't feel the least bit short-changed by going with the 9mm copy. It might just work for you as well.

Mike Boyle served as a captain with the New Jersey Division of Fish & Wildlife Bureau of Law Enforcement and recently retired after 27 years of service. Mike remains active, teaching recruit, in-service and instructor level classes at the police academy. He's also on the board of directors of the International Association of Law Enforcement Firearms Instructors.
The Specs
| | | | | | |
| --- | --- | --- | --- | --- | --- |
| Caliber | Capacity | BBL | OAL | Height | Weight |
| 9mm, .38 Super, .40 SW, .45 ACP | 9+1 (9mm) | 5″ | 8.5″ | 5.3″ | 36 oz. |
Pricing
MSRP: $1,110