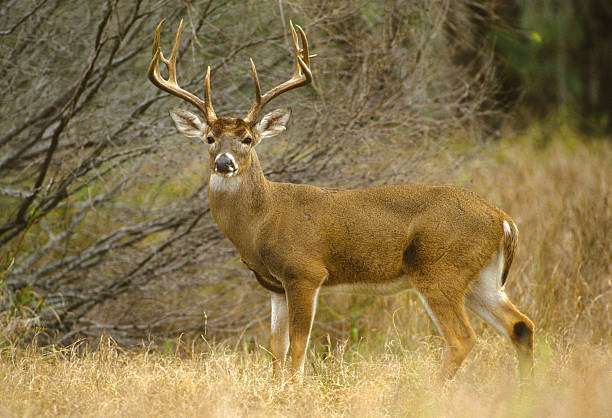 Imitating deer calls is one of the most trusted hunting techniques to bring hunters success over the years. We listed the most common whitetail deer sounds, what they mean, and when to use them in this comprehensive article!
Types of Calls
Deer, particularly whitetails, are very vocal creatures. Every sound they produce means something, whether it's a social call or a mating call. Knowing what these sounds mean and when to use them are critical for a successful hunt. 
You could spend a lifetime hunting and not hear all of these since some of these situations are so rare and difficult to observe. In some cases, remote cameras and behavior in captivity have helped us understand the various vocalizations and when they're used.
That said, let's talk about them one by one.
Calls Used By All Deer
Snort Wheeze Call
The snort wheeze is the most aggressive among all the deer calls. It actually sounds like a grunt-snort-wheeze and is done at the end of a grunt sequence. Any deer, especially bucks, gets irritated upon hearing this call so it's very effective in getting their attention. However, the snort wheeze is rarely used or is used as a last resort because of the danger that comes with it. 
Calls Used By Mature Bucks
Buck Grunt Call
The buck grunt call is most effective during the fall months and breeding season. During this time, bucks often challenge each other and are more aggressive in chasing does. Older and bigger bucks have deeper-pitched grunts.
Trailing Grunt
The trailing grunt is used by a buck when asking an estrus doe to mate. It's a grunt sequence that's soft and muffled and is done in rhythm with every step the buck takes. When doing a trailing grunt, the buck may sound out of breath. The trailing grunt is most effective during rut season and can be used for long periods of time as does get pursued by bucks for days.
Tending Grunt
The tending grunt is a low-pitched but aggressive grunt used by a buck when pursuing an estrus doe or once it cornered a doe and is ready to mate. This deer call usually comes after a trailing grunt. It signifies dominance and serves as a warning to other bucks to keep their distance. A tending grunt starts low, gets higher in the middle, then gradually subsides as the call ends. It's best done during peak rut and after a trailing grunt.
Buck Bawl
The buck bawl is another social communication call among whitetail deer. It is used by a buck whenever he wants company or wants to socialize. It's a series of buck bleats that sounds like a calf bawl.
Rage Grunt
The rage grunt is a non-aggressive call made by a buck expressing his frustration when the estrus doe stopped running but still doesn't want to breed. 
Social Grunt/Contact Call
A social grunt or contact call is, as the name implies, a sound made by a full-grown deer to call for other deer in the vicinity. It's a series of two to four notes that are friendly-sounding. This is the equivalent of "Hello" or "Hi" to humans.
Calls Used By Doe
Does are more vocal than bucks, here are the types of calls does usually make.
Doe Bleat
The doe bleat is used all year long as a social communication call. However, during the estrus cycle, doe bleats sound different. Doe bleats during the estrus season signifies the doe's readiness to mate. Hunters can use the doe bleat anytime and it's effective all season long.
Doe Grunt
The doe grunt means the same as the buck grunt but with a higher pitch. It's usually used by does to call their young.
Estrus Bleat
The estrus bleat is made by does to signal bucks that their breeding time is near. This deer call works best pre-rut.
Breeding Bellow
The breeding bellow is made by does to indicate that she is ready to breed at the exact moment the call was made.
Whitetail Deer Fawn Sounds
Fawn Bleat
A fawn bleat resembles that of a high-pitched squeal. Fawns usually make this sound to get the doe's attention whenever they're hungry, in danger, or lost. As the fawn matures, this bleat deepens and starts to sound more like the social grunt we discussed earlier.
It's rarely done but we can imitate a fawn bleat if we want to target a doe. Does have strong maternal instincts, so they won't hesitate to help a fawn calling for help, even if it's not their own.
Here's a video with some of the deer calls above (dominant buck grunt, tending buck, doe bleat, estrus doe bleat, and fawn bleat) to give you an idea.
Artificial Deer Calls for Hunters
Gone were the days when hunters have to wait for hours to catch deer with no movement or sound. Thanks to artificial deer calls, hunters can have all kinds of deer come to them. Be sure to check your local laws on the legality of some types of calls such as electronic calls before heading into the woods.
Here are the types of artificial deer calls you can use.
Grunt Tube
Grunt tubes are perfect for calling in mature bucks. They're best used once you've already spotted a buck. Grunt periodically every 15 to 20 minutes to give the buck some time to come closer.
Rattling Antlers/Rattle Bag
Rattling antlers imitate the sound of two bucks clashing and connecting horns when fighting over a territory or a doe. A rattling antler should be loud and realistic enough to draw out a deer effectively. You can use either real antlers or synthetic ones.
They are most effective in areas with high buck-to-doe ratios where conflict between bucks over does is much more common.
For real antlers, large sets are most effective during rut season, while small ones are ideal during pre-rut. One disadvantage of using real antlers is that they can inflict wounds or tears on your hands. Synthetic antlers are more expensive than real ones, but they produce more consistent sounds.
"Initial rattling should be of low volume and only last 10 to 20 seconds. Wait a couple of minutes and if nothing shows, jump into a more intense one to two-minute sequence and wait at least 20 minutes before rattling again to give distant bucks time to make their way to you. When rattling right off a key bedding area, where a deer is apt to stand up within eyesight, keep sequences shorter, rattling 20 to 30 seconds at a time every four or five minutes—building up the intensity with each new effort." https://www.americanhunter.org/content/how-to-rattle-in-deer-the-right-way/
Electronic Calls
Electronic deer calls are more advanced and easier to use than manual ones. They can also produce wider varieties of deer vocalizations. Electronic calls are battery-powered and produce more accurate and authentic sounds. Some models generate sounds with the push of a button, while others can be operated via remote control so you can place the device away from you. One downside of electronic deer calls is that they're expensive. Also, they aren't always legal, so be sure to check on the regs in your area first.
Doe Call/Estrus Bleat Call
Doe calls and estrus bleat calls are used to call in bucks during the late pre-rut and rut period. They're most effective when paired with some doe estrous urine set on your hunting tree stand for a more authentic presentation. When using this combination, be sure to eliminate any scent that could overpower the urine as this would dissuade bucks.
5 Best Calls for Deer Hunting
FAQs
What sounds do whitetail bucks make?
Whitetail bucks make these sounds – trailing grunt, tending grunt, buck bawl, rage grunt, and social grunt. Read the rest of our article to know what these deer calls mean.
Why do deer make a screaming sound?
Deers scream when they sense danger or when they're in pain.
What sound does a doe make?
Does make these sounds – doe bleat, doe grunt, estrus bleat, and breeding bellow. To know what these sounds mean, read our descriptions above.
What sound attracts bucks the most?
During the rut, mature bucks get attracted to doe bleats, doe grunts, and estrus bleats the most. Be sure to use these deer calls sparingly because you don't know when a deer is within range.
Conclusion
No matter which deer call you decide to use from our list above, it's good to know what they all are and how they're used! Just remember that when used improperly or at the wrong time, deer calls can scare deer away. Hunt safe and enjoy!
Now that you know how to call in the big bucks, it's time to master catching them with our article about bow hunting!
Last update on 2023-09-08 / Images from Amazon Product API