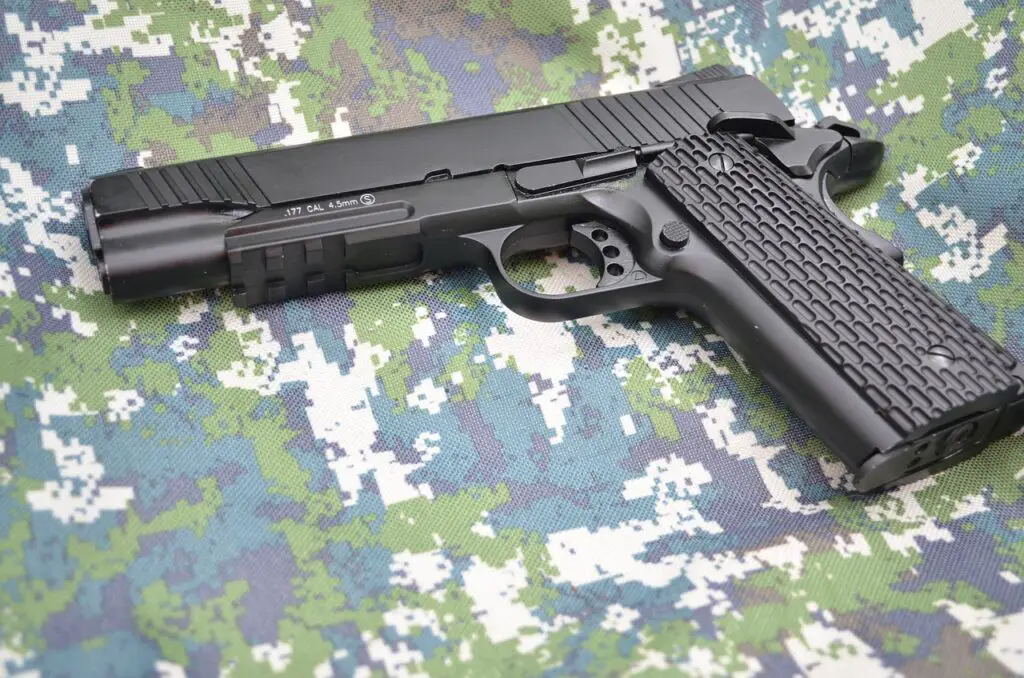 If you've just been convinced by a friend to get an M1911 for your new gun, you made the right choice! But don't be hasty with your purchase. Make sure you're well-informed so you don't have any regrets later on. Let us walk you through our list of the best 1911 pistols! 
Why Get a 1911 Pistol?
The M1911 pistol has been around since, you've guessed it right, 1911. It served the US Armed Forces from 1911 to 1985. Aside from its amazing history, the M1911 has been proven to be just as reliable for civilian shooters. It's also been a widely used pistol for competitive shooting. Its low recoil and accuracy make the 1911 pistol great for self-defense, target practice, competitions, and even hunting. 
Another great thing about the 1911 pistol is the aftermarket support. You can easily customize the pistol according to your preference because parts are easily accessible.
6 Best 1911 Pistols
Best Overall: Springfield Garrison 1911 .45 ACP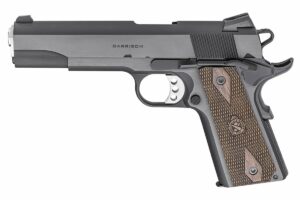 Specs:
Caliber: .45 ACP
Action: Semi Automatic
Barrel Length: 5″
Overall Length: 8.6″
Height: 5.5″
Sights: Low Profile Combat 3 Dot
Capacity: 7+1
Magazines Included: 1
Weight: 37 oz
Finish: Black
The Springfield Garrison 1911 features a slide and receiver constructed from forged steel. Its barrel also has a match-grade forged steel construction. We love how Springfield Armory added some modern upgrades to this iconic pistol. Some of these improved features are the high-ride beavertail and memory notch that gives you better grip and recoil mitigation. The Garrison is made from holt salt-blued carbon steel and wood which gives off a traditional vibe. 
Pros
Affordable (MSRP: $868)
Light recoil
Slim design
Comes with a lifetime warranty
Cons
Non-ambidextrous controls
No front slide serrations
What Customers Say
Fired a couple of hundred rounds through it so far without any malfunctions. The safety and trigger both have a good crisp break. As a novice handgun shooter, I was able to shoot fairly good groups at 10 and 15 yards. Would recommend to anyone looking to buy a budget-friendly 1911 while still holding good quality.

Jared K.
Springfield Garrison 45 is a must have for several reasons. Its slim design excellent for conceal carry, has little recoil and is dependable every time. My wife has decided she needs a springfield garrison 45 also after firing a few shots.

William L.
Best Budget: Rock Island Armory 1911 Standard FS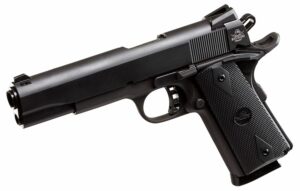 Specs:
Type: Semi-Automatic, Recoil Operated
Action: Single
Caliber/Gauge: 45 ACP
Capacity: 8
Sight: Low Profile Dovetailed Front, Fixed Rear
Slide: Parkerized
Grip Type: Black Rubber
Trigger Pull: 4 to 6 lb
Frame Material: Steel
Frame Finish: Parkerized
Barrel Length: 5″
Overall Length: 8.56″
Weight: 2.49 lb
Overall Height: 5-1/2″
Overall Width: 1.42″
Twist Rate: 1:16″
Barrel Grooves: 6
Barrel Type: Button-Rifled
The Rock Island Armory 1911 standard FS is an excellent choice for those who don't want to spend a lot on a pistol. The pistol features wood grips that you can choose to replace with the checkered rubber grips that come in the box. 
It has a parkerized matte finish and an angled, snag-free design that guarantees a smooth draw should the situation arise. It also features a skeletonized hammer and trigger with an adjustable over-travel stop.
Pros
Very affordable (MSRP: $549)
Ambidextrous safety
Great finish
Easy takedown
Cons
Slanted front sight occasionally reflects sunlight, making it a little difficult to see
What Customers Say
This Rock Island Tactical 1911 is a nice pistol without the high price. The trigger pull is nice and helps with my making good hits. The best compliment I can give this handgun is that it is my every day care piece, I am not large but I am 6'1" and 215 lbs. My major complaint is the black on black sights. I am almost sixty two and my eyes need help. The sights are dovetails and replaceable but I used a red sight marker and colored the front sight.

Brian M.
Love it! Shoots good, feels great in my hand!

Steve D.
Best for Concealed Carry: Kimber Ultra Carry II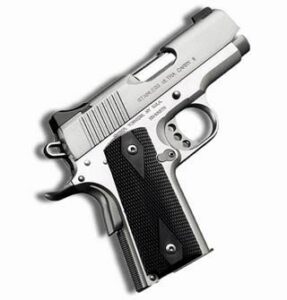 Specs:
Caliber: 45 ACP
Barrel Length: 3″ (Match Grade)
Capacity: 7 + 1
Grips: Black Synthetic
Sights: Fixed Low Profile
Weight (empty): 25 ounces
Finish: Satin Silver
Trigger (approx): 4.5 lbs
Now our next pick is pricey for several reasons. First is the shorter grip length that makes the Kimber Ultra Carry II easily concealable and easy to carry. Despite its compact construction, the magazine capacity remains 7 rounds even in .45 ACP. It's great for concealed carry but not the best choice for competitive shooting. On the other hand, the light weight makes it easy for carrying all day comfortably.
However, because of its size, weight, and aluminum construction, the .45 ACP's recoil is more noticeable with the Kimber Ultra Carry II compared to 1911 pistols with steel frames.
Pros
Compact
Ultra lightweight
Cons
Expensive (MSRP: $1,021)
Recoil is more noticeable than other models
What Customers Say
I carry this gun daily and it's flawless. Like most 1911 platform guns, magazines are the key. KimPro or Wilson Combat will get you going. The gun also likes to be broken in with 200 rounds.

WayniacKT
I have had experience with two different Kimber ultras both ran flawless with Kimber mags and off the shelf ammo. To each own I am a 1911 guy and I carry a sig ultra in 9mm and trust it with my life.

Mikelane1399
Sig Sauer 1911 Pistol .45 ACP Fastback Emperor Scorpion Carry
Specs:
Caliber: 45 ACP
Action Type: Semi-Auto
Frame Size: Carry
Grip Type: Black G10
Frame Finish: Flat Dark Earth PVD
Frame Material: Stainless Steel
Slide Finish: Flat Dark Earth PVD
Slide Material: Stainless Steel
Trigger: Single Action Only
Trigger Pull: 5lb
Barrel Length: 4.2"
Overall Length: 7.7"
Overall Width: 1.4"
Height: 5.5"
Weight: 35 oz.
Safety: Manual Thumb/Decocker & Grip Safety
Magazines: (2) 8 round
Sights: SIGLITE Night Sights
The Fastback Emperor Scorpion Carry is designed to get your grip high and it sticks to your hand like Velcro due to the stippling. It functions flawlessly and is accurate. The PVD finish looks fantastic, not to mention that it's shockproof. However, the stock mags are subpar. Also, the notch in the rear sight tends to pick up light and obscure the front sight occasionally. If that bothers you, you might want to switch sights. Other than those minor drawbacks, this 1911 pistol is very reliable. 
Pros
Very accurate
Crisp trigger
Compact
Great finish
Cons
Expensive (MSRP: $$1,442.99)
What Customers Say
I bought mine in .357 Sig a year ago and it has a great feel in the hand and excellent accuracy. I put VZ MARSOC grips on it and it stays right in your hands. This is a carry weapon for me and I trust it with my life. The magazines for this pistol are a little quirky though. They could use a better follower as the rounds can dip a little bit when Read more about I bought mine in .357 Sig a year ago loading and bind up. Overall, great job Sig!

American
This has quickly become my favorite. The fit and finish is flawless, the fastback is perfect for minimizing printing and a joy to shoot. Oh, and what a good looking gun! Very happy. Sig Sauer hit a home run with this.

On P.
Ruger 1911 .45 ACP SR1911
Specs:
Caliber: .45 ACP
Sights: 3-Dot Novak, Drift Adjustable
Grips: Hardwood
Barrel Length: 4.25″
Overall Length: 7.75″
Weight: 29.3 oz.
Magazine: (2) 7 Round
Slide Material: Stainless Steel
Slide Finish: Low-Glare Stainless
Frame Material: Anodized Aluminum
Twist: 1:16″ RH
Grooves: 6
The Ruger SR1911 features the original 1911 fire control, a skeletonized hammer, and a titanium firing pin for faster lock time. Its oversized beavertail grip safety guarantees reliability. It also has an extended thumb safety and a slide-stop lever that offers positive manipulation.
The SR1911 handles the .45 ACP's recoil well, given that it's not a full-size pistol. The SR1911's magwell isn't flared but its magazine release works smoothly.
Pros
Reasonable price (MSRP: $899.99)
Accurate
Lightweight
Smooth slide
Aggressively-textured hardwood grips
Cons
Non-ambidextrous controls
No accessory rail
No front slide serrations
What Customers Say
I've had the full-size SR1911 for several years. Never had any issues with it. It's one of my favorites to shoot. Dont see them in the stores very much anymore though. I'd probably buy another or this Commander version. Joshua4470

reviewer1
I just bought mine last weekend and I love it. I own Colts and Kimbers not near as accurate Awesome gun ! Hope ya enjoy it. Great review.

Jebstewart9114
Taurus 1911 Full Size .45 ACP Pistol
Specs:
Action: Single
Caliber/Gauge: 45 ACP
Capacity: 8
Sight: Novak Drift Adjustable Front, Novak Drift Adjustable Rear
Slide: Stainless Steel
Safety: Firing Pin Block Grip, Manual
Grip Type: Black Synthetic
Frame Material: Steel
Frame Finish: Stainless
Barrel Length: 5″
Overall Length: 8-1/2″
Weight: 42 oz
Frame Size: Full
Height: 5-1/2″
Width: 1-1/2″
Barrel Type: Hammer Forged
A few features that we love on this pistol are the extended beavertail and memory pad, plus the cut-checkered grips that offer excellent control and consistency. It also comes with Novak drift-adjustable sights for improved accuracy. Its all-steel construction also helps in recoil mitigation. The factory mags that come with the Taurus PT1911 work flawlessly, but if you have a preferred magazine brand, the PT1911 will fire as efficiently with it.
Pros
Very affordable (MSRP: $679.99)
Light trigger pull
Compatible with magazines from other brands
Cons
Non-ambidextrous controls
What Customers Say
Great firearm for what I paid for it.

63jeepj20
I shot my first 45 today and it was this exact gun. I love this gun.

Antagonist King
Conclusion
That's it, folks! Short but sweet, just the way we like it, so you can have more time at the range! We suggest you break in your new 1911 pistol properly. Once you do, it will function smoothly and reliably. Have fun!