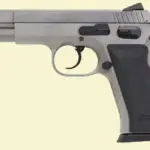 Users' Rating (Click a star to rate this gun.)
Summary:
The description, specs, photos, pricing, user ratings and user comments for the Tanfoglio Combat pistols.
Manufacturer's Description
The Tanfoglio Combat pistols are CZ 75-style semiauto pistols built on steel frames and chambered in .22 LR, .38 Super, 9mm, .40 SW, 10mm or .45 ACP. EAA imports these pistols into the United States, calling them Witness Steel pistols. EAA sells conversion kits to shoot .22LR, 9mm, .40SW, .45ACP, 10mm, .38 Super.
These double-action/single-action pistols feature:
An integral accessory rail;
a rubber grip;
a slide-in-frame design; and
an ergonomic grip angle.
Combat pistols are available on full-size or compact frames, and they feature the Wonder finish, which is Tanfoglio's heat treating process for steel. Tanfoglio says it's not a plating, so it won't separate from the base metal. This heat treating process increases the surface hardness, thus decreasing wear, and increasing abrasion resistance. The Wonder finish process creates a self lubricating, corrosion resistant barrier between the surface of the pistol and the underlying metal that is over 12 microns deep. It maintains the superior characteristics of iron carbon steel for rigidity and durability with the look and corrosion resistance of stainless steel.
The Specs – Full Size
| | | | | | | |
| --- | --- | --- | --- | --- | --- | --- |
| Caliber | Capacity | OAL | BBL | WI | HI | WT/OZ |
| 9mm | 17+1 | 8.1″ | 4.5″ | 1.5″ | 5.5″ | 33 |
| .38 Super | 17+1 | 8.1″ | 4.5″ | 1.5″ | 5.5″ | 33 |
| .40 SW | 15+1 | 8.1″ | 4.5″ | 1.5″ | 5.5″ | 33 |
| 10mm | 15+1 | 8.1″ | 4.5″ | 1.5″ | 5.5″ | 33 |
| .45 ACP | 10+1 | 8.1″ | 4.5″ | 1.5″ | 5.5″ | 33 |
| .22LR | 10+1 | 8.1″ | 4.5″ | 1.5″ | 5.5″ | 33 |
The Specs – Compact
| | | | | | | |
| --- | --- | --- | --- | --- | --- | --- |
| Caliber | Capacity | OAL | BBL | WI | HI | WT/OZ |
| 9mm | 12+1 | 7.3″ | 3.6″ | 1.4″ | 4.5″ | 30 |
| .40 SW | 12+1 | 7.3″ | 3.6″ | 1.4″ | 4.5″ | 30 |
| 10mm | 12+1 | 7.3″ | 3.6″ | 1.4″ | 4.5″ | 30 |
| .45ACP | 8+1 | 7.3″ | 3.6″ | 1.4″ | 4.5″ | 30 |
MSRP: $541.82–$634.97