Best Overall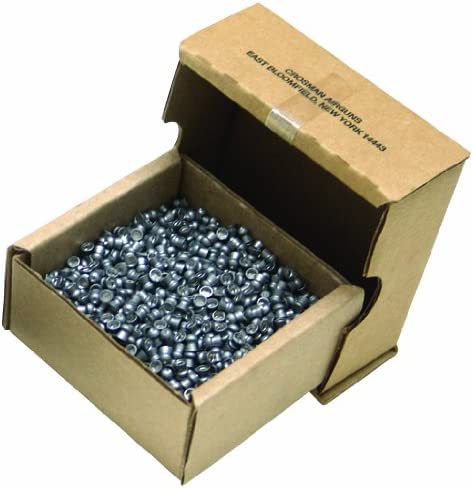 Crosman Premier Domed .177 Caliber 10.5 Grain Pellets
Consistency and affordability in one!
Value: 9/10
Performance: 9/10
Cost: 9/10
Check Price
Best .177 Pellets for Competitions
JSB Match Diabolo Exact
Prepare to see your name on top of the scoreboard!
Value: 9/10
Performance: 9/10
Cost: 8/10
Check Price
Best for Hunting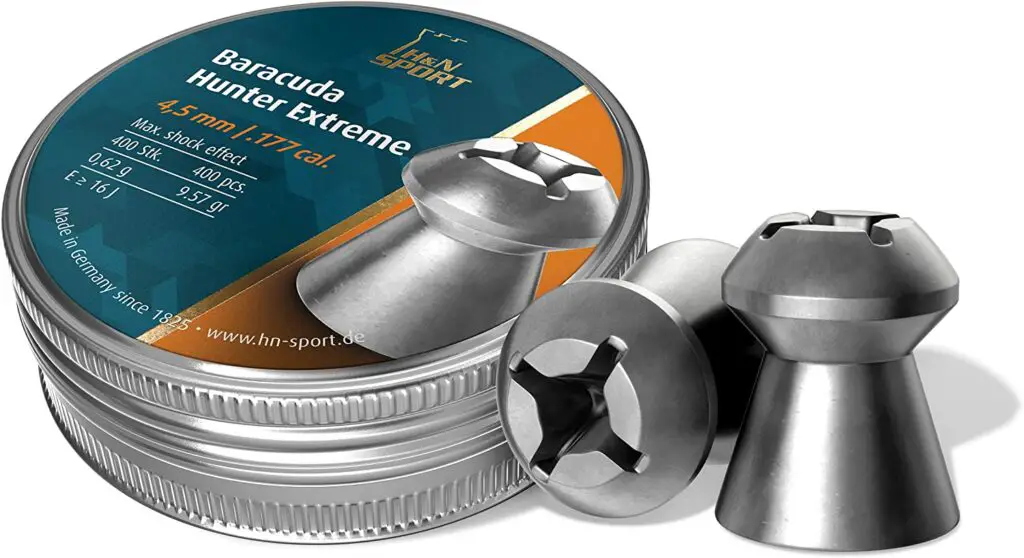 H&N Baracuda Hunter Extreme Hollowpoint Airgun Pellets
A must-have for hunters everywhere.
Value: 8/10
Performance: 8/10
Cost: 8/10
Check Price
Formal and field target competition, hunting, and pest control – you'd need the best .177 pellets to make the most out of these shooting applications. And we're here to help you figure out which brand to buy and give our recommendations as well. Let's get started!
Features to Consider
Pellet Type
There are five different types of air gun pellets. The difference is mostly on the shape of the pellet's head.
Pointed
Pointed pellets deliver reduced air resistance at longer distances so you can hit targets with sufficient force to take them down effectively. Their pointed head also helps inflict deep wounds to your target.
Wadcutter
A wadcutter pellet is most efficient with paper targets. It has a flat nose that punches rounder holes in paper targets for more consistency.
Hollow Point
Hollow Point pellets are ideal for small game hunting. These expanding pellets offer greater impact than other types, quick expansion, and maximum energy transfer and knock-down power.
Round Nose
The advantage of a round nose pellet is, well, its round head, which helps in deflecting the wind. This feature is what makes round nose pellets perfect for shooting at long distances.
Ballistic
Similar to their pointed siblings, ballistic pellets also deliver deep penetration, thanks to their hardened tip. This tip is usually made of steel or brass so ballistic pellets can puncture through metals such as coins.
Material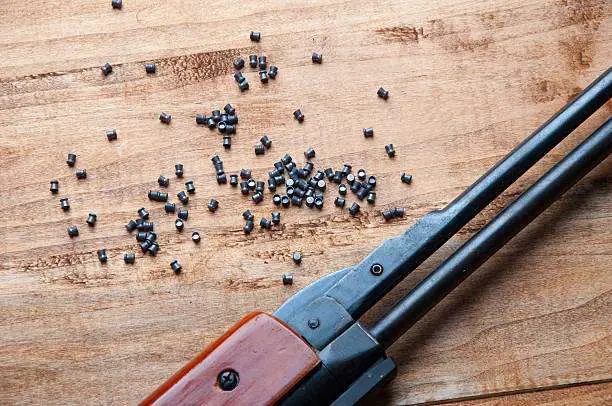 Most airgun pellets today are made from lead which are very heavy and have excellent malleability. We prefer lead in our air rifles as they last longer.
Stay away from pellet brands that may be cheap but have a lot of defective rounds, so you'll end up buying more and spending more.
Weight
Heavy-grain pellets deliver cleaner shots and are ideal for medium-sized games and high-power air rifles. However their range is limited because of their weight.
5 Best .177 Pellets
Best Overall: Crosman Premier Domed .177 Caliber 10.5 Grain Pellets
All Crosman Premier pellets are manufactured using high-grade precision tooling so you can easily achieve consistency at the range. These domed pellets are a favorite among target shooters. They're also uniform in size so each round is snug and are fired more evenly.
Pros
Affordable
Consistent rounds
Heavyweight
What Customers Say
I strongly recommend the Crosman Premier Domed pellet as a standard, all-around hunting/target ammo that gets the varmint job done while providing inexpensive ammo for target shooting.

Dan F.
These pellets are nice, and work really well in higher powered guns; they're a bit heavier than the average off-the-shelf .177 pellet and will stay subsonic but with a lot of energy for a .177.

Captain Melissa
Best .177 Pellets for Competitions: JSB Match Diabolo Exact
JSB Match Diabolo Exact domed pellets offer top accuracy that's why they're perfect for competitions. You'd have to spend a bit more than .177 pellets from other brands but the consistency and accuracy you'll be getting is totally worth every penny. You'll be at the top of the scoreboard in no time! 
Pros
Accurate
Consistent rounds
What Customers Say
These really make a difference. I just thought I was a bad shot or that my sight was off. Nailed 2 squirrels right away.

Alvina
As advertised, tested alot of pellets my weihrauch HR30s loves this pellet.

Frank Lagos
Best for Hunting: H&N Baracuda Hunter Extreme Hollowpoint Airgun Pellets
The Baracuda Hunter Extreme is popular among bird and small game hunters. It's also perfect for eliminating rodents and pests that have become nuisances in your backyard. These hollow point lead airgun pellets come with mushrooming heads that play a critical role in increasing accuracy and power without overpenetration.
Pros
Heavyweight
Accurate
Reasonable price
Cons
Not ideal for long-range shooting
What Customers Say
This is a "killer" pellet. One shot-one kill, at "50 yards!" Used Raptor pellet rifle.

Seminoleh
They are nice and heavy and hit very hard.

Jolerick
Best .177 Pellets for Long-Range: Haendler & Natermann Hornet Pointed Airgun Pellets
The Haendler & Natermann Hornet pointed airgun pellets are designed to maintain a stable shot trajectory and better energy transfer over long distances. These pellets are so powerful that they can easily penetrate through bushes and foliage. They also offer better performance with powerful air rifles.
Pros
High ballistic coefficient
Great for long-distance shooting
Cons
Prone to overpenetration
Expensive
What Customers Say
Very accurate pellets. Gets the job done for squirrel hunting. Pricy for pellets though.

Matthew Drone
Very good quality pellets. You have to love German engineering!

Blake King
Crosman 6177 .177-Caliber 7.4-Grain Flat-Nose Wadcutter Pellets
If you're looking to score easily when shooting paper targets, these wadcutter pellets from Crosman won't disappoint. They're a great bang for your buck as every round is uniform in length and there's a minimal number of defective rounds. 
Pros
Affordable
Low defect rate
Consistent 
What Customers Say
Most accurate of all the pellets that I've used so far. Haven't found a single one that tumbled. Skirts were in good shape and uniform in length.

Tarn
I ordered these pellets to shoot clays at 20 yards and was very pleased with how they performed out of my Crosman M4.

MWCraft
Conclusion
That's it – the best .177 pellets for every shooting application. However you intend to use your air rifle, it's critical that you load it with the right pellet type for best results. Have fun!
Last update on 2023-11-24 / Images from Amazon Product API