Best Overall for Self-Defense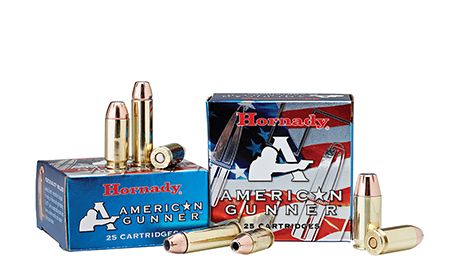 Hornady American Gunner 90GR XTP 380 ACP
The ammo you can trust with your life.
Value: 8/10
Performance: 8/10
Cost: 8/10
Best Overall Target Practice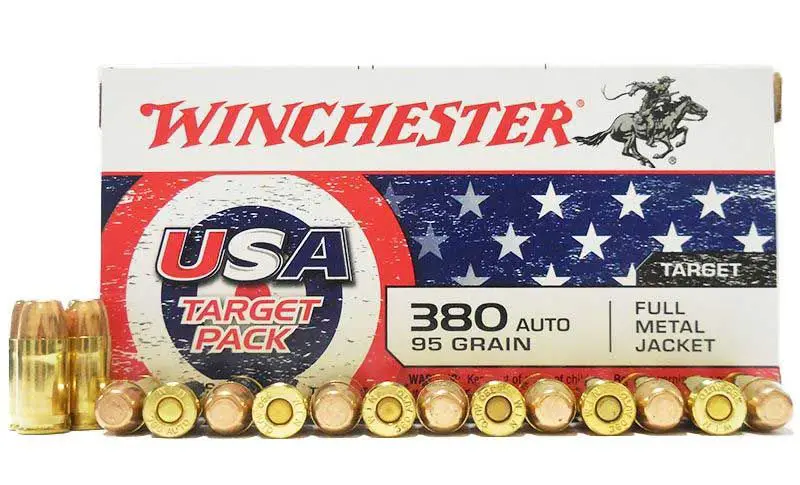 Winchester USA 380 Auto Ammo 95GR FMJ
Clean-shooting, high-quality ammo.
Value: 9/10
Performance: 9/10
Cost: 9/10
Best for Plinking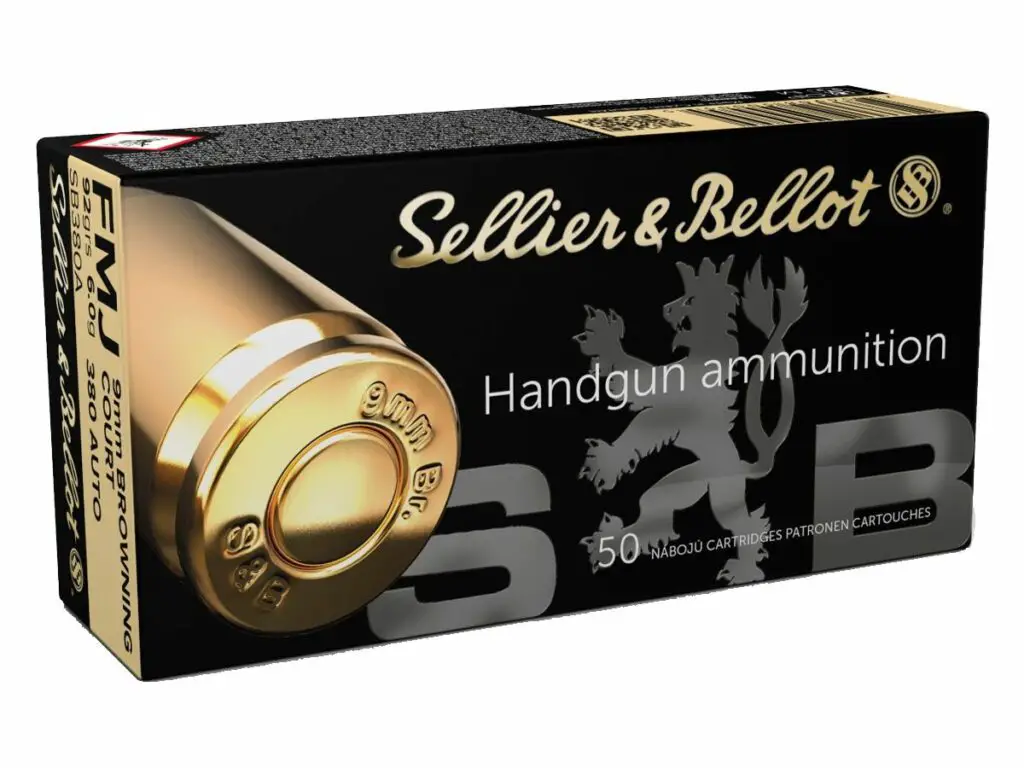 Sellier & Bellot 380 ACP 92GR FMJ
Perfect hunting round.
Value: 8/10
Performance: 9/10
Cost: 8/10
So you just bought your first .380 Automatic Colt Pistol but are not sure what to feed it? We're here to help! Not only will we review the best .380 ACP ammo, but we'll also reveal tips on how to choose the right one.
How to Choose the Best .380 ACP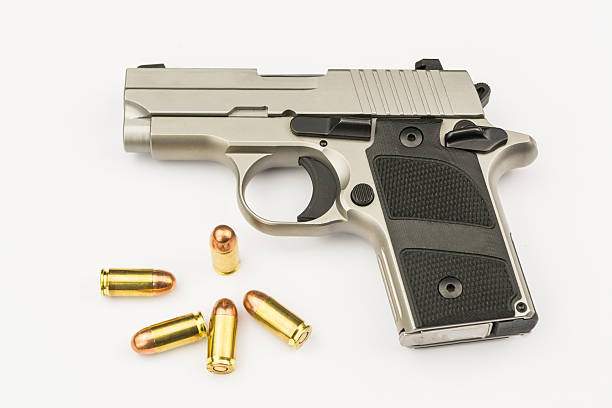 Reliability
First of all, you'd want a round that demonstrates consistent penetration and expansion. You should encounter minimal malfunctions or none at all for a self-defense round. To avoid mishaps, getting ammo from trusted manufacturers is also key. If you have no idea who they are, our list below should help.
Penetration
Penetration or stopping power is measured in foot-pounds. It is a gun's ability to incapacitate, but not necessarily kill, a target. The factors that contribute to stopping power are the projectile's velocity and weight, and barrel length. The heavier and faster the projectile, the more powerful they are. If the round is too slow or too light, it will deform before it can inflict serious damage to your target. The .380 ACP is light and compact, and the most commonly used bullets range from 85 to 95 grain. An effective .380 ACP cartridge penetrates 12 to 18 inches of 10% ballistic gel.
Expansion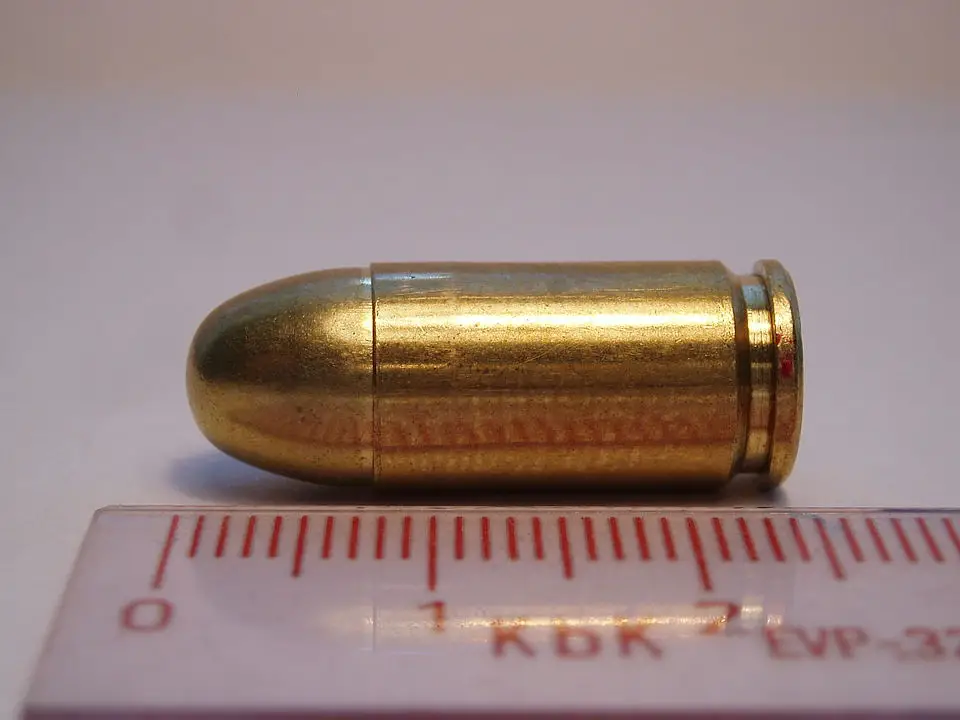 The next most important factor to consider is how a round expands. This is essential in inflicting serious damage as well. A round with high velocity expands properly, therefore inflicting more damage to your target. You can see how a bullet expands through denim and ballistic gel tests to mimic an assailant.
Projectile
The type of projectile also plays a great role in how a round expands and penetrates. Full Metal Jacket ammo offers deep, controlled penetration so they're great for plinking and target practice. Hollow-Point rounds, on the other hand, are ideal for self-defense because of their effective penetration, quick expansion, and limited travel beyond a hit target.
Weight Retention
A bullet's job doesn't end after initial penetration and expansion. Because it has to retain enough weight to make sure that enough damage is inflicted on the target's vital organs. 
Best .380 ACP Ammo for Self-defense
Best Overall: Hornady American Gunner 90GR XTP 380 ACP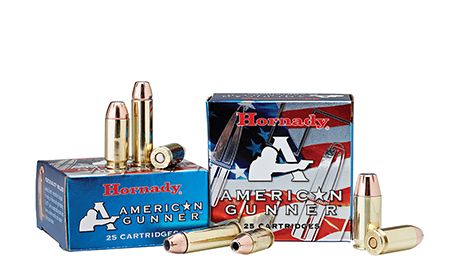 The Hornady American Gunner 90GR XTP 380 ACP is a hollow-point round that's great for hunting, plinking, and personal defense. It has a velocity of 1,000 feet per second. This ammo has the same loading as Hornady custom ammo. It has enough power to penetrate a medium-sized game deep enough to reach vital organs. Plus it expands reliably if propelled at the right velocity.
Pros
Muzzle velocity: 1,000 fps
Muzzle Energy: 200 lbs/ft
Affordable (Price Per Round: $0.82)
Great projectile
Good expansion and penetration
Cons
Inconsistent expansion depending on medium
What Customers Say
Great price considering the price of ammo. Good ammo and fast shipping.

Timothy C.
Accurate and reliable. functions in the gun every time.

Da
Best Budget: Remington 88 GR HTP .380 ACP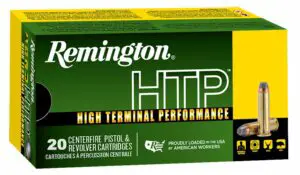 The Remington 88-gr High Terminal Performance (HTP) has a pretty narrow opening and deep hollow point for a .380 cartridge. Despite the affordability, this round also penetrates and expands as it should. The Remington 88-grain HTP is reliable for target shooting, hunting, or self-defense applications.
Pros
Muzzle velocity: 990 fps
Muzzle Energy: 191 lbs/ft
Very affordable (Price Per Round: $0.75)
What Customers Say
Very satisfied and will continue to support.

Jim F.
I've been shooting the 9mm, 147gr. JHP, and the .357, 110 & 125 gr. SJHP. The 9mm has performed without any failures in my Walther, same for the .357 Magnum in the revolver. Accuracy is acceptable, as good as I can shoot. .357 comes in a nickel case which is nice. Have not tried the .357 hunting, both have been at the range only, but I'm quite satisfied.

Westfork Bitterroot
Sig Sauer 90 Grain .380 V-Crown JHP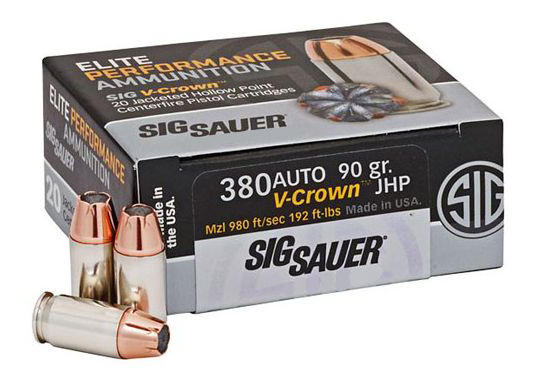 Sig Sauer designed the 90-grain .380 V-Crown JHP for superior self-defense performance. It may cost a little bit more than our first two picks, but it's still pretty affordable. Plus it's well-built and fine-tuned. It features a V-shaped stacked hollow point cavity on top of a deep narrow trail that guarantees exceptional on-target energy with maximum weight retention and optimal expansion that generates great stopping power.
However, the Sig V-crown JHP has a wider opening than other cartridge brands, which may cause reliability issues.
Pros
Muzzle velocity: 980 fps
Muzzle Energy: 192 lbs/ft
Affordable (Price Per Round: $1.04)
Accurate
Cons
Has a wider opening than other cartridge brands
What Customers Say
Very good ammo and I recommend it highly. Fast shipping after order placement. Hard ball is very good for practice and hollow points feed very nicely in my 84 F Beretta. I will buy it again especially since the price is right.

Rick
Ammunition was delivered in a box intact, dry, and sound. Excellent job. The character requirement wants me to write more but what more could I possibly say. Wow. Love these little shiny brass bullets.

Pew pew
Liberty Civil Defense 50-gr HP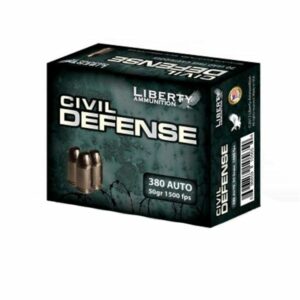 If you want a light-recoiling round that's faster and more powerful than our other picks, the Liberty Civil Defense 50-grain HP is for you. You'd have to spend a little more than most ammo brands but it's totally worth it. Plus it only weighs 50 grains!! 
Pros
Ultra-lightweight
Light recoil
Very fast (Muzzle Velocity: 1500 fps) 
Muzzle Energy: 250 lbs/ft
Cons
Expensive (Price Per Round: $1.94)
What Customers Say
Solid performing ammo. No problems with jamming etc. Very consistent loading. I'll buy again.

Miles D.
Performs well, no misfires or jams in Smith &Wesson 380 EZ.

Gilbert G.
Best .380 ACP Ammo for Plinking: Sellier & Bellot 380 ACP 92GR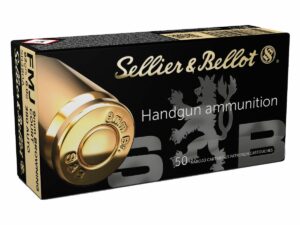 This .380 Auto round from Sellier & Bellot is ideal for plinking and shooting targets at the range. It features a 92-grain full metal jacket bullet and comes in boxer-primed, non-corrosive reloadable brass cases. This cartridge fires cleanly, and you'll rarely encounter misfires. 
Pros
Very affordable (Price Per Round: $0.46)
Muzzle Velocity: 955 fps
Muzzle Energy: 187 ft.-lbs
Great customer service
Cons
Not good for self-defense
What Customers Say
First time using his ammo performed very well.Will continue to use.

Butch
Looks to be good clean ammo, great Price. 100% reliable so far.

Keith A.
Best .380 Ammo for Target Practice
Best Overall: Winchester USA White Box 380 Auto Ammo 95GR FMJ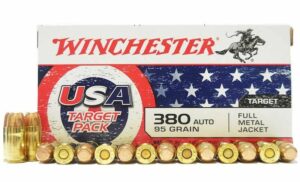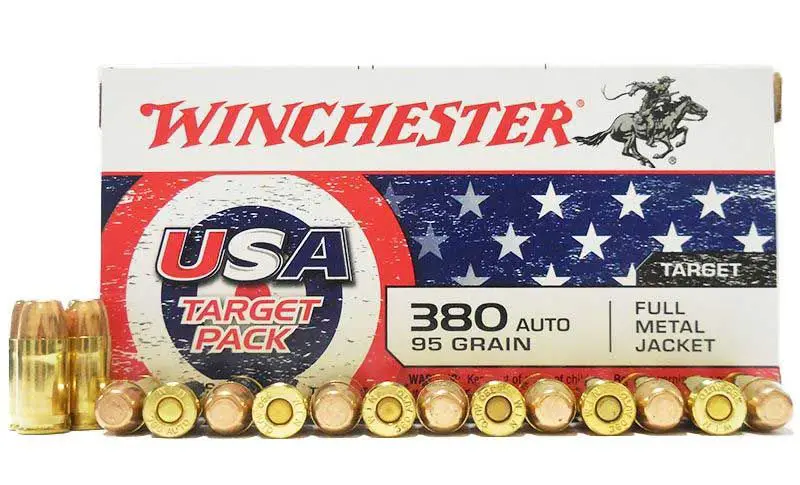 The Winchester USA White Box 380 Auto Ammo 95GR FMJ is tried and tested to produce tight groups. And, in many eyes it's THE standard for well-known, reliable yet affordable, range and practice ammo. This reliable cartridge is designed to fire cleanly and to have a flat trajectory. Aside from target practice, it's also great for a variety of shooting applications, such as hunting. Plus it's available in 50, 100, or 1000-round boxes.
Pros
Accurate
Flat trajectory
Clean ammo
Affordable (Price per round: $0.50/round)
Cons
What Customers Say
I have fired several rounds through my Ruger with no problems at all. Clean and accurate. Will definitely purchase in the future.

Texas Tripper
Test has proven that a flat-nosed FMJ has great penetrating performance in 380 ammo and you can't beat this price!

Mark
Best Budget: Prvi Partizan 94 Grain FMJ
Prvi Partizan is a European ammo manufacturer that's been around since 1928. They produce high-quality range ammo that's very cost-efficient and reliable. This 94-grain .380 cartridge is constructed to deliver great performance and bullet expansion.
Pros
Muzzle Energy: 191 ft. lbs.
Muzzle Velocity: 951 fps
Affordable (Price Per Round: $0.47)
Cons
Not great for self-defense
What Customers Say
Well, if you like carrying FMJ bullets around in the .380, these should be the ticket!

ChuckHydro
Bought a bunch of them for reloading cause they were cheap. They act as FMJ's. You have to remember that in Europe where HP's are not used like in the US.

Levar Shelborn
Fiocchi 95 Grain FMJ
The Fiocchi 95-grain full metal jacket ammo is known to go bang with every pull of the trigger. Despite its affordability, this cartridge feeds and ejects smoothly, fires consistently, and shoots tight groupings at close distances (50 yards). However, if you want consistent and smooth performance, you may have to clean more often. I've seen some people report that they don't burn as cleanly as others on this list.
Pros
Muzzle Energy: 215 ft/lbs
Muzzle Velocity: 960 fps
Affordable (Price Per Round: $0.55)
Reliable
What Customers Say
Shoots fine — no issues. A much better buy than off-brand ammo.

Charles B.
Great purchase. Good price, quick delivery, and no issues with performance. Constantly checking back to buy more.

Russell F.
CCI Blazer Brass 380 Auto 95 Grain FMJ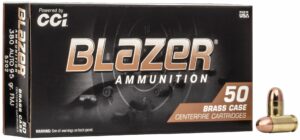 The Blazer Brass 380 Auto 95 Grain FMJ is manufactured to SAAMI and ISO standards, so its quality and reliability are guaranteed. It features standard primer pockets and boxer-type primers so you can reload them. This ammo has been proven to shoot cleanly and accurately. It's equipped with CCI primers so expect reliable ignition as well.
Pros
Affordable (Price Per Round$0.60)
Muzzle Energy: 188 lb/ft
Muzzle Velocity: 945 fps
Fires cleanly
What Customers Say
All rounds hit their marks. No issues plinking cans and targets with the rounds. Happy camper.

WE
Great range ammo I have used it for almost 20 years now it is extremely consistent and brass reloads well

Shaum
FAQs
What is the most powerful 380 round?
The most powerful .380 round is the Liberty Civil Defense 50-gr HP. It has a muzzle energy of 250 lbs/ft and a muzzle velocity of 1500 fps.
What's the best 380 defense ammo?
The best .380 defense ammo is the Hornady American Gunner 90GR XTP 380 ACP. It's affordable and effective for personal defense. Learn more from our detailed review above.
Conclusion
We know how much you're looking forward to ringing steel at the range. But no matter how excited you are, purchase your ammo only from reliable and licensed gun shops, whether it's online or through a physical store. That's it!