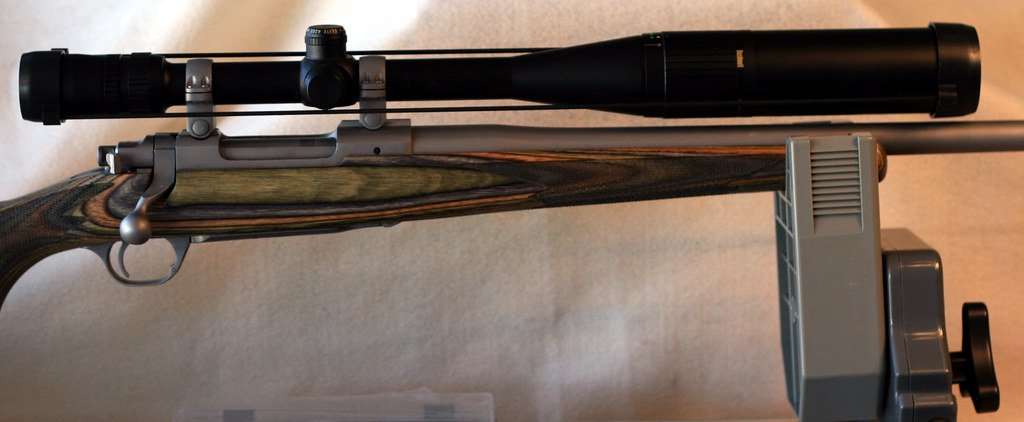 Our Top Picks
Best Overall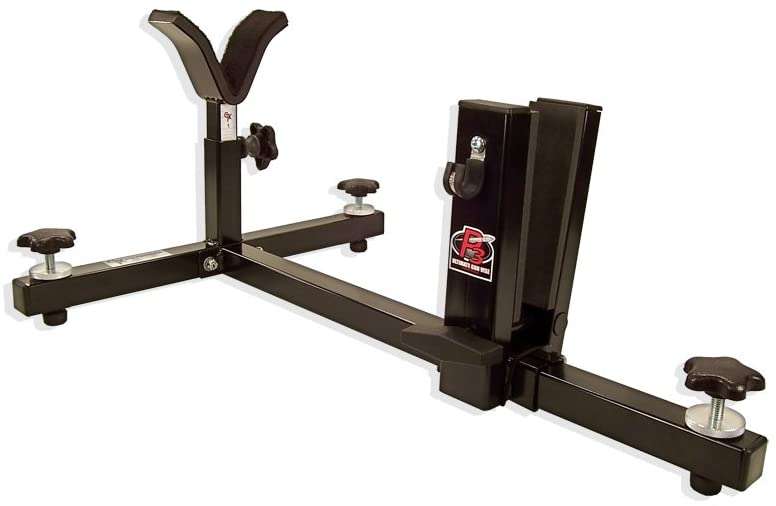 CTK PRECISION P3 Ultimate Gun Vise
This all-in-one gun vise is engineered for stability.
Check Price
Best Value Gun Vise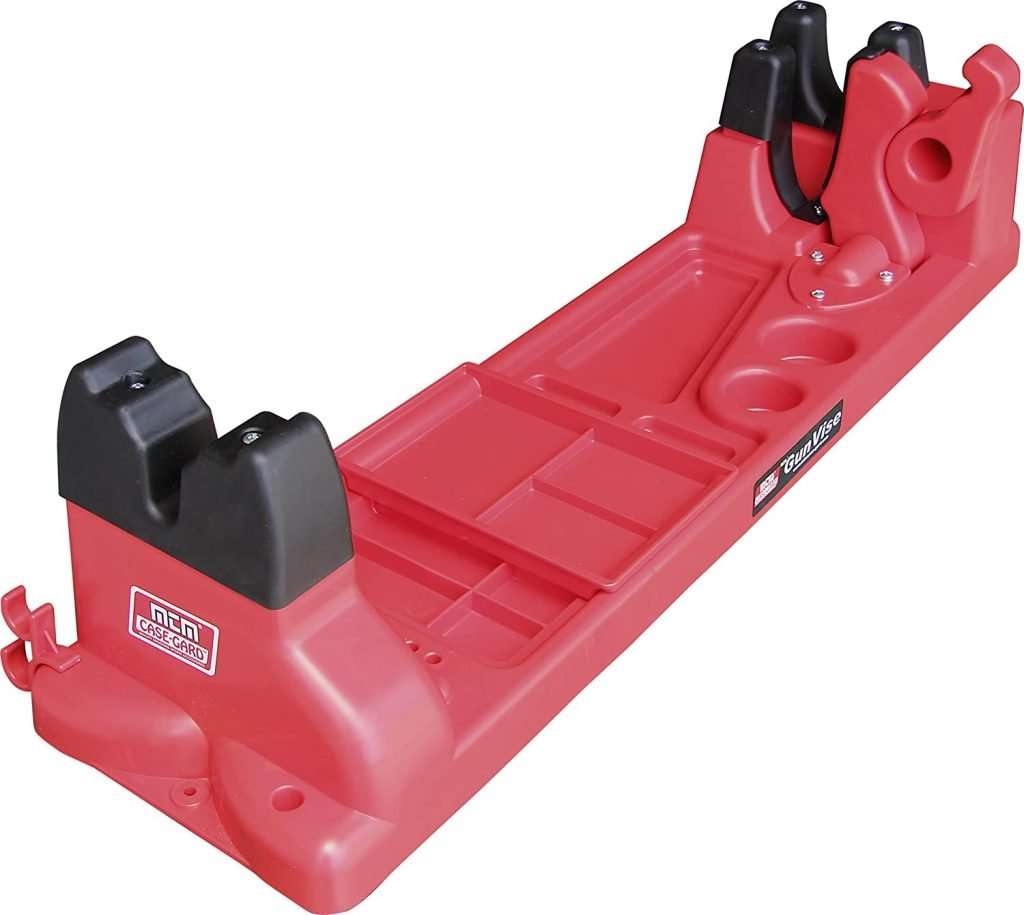 MTM GV-30 Gun Vise Cleaning Maintenance Center
This gun vise will provide all your gunsmithing needs at an affordable price.
Check Price
Best Gun Vise for Maintenance and Shooting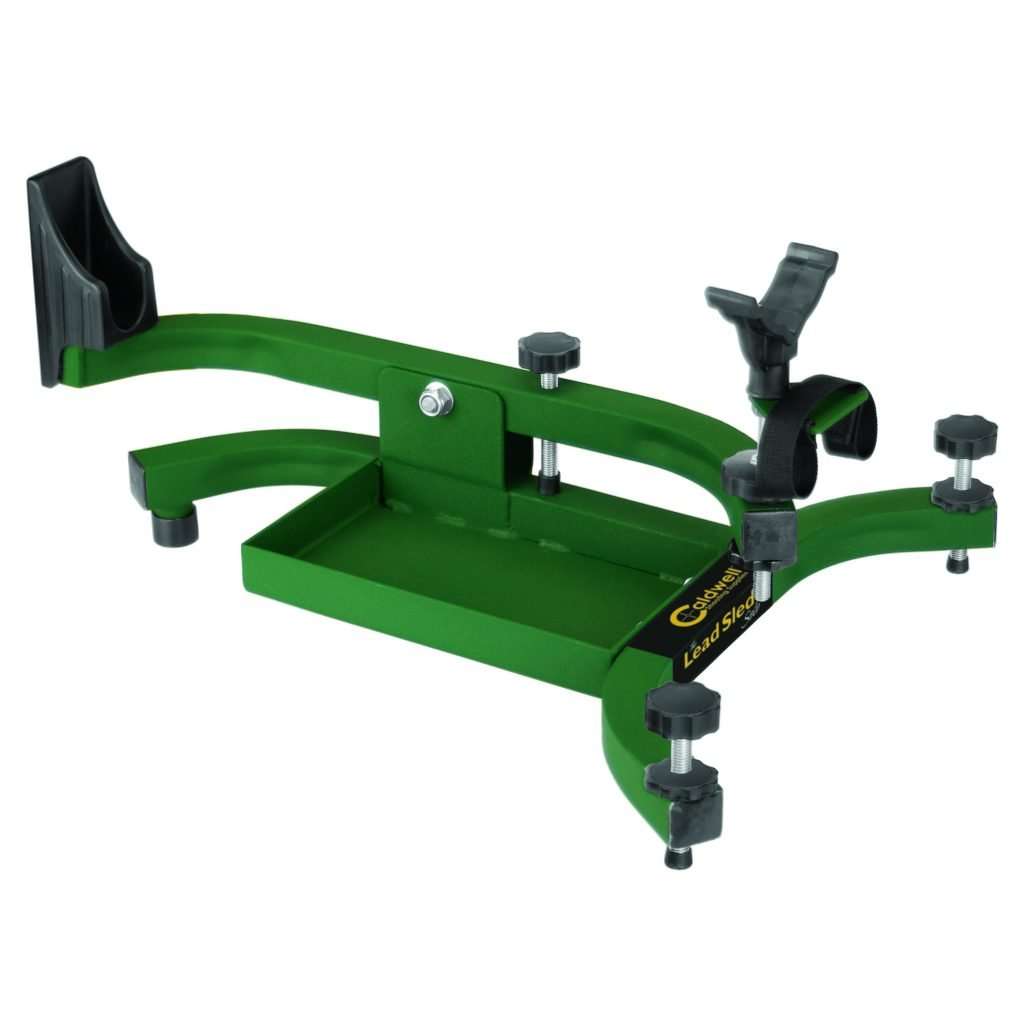 Caldwell Lead Sled DFT 2
This high-quality gun vise is worth every penny.
Check Price
Best Gun Vise for All Gun Types

Tipton Best Gun Vise for Cleaning, Gunsmithing, and Gun Maintenance
This all-around gun vise can accommodate all types of firearms.
Check Price
A gun vise is a nice addition to a dedicated gun bench that helps keep firearms in top shape for a long time. If you don't have one yet, read on to know why you need one; and pick from our list of the best gun vises for maintenance!
A Comparison of the Best Gun Vises for Maintenance
Factors to Consider When Buying
Material & Durability
A gun vise will serve as your third hand in gun maintenance and gunsmithing, so look for one made from steel or high-quality plastic. A gun vise made from these durable materials will be better than replacing it in a few years.
We also advise getting a gun vise made from non-marring and solvent-resistant materials to prevent your firearm from getting damaged.
Functionality
Some gun vises are not only made for gun cleaning, some can also be used as a shooting rest. If you want an all-in-one gun vise, we call out those below. 
Price
If you have the resources, investing in a heavy-duty gun vise is a smart move instead of buying an inexpensive one that won't last long. But if you're on a limited budget, this article has one that's as reliable and nearly as durable. 
Best Overall – CTK PRECISION P3 Ultimate Gun Vise
First on our list is the reliable CTK Precision P3 Ultimate Gun Vise.
We picked this gun vise as the best because it provides maximum stability, thanks to its three-point leveling system and thumb locks. Not only is it stable, but it's also extremely durable. That's because it's constructed from heavy-duty steel and has an E-coat finish.
Also, its front Y rest and rear vise are both covered in high-quality PVC foam for protection against any external force.
The P3 Ultimate Gun Vise is also equipped with a Shooting Rest Attachment, allowing you to quickly and easily convert it into a shooting rest. That's one reason why it's the most versatile among its competitors. It can also accommodate both pistols and rifles.
Some customers, however, complained about how the foam pads lose their hold on the adjustable steel arms over time. It's also not as durable as a rubber solution.
Pros
Three-point leveling system and thumb locks
Can be converted into a shooting rest in seconds
Made from heavy-duty steel and E-coat finish
PVC foam covering
Cons
Foam pads lose their hold on the adjustable steel arms over time
It's a little expensive
What Customers Say
"American made, Solid, doesn't tip, wiggle, fall over, etc. no plastic parts to fall off or strip. It holds on tight to anything you throw at it and even holds on to the hard-to-mount items."
"Absolutely fantastic. I have put off buying a gun vise for some time…primarily because I just hate the idea of a plastic, unstable, and excessively expensive one that has limited stability. This thing is built like a tank and is super stable and solid. In addition, if you add the gun rest it makes for a terrific shooting platform as well. Extremely well thought out and totally indestructible. I really think CTK addressed all the deficiencies of both gun vises and shooting sleds to deliver an all-in-one product at a very fair price."
Best Value Gun Vise – MTM GV-30 Gun Vise Cleaning Maintenance Center
Don't be fooled by its plastic construction, because this gun vise is as sturdy as its steel-made rivals.
If you're looking for an inexpensive but high-quality gun vise, the MTM GV-30 won't disappoint.
The MTM GV-30 is made from extremely durable solvent-resistant polypropylene plastic. It has multiple compartments of different sizes to accommodate gun parts and cleaning tools.
It's equipped with a secure non-marring hold and a fast, single adjustment clamp down for maximum stability. Every firearm touchpoint is also rubberized to avoid scratches on your gun.
However, it would have been better if the sliding tray compartments were a little deeper to hold tools better.
Pros
Made from solvent-resistant material
Has compartments for an organized cleaning
Quick clamp up
Cons
Does not hold as well as other brands.
What Customers Say
"What a great cleaning vise. I checked out all the available gun vises and went with this one for its simplicity and its price. Don't let the cheap price fool you. This thing is sturdy and does exactly what it says it does. It does not have a bunch of fancy adapters, knobs, and accessories, it just works. I will use it for long gun cleaning, light maintenance, and putting the gun upside down to work on the trigger assembly."
"Exactly what I needed. I am not a gunsmith, nor do I pretend to be. I just needed something sturdy for my rifle for cleaning, maintenance, and to mount/remove attachments (scopes, rails, etc). Assembly was really easy. Took less than 10 minutes. Instructions read well and helped me get the job done quickly. The overall design is great. Fit my Ruger 10/22 (in an AR22 Stock) and my AR15 like a glove. Made some adjustments while the rifle was locked in the cradle to get it level and it was done with ease."
Best Gun Vise for Maintenance and Shooting – Caldwell Lead Sled DFT 2
The Caldwell Lead Sled DFT 2 is one of the most versatile vises we've looked at.
This gun vise allows up to 18 inches of length adjustment while its front cradle can be slid back and forth along its frame. These features are why the Lead Sled DFT 2 can accommodate all sizes of rifles and shotguns. Its dual-frame design also guarantees improved recoil reduction.
The Lead Sled's non-skid rubber feet, skeletonized front rest, and rear cradle are constructed from non-marring materials for non-destructive mounting.
Most customers loved how they didn't have to remove the gun from the rest for adjustments. Thanks to its conveniently-placed adjustment knobs.
One improvement that some customers suggested was making the vise bolt-down capable for more stability, especially if it will be used on something more than a .22LR gun.
Pros
Cons
Dual-frame technology
Skeletonized front rest
Non-skid rubber feet
Precise windage and elevation adjustments
It costs more than most brands
Needs to be weighed down for calibers with heavy recoil
What Customers Say
"Excellent platform for zeroing rifle scopes and sights. The elevation and windage adjustments are simple and precise enough to eliminate the human fumble factor out of the scope settings. This is a very good shooting accessory."
"I am a high-volume shooter for pistols and rifles. I have my own backyard range, as well as belong to a gun club. Zeroing a rifle can be a challenging evolution when shooting alone, which is what I have done for the past 2 years. I typically use a Lead Sled for two purposes: 1) Check groups from a rifle 2) Zero my scope. This is a very stable system for either purpose."
Best Gun Vise for All Gun Types – Tipton Best Gun Vise for Cleaning, Gunsmithing, and Gun Maintenance
The Tipton Gun Vise is constructed from solvent-resistant polymer and is designed to last.
One of the Tipton Gun Vise's best features is its L-shape center post that holds a break-open gun securely. Its quick-release cam blocks also move independently to accommodate stock shapes of all sizes, from handguns and break-open shotguns to extendable magazine rifles and bolt-action rifles.
The Tipton Gun Vise also has non-marring contact surfaces so your firearm is protected from scratches. It also has a rubberized cradle and jaws for additional protection.
However, some customers complained that this gun vise tends to flex a lot and that it can be a little flimsy.
Pros
Cons
Flat and round bottom compartments
Customized patch storage
Extremely adaptable
One year warranty
Rubber feet slides easily
Flexes a lot
Can be a little flimsy
What Customers Say
"For a cleaning setup, it's not bad at all. I haven't owned any other gun cleaning rigs so I can't tell if they are the "best". But I'm happy with this purchase. Seems well-engineered. The construction is plastic and the rubber caps fall off, so I glued them back on. It's light and somewhat portable. It doesn't collapse very much for storage, so make sure you have space to put it while not using it to clean your guns, pistols, or rifles."
"This plastic gun vise is very versatile and I have come to enjoy it while working on my long guns. The vise is especially good for working on ARs."
Hyskore Cleaning & Sighting Vise
Last on our list is the Hyskore Cleaning and Sighting Vise. This vise is one of the most durable ones because it's constructed from welded tubular steel and is coated with a powder coat finish.
It mainly works as a 3-shot sighting system, optically and mechanically aligning points of impact and aim. But it also works great as a cleaning vise.
The Hyskore Cleaning And Sighting Vise is fully adjustable and can accommodate all gun types. Customers also said that it's very easy to assemble. 
However, we read a few complaints about how it's not as rigid as other brands.
Pros
Cons
Precision elevation adjustment
4-point leveling with an adjustable forend support
Fully adjustable
Not as rigid as other brands
What Customers Say
"I easily assembled the vise and immediately leveled it on my dining room table, verified on the bubble, with 3 each rifle sighting bubbles. Only had to study the pictures on the box a couple times and the instructions had nice illustrations, were sort of clear, one page indicates the first four steps without reference to indicate it is a step and the next page DOES indicate steps "E" through etc. The unit is so easy to assemble and sturdy, no stars lost. The fitment of all assemblies and parts was good and solid to the feel."
"I am satisfied with the Hyskore vise that I mainly ordered to aid in the mounting of scopes. The vise is made of mostly sturdy metal, with some plastic mixed in mainly in the form of adjustment knobs and the vise's feet."
What is a Gun Vise?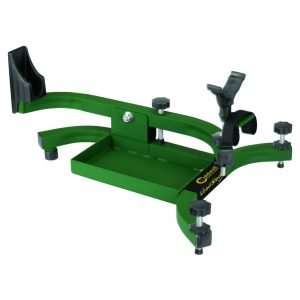 A gun vise is a tool where you can mount your firearm securely while doing maintenance. Some gun vises can also be used as shooting rests.
Benefits of Using a Gun Vise
We need both our hands to clean guns properly, and a gun vise makes that possible. A gun vise keeps our firearms stable. This allows us to focus on what we need to do without worrying about our guns slipping, falling, and being damaged.
Having a gun vise also lets us save time and money by maintaining our guns ourselves instead of going to a gunsmith.
Finally, some gun vises can be used for mounting and sighting in your firearm.
Final Thoughts
Some people may think that having a gun vise is a luxury. But for us gun enthusiasts, it's something worth investing in because of the benefits. If you've already decided on which brand to buy, that's great! You'll never regret that decision.
Do you have a quality gun cleaning kit? If not, here's a review that will help you replace it with the best.
Last update on 2023-09-04 / Images from Amazon Product API