Our Top Picks
Best Overall Ruger 10/22 Bipod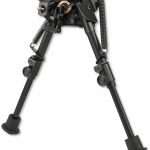 Harris Engineering S-BRM Hinged Base Bipod
A load of positive reviews show this bipod's reliability and durability.
Check Price
Best Budget Ruger 10/22 Bipod
AVAWO Hunting Rifle Bipod
This Ruger bipod shows that a quality bipod doesn't have to be expensive.
Check Price
Best Bipod for Beginners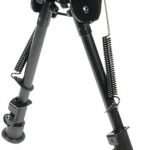 UTG Tactical OP Bipod
This flexible bipod has been proven to increase accuracy.
Check Price
We know how a bipod can get the most out of your rifle's performance. And if you haven't bought one yet, let us be your guide in finding the best bipod for your Ruger 10/22. 
We picked only the best ones on the market. Here is a quick comparison if you're in a hurry. 
A Comparison of the Best Ruger 10/22 Bipods
What makes a good rifle bipod?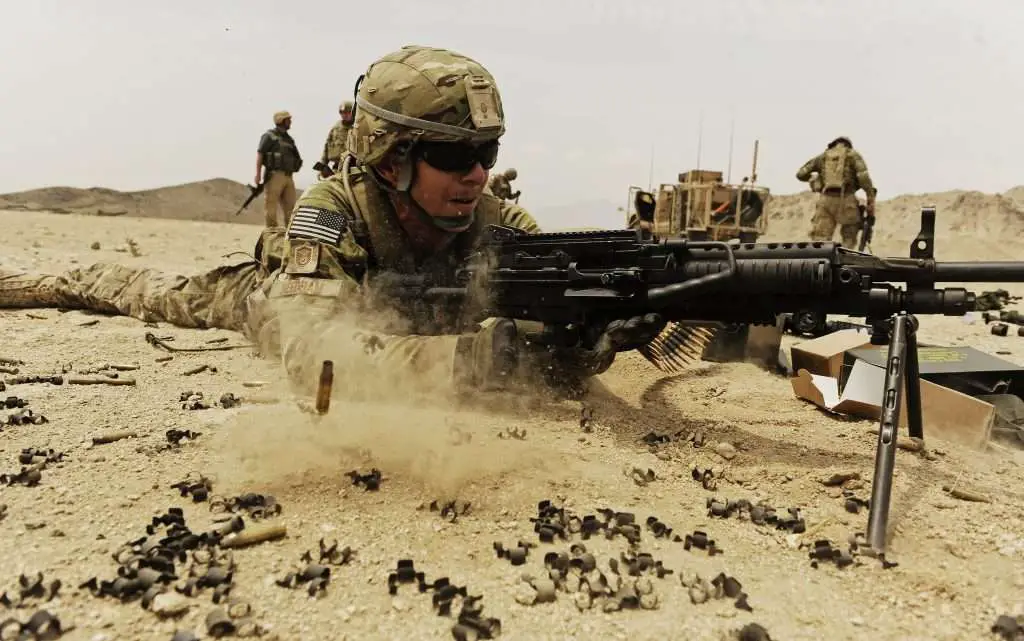 Stability
One of the main uses of a bipod is to provide stability for a more accurate firing. It also allows you to be comfortable without worrying about your weapon's weight.
Stability means that each nook and cranny, especially those moving parts, don't have any loose tolerances.
Durability
Aside from stability, you need a bipod that can withstand extreme external forces. Your Ruger bipod should also be able to handle all kinds of terrain. Durable bipod brands are usually made of high-quality aluminum or steel. So look out for those.
It would also be a plus if the bipod comes with a warranty.
Weight
Your bipod should be constructed from a durable material. But this doesn't mean that you have to compromise on its weight. There are available bipods that remain lightweight despite being made from high-quality materials.
Adjustability
To help you gain more accuracy, your 10/22 bipod should be adjustable. Its legs should be easy to adjust so you can quickly make changes using one hand whenever you need to.
Height
It's also essential that your bipod's height is compatible with the size of your rimfire rifle. This is to give room for adjustments. The longer your magazine, the longer the bipod legs should be.
Mount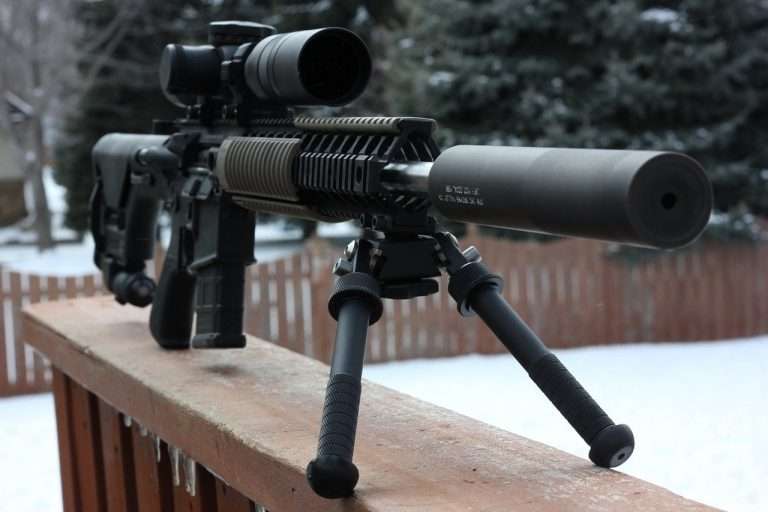 There are two ways to mount your rifle on a bipod. One is the sling stud mount, which is ideal for long-range shooting. Then there's the rail mount which is mostly used for short-range shooting. However you mount your weapon, what's important is that you have a solid base. This way you'll achieve better accuracy.
How to Choose a Bipod For Your Ruger 10/22
Aside from looking into the products' best qualities, you also need to consider your budget. We listed that and a few more factors that may help you decide.
Price
Who wouldn't want a high-quality product, right? But these days, most top-of-the-range items cost a lot.
In deciding which Ruger bipod to buy, you need to consider if it's a good investment. It's even better if you can find a cheaper alternative without compromising quality.
Either way, you need to find what would provide the most value for your money.
Quality
For most of us, quality comes first. And you need extensive research to find which bipod has the best quality. No need to worry because we saved you hours of research and picked only the best 10/22 bipods.
Application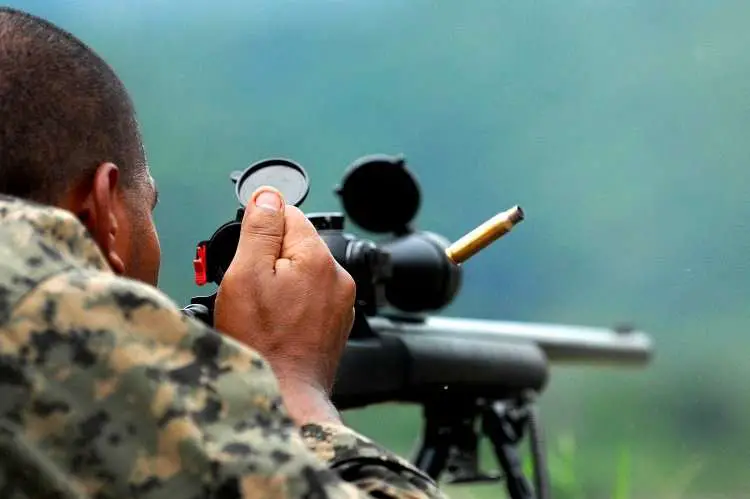 Lastly, in choosing the right bipod for your Ruger 10/22, you need to ask yourself these questions.
What will I be using my rifle for?
Will it be for hunting, target shooting, or competitive shooting?
How often will I be using it?
Once you know the answers, you can go to the next step to find out what qualities make a good rifle bipod.
Best Overall: Harris Engineering SBR-M Hinged Base Bipod
The Harris Engineering SBR-M Hinged Base bipod is highly recommended by most 10/22 rifle owners.
Being manufactured by one of the leading bipod makers in the world, you can be sure that this rifle bipod is durable.
The Harris Engineering SBR-M also provides absolute stability. Aside from its sturdy legs, its rubber foot covers allow you to set up your bipod even in rough terrains.
The Harris bipod also has a hinged base for full support when mounting your rifle on a platform.
To add to the list of its outstanding features, the Harris Rifle Bipod's strong steel design is also coated with a rust-proof coating.
However, some users mentioned was the difficulty in adjusting the swivel. Aside from this minor drawback, we'd say that the Harris Engineering Bipod is a great investment.
Pros
Very sturdy on rough terrains
Hinged base
It has folding springs
Cons
Swivel is a little hard to adjust
What Customers Say
"Simple, inexpensive, seen on the rifle of many top shooters. Harris makes several versions of the bipod. As a precision shooter my first choice of shooting support is a bag but when that is not practacle this is a good option. The adjustment of the leg offers precision adjustment. When not used for shooting they offer an easy way to support your firearm."
"Excellent bipod. I am transferring it between several weapons by way of purchasing extra mounts for the weapons that need them, and/or the standard front sling stud on weapons that already have that. The bipod itself is very rugged, and works well."
Best Budget Bipod: AVAWO Hunting Rifle Bipod
One of the best things about the AVAWO Hunting Bipod is that you can easily attach or detach it to your 10/22 rifle. It can also bear your weapon's weight properly without shaking.
Another notable quality is that the AVAWO bipod can be easily swiveled for smooth rapid firing.
Its height is adjustable and its foldable arms have spring tension. It also has extendable and foldable legs that range from 6 to 9 inches.
The AVAWO rifle bipod is also constructed using high-quality steel and aluminum alloy 404. That's why most consumers rate this bipod to be extremely durable despite being light and compact.
A few downsides noted by most users are that some parts of the AVAWO bipod tend to rust quickly. Some also complained of having difficulty in adjusting the bipod's legs.
Overall, this bipod is good enough for its affordable price.
Pros
Very affordable
Smooth Swivel
Lightweight
Cons
Legs are difficult to adjust
Rusts quickly
What Customers Say
"I would not recommend this product for someone who shoots a whole bunch as it doesn't seem like it would hold up for multiple rigorous deployments. But for someone on a budget that may deploy the bipod 10-15 times a year, it should do the trick."
"This is a great Bipod super sturdy and easy to install."
Best Bipod for Beginners: UTG Tactical OP Bipod
According to most buyers, the UTG Tactical OP Bipod increased their accuracy, particularly in bench shooting.
It has a maximum expandable height of 13 inches. This makes the UTG bipod perfect for shooting either in the prone position or with a shooting bench.
You can also easily attach your rifle to the UTG because of its dual-mounting design.
Hunting on uneven terrains won't also be a problem with the UTG Tactical's rubber feet. Its hardened steel and aluminum alloy construction also ensure uncompromised durability.
However, we've read a few complaints about how some screws keep getting loose. We'd also like to note that this rifle bipod doesn't have the swivel feature.
Pros
Cons
Expandable legs
Ideal for bench shooting
No swivel
Screws get loose easily
A little heavy
What Customers Say
"I'd buy this again. It's a rock solid little bipod for a great price, and the negatives aren't deal breakers for me."
" Sturdy, Well Built, Slick Looking, It Works!"
Will a bipod affect accuracy?
Along with getting a powerful scope, mounting your rifle on a bipod will exponentially increase your accuracy when shooting
Conclusion
We hope our buyer's guide helped you find the best bipod for your Ruger. Now you can shoot with more ease and confidence.
Haven't chosen a scope for your gun yet? Check out our feature on how to choose a rifle scope.
Last update on 2023-09-01 / Images from Amazon Product API