It is well known that if you want to ease your shooting experience, you will have to rely on some sort of scope.
This is because scopes make the whole aiming process less complex when compared to iron sights.
As we all know, if you rely solely upon iron/metallic sights, you have to line up both the rear sight with the front sight, as well as with your target.
Thus, it may take the inexperienced shooter more time to properly aim their weapon.
On the other hand, when you attach a scope or even a red dot sight to your gun, then all you have to do is line up the crosshair reticle with your target.
This makes for a much easier learning process in terms of shooting.
Your target may also appear magnified, depending on the scope you decide to use, making it much easier for you to hit the bullseye.
However, you can't just slap a scope on your rifle without knowing what exactly you are doing.
Just as with rifles themselves, each scope is made for different things.
Therefore, in today's article, we've decided to provide you with some insight on how to choose the perfect rifle scope for you.
We'll also mention the factors that you need to take into consideration when choosing one.
After all, a proper scope is able to make a good shooter, so to speak – while a badly chosen scope can mess up your accuracy entirely.
Usage and Environment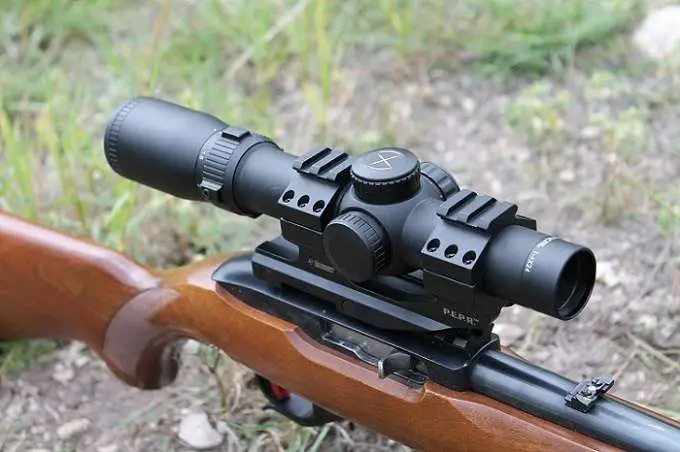 Before jumping straight to the characteristics of scope, it is important for you to understand that there is no such thing as the best scope.
You will most likely never choose a 1000 yard scope simply based on its reviews or such. Instead, you will choose one based on how you want to use it, as well as on the environment it will be used in.
You may already know this, but there are scopes that fit a certain situation, making them valuable combat tools, while there are scopes that can easily become liabilities in other types of situations.
1. Hunting
When it comes to hunting and generally walking through the woods, waiting for the perfect opportunity to take a trophy home, then you will need a scope that can always stay tuned and ready to use.
If you're varmint hunting, you'll have different needs for the best .17 WSM or 270 scopes, so consider your likely shooting ranges and conditions.
Moreover, hunting also implies that you will have to take into consideration weatherproofing and lighting, as these two aspects can change the outcome of a hunt.
If you want to experience the thrill of hunting during the primitive weapons season, you'll need one of these muzzleloader scopes.
2. Competitive and Target Shooting
Naturally, in this scenario, you will be able to equip your weapon with a very sensitive scope that can win your competition or help you impress your friends if used in the right way.
This is because you'll have plenty of time adjusting and fitting the scope to your needs – this can be done before shooting or even while you shoot, for increased accuracy.
3. Self Defense
Your best call is usually a reflex sight, as you will need something capable of rapid target acquisition. Since most scenarios are close range encounters, you will need a scope that can be easily aimed and doesn't need any fine-tuning beforehand.
We have reviewed the best red dot sights on the market, so if you are looking to buy one, you can check our review by clicking here.
Now that we've got the usability and environment aspects out of the way, it's time to talk about the real deal, so to say.
Namely, how to properly choose a rifle scope. In the following lines, we'll cover each of the scope's characteristics.
Magnification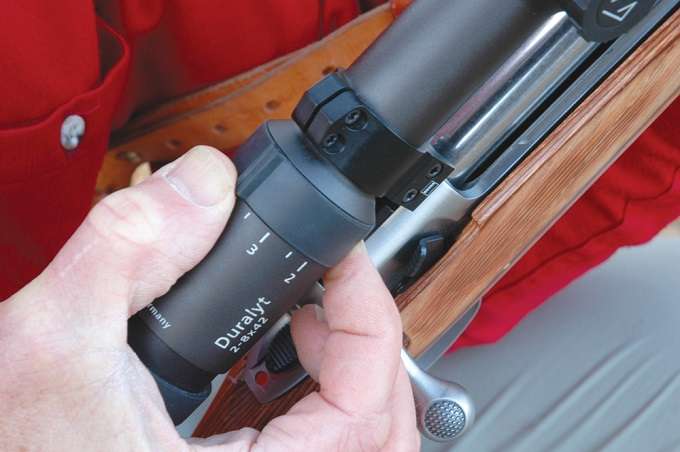 When talking about magnification, we have to determine whether we require it to be fixed or variable.
A scope with fixed magnification is usually required for rifles that primarily have only one type of usage and are used on targets that are less than a couple hundred yards away.
Moreover, if the scope comes with a lower level of fixed magnification, the target will not get blurred, thus allowing the shooter to acquire their target much faster.
Naturally, variable magnification scopes are meant for rifles used in different ways.
A hunter, for example – depending on their prey and environment – might find a scope with variable magnification to be a better choice as they can tune it depending on the range. Check out our best low-power variable magnification scope picks here.
On the other hand, it is worth noting that variable magnification scopes are usually heavier and pricier since they need more adjustments. 
Construction
Every scope comes with a body, or the main tube, that can vary in diameter – from 25mm up to 30mm and 34mm.
Larger scope tubes enjoy more space for interior components and thus, they increase the range of possible adjustment.
Therefore, if you are looking for a scope fit for long-distance targeting, then you should consider one with a large tube.
On the other hand, the bigger the house, the pricier the furniture, so to speak.
Larger tube scopes also require special mounting rings that are usually pricier and are limited in terms of options. 
However, one thing is for sure – you don't have to worry about fog, water drops, or shocks.
All modern scopes such as those from Vortex are either argon- or nitrogen-purged, making them completely waterproof, fog proof, as well as shockproof.
Objective Lens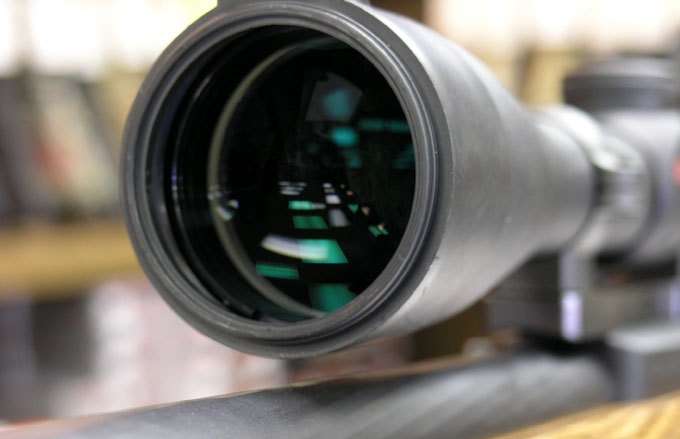 This feature is determined by the shooter's environment of choice.
In short, if the objective lens of the scope is larger, this means that more light can enter the scope and allow for increased performance in low-light conditions. 
The size of the objective lens can range from 20mm to 72mm.
However, keep in mind that optics equipped with a 50mm or larger objective lens will also require the riflescope to be mounted higher than usual.
A higher-mounted scope will also influence the scope-to-eye alignment, as well as the consistency of cheek weld – two other things that you have to consider when purchasing such a scope.
It is recommended to mount the rifle scope as low as possible and to avoid the objective lens touching the barrel.
Now, let's say that you need a scope to provide you with maximum brightness.
This can be done by choosing a scope that has its lenses protected with either hydrophilic or hydrophobic coating, as well as multiple layers on every single air-to-glass surface. 
Scopes with the highest coating level are also known as fully multi-coated glasses scopes.
Eye-Relief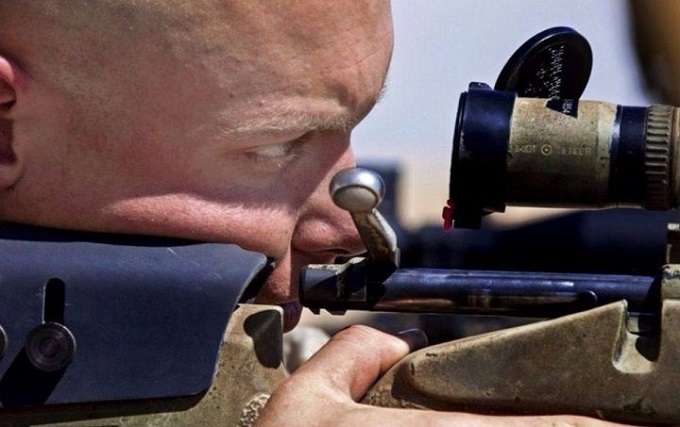 The last thing you want to experience after buying a brand-new scope is the so-called scope-eye.
Too many times we've seen newbies or even semi-professional shooters literally get hit by the very scope that was supposed to help them aim. 
At the moment, this has no impact on your aiming but can make it difficult for you to focus on any subsequent shots.
Therefore, note this down – the most common eye-relief for a scope is around four inches. 
However, there are plenty of low-quality scopes that come with only 3 to 3.5 inches of eye relief, which can be seen as a very short eye distance, especially if you are handling a quite powerful rifle.
Now, given the fact that even the best air rifles and pellet guns can pack quite a punch – especially if they are not equipped with a recoil reduction rail – it is safe to say that you need a scope with proper eye relief. 
If you are handling a hunting revolver, a scout rifle, or specific surplus rifles, then you will have to get yourself a scope with an eye relief ranging from 6 to 16 inches, depending on the weapon itself.
In short, if you want to avoid having a black eye after firing a single bullet, we recommend you pay attention and take your time when choosing a rifle scope.
Focal Plane And Reticle
If you've never used or bought a rifle scope before then the recommended starting gear is a scope with a German No. 4 or Duplex reticle.
These two types of reticles are fit for most hunting arms, conditions, and ranges.
However, if you are competing in long-range shooting events or are a varmint shooter, then you may want to look for a scope with a finer crosshair.
In this respect, tactical and long-range target shooting will most likely require you to rely on a Christmas tree reticle.
Even though they are more complex, their popularity stems from their impressive tactical features.
You can see the full guide on Reticles here: How Rifle Scope Reticles Work?
Moving on, you may also have to decide between a scope that has its reticle positioned in the first focal plane or in the second focal plane. 
A scope with a reticle that is positioned in the first focal plane means that the reticle will maintain the same perspective with the target size, regardless of the magnification range, making it fit for long-range shooters.
If the reticle is placed in the second focal plane, then the magnification will affect two things – as you zoom, the reticle will stick to its initial size, while the target will appear larger.
As you may already know, there are also scopes that feature illuminated reticles, which are perfect for low-light conditions.
These are usually the ideal choices for dusk and dawn hunters.
Parallax
If you need a scope with a low level of magnification, then you usually don't have to worry about parallax.
However, this effect will occur in high-power scopes that are used over long distances, mainly when your line of sight is not lined up.
The parallax effect is an optical illusion that will increase with the level of magnification of the scope. At higher powers, this gives you a larger margin of error that has to be corrected.
Riflescopes of high power usually come equipped with an adjustment ring that can be found on the objective bell.
Turrets and Adjustments
As you may already know, a turret's job is to make adjustments related to elevation and windage.
Obviously, these come with more than just one type, since different rifle scopes are fit for different purposes.
People usually recommend a standard ballistic turret when you are buying a rifle scope – the turret should feature adjustments related to the distance you are firing in yards.
Known as non-tactical models, the standard ballistic turrets will feature adjustments in inches, which are valued at either ¼'' or 1/8''. 
Furthermore, there are low-profile ballistic knobs that are usually capped in order to prevent accidental adjustments.
On the other hand, you can opt for target knobs that have open-style turrets – these are meant for precise adjustments and are recognizable by their small adjustment scales and height.
Turrets – as if they were not complex enough – can also come with two-key adjustment systems.
The first type of system, expressed in Minute of Angle (MOA), corresponds to 1 inch (2.5 cm) when shooting at 100 yards. 
The second type is expressed in MRAD – 1 MRAD equals to approximately 3.6 inches (9.1 cm) at 100 yards.
The MOA system is preferred by a variety of shooters, regardless of expertise and range, while the MRAD system is preferred by long-range shooters.
The Bottom Line
In the end, we have to mention and reinforce the fact that not every type of riflescope can be mounted on every type of rifle. 
Before looking into the characteristics and features of a certain scope, it is important that you understand and acknowledge what your rifle is capable of – namely, the weapon's mounting capabilities.
If you choose the wrong scope, your weapon can easily become unwieldy and cumbersome. 
While plenty of scopes and adjustments may look cool on your weapon – as widely depicted in video games and movies – they come with little to no improvement or benefits if they are mounted on the firearm just for the sake of it.
As a rule of thumb, we recommend you spend on optics at least half of what you spent on your rifle.
You can buy an affordable but reliable scope like the Vortex Strike Eagle, or you can go all the way up to more than $2000 for a high-end, multi-purpose scope. If your budget is less than $500, we've also got an article that should help you. We also put together an article with the best scopes under $300 if you're looking for one.
When choosing a rifle scope, you should go with one that seems to be the right one for you, which has just the adjustments and features you need.
Even though this may seem like a (very) difficult task, it can be done – at least until you gain enough expertise in terms of scopes.