Model
Swarovski 1-6×24 Z6i EE L
Swarovski Z5 3.5-18X44 P BT L
Model
Swarovski 1-6×24 Z6i EE L
Model
Swarovski Z5 3.5-18X44 P BT L
Swarovski is synonymous with finely polished jewelry stones and crystal products, and only a few people are aware of Swarovski's line of precision optical instruments.
Swarovski rifle scopes are actually manufactured by Swarovski Optik, a company founded in 1935 by the son of the original founder.
During the years, the company specialized in the production of magnifying instruments such as binoculars, rifle scopes, and spotting scopes, their products standing among the bests.
Let's have an in-depth look at their best rifle scopes.
Our Reviews Of The Best Swarovski Rifle Scopes
#1 Swarovski Z3 4-12X50 BRH
Equipped with the "heavier" version of the BRX ballistic reticle, the Z3 BRH by Swarovski is appreciated by the users for its outstanding telescopic sight and for many other characteristics.
With a 50mm wide objective lens, this rifle scope's optical performance is similar to the one provided by a high-end terrestrial telescope.
The field of view is really wide, the scope has great eye relief and the image delivered is bright and clear.
With an adjustable magnification between 4 and 12X, this scope can be used for various types of activities.
The scope is sleek and lightweight, it is compatible with a wide range of firearm rings and it can be easily mounted on rifles or other types of guns.
The only drawback of this model is that it doesn't have a parallax adjustment; the parallax is set at 200 meters by the manufacturer.
The BRH reticle is designed specifically for hunting in low light conditions but it maintains the same distance between the bars and dots as the popular BRX.
Pros
Cons
Lightweight and sleek
Wind drift compensation
Heavy reticle
No parallax adjustment
Expensive
What Customers Say
"Can't beat Swarovski optics for clarity and brightness in their rifle scopes. Was a bit spendy but well worth the cost."
"A quality rifle should always be matched by an equal quality scope……if one can't see he can't direct the
shoot especially in a dusky landscape.
Swarovski and followed by the all-time favorite Zeiss is the top of the list (Heckler and Koch to but hard to get these days."
#2 Swarovski 1-6×24 Z6i EE L
If you are searching for a short-range optical instrument, then this Swarovski rifle scope review is for you.
Part of the second generation of Swarovski scopes, the Z6i EE impresses with its qualities.
Its high-quality lenses deliver crystal clear images and impressive brightness even in low light conditions, not to mention the incredibly ample eye relief of 120mm.
The objective lens has a diameter of 24mm and the scope has a magnification of 6X.
This rifle scope is lightweight and has a slim design so it's portable and easy to use. The scope is also waterproof and fog proof.
One of the characteristics customers appreciate most is the EE (extended eye) feature that allows positioning the scope further than other models would allow.
The Z6i EE L is equipped with an illuminated 4-I reticle designed for precise targeting. Targets can be easily acquired because of the user-friendly adjustable ballistic turret.
Pros
Cons
Extended Eye Relief
Illuminated Reticle
Waterproof and fogproof
What Customers Say
"Fantastic 1-6x adjustable scope for AR15. The (EE) extended eye feature is very nice. Allows for moving the scope slightly further forward than most scopes will allow. IMO it increases scope accuracy and prevents eye bump from rifle recoil. The pictures below actually show the scope mounted further back than where we have it now. We've slid the scope forward since these pictures were taken and like it much better in the new position."
"This scope was mounted on a Weatherby 458 Lott that was purchased from their custom shop. I mounted same in a set of standard Leupold ring/base set. The extended eye relief is what the doctor ordered when shooting these monster kicking rifles. Adjustments were perfectly true. The optical quality is amazing (an understatement). The design is sleek and attractive. The adjustments and illumination settings are quick and simple. Yes, it IS pricey. But, when a snot sling'in and snort'in cape buffalo is about to invite you to lunch (your the main course); you will be best served with a tool that stands true to the test and performs the best. A small price to pay when nothing stands between you and that old herd bull on the Serengeti."
#3 Swarovski Z5 3.5-18X44 P BT L
One of the top Swarovski rifle scopes on the market is, without a doubt, the Z5 P BT L model.
Built for long-range shots on rough terrain, this riflescope is extremely accurate and provides crystal clear images even in low light conditions.
The scope offers wide eye relief thanks to its 44mm objective lens, while the magnification varies between 3.5 and 18X.
Just as other Swarovski models, the Z5 is slim and lightweight.
The model stands out thanks to its sturdy and reliable mechanical construction. The scope is waterproof and fog proof.
Swarovski manufactured this model with two reticle types, a 4W, and a Plex model, ensuring adaptability to a wide range of activities.
Furthermore, the lateral parallax correction and the ballistic turret will allow you to adjust the sight to your personal reference.
Pros
Cons
Sleek and lightweight
Waterproof and fogproof
Minimalistic PLEX reticle
Flouride-containing lenses
No lens caps
It's a little expensive
What Customers Say
"Great hunting scope, or target shooting for that matter. I have mine on a Browning 375 H&H Magnum and it has held up no problem. I like this scope for a couple of reasons, first it has a 1″ tube so it sits lower on the rifle. No high rings needed here. Also the glass is excellent as is the light gathering capability for a 1″ tube 44mm objective. Last thing is the scope is 6x, having the ability to go from 3 power up to 18 power is very useful and makes this scope a jack of all trades in my opinion."
"Pure awesomeness. You don't know great glass until you look through a swaro."
#4 Swarovski Z3 3-10X42 BRH
Finding a Swarovski rifle scope for sale is impossible, but if you are looking for a less expensive model, then the Z3 3-10X42 BRH is an excellent choice.
Swarovski's quality is superlative on this riflescope too.
The lens system is made of the highest grade crystal that provides extremely accurate images even in really low light conditions.
The scope is designed for low to middle-range use, with a 42mm objective lens and up to 10X magnification.
As one would expect, this model is very similar to the Z3 4-12X50 BRH model. This rifle scope is lightweight and impresses with its sturdy construction that is waterproof and fog proof.
This riflescope is also equipped with a heavy BRX reticle and fixed parallax.
This means that you will not need to use a ballistic turret to adjust the target yet it makes the scope a little less versatile than many other models.
Pros
Cons
Affordable
Heavy reticle
Waterproof and fog proof
Wind drift compensation
Lightweight
What Customers Say
"First 3 shots with this on my Browning BAR were within the size of a quarter at 25 metres. Adjusted the zero to the bullseye and had 3 shots on top of one another at 25 metres. Moved the target out to 100 metres and once again put 3 rounds sub-MOA. This is by far the best scope made for under $1000 and I cannot imagine those that cost more being any better."
"Crystal clear and light weight. The BRH reticle and Swarovski app makes long shots a breeze."
#5 Swarovski Z5 5-25×52 BT
A popular model among the long-range Swarovski rifle scopes is the Z5 5-25X52 BT.
This scope is characterized by the same precision and clarity specific to all Swarovski Optik instruments.
The 25X magnification, 5X zoom, and 52mm objective lens make the Z5 BT riflescope one of the best choices when it comes to long-range shooting.
The lens system is made of fine glass that ensures bright images in almost all light conditions.
Swarovski's rifle design is pretty constant among the various models, and the Z5 BT is no exception.
The scope is characterized by sleek and elegant lines, being lightweight and easy to mount on different types of firearms.
When it comes to this model, there are different types of reticles you can choose from. In fact, the scope can have either a BRX, a PLEX, or a heavy BRX reticle.
The ballistic turret allows lateral parallax adjustment that guarantees faultless images.
Pros
Cons
High magnification
Wider field of view
Three reticle options
It's a little expensive
Not as clear as other riflescope brands
What Customers Say
"My first Swarovski scope, well worth the price with the BT, Have not hunted with it but I have taken it out 350 yards on the range.. Can't wait to take it out elk hunting this fall. I matched it up with a T3 Tika Lite for a rifle and scope weighing under 8 lbs. I will buy another with my next gun."
"Beautiful optic, amazing customer service. But overall a high price for such a slight improvement of clarity over other brands."
Our Recommendation
With a sleek design, crystal clear lenses, and extremely well-rated by the users, we choose the Z3 BT L as the best Swarovski rifle scope on the market.
Z3's optical performance is extraordinary. This riflescope delivers a wide visual field thanks to its 50mm objective lens.
With a variable magnification between 4 and 12X, this scope is perfect for both short-range and long-range shooting.
The multicoated lens also proves this scope's strength in poor light conditions, while its slim design makes it compatible with multiple types of rifles and firearms.
Swarovski manufactures this model with two different types of reticles, making it great for both amateur and professional shooters.
The two types of reticles to choose from are a Plex reticle and a 4W reticle. The scope is waterproof and fog proof, and its functional temperature ranges between 4 and 131ᵒF.
You Might Also Like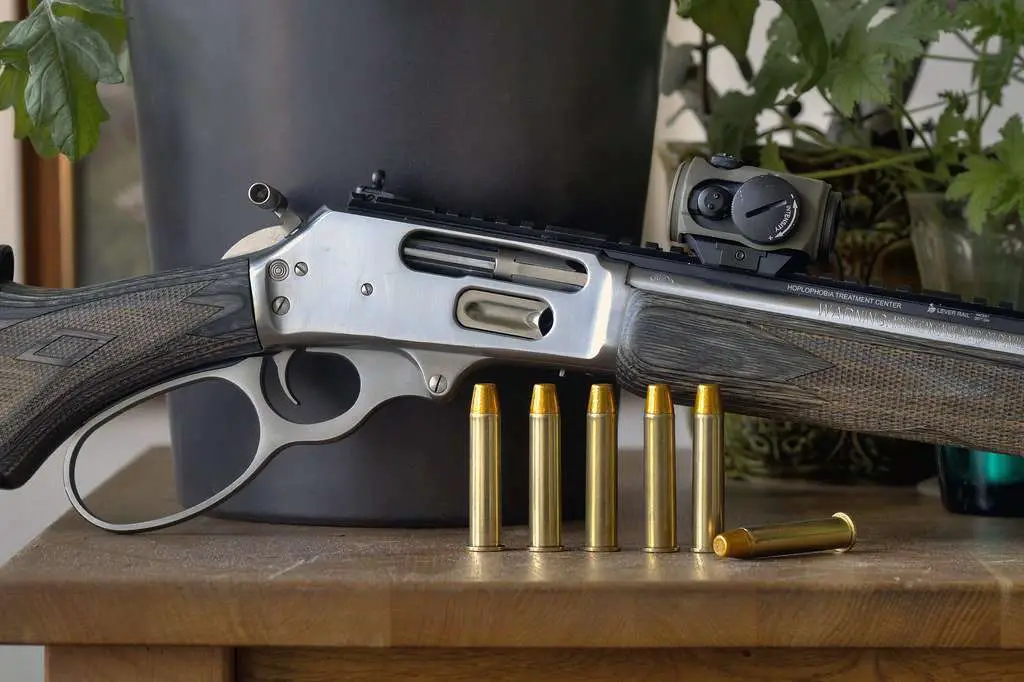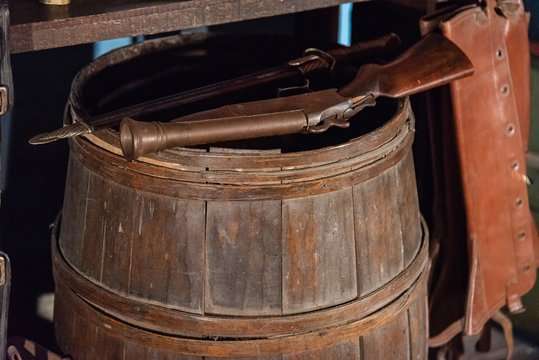 Last update on 2023-09-23 / Images from Amazon Product API