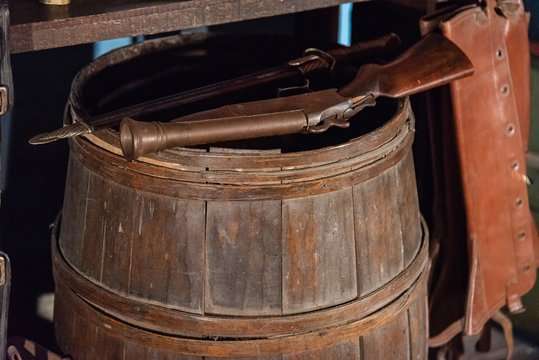 Our Top Picks
Best Overall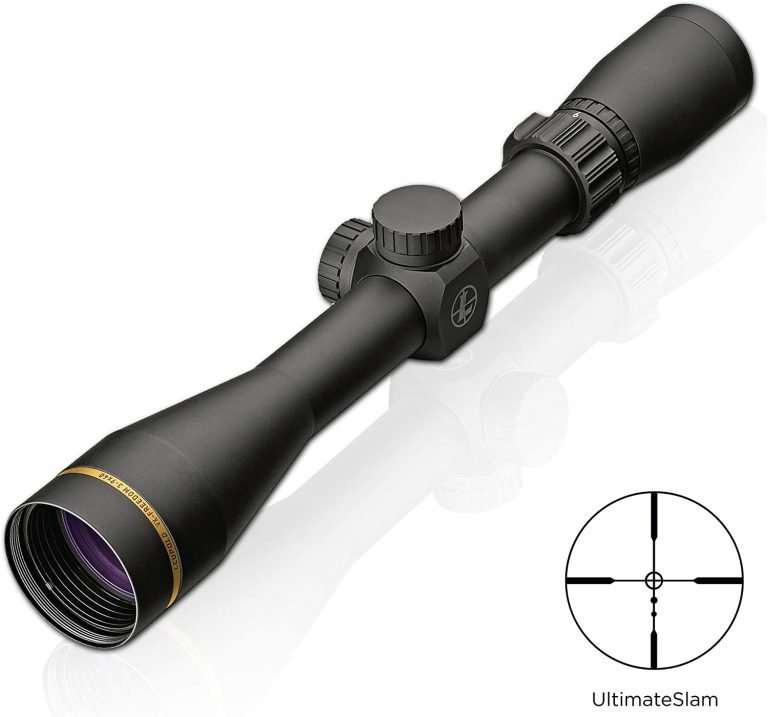 Leupold VX-Freedom Riflescope
This riflescope is tested to perform in the most extreme temperatures.
Check Price
Best on a Budget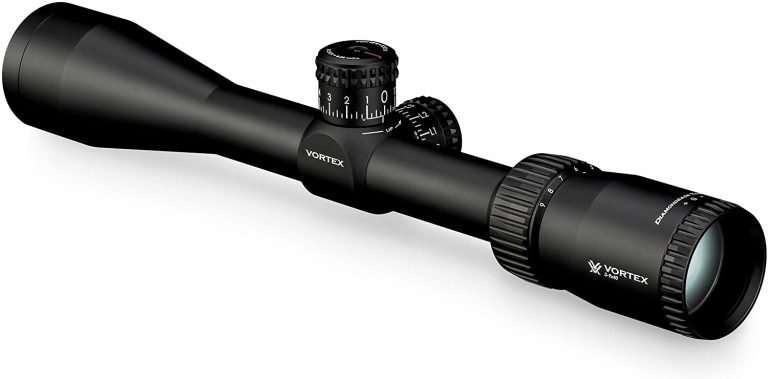 Vortex Optics Diamondback Tactical Riflescope
This riflescope features an all-purpose hunting reticle.
Check Price
Best for Competition Shooting

NightForce NXS™ 2.5-10×42 COMPACT Riflescope
This riflescope will take your shooting to the next level.
Check Price
So you found your powder and bullet for the best groups? Now, it's time for a reliable optic – especially if you'll be using your muzzleloader to hunt! We've done the homework for you to find the best scope for a muzzleloader to help extend your shooting range!
Comparison of the Best Scopes for Muzzleloaders
Factors to Consider When Choosing the Best Muzzleloader Scope
Magnification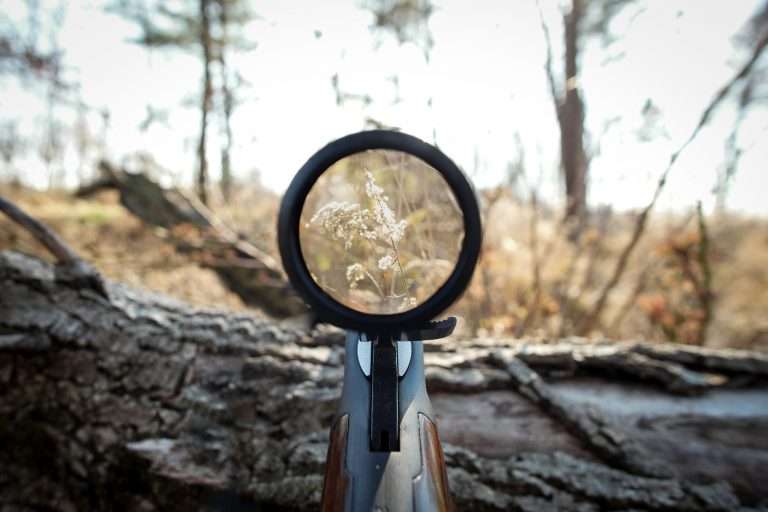 Magnification will determine the most suitable use for your muzzleloader scope more than any other feature. If you'll be using your muzzleloader for competition shooting, find a variable power optic with a maximum magnification of at least 10x, like the NightForce NXS 2.5-10X42 Rifle Scope.
Eye Relief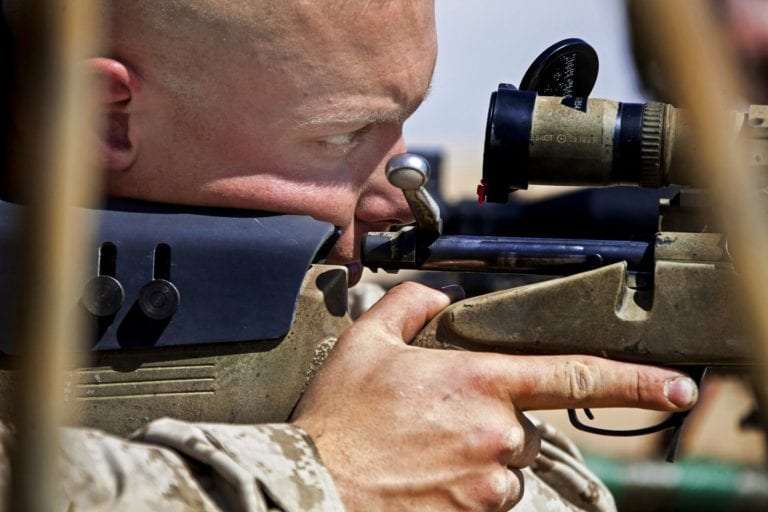 Muzzleloaders are hard-kicking rifles since you're generally shooting larger projectiles, and the last thing you want is a scope hitting your eye after every shot. So it's also important to consider a scope's eye relief. Get a scope with at least 4 inches of relief and you're good to go.
Durability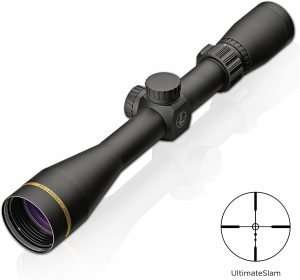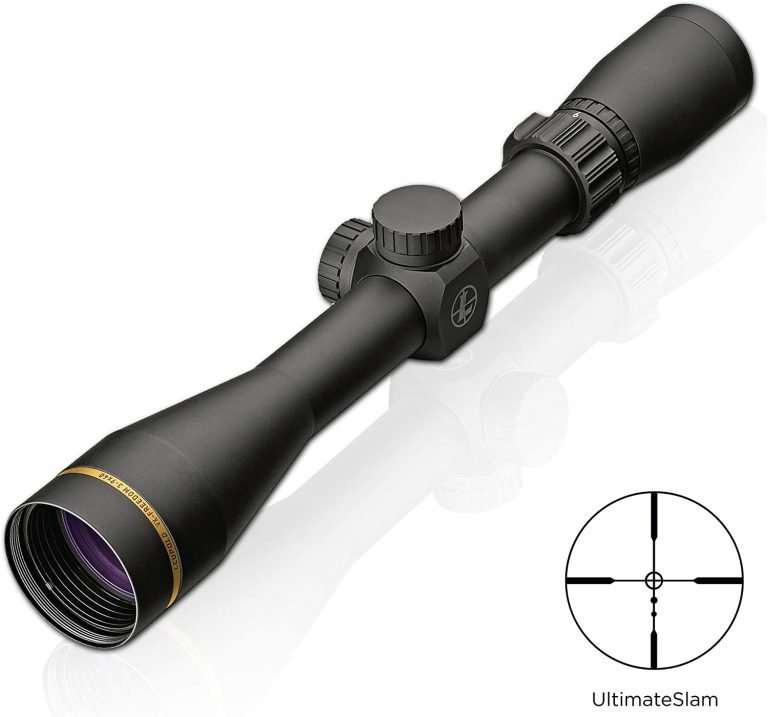 As we said earlier, muzzleloader rifles are very powerful, similar to a high-powered centerfire rifle with a little longer recoil impulse. So invest in quality scopes that can survive regular kicks from the muzzleloader. After all, you can always mount that scope on another rifle if you have one, or if you're planning to get a new one.
Reticle Type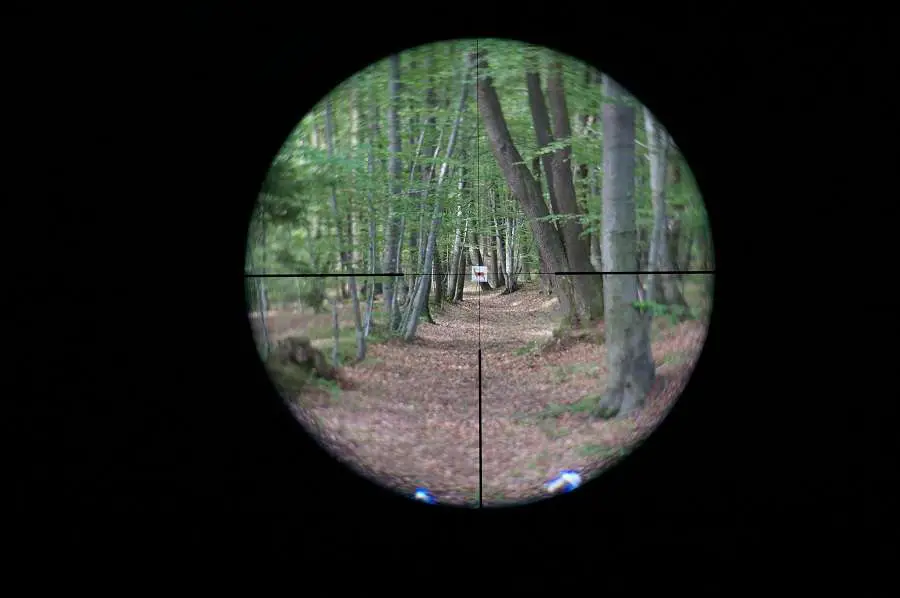 Get a scope with a reticle that will support the type of shooting that you'll do the most. For quick-paced long-range target shooting, a reticle with elevation and windage markings is great for quick adjustments.
If you've got plenty of time to make adjustments on the scope or if your first shot is critical, you can go with a simpler duplex reticle and use the adjustment turrets to dial in the proper point of aim.
5 Best Scopes for Muzzleloaders
Best Overall: Leupold VX-Freedom Riflescope
What suits a muzzleloader better than a scope that's been machined to withstand daily use and abuse from even the heaviest calibers?
The VX-Freedom Riflescope features Leupold's impressive light management system. This technology delivers optimum light transmission and reduced glare so you can hunt from dusk to dawn. This scope is also designed and tested to perform in the most extreme weather conditions and temperatures.
However, the VX-Freedom's parallax is fixed at 100 yards so we don't recommend it for short-range shooting. That's generally not a problem for modern muzzleloaders, but if your gun will be used regularly in the 50-yard range, you may want to consider a scope designed specifically for muzzleloaders or shotguns to get one with parallax tuned for shorter ranges.
Pros
Affordable
Impact-tested
High-quality glass
Cons
Elevation and windage turret clicks are a little spongy
Parallax is fixed at 100 yards
What Customers Say
"Very nice entry-level hunting scope…what it lacks in features in comparison to competing optics, it makes up for in optical quality, and it allowed me to take my first deer(7pt buck) about 15 minutes before sunset with ease…don't buy this if you want a target scope with zero stops, locking/drop turrets, and fancy reticles…I've tried quite a few scopes since buying this, and the only one I've used in the low/mid-tier price range that has better glass is my vortex viper pst scope, which is more then 2x the price, but has much nicer glass and a better eye box, along with more features, and an illuminated optic. If you want a target scope buy a target scope and you get what you pay for in that regard. But for something capable of reliable getting on target with deer-sized game, the VX-freedom is a very good value, and probably my recommended scope in its price range for its intended purpose."
"Only complaint is the adjustment knobs feel cheap. Feel like my Burris FFII is a little better quality, however, I like that this Leopold is made in the USA for a good price. Glass seems the same as the FFII."
Best on a Budget: Vortex Optics Diamondback Tactical First Focal Plane Riflescope
The Vortex Diamondback may cost less than most brands but it performs smoothly and efficiently.
The Vortex Diamondback is equipped with a precision-glide erector system for smooth magnification changes even in the worst weather. That's one of the reasons why it's a great companion for the muzzleloader rifle.
This scope is also perfect for long precision shooting because its side parallax knob and exposed tactical turrets make adjustments hassle-free. These turrets can't be locked but they're very tight and are resettable.
If you're looking for a muzzleloader scope that gets the job done but doesn't break the bank, we highly recommend the Vortex Optics Diamondback.
Pros
Fast-focus eyepiece
Extra-low dispersion glass
Shock-proof, waterproof, fog proof
Lifetime warranty
Cons
Not much parallax adjustments past 300 yards
What Customers Say
"Very good scope for the money. Love the warranty and so far it's very accurate for my skill level. Sighting my 6.5 hells canyon in I could clearly see my groups and while at max zoom short-range objects can get a bit out of focus it's still full stars for me."
"Beautiful piece of glass. Most are intimidated by 6-24 but it is such a good range of zoom. The parallax settings were spot on and the reticle is very eye-friendly. Not too long for most rifles even with sunshade. The eye relief is more than adequate to prevent scope bite. Very happy there is finally a high-quality FFP scope out there at a budget rifle price point."
Best for Competition Shooting – NightForce NXS 2.5-10X42 Rifle Scope
If you'll be joining a muzzleloading competition and are willing to invest in a high-end scope, the NightForce NXS 2.5-10X42 riflescope will help you get to the top of the race.
Unlike other scopes, you won't experience image blurriness or fuzziness when at the highest magnification setting, only bright and crisp images. It's also night-vision compatible so you can hunt smoothly at night when most species of big game come out.
Finally, the NXS 2.5-10×42 Riflescope is equipped with Nightforce's proprietary MOAR reticle to help improve your accuracy. Its objective is 42 mm in diameter but its compact profile and light transmission were not compromised.
With the NXS Riflescope, you definitely get what you pay for.
Pros
Easy-to-track turrets that click decisively
Side focus adjustment
Compact and lightweight
Cons
What Customers Say
"Brings Nightforce durability and reliability to a smaller and lighter weight size. The optics are not as good as the x56mm NXS, but the laws of physics cannot be broken. Note, this scope is short and mounts best using a Picatinny rail; otherwise, an extended front base likely will be required for long actions, and even some short actions based on the Win M70."
"Exactly what I expected, incredibly clear and built like a hammer. Love it."
Vortex Viper HS 2.5-10×44 Rifle Scope
The Vortex Viper HS 2.5-10×44 Riflescope is engineered as an all-around scope. It uses the Dead-Hold BDC reticle so you can shoot at varying ranges without worrying about hold-over estimation.
The Vortex Viper HS is constructed from hard-anodized aluminum and its exterior lenses are covered with Armortek coatings as protection from scratches. It comes with capped quick-reset turrets for protection from accidents. We also love how they click audibly and smartly, so controlling them for adjustments is a breeze.
However, with this Viper model, the eye box gets a bit tight at 10x magnification. Other than that, this riflescope doesn't disappoint.
Pros
Affordable
Waterproof, shockproof, fog proof
Comes with a lifetime warranty
Long eye relief
Cons
What Customers Say
"Hard to beat 30mm tube! Very clear glass. Zeroed in 2 shots, produced 1/2 group ,clover leaf on 3rd 4th and 5th shot!"
"This scope is a great value for the money. The optical clarity is excellent even at higher power and rivals scopes costing twice as much. This scope is best suited for target use as the turrets are exposed and finger adjustable. The crosshair lines in the reticle are a little fine for brush or hunting work but would be ok for open field varmint shooting at distance. I own two of these and they have been faultless. Thus scope works well also for load development target work with its fine crosshairs. One is on a .243 custom rifle and the other is on a 6.5 Creedmoor AR that shoots 1/2 MOA easily."
KONUS Pro 275 Muzzleloading Scope
Our last scope is specially manufactured for muzzleloaders. The Konus Pro 275 is engineered to survive even the most punishing recoil and can also be used on airguns.
Its ballistic black powder reticle features reference lines for more precise aiming from 75 to 275 yards. This feat will help you sight in easily because you don't have to spend time estimating hold over angles, particularly when taking difficult shots.
This optic also has crosshairs that are etched on the glass so they won't break no matter how strong the recoil is. Its lateral hash marks also offer wind drift compensation and guarantee accurate leads on moving targets.
Pros
Waterproof, fog proof, shockproof
Affordable
Designed especially for muzzleloaders
Cons
Image distortion at high magnification
Poor image quality in low light
What Customers Say
"What a great scope. It came with my CVA wolf. I sighted it in at 75yards. The first day of early muzzleloader in Ohio I had a Six-point 75 yards out looking right at me. I put the crosshairs right on its throat and dropped him right in his tracks. I shot four deer this year ( 2013 ) never had a problem with this scope"
"I love this scope. Not sure why all these people are hating on it. I bought my first CVA Optima muzzleloader with this scope. The detail is great, it is very clear. I love it. I shot the first deer of my life with it. Looking down the scope at this deer was incredible. The detail I saw before I shot was breathtaking. Love it."
Frequently Asked Questions
Do muzzleloaders require a special scope?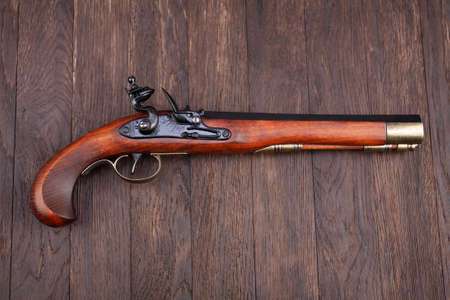 Muzzleloader rifles have very strong recoil so low-quality scopes won't do. They don't necessarily need special scopes, quality optics that can withstand heavy recoils, have long eye relief, and are efficient for long-distance use will do. We've listed the scopes above that are capable of those and more, like the Leupold VX-Freedom, so choose from them.
Can you put a rifle scope on a muzzleloader?
Yes, you can definitely put a rifle scope on a muzzleloader. This will help you extend your shooting range so you can make the most out of the muzzleloader's power and energy.
What's the difference between a muzzleloader scope and a rifle scope?
A muzzleloader scope is designed particularly for muzzleloader rifles so they can withstand significant recoil. Also, they'll often have parallax adjustments for 50 yards rather than 100 yards since some muzzleloading rifles have limited ranges. While most rifle scopes can also survive heavy recoil, not all of them are fit to be mounted on a muzzleloader rifle. Follow our buyer's guide above so you'll know how to choose the right scope.
Can you put a red dot scope on a muzzleloader?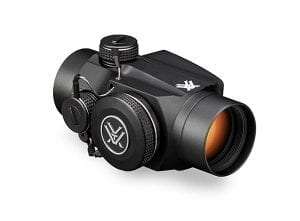 Yes, you can, but we don't recommend it. First of all, some states forbid the use of electronics during primitive weapons season. So before using a red dot on your muzzleloader, make sure that it's legal in your area. Secondly, red dot optics are more susceptible to battery failure, and you don't want that to happen in the middle of a hunt.
Conclusion
Whether you're a traditionalist who loves the thrill of shooting with a centuries-old weapon, you just love the challenge and accuracy offered by individually hand-loaded rounds, or you want to extend your hunting season, the muzzleloader rifle is worth the adventure. And, it will get even more exciting once you've mounted your chosen scope.
Again, if you'll be using a traditional muzzleloader, don't forget to check the primitive firearms regulations where you shoot or hunt. Happy shooting!
Last update on 2023-09-05 / Images from Amazon Product API