BEST OVERALL
Model
Venom Red Dot Sight-3 MOA
HOLOSUN HS507C-X2 Classic Multi Reticle Red Dot Sight
Bushnell Optics TRS-25 Hirise 1x25mm Red Dot Riflescope
Sig Sauer SOR50000 Romeo5 Red Dot Sight
Aimpoint Micro H-1 Red Dot Sight
Illumination Settings
4 NVD-compatible brightness settings and 8 daylight settings
BEST OVERALL
Model
Venom Red Dot Sight-3 MOA
Model
HOLOSUN HS507C-X2 Classic Multi Reticle Red Dot Sight
Model
Bushnell Optics TRS-25 Hirise 1x25mm Red Dot Riflescope
Model
Sig Sauer SOR50000 Romeo5 Red Dot Sight
Model
Aimpoint Micro H-1 Red Dot Sight
Illumination Settings
4 NVD-compatible brightness settings and 8 daylight settings
Originally used by the military professionals, the red dot sight has been recently introduced to the civil field, this tactical instrument being used by amateur sports shooters, hunters or simply as a navigational aid.
UPDATE: Some of the most requested in-depth reviews are finally here:
Unlike the spotting or rifle scopes, the red dot doesn't have a magnifying effect nor a classic notch pattern; still, it is considered one of the most useful tactical instruments.
There are different types of red dot systems that vary in shape, sight characteristics and features, and if you're not a military professional, choosing the best red dot sight can be difficult.
To help, we made a thorough selection for you.
Our Reviews Of The Best Red Dot Sights
#1 Venom Red Dot Sight-3 MOA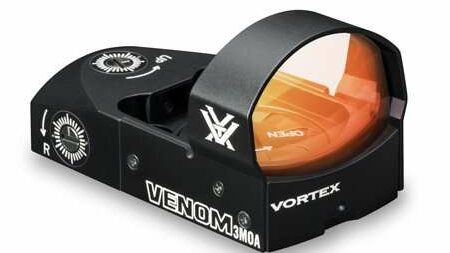 Check Price
From the myriad of tactical sight systems available out there, the Venom Red Dot Sight-3 MOA is by far the number one among the best and most affordable red dot sights.
Optical Performance
Vortex is a renowned manufacturer of tactical and sports optical instruments, and its Red Dot Sight 3-MOA is extremely popular among amateurs and professionals alike.
Design
This Speed Point Aiming instrument is really compact, lightweight, and compatible for use on both rifles and shotguns.
The model is made of a modular three-piece base with four separate mounting heights that allow users to customize the instrument for their specific weapon. The digital rear-facing controls ensure easy operation and the visual is great.
It also has 3 MOA adjustments and the daylight brightness can be adjusted to ten intensity levels.
The instrument remembers the last intensity used and will automatically adjust to it when powered up.
Accessories
The users appreciate the compactness and reliability of the make, the night vision, and the solid warranty, among many other characteristics.
You can also add a red dot magnifier so can easily switch between close and intermediate range.
if you want a more cost-efficient option from Vortex, our Vortex SPARC AR red dot review should help.
#2 HOLOSUN HS507C-X2 Classic Red Dot Sight
Check Price
The Holosun HS507C gives an outstanding performance for almost half the price compared to its competitors.
Optical Performance
The HS507C provides a vibrant, crystal clear, and unlimited field of view. It is also parallax-free and can maintain the same point-of-aim and point-of-impact.
This model also boasts unlimited sight relief and has 12 illumination settings for clear visibility in all light conditions. It is also compatible with night vision equipment.
Another optical wonder that the HS507C has is its Solar Failsafe feature. This feat automatically adjusts the brightness level depending on the environment.
Design
The HS507C is equipped with Holosun's Shake Awake Technology. This feature shuts the LED off whenever it detects periods of motionlessness. What an amazing way to save your battery!
Accessories
What we love most about the HS507C is its Super LED that has 50,000 hours of battery life. Imagine how you can spend countless hours hunting without worrying about your battery getting drained!
If you're looking for a more affordable Holosun optic with the same reliability and durability, check out our Holosun 403b review!
#3 Bushnell Optics TRS-25 Hirise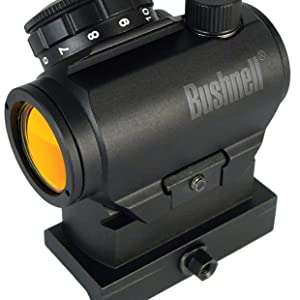 Check Price
A popular red dot sight, Bushnell Optics' TRS-25 Hirise impresses with its 3 MOA reticle and with the amazing clarity of the view.
Optical Performance
TRS-25 has a multicoated 25mm lens that provides crystal clear images in almost all light conditions.
The lens is engineered with the Amber-Bright technology that provides high contrast between the various elements and helps you distinguish with ease between similarly colored objects.
Design
This optical instrument has a compact and lightweight construction designed for easy transportation and use.
The sight can be used with both eyes open thanks to the unlimited eye relief, and it also is parallax free.
This red dot system is really easy to mount on all Weaver or Picatinny rail systems.
Accessories
Except for the CR2032 battery, the instrument doesn't come with other add-ons or accessories.
#4 Sig Sauer Romeo5 Red Dot Sight
Check Price

Sig Sauer has been a well-known hunting brand for civilians and professionals alike. This is because their red dots are easy to use, and are designed for fast target acquisition.
One of their best models is the ROMEO 5. It's also our pick for the best red dot sight under $200.
Optical Performance
The Romeo 5 has ultra-low parallax and unlimited eye relief, giving you higher accuracy. It has 10 brightness settings that provide optimal visibility in almost all light conditions.
The Romeo 5 also has windage and elevation adjustment knobs for a smoother sight in.
Design
Its rugged design assures durability for a long period of time. It's also dependably waterproof and fog-proof. This model also boasts an integrated Picatinny interface that allows standard mounting on most firearms.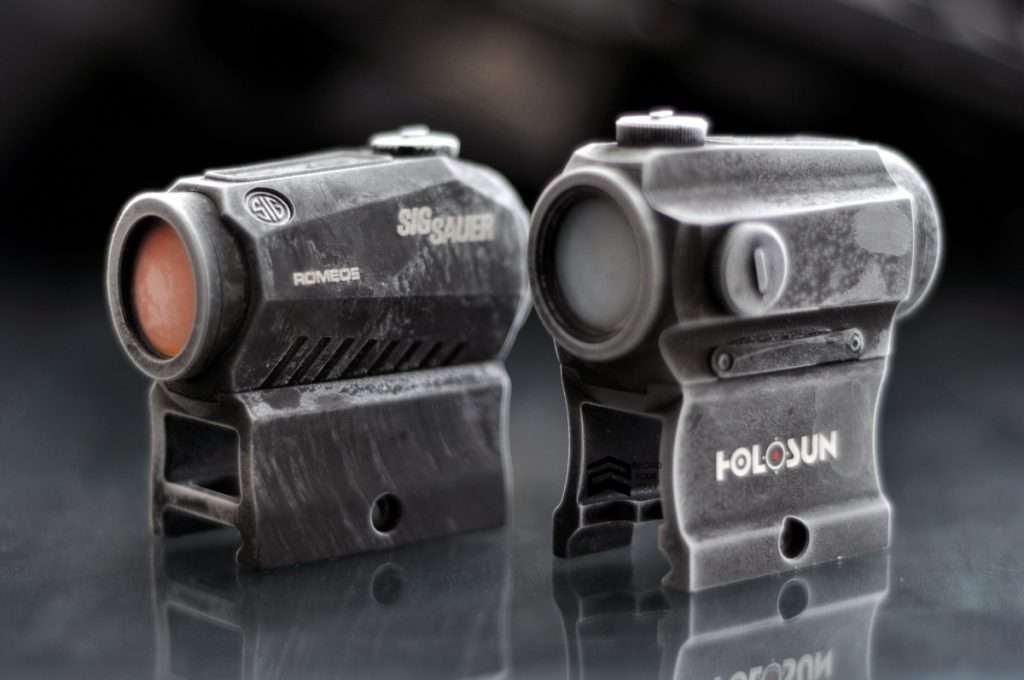 Another notable feat is the Motion Activated Illumination which turns the device on when it detects motion and turns it off whenever there's no movement.
Accessories
The Romeo 5 comes with a CR2032 battery that can last up to 40,000 hours. Here's a detailed Sig Sauer Romeo5 review if you want to learn more.
If you want a more affordable option from the Sig brand, here's our Sig Romeo MSR review.
#5 Tasco .22 Rimfire 1x30mm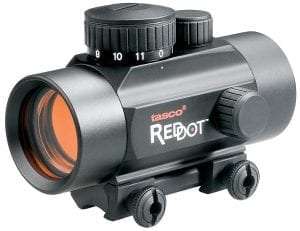 Check Price
If you are looking for a high-quality yet inexpensive red dot sight for sale, the Tasco .22 Rimfire could be the instrument you are looking for.
Optical Performance
Tasco Rimfire's optical performances are certainly incredible, the instrument impressing with its 30mm optical lens designed to provide stunning HD clarity.
The reticle has 5 MOA, 11 illumination settings, and unlimited eye relief.
Design
The Rimfire .22 is an excellent red dot instrument compatible with .22 rails and it also fits standard centerfire Weaver rails.
The unit is compact and lightweight and it comes equipped with a CR2032 battery. Some users complained about the battery's lifespan.
Accessories
The manufacturer doesn't mention the presence of accessories other than the battery in the purchase package.

#6 Burris 300234 Fastfire III Red Dot Sight – Best Red Dot Sight for Pistol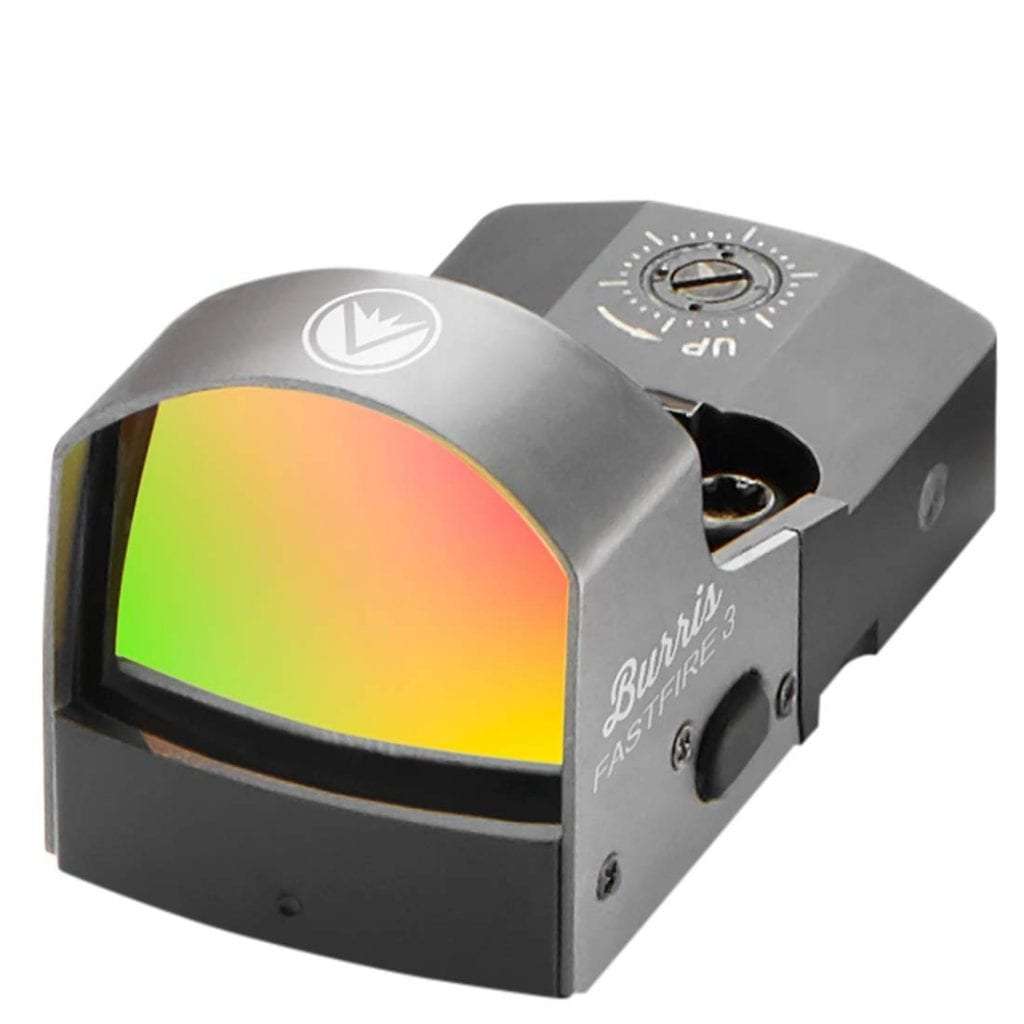 Check Price
If you are looking for the best red dot sight for a pistol, then this Burris model is certainly one that you should not ignore.
Being an optics manufacturer for quite a long time – and not just within the firearm industry – it has managed to build a reputable brand that sells dependability and affordability.
Considering the price that you pay for it, it is the best red dot sight for the money.
Optical Performance
This model is a high-quality mini red dot sight that is easy to use and is perfect for all types of shooters – regardless of their shooting experience.
Featuring 3 MOA dot reticle, along with tool-less elevation and windage adjustment, the optical performance is quite superior, and it allows you to reach targets from quite a distance.
Plus, the 21x15mm lens with 1 x magnification provides a clear, unobstructed view. The unlimited eye relief mode is also a great option if you have eyesight problems and you need to wear glasses.
Design
Since this model was made for handguns, it is bound to be quite lightweight. Furthermore, its small size will not affect the performance of the handgun, nor will its stability have to suffer.
The unit in itself is shockproof – and therefore, will not recoil when you pull the trigger. This is a great feature when you are in a competition, for example, and weight along with speed are very important factors.
Accessories
The Burris Fastfire II features a Picatinny mount that allows it to be installed on a standard rail system. You can mount this on any firearm that you want, no matter if it is a revolver, a pistol, or a shotgun. Large or small, there will not be any mounting issues.
Specifications
This unit is waterproof, meaning that you can easily use it in conditions of humidity – where the water threatens to damage your accessories. You also have an automatic brightness adjustment to match the environment around you.
The shockproof design of the unit prevents it from going into recoil – a feature that will last for years. Plus, the unit is parallax-free – a feature that can provide better accuracy.
The red dot is bright and allows you to acquire your target really fast – aiming flawlessly without any issues, regardless of your level.
If you're looking for more handgun sights, here are our picks for the best Glock sights.
#7 AimPoint 200180 Micro T-2 – Best Red Dot Sight for Shotgun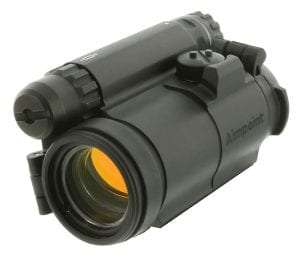 Check Price
If you are on the lookout for the best red dot for a shotgun, then this model is certainly one to consider. Aimpoint has been making red dot sights for 45 years and has a high-quality standard. This product is said to redefine almost everything that you knew about red dot sights – allowing you to find your target at ease.
Optical Performance
Featuring cutting-edge lens coating, the clarity of this red dot sight is drastically improved. The clarity offered by the 2-MOA red dot is also noticeable through bad weather – allowing you to reach your target.
Design
Featuring physical protection for extra ruggedness, this unit is perfect for being taken out on a hunting trip, for example. Plus, the red dot sight in itself is quite lightweight, meaning that it will not pull you down when you are going on a "hunt."
Accessories
This red dot sight features a flip-up cover that protects your lenses from any type of environmental condition. Furthermore, it comes with a rear transparent flip-up lens for the same kind of protection.
Specifications
This model features advanced optical lenses for a more appropriate light transmission – allowing you to set onto your target clearly.
This red dot sight has 1 off position, 8 daylight settings, and 4-night vision compatible settings.
You can find this model in 2 MOA dot sizes, which can be installed on any type of shotgun that you want.
The red dot sight is waterproof – and is also submersible up to 80 feet. It is usable even if your target is found underwater.
---
Couldn't find something you like? These articles might be what you're looking for!
Got a new AR15 or AR10? Find out which one suits you in our article about the best red dot for ARs.
What Is a Red Dot Sight?

The red dot sight is a type of optic that has been designed to work at a close range up to a moderate range (learn how red dot sights work here). It is a fairly simple optic type that uses a simple reticle in order to conduct a standard job. As the name implies, this type of optics makes use of red dots as the reticle.
Depending on the brand, the red dot can also be a green dot. However, for simplicity's sake, even they are referred to as red dots.
These units are fairly simple and straightforward – and they are the most useful tools for shooters who are just learning how to handle a gun.
A red dot optic generally features 1x optics – and they do not feature any type of magnification. Nothing that has been built-in, at least.
For this reason, they are simply called red dots – and not scopes.
Having their origin somewhere in the mid-1970s, these dots have come a fairly long way in the last 50 years. Not only have they seen advancements in clarity, but their battery life and quality has also improved over time. Plus, like most technological pieces, these units vary in their size. You can find one big enough to be attached to a rifle – or small enough to be attached to a handgun.
How to Shoot with a Red Dot Sight?
In order to shoot with a red dot sight, you might want to turn on the unit first and ensure that it is working. Depending on the environmental conditions, you might want to adjust the reticle brightness using the knob.
For instance, if you are shooting in conditions with low light, the reticle will look fuzzy. Similarly, if it's too bright, the reticle will have a halo effect.
This is why you need to adjust the brightness properly, to ensure that the reticle is actually visible. If the red dot has not already been mounted, you may proceed to place it anywhere on the gun that is most comfortable for you – particularly if you need some eye relief.
Now that everything has been set, you are ready to shoot – and here are the steps that you have to follow:
Set on your target.
While being focused on your target, bring your gun to the shooting point.
Ensure that both your eyes are open for better clarity.
As you are bringing up the gun to shoot your target, you will notice that your reticle moves as you are aiming.
When the red dot reaches the point that you want to shoot, just fire.
Shooting with a red dot sight is fast and simple. The reticle is usually self-correcting – and they are also generally parallax-free (they can easily self-focus).
Red Dot Sight vs. Holographic Sight
Technologically speaking, both red sights and holographic sights might look the same – but in fact, they are quite different.
Red dots feature a LED emitter that will shoot the beam towards the front glass – one that has been coated so that the light does not go straight into your eyes.
A holographic sight, on the other hand, will use lasers and mirrors to send holograms back to you – all this without using the front glass.
The image appears to be in the front, even though what you see is just a hologram.
With complications comes a fairly heightened price.
For example, the best red dot sight under $100 can also be found at around $50, whereas the standard holographic sight is found at around $200.
Also, because of the less complex technology, red dots are smaller in size than holographic sights. They are the more appropriate options if you wish to install them on a handgun.
The Difference between a Red Dot and Reflex Sight
If you do not have the proper knowledge, it is quite difficult to detect the difference.
Red dots, reflex sights, and holographic sights all result in a red dot that allows you to lock into your target – but it's the process that makes things different.
Reflex sight projects a low-power LED beam into the lens ahead. This dot will thereon hit the lens – and then be reflected back into your eyes.
Providing unlimited eye relief, they are a great option for shooters who wear glasses.
Plus, they tend to have fairly long battery life, making them a perfect choice for long hunting trips.
If you want to find out more about reflex sights, we have made a whole in-depth reflex sight buying guide.
For shooters with eye problems, red dots for astigmatism ensure maximum shooting efficiency.
Are Red Dot Sights Accurate?
A red dot sight functions like any other type of optic. It zeroes in on a target found at a specific distance – and for other distances, the shooter will have to compensate.
Generally speaking, red dots are made to have quick target acquisition while at a close range, with your eyes open. They are not laser beams – so they will not function for precision or long-range optics.
However, they are not perfect. A red dot has a fairly simple mechanism – one that does not magnify the target. As a result, a red dot has a higher chance of a circular error compared to a scope.
If you want to shoot farther downrange with your red dot, you'll need the best red dot magnifier. Or you can mount an ACOG instead. If you're not yet familiar, find out which is better between ACOG vs red dot.
Factors to Consider When Buying a Red Dot Sight
Some red dots are more accurate and appropriate than others – or they may simply be more up your style. This is why you may want to consider the following factors before purchasing a red dot sight.
1. Housing Configuration
Depending on the model that you wish to purchase, a red dot can have an open or a tube style.
The tube model is the closest to the traditional model, and it also permits a variety of filters and protective covers for the lens. Open sights, on the other hand, are bare and only have the basic system.
These types are generally more affordable – but, at the same time, they have less space for filters. The absence of these filters can reduce the viewing experience of the shooter.
2. Projection Type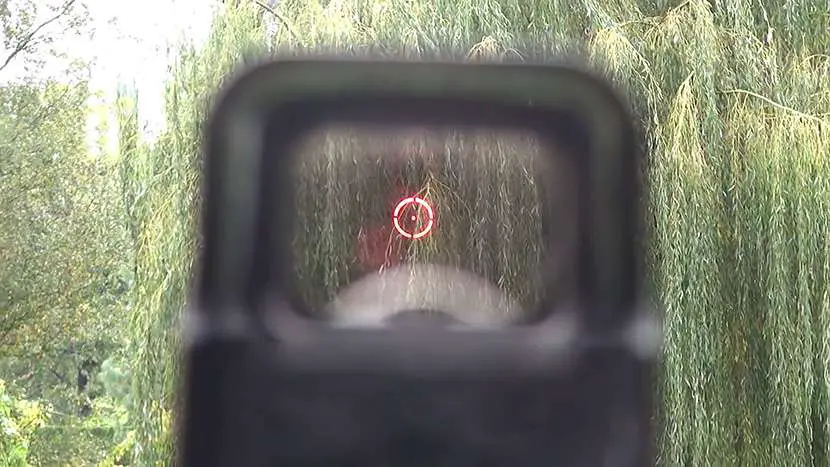 Do you want to go for reflex sight, or is a holographic sight more up your alley.
Before purchasing a red dot sight, you might want to learn about which one suits your preferences the most.
Some of them may be fairly expensive, depending on their type – but the best red dot sight under $200 will certainly be worth every penny. One of our favorite affordable red dots comes with the Burris Forever Warranty. Check out our Burris Fastfire 3 review to know more!
3. Reticle Style
Every reticle is supposed to light your way and make it easier for you to lock onto your target. However, each light can look different in its own way.
The red dot, for instance, can actually be green – and instead of a single dot, it can be crosshair or bullseye. Deciding on the style may not be a matter of functionality, but more a matter of personal preference.
4. Battery Life
It is crucial that you choose a red dot sight with appropriate battery life.
Granted, units with a smaller battery life tend to be less expensive – but if you plan to go on the shooting range for an extended time, it can be quite inconvenient for the dot to disappear when you need it the most.
Reflex sight options generally use less battery than a holographic sight one – and a good model can last for thousands of hours before the batteries have to be changed.
To preserve the battery life, you might want to turn the unit off whenever it's not in use.
Furthermore, cold-weather shooting can also affect the efficiency of the battery – so, if the weather is particularly cold outside, you might want to carry some spares with you.
5. Mounting Type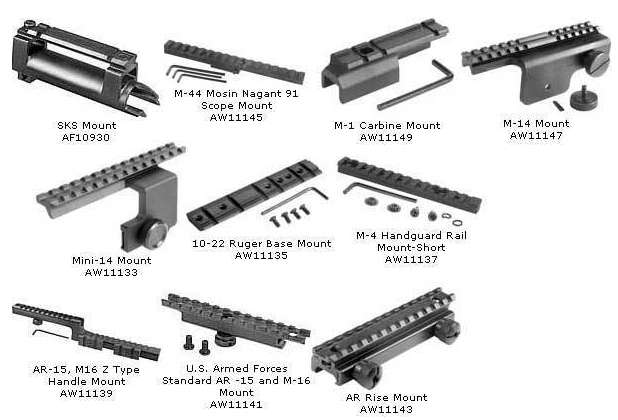 Not every sight can be installed on any kind of gun – so, ensure that the mounting type is compatible with your gun.
Some sights are universal, whereas others work better with a particular kind of gun.
Concluding Remarks
It is certainly not easy to pick a good red dot sight, considering the multitude of options out there.
However, if you are a beginner when it comes to shooting, this might be a good option for you to get used to your target.
Each model comes at a different price, with different features – so make sure to choose something that suits your own preferences and budget. Make sure you also know the difference between 3 MOA vs 6 MOA red dot, so you can pick what suits your shooting needs best.
Interested in rifle scopes? We have a complete Buyer's Guide with the top 5 scopes.

See more red dot sights on Amazon

You Might Also Like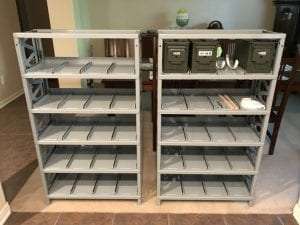 Last update on 2023-08-30 / Images from Amazon Product API