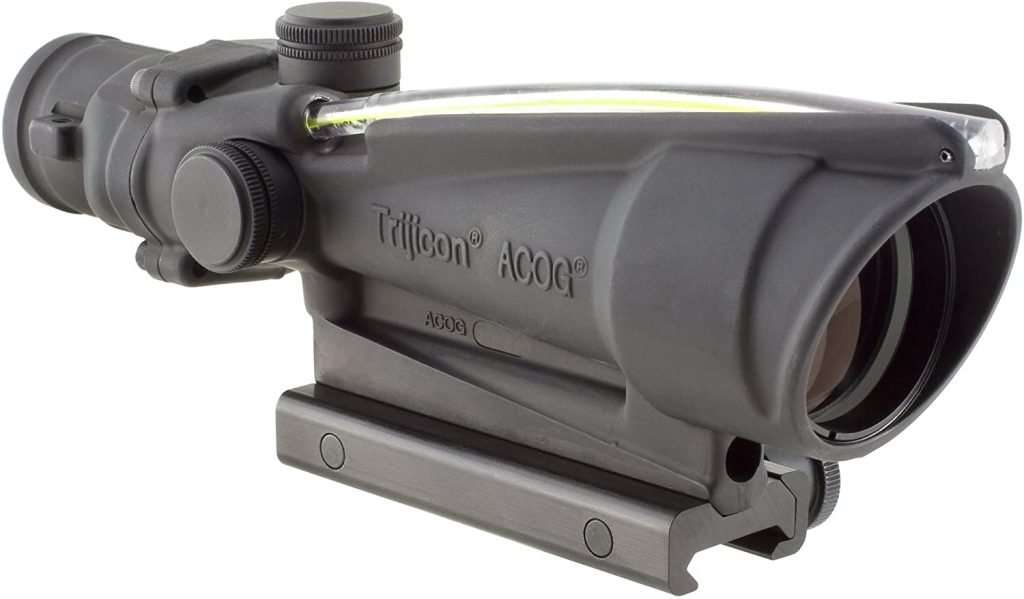 Trijicon ACOG
Bottom Line
This sight is built to handle the tough stuff, for a price.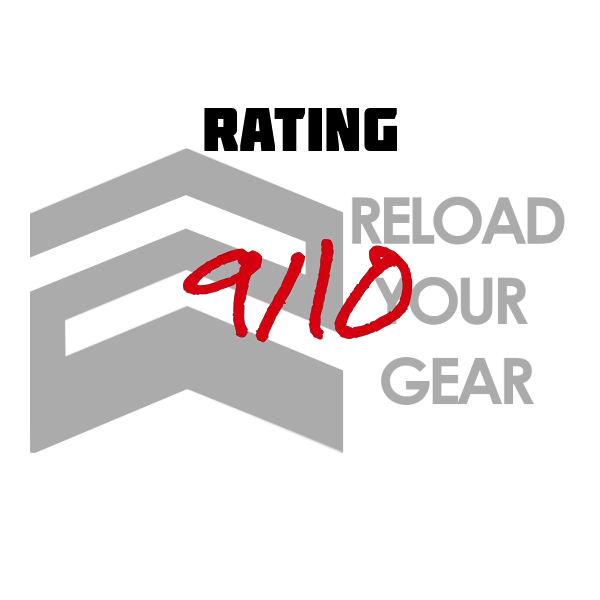 Check Price
If you're someone who likes their optics to scream "durability" and "reliability," you're definitely in the right place! Grab a cup of joe and sit back, because we're about to dive deep into the high-definition world of Trijicon's ACOG riflescope. 
Bottom Line
The Trijicon ACOG is a no-nonsense, robust optic packed with state-of-the-art features like battery-free operation and a dual-illuminated reticle. But don't get us wrong, it isn't all sunshine and rainbows; there are a few quirks you need to know about.
Pros​
Battery-free illumination
Always illuminated reticle
Built like a tank
Lifetime warranty
Cons
Pricey, hold onto your wallets!
Not as versatile as some other red dot sights
What Customers Say​
Easy to mount. Easy to sight in. Easy to shoot. Tough as nails.

Harry B. Wease
I bought this scope a few years ago. Still mounted to my rifle, the glass is still really clear it holds up really well to the saltwater environment and harsh winter in my home town. Holds zero dropped it a few times oops but never questioned it. Well worth it.

Clinton
Alternatives
Now, let's not jump the gun here. The Trijicon ACOG is a fine choice, but there's a big wide world of optics out there.
Better for the Money: Sig Romeo5 Red Dot
Sig Sauer Romeo5 1X20mm Tactical Hunting Shooting Durable Waterproof...
ROMEO5 GUN SIGHT - The ROMEO5 1X20mm Red Dot Sight mounts on any platform, and even though it's small, it's tough; The solid, lightweight aluminum design gives peak performance & years of service, so...
2 MOA RED-DOT - For those avid shooters who admire classic red dot reticles on their gun sights, the Romeo5 has 2-MOA Red-Dot, which is also adjustable; It provides 10 illumination settings (8...
MOTAC TECH - The versatile ROMEO5 red dot sight features our Motion Activated Illumination technology; It is developed to increase battery life by shutting down the system when not in use and...
If your wallet is crying out for mercy, the Sig Romeo5 Red Dot could be your knight in shining armor. It delivers excellent performance without making your bank balance weep.
Pros
Night-vision compatible
Affordable
Long battery life
Comes with a motion-activated illumination
Comes with a transferable, lifetime warranty
Cons
There's a bit of distortion at the edge of the optic
Finish gets scraped off easily
Comes with a bulky mount
What Customers Say
Absolutely love this thing! Mounted on my Marlin 1895gs chambered in 45-70 govt with an American Defense T1 quick-release mount. Holds up to the recoil and honestly, I couldn't have picked a better optic and mount. The setup was zeroed in 4 rounds and after that, I felt like I couldn't miss! I keyholed rounds between 50 and 100 yards all day. This sight didn't miss a beat and I will be buying more. I love Sig optics and they have yet to let me down and this one is worth every penny!

Ryan
Love this! I have an EOTech which I love and I have to say this has the quality of EOTech! I put it on my KSG 12 and it holds zero with no problems!

Payne Hardwood
Better Reflex Sight Pick: Aimpoint PRO 
And for the reflex sight enthusiasts, the Aimpoint PRO is your go-to. It's like the Swiss Army knife of reflex sights – versatile and dependable.
Pros
3 years of constant operation
Waterproof at 150 feet
Extremely Durable
Compatible to use with an Anti-Reflection Device
Unlimited Eye Relief
Cons
There's a slight color shift on the image when looking through the sight
Adjustment knob gets in the way of the bolt release
What Customers Say
One of the best red dots on the market for this price. The mount is high quality, and was able to co-witness on my Vltor CASV handguard (the one that dog legs onto the upper receiver), by removing the spacer. The lowest settings can really be fine tuned for use with NV, and the 4 upper setting should get you through most lighting situations. It's an awesome value.

Chad J. Sullivan
This sight is awesome I had it installed in 10 minutes. Took it to the range sighted it in at 25 then made small adjustment at 50 yards. Afterwards I set my steel silhouette up at 200 yards had no problem hitting it consistently with 55 grain fmj. Would recommend to anyone.

Brandon Adams
Trijicon ACOG Red Dot Specifications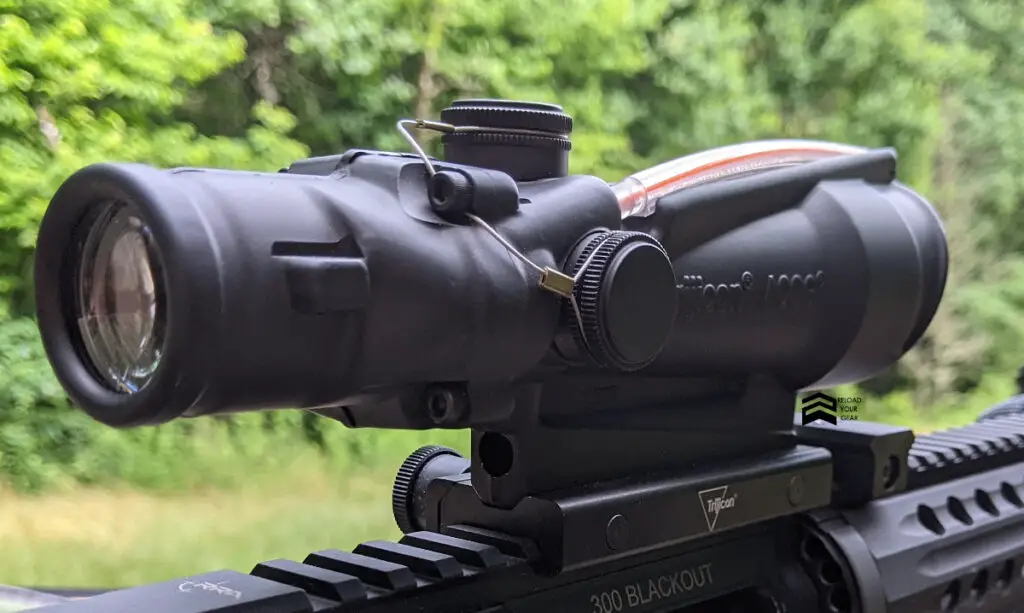 Magnification: 4x
Objective Lens: 32mm
Eye Relief: 1.5 in
Field of View (Degrees): 7.0
Field of View: 36.6 ft. @ 100 yards
Adjustments (Per Inch @ 100 Yards): 2 Clicks
Dimensions (L x W x H) Without Mount: 5.9 x 2.0 x 2.5 in.
Weight Without Mount: 10.5 oz. (297.5g)
Illumination Source: Fiber Optics & Tritium
Reticle Calibration: .223 / .308 / M193 / 300 BLK / 6.8 SPC
First Impression: Trijicon ACOG Red Dot
When we first got our hands on the Trijicon ACOG Red Dot, we were all "oohs" and "ahhs". It's like the off-road vehicle of red dot sights – rugged, steadfast, and ready for whatever Mother Nature throws at it.
The field of view seems huge when you look through it, and even though it isn't a true 1x, it's still pretty quick for target acquisition.
Trijicon ACOG Red Dot Features
Battery-Free Operation
No batteries? No problem! With Trijicon's clever use of fiber optics and tritium, your sight will be always-on, no matter what. It's like magic, but it's not – it's just darn smart engineering.
Its battery-free operation is also one of the ACOG's advantages against a red dot sight. Discover which is really better between these two optics in our ACOG vs Red Dot comparison.
Believe it or not, your only complaint may be that this illumination system is too bright! Many people cover part of the fiber optic tube with electrical tape to tone down the brightness.
Dual-Illuminated Reticle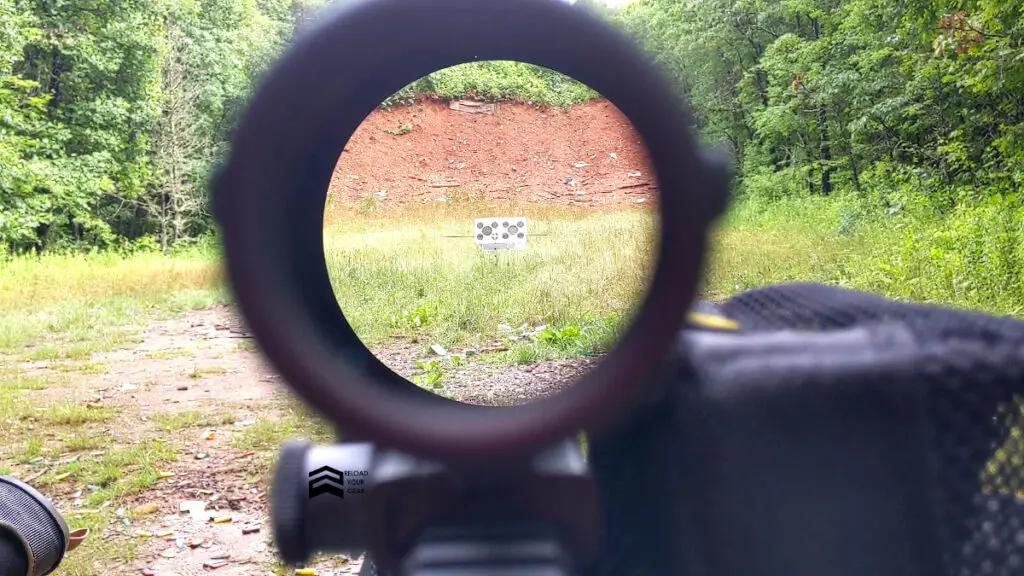 Day or night, rain or shine, your target is always in sight with the dual-illuminated reticle. It's like having night vision, only without those funky goggles.
Rugged Construction
This sight is built to handle the tough stuff. Whether you're caught in a downpour or dropping it onto a rock (though we really don't recommend it), the ACOG can take a lickin' and keep on tickin'.
With a fixed zoom, there are no adjustment mechanisms to break, and as a result, the ACOG has legendary for its durability.
Lifetime Warranty
Trijicon's got you covered with their lifetime warranty. They're basically saying, "We trust our product that much." And if that doesn't make you feel all warm and fuzzy, we don't know what will.
Trijicon ACOG Score Card
| | | |
| --- | --- | --- |
| Features | The lifetime warranty and dual illuminated reticle are just some of our favorite features. | 5 |
| Reliability | Not being tethered to a battery life creates peace of mind that's priceless, especially when you're out in the field | 5 |
| Build & Finish | From its durable casing to its scratch-resistant glass, this sight is definitely built to last. | 4.6 |
| Accuracy | Whether you're shooting in broad daylight or under a moonless sky, you can count on the ACOG for a precise shot every time. | 4.8 |
| Value | Given its impressive features, the Trijicon ACOG offers substantial value for its price tag. | 4.5 |
| Overall | If you're looking for a sight that delivers outstanding performance and longevity, the ACOG could very well be your perfect match. | 4.8 |
Conclusion​
So, is the Trijicon ACOG Red Dot sight the right fit for you? Only you can answer that, but we sure had a blast reviewing it. It's reliable and tough, and even though it's a bit of a splurge, you're getting some top-notch features that truly make it stand out in the crowd. So, aim high, and shoot straight!
Last update on 2023-09-30 / Images from Amazon Product API