ACOG vs red dot. What are the differences between them? What are their similarities? Is one better than the other? Which do you use for tactical scenarios? These questions may seem daunting, but we'll answer them one by one and as concisely as possible. Get ready for the ultimate optics battle!
Red Dot Sights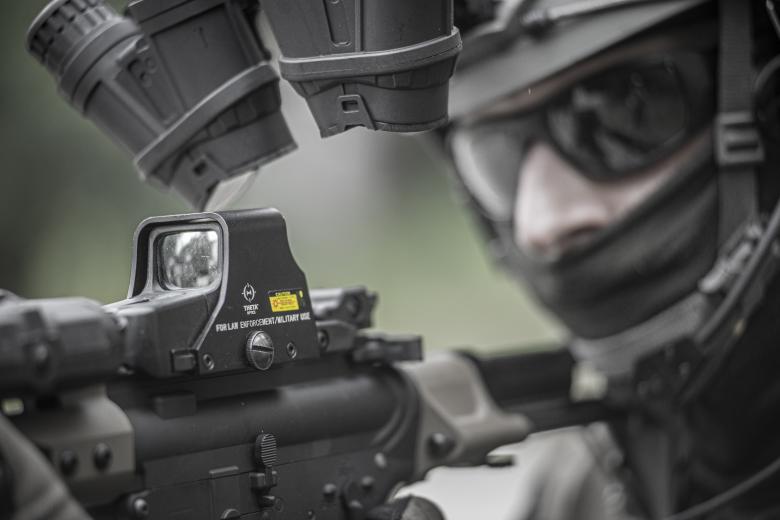 A red dot sight is an optical device that helps the shooter aim better by placing a red (or green) dot on the target.
How it Works
A red dot sight works through an LED source and a specially-coated spherical mirror that reflects the emitted beam to the viewer's eyes. The special coating lets the glass reflect only the light from the LED. This is to avoid disruption from other light sources. The reticle is created once the mirror reflects the light emitted by the LED onto it.
In most red dot models, the optics have a metal housing. Some housing designs are tube-like, similar to telescopes, while others are open, with a flat base and a sturdy cover that supports the optics.
Sale
Sig Sauer Romeo5 1X20mm Tactical Hunting Shooting Durable Waterproof...
ROMEO5 GUN SIGHT - The ROMEO5 1X20mm Red Dot Sight mounts on any platform, and even though it's small, it's tough; The solid, lightweight aluminum design gives peak performance & years of service, so...
2 MOA RED-DOT - For those avid shooters who admire classic red dot reticles on their gun sights, the Romeo5 has 2-MOA Red-Dot, which is also adjustable; It provides 10 illumination settings (8...
MOTAC TECH - The versatile ROMEO5 red dot sight features our Motion Activated Illumination technology; It is developed to increase battery life by shutting down the system when not in use and...
Shooting Applications
Since they're designed for easily shooting with both eyes open (no magnification), red dots are perfect for your home and self-defense weapons as you can still be aware of what's around you while having a full view of your attacker. Plus its bright reticle gives you the advantage in low-light scenarios.
Red dot sights have an effective distance of 100 yards, so they're ideal for close-range shooting applications. Once you master sighting in your red dot, your accuracy will be serviceable for self-defense and shooting steel..
Pros
Fast target acquisition
Improved accuracy
Unlimited eye relief
Shooting with both eyes open
Ideal at close to moderate distances
Vary in size so they can fit on all types of firearms, from rifles to pistols
Affordable
Cons
No magnification like red dot scopes, so they are not ideal for long-range shooting
As the distance increases, the reticle gets larger relative to your target, resulting in decreased precision
Short battery life on high brightness
ACOG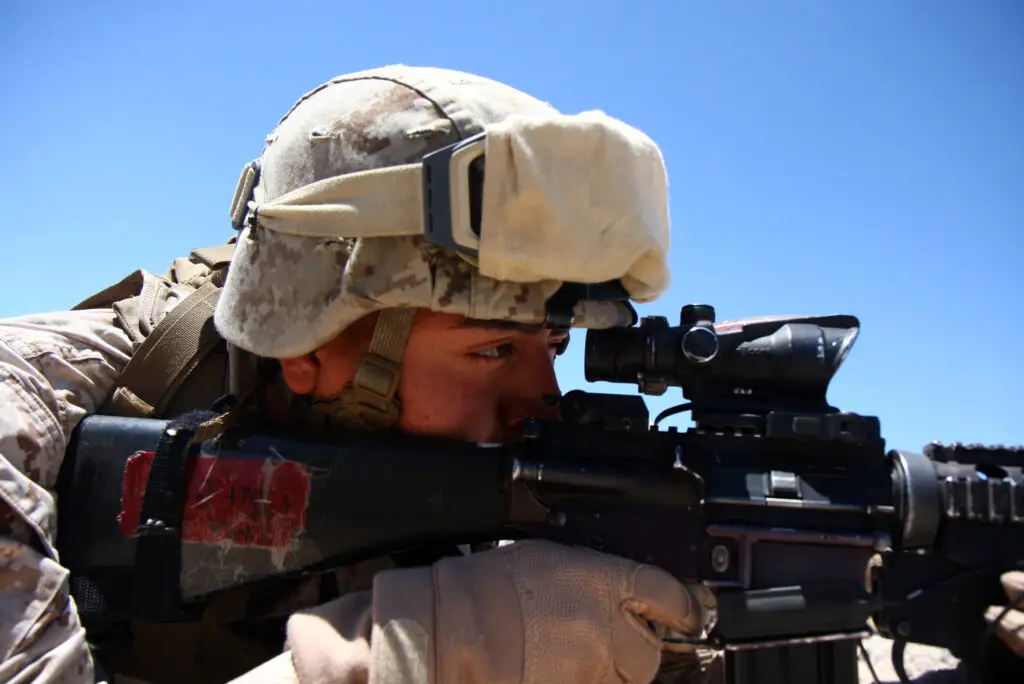 The Advanced Combat Optical Gunsight or ACOG is developed and manufactured only by Trijicon. The first ACOG, the TA01, was introduced in 1974. Since then, several other models were produced and a family of ACOGs was born. 
The ACOG is categorized as a prism scope, an optic that utilizes "a roof prism for its image-erecting system, instead of the series of relay lenses" that's commonly used in traditional scopes.
How it Works
Similar to red dots, an ACOG's reticle is illuminated and also projects an image to the target. But unlike red dots with no magnification, ACOGs have fixed magnification, the most common being 4x.
ACOGs have etched reticles so they're equally reliable even without illumination. The illumination in ACOG reticles is powered through tritium phosphor. There are some ACOG models that offer daytime illumination through a "passive external fiber optic light pipe or are LED-illuminated using a dry battery."
Get a better look at this reliable optic in our Trijicon ACOG review.
Trijicon Trijicon ACOG 4 X 32 Scope Dual Illuminated Crosshair .223...
BATTERY-FREE ILLUMINATION: Features a tritium/fiber optic illuminated reticle that automatically adjusts the brightness based on available light
RUGGED ALUMINUM-ALLOY HOUSING: Forged 7075-T6 aircraft-aluminum-alloy housing provides for a nearly indestructible sighting system
?BOTH EYES OPEN? DESIGN: The ACOG can be used as a CQB sight when shooting ?both eyes open,? utilizing the Bindon Aiming Concept
Shooting Applications
The ACOG is specially designed to excel in combat and situations that require tactical approach. That's also one reason it's a favorite among law enforcement and military officers. 
One feature that contributes most to the ACOG's performance is its bullet drop compensation. So for anything above 100 yards (up to 500 yards, depending on the magnification), you can depend on ACOGs.
With the passive lighting system, the sight illumination adjusts automatically according to the current level of lighting. This is a great feature so that you won't have to fiddle with controls to adjust your illumination. Unfortunately, some people say the sight is too bright out of the box, but that's easily adjusted with opaque tape like electrical tape to partially obscure the fiber element on the top of the sight.
If you love hunting so much that bad weather can't stop you, the ACOG can be as stubborn and tough as you are as it's waterproof, fog proof, and shockproof. Its fixed magnification system is dead simple, and that means it's almost impossible to break with normal use.
Pros
Magnification
Bullet drop compensation
Battery-free illumination
Shockproof, fog proof, waterproof
Cons
Very expensive
Heavier than red dots
Bottomline: ACOG vs Red Dot
Battery (Winner: ACOG)
The battery life of a high-quality red dot sight ranges from 100 hours to 10,000 hours, which is more than enough for a few hunting trips or a few days practice at the range. But since ACOGs fully rely on the built-in tritium or (fiber optics for other models) in its reticles for illumination, they win the battery department by landslide. Unfortunately, tritium based sights will dim over time (in 12 years, it will be half as bright as on day 1). Since ACOGs are built like tanks, the self-illumination feature guarantees reliability up to 10 years.
Reticle (Winner: ACOG)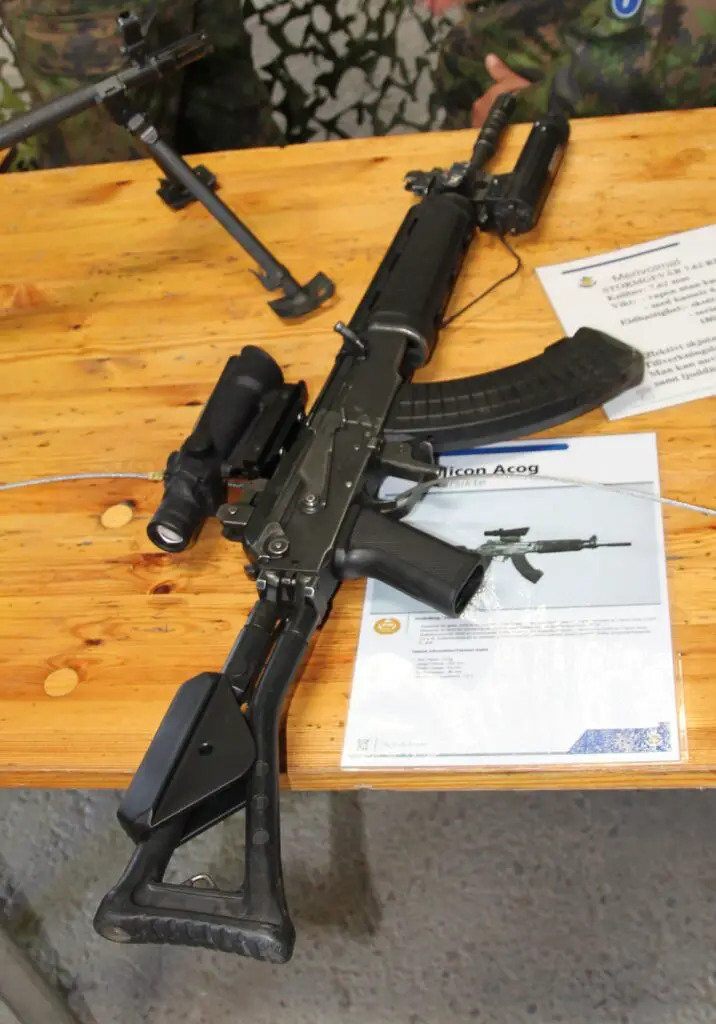 With the ACOG's etched reticle, you won't have to worry about getting your view obstructed. It also gives you the edge in long-distance shooting because of the bullet drop compensation and its automatic light adjustment, features that just aren't required in close quarters situations that red dot sights thrive in.
Some red dots also have the auto-adjust feature for lighting. You can also choose between a green or red dot. The dot size also varies for every red dot make and model. Choosing the dot size is critical as larger dots can become more of a nuisance than an advantage for some. 
Eye Relief (Winner: Red Dot)
One of the best things about red dots is the unlimited eye relief. And while ACOGs are more superior in the long range game, they only have 1 to 2.5 inches of eye relief.
Field of View (Winner: Red Dot)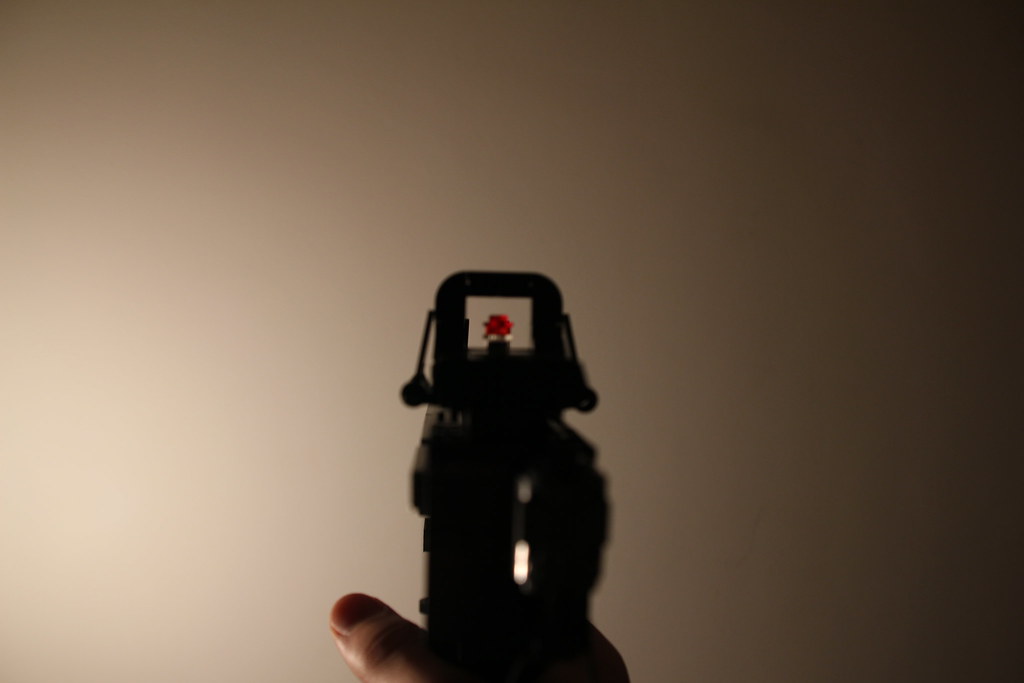 Since you'll likely be getting a 1x red dot, that also means your field of view is practically unlimited. Again, this is an apples and oranges type of comparison for 1x vs 4x, and you'll have to make the final call based on the type of shooting you plan to do with it.
Target Acquisition Speed (Winner: Red Dot)
Long eye relief is essential for fast target acquisition, especially in CQB scenarios. And since ACOGs have short eye relief, they don't excel much in this area; whereas red dots pass with flying colors because of their unlimited eye relief.
Price (Winner: Red Dot)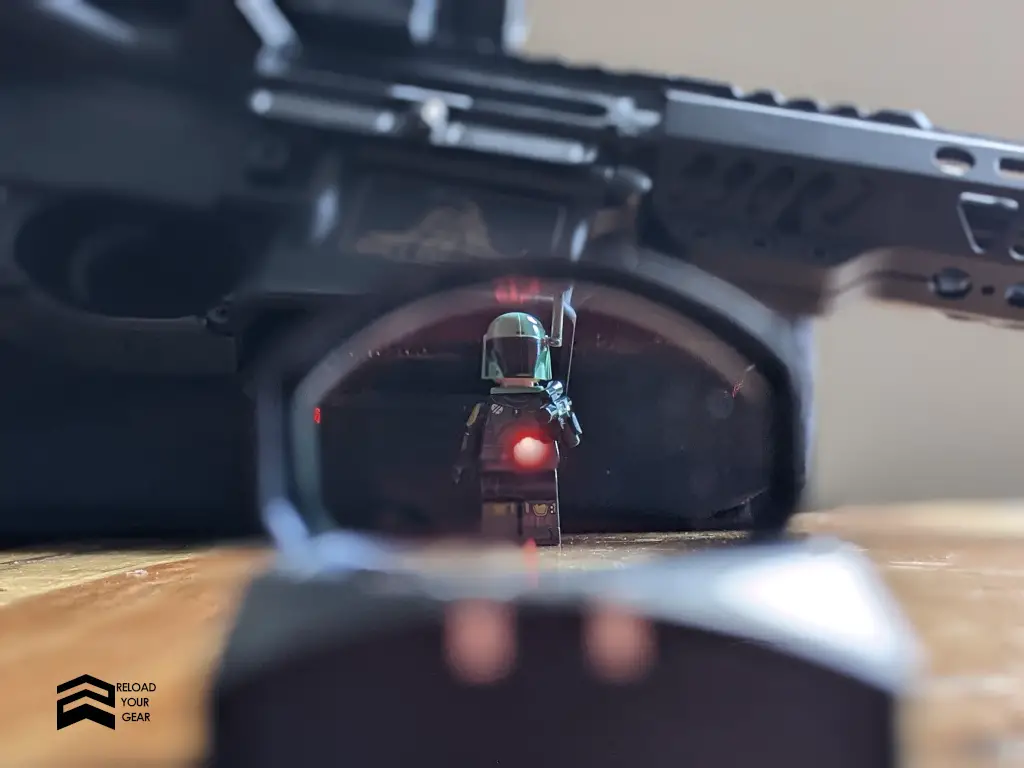 Our red dot recommendation, the Sig Romeo5 costs a little over $100, and the Trijicon ACOG 4×32 costs $1,099 on Amazon. And while you definitely get your money's worth with an ACOG, a red dot can deliver similar accuracy for only 1/10 the cost. This is one reason why red dots are popular among hunters and for home defense.
Weight (Winner: Red Dot)
ACOGs are built for heavy-duty use, so it's only natural for it to weigh above average. The Trijicon ACOG 4×32 weighs 15.1 oz while the Sig Romeo5 weighs only 5.1 oz. Red dots are also designed to take a good regular beating but are smaller and lighter.
Last update on 2023-09-06 / Images from Amazon Product API