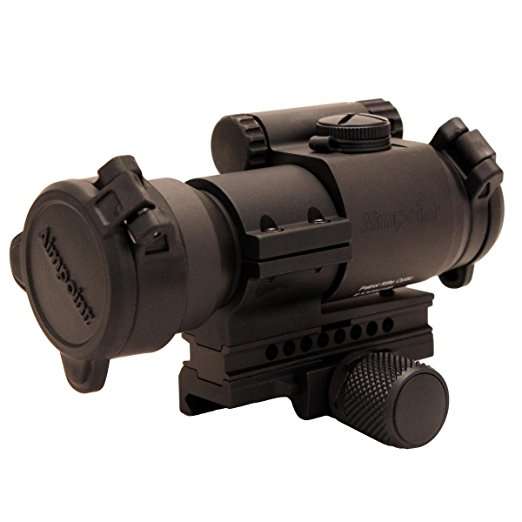 Want an optic that doesn't only get the job done but also brings the best out of your rifle or shotgun? The Aimpoint PRO Patrol Rifle Optic is what you're looking for!
In this review, we will get into details why the Aimpoint PRO Patrol is one of the toughest optics there is.
The Aimpoint PRO Patrol is excellent for continuous use on all types of environment and terrain because of its tough build and long-lasting battery. Unfortunately, it's pretty expensive compared to other good options.
Better Battery Life: Aimpoint Comp M4 Red Dot Reflex Sight
Last update on 2021-12-24 / Images from Amazon Product Advertising API
This upgraded military-grade optic by Aimpoint guarantees 80,000 hours of battery life and responds better in harsh conditions. The Comp M4 can also withstand occasional exposure to chemicals such as weapon cleaners and lubricants.
Aimpoint PRO Specifications
Optical Magnification: 1x
Optical Coating: Anti-reflex, all surfaces and multi-layer
Eye Relief: Unlimited
Aiming Dot Size: 2 MOA
Power Intensity: 4 NVD and 6 Daylight
Size: 4.8 x 1.9 x 1.9 inches
Weight: 6.8 Ounces
Battery Type: 3V Lithium Battery, Type 2L76 or DL1/3N
Easy to mount
Fast target acquisition
Removable spacer
Great click adjustments
Parallax-free
Last update on 2021-12-24 / Images from Amazon Product Advertising API
The best thing about the Aimpoint PRO is that is virtually indestructible, you can practically throw a grenade at it and it will survive, thanks to its hard-anodized aluminum construction. 
The Aimpoint PRO is also compatible with a wide range of rifles and shotguns.
However, some people don't like the adjustment knob because of its size. It's really cool to be able to remove and replace the sight without any tools, but it sticks out and sometimes gets in the way of the bolt release.  If there was a way to make it a bit smaller or remove and stow the outer piece, that would be great.
30,000 Hours Battery Life
Despite its high cost, most gun enthusiasts agree that the Aimpoint PRO is a great investment because of its battery life. You can leave the sight "on" at all times without worrying about getting the battery drained.
Anti-Reflective Optical System
Another great feature of the Aimpoint PRO is its top-notch optical performance. It provides razor-sharp images in any lighting condition. Its glass surfaces are also fully-coated for protection against reflection and impact.
This spring-loaded tightening knob ensures perfect return-to-zero mount without deforming your rail, and it doesn't require any tools to mount to your gun. It also comes with a detachable spacer for optical height adjustment.
Front and Rear Flip-up Lens Cover
The Aimpoint PRO's lens cover can be rotated 360 degrees so you can move it without getting in your sight's way. Its rear cap is also transparent so you're ready for action even when the cap is closed.
Overall, we give the Aimpoint PRO Patrol 4.5 out of 5 stars. That's half a star less because of the image color shift and bulky attachment knob that can get in the way on some installations. But if you want an efficient optic for your go-to rifle or shotgun, you won't go wrong with the Aimpoint PRO Patrol Rifle Optic.
If you're also considering holographic sights or a red dot for your shotgun, we've got the articles that will help you decide.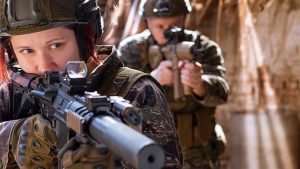 Whether you're a veteran or just getting into Airsoft, it's important to train with an airsoft gun that replicates the
Read More »