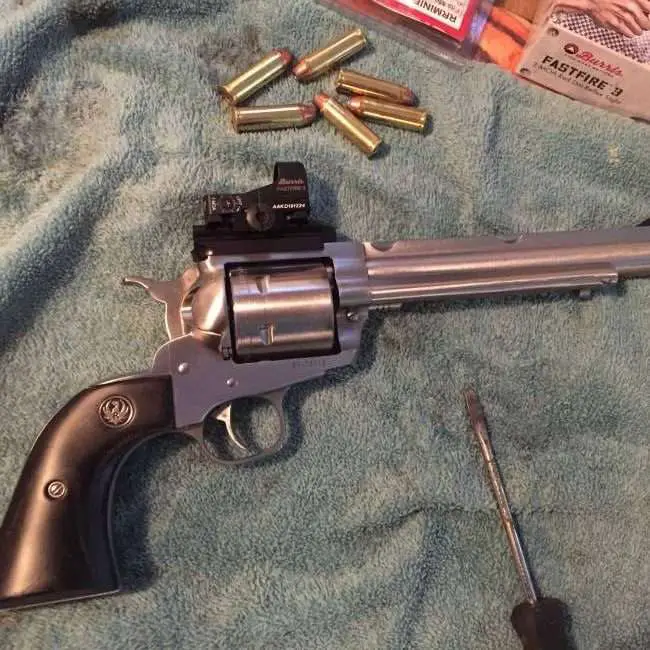 One of the Fastfire 3's most appealing qualities is its affordability. But aside from that, we're sure you'd love to know what other features it offers and do they add to this red dot's value. We'll analyze those qualities in detail in our Burris Fastfire 3 review! 
Bottom Line
The Burris Fastfire 3 is a strong budget option for those looking for a compact and lightweight red dot on a shoestring. This versatile optic that's great for different shooting applications, is also user-friendly and offers a clear sight picture.
Pros​
Comes with lifetime warranty
Convenient battery access
Waterproof roof
Parallax-free
Lightweight
Cons
Not weatherproof
Inaudible clicks when adjusting for windage or elevation
Battery compartment is difficult to close
What Customers Say​
"This is my 3rd Burris Fastfire. All of the Fastfires I've purchased in the past 4 years are still working well, and I like having a common sight picture on all my carbines. For me, this is an excellent 1x, 3-MOA sight and I appreciate the auto-brightness and other features. The vendor charged a fair price, shipped the product quickly and it arrived in excellent condition."

Phil Powell
"The Burris Fast Fire III is very nice and extremely accurate. I put it on my .177 LP8 Diana Magnum Carbine. I'm very pleased. The trick on installing and replacing the battery is to use a wide tipped screwdriver that still fits in the slot on the cap. This way you will evenly press down on the cap as you screw it in place. You will have difficulty with a small screwdriver with a tip smaller than the slot on the cap. It will keep screwing in unevenly. Screw it on with a wide tipped screwdriver and leave it until you need to replace it."

E. Smith
Alternatives
Better for Quick Target Acquisition: EOTech 512 Holographic Sight
Know more about this incredible optic in our detailed EOTech 512 review.
Pros:
Affordable than other EOTECH models
Wide field of view
Auto shutdown at 4 to 8 hours
Comes with an auto-battery check indicator
Cons:
Not night-vision compatible
Requires the two fingers to shut off
Short battery life
What Customers Say
"Excellent sight. While the 512 is on the larger side of the EOTech line, it is a great base option. Mounted on an AR15 platform, the 512 allows for co-witnessing and can be paired with a magnifier for longer-range targets. While the 512 does has no magnification, it easily pairs with EOTech, Vortex, or Primary Arms magnifiers (to name a few)."

John M.
"Of course it is very hard to wrong with Eotech products. This is mounted on my wife's AR15. It took very little adjustment to sight it in and was extremely easy to do. After that, my wife's groups were tight and on point. Love the fact that it takes standard batteries. And it was installed in a few seconds on my Picatinny rail. Easy to see why it's Eotech's most popular model." e

David S. Clark
Better Value: Vortex Optics Venom Red Dot Sight
Vortex Venom
, you can easily improve your precision shooting because you can choose more than one reticle.
Pros 
Great variety of reticle options
Comes with an auto shut-off feature
Affordable
Lightweight
Cons 
Low-quality battery cover
What Customers Say
"Mounted the red dot to my Mark IV. It was really easy to zero. I put probably 400 rounds through the gun on the first day using it. I'm really happy I went with the smaller dot. I'll definitely be picking up more vortex optics in the future"

A. Skreen
"So far (about 1000 rounds in) I've had no issues with anything loosening up and it's held zero like a champ. Time will tell if it's as durable as more expensive brands, but early reports look promising. The dot gets really bright if you need it, and the automatic mode is great at picking the right brightness level for the conditions. If you're wondering about getting the 3 or 6 MOA version then go with the 3. If you crank the 3 up all the way it'll look something like a 6 MOA dot, but the true 6 MOA dot will never look any smaller than it is."

Graham
Better Performance at Similar Price: Holosun 403B
The Holosun 403b features a 2 MOA dot. Its red dot is crisp and provides a good sight picture as well. It comes with unlimited eye relief and is parallax-free. The reticle is also available in both red and green dots.
Holosun 403b's Shake Awake technology is great for extending battery life. This feature automatically powers down the red dot when it detects inactivity. The user can also set how much time it would take for the LED function to power down.
Overall, the Holosun 403b is a durable red dot that's an excellent value, especially with its battery-saving Shake Awake feature. It performs well and is a great option for those who don't want to splurge or are on a budget.
Pros:
Comes with a Shake Awake feature
Comes with a limited lifetime warranty
Night-vision compatible
Long battery life (50,000 hours)
Lightweight
Affordable
Cons:
Red reflection visible in some lighting conditions
Careful of gasket around battery tray when changing
What Customers Say
"Finally got to put in some range time and I am impressed with the Holosun 403B. The height is perfect for my cheek and for the 1/3rd co-witness. For the price, you can't beat it…it functions well and looks good doing it."

Caleb Rowe
"A quality, tube-type red dot, with shake awake functionality, at a very affordable price. The small, 2 MOA dot doesn't completely cover the target at carbine distances and doesn't completely blow out with my astigmatism. Good range of illumination levels. The sight does not have to be removed from the weapon for battery changes, although there is a small tray that will require a screwdriver. This is not a heavy-duty, combat unit. But, so far, for my purposes, it's just right. I'll buy more of these."

Sidecar1115
If you want a red dot sight with 30,000 hours of battery life, check out our Aimpoint PRO review.
Specifications​
Magnification: 1x
Reticle: Available in 3 MOA dot and 8 MOA dot
Weight: 0.31 Pounds
Dimensions: 6 x 5 x 2 inches
Material: Aluminum
Night Vision: None
Mount: Picatinny
Brightness: 20 settings
Power Source: CR1632 Battery
Battery Life: up to 5000 hours at the max brightness
First Impressions: Burris Fastfire 3 Red Dot Sight
The Burris Fastfire 3 is easily-attachable to rail systems, making it an excellent sight for close-quarters or urban combat. It's also compatible with optics-ready handguns, although you'd probably want an open red dot sight like the Vortex Venom or Viper.. It also features a bright red dot that guarantees quick target acquisition. Right out of the box, you can tell that the sight is built from durable, premium materials despite its lightweight construction. Plus, it's backed with the Burris Forever Warranty.
Burris Fastfire 3 Features
Reticle, Magnification, and Glass Quality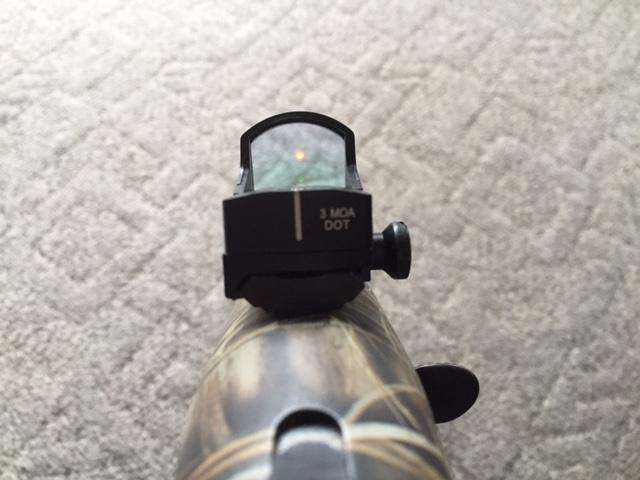 The Fastfire 3 guarantees both eyes-open shooting for enhanced awareness because of its 1x magnification.
The Fastfire 3 features a convenient power button that comes with four automatic brightness sensor settings that adjust based on environmental conditions. You can also change the brightness manually through three push-button control buttons.
The Fastfire comes with bright and clear glass that's covered with index-matched Hi Lume multi-coating that eliminates glare and ensures good performance even in low light. 
The Fastfire 3 comes in two reticle options – 3 MOA dot for pinpoint accuracy or an 8 MOA for fast target acquisition and short-range shooting.
Windage, Elevation, Parallax, and Eye Relief
This red dot sight takes pride in tool-less windage and elevation adjustments. However, doing adjustments take a little more effort than other brands. Users have also reported that there are no audible or felt clicks when adjusting windage or elevation. It's parallax-free and guarantees unlimited eye relief so you can mount it anywhere on your firearm.
Mounting Options
The Burris Fastfire 3 can be mounted on almost any firearm (pistols, revolvers, bolt action rifles, semi-automatic rifles, shotguns) through a standard mount or you can choose from available mounts sold by Burris. You can even combine it with a Picatinny mount if you like. It can also be easily paired on top of existing sights such as long-range scopes.
Because of its lightweight construction, mounting the Burris Fastfire 3 is extremely easy. It also comes with all the tools and screws required for a smooth installation process.
Durability
The Burris Fastfire 3 is both waterproof so it's efficient even in wet weather and shockproof so it can handle harsh recoil. It also comes with a lens built from high-grade optical material that guarantees incredible brightness and long-lasting durability.
Battery
The Fastfire 3 comes with top-of-sight battery access. It also has a low-battery warning indicator. It's powered with a CR1632 battery that approximately has 5,000 hours of battery life. One downside, however, is that the battery compartment is a little difficult to close and can easily break if not closed properly. 
FAQs
Is Burris Fastfire 3 good?
Yes, the Burris Fastfire 3 is good if you're looking for a budget-friendly red dot with average performance and durability that you can rely on for a long time.
Which is better Burris Fastfire 3 or Vortex Venom?
The Fastfire 3 and the Vortex Venom red dot sights are both good optics. The Vortex Venom provides better value as it's more affordable with at least the same performance as the Fastfire 3. 
Is the Burris Fastfire 3 waterproof?
Yes, the Burris Fastfire 3 is waterproof.
Final Thoughts
The Burris Fastfire 3 is one of the affordable red dots that's lightweight and efficient as a tactical sight on small weapons but is also a practical and effective secondary optic for rifles. And for us, it's still worth every penny despite the drawbacks that we've mentioned above.
Last update on 2023-09-11 / Images from Amazon Product API