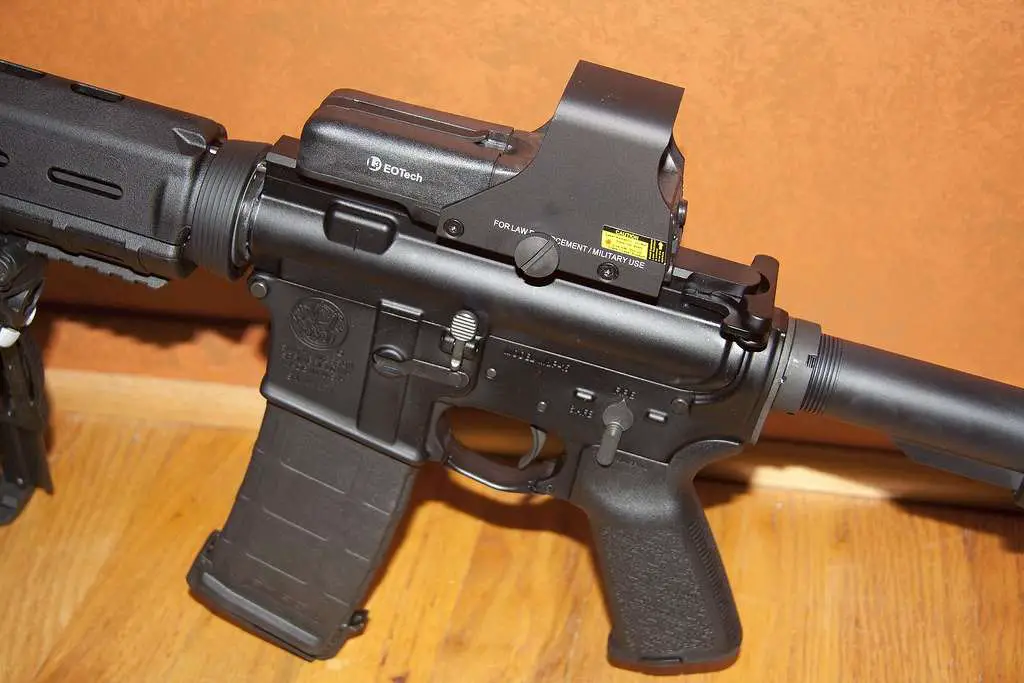 EOTech offers a wide range of holographic sights, so it can get a little difficult to choose which one is the best. If you're looking for a cost-effective optic with quick sighting ability, we'll give you the rundown with our detailed EOTech 512 review!
Bottom Line
The EOTech 512 is one of the most affordable holographic sights offered by EOTech, yet it offers similar durability, reliability, and performance as its high-end siblings.
Pros​
More affordable than other EOTECH models
Unlimited eye relief
Wide field of view
Auto shutdown at 4 to 8 hours
Comes with an auto-battery check indicator
Cons
Not night-vision compatible
Requires two fingers to shut off
No finger-adjustable turrets
Short battery life
What Customers Say​
"Excellent sight. While the 512 is on the larger side of the EOTech line, it is a great base option. Mounted on an AR15 platform, the 512 allows for co-witnessing and can be paired with a magnifier for longer-range targets. While the 512 does has no magnification, it easily pairs with EOTech, Vortex, or Primary Arms magnifiers (to name a few)."

John M.
"Of course it is very hard to wrong with Eotech products. This is mounted on my wife's AR15. It took very little adjustment to sight it in and was extremely easy to do. After that, my wife's groups were tight and on point. Love the fact that it takes standard batteries. And it was installed in a few seconds on my Picatinny rail. Easy to see why it's Eotech's most popular model."

David S. Clarke
Alternatives
Better Battery Life: Aimpoint PRO Red Dot Reflex Sight
If you want a reflex sight with longer battery life and is constructed from more durable materials, the Aimpoint PRO reflex sight is for you. You can leave the sight "on" at all times without worrying about draining the battery.
It's a virtually indestructible optic that guarantees razor-sharp images in any lighting condition. Its glass surfaces are also fully-coated for protection against reflection and impact.
Pros 
30,000 hours battery life
Waterproof at 150 feet
Compatible to use with an Anti-Reflection Device
Unlimited Eye Relief
Cons 
There's a slight color shift on the image when looking through the sight
Adjustment knob gets in the way of the bolt release
What Customers Say
"One of the best red dots on the market for this price. The mount is high quality, and was able to co-witness on my Vltor CASV handguard (the one that dog legs onto the upper receiver), by removing the spacer. The lowest settings can really be fine tuned for use with NV, and the 4 upper setting should get you through most lighting situations. It's an awesome value."

Chad J. Sullivan
"This sight is awesome I had it installed in 10 minutes. Took it to the range sighted it in at 25 then made small adjustment at 50 yards. Afterwards I set my steel silhouette up at 200 yards had no problem hitting it consistently with 55 grain fmj. Would recommend to anyone. Had an eotech 518 I like the aimpoint better for two big reasons. One being I like the brightness adjustment knob better and the other being battery life. Also on a side note setting 7 is the one they advertise as having 3 years battery life and for me this is the perfect setting not too bright indoors and also was perfect at the range on a sunny Pennsylvania day."

Brandon Adams
Better for More Rail Space: EOTECH XPS2 Holographic Weapon Sight
Sale
The XPS2 Holographic Sight features multiple brightness settings that are quickly adjustable for all types of lighting. Its advantage over the 512 is that it comes in a compact design, leaving more rail space for rear iron sights or magnifiers. This feature makes it a preferred choice by law enforcement officers and serious users.
Pros 
Comes with a 10-year limited warranty
Compact and lightweight
Unlimited eye relief
Water-resistant up to 3 meters
Cons 
Not night-vision compatible
Expensive
What Customers Say
"This is my first sight and I'm by no means an expert at weapon sights but this is my take on it. The 1 MOA dot is superb on getting an accurate shot especially shooting farther distances. The dot doesn't obscure the target which is nice. I have this on my Springfield Saint Edge and it went on super easy and looks absolutely great on it. I only shoot in the range and with how dark it is sometimes the dimming feature is a must. I dim it all the way down which makes it easy for me. Overall great sight and definitely glad I purchased!"

Josh Bayer
"Easiest way to say it, you don't put a cheap optic on an quality firearm. I couldn't be happier with this optic on my MPX. Eotechs reputation goes without saying… The brightness is acceptable bot indoor and out, it can be adjusted by simply pressing the buttons. Battery is easily available and replaceable."

busterlv
Specifications​
Weight: 11.5 oz
Dimensions: 8 x 6.5 x 3.5 inches
Material: Aluminum
Water-resistant up to 3 meters
Night Vision: None
Mount: 1″ Weaver or Mil-Std 1913 rail
Brightness: 20 settings
Power Source: 2 x AA Batteries
Battery Life: up to 2500 continuous hours (lithium) or 2200 continuous hours (alkaline) at nominal setting 12
Reticle: 68 MOA ring with 1 MOA dot
First Impressions
Right off the box, you can see that the EOTech 512 is made from military-grade materials. We also love how its battery is commercially available, not that you'd need to replace it often.
EOTECH 512 Features
Let's take a dive into the qualities that make the EOTech 512 one of the best holographic sights in the industry.
Optics
The EOTech 512 comes with internally fog-resistant optics, with all of its external surfaces protected with anti-reflective coatings.
Reticle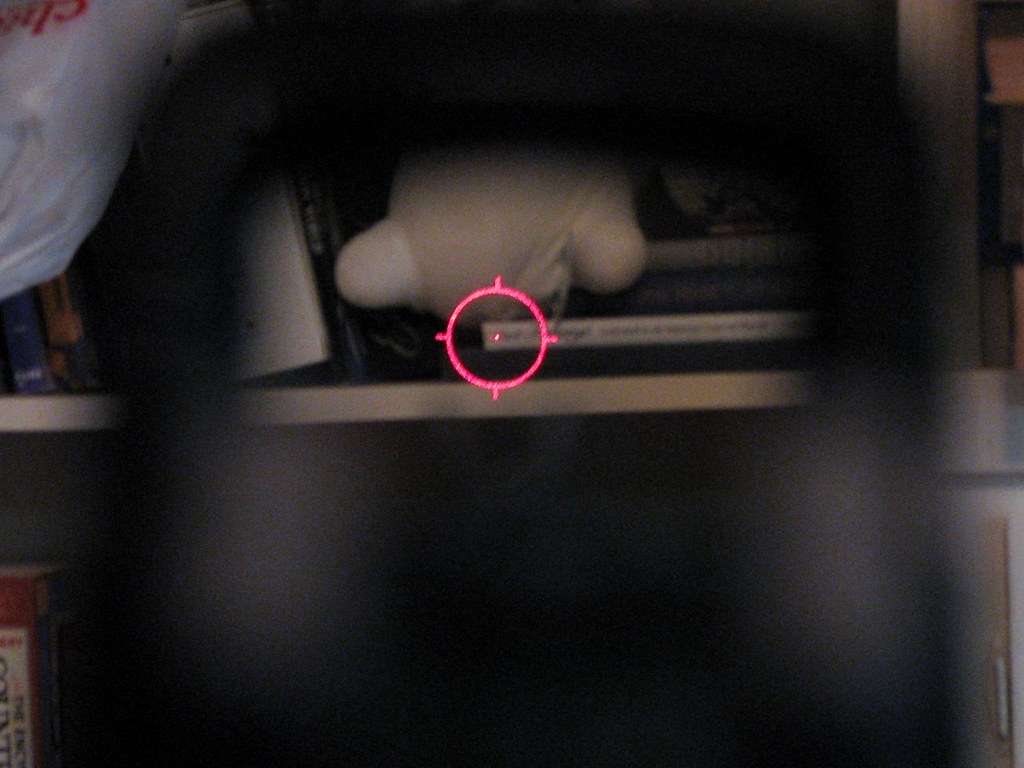 As a holographic sight, the EOTech 512's reticle has no holdover points or hash marks. Its reticle comes with a holographic 68 MOA red ring and a 1 MOA red dot center. It guarantees quick target acquisition as the reticle stays bright and visible even when you're shooting in bright sun. The 512 is only available in red reticles, unlike EOTech's higher-end models such as the XPS2 which are available in both red and green reticles.
The sight's brightness control buttons are located at the rear, making it easy to operate for left-handed or right-handed shooters. However, not everyone loves the buttons' location, as some find it difficult to adjust the brightness level when needed.
Unlimited Eye Relief and Parallax Free
The 512 also comes with unlimited eye relief so that you can shoot with both eyes open. Since the 512 is a holographic sight, it's also designed to be parallax-free. It's also equipped with a parallax adjustment feature that you can adjust to infinity.
Battery
The EOTech 512 is powered by two 1.5-volt AA batteries and can last up to 2,500 continuous hours when set at nominal setting 12. Since holographic sights are more complex and use lasers to power their reticles, their batteries get drained more quickly than red dot sights. If you want an optic with longer battery life, you should check out the Aimpoint Pro Reflex Sight above.
The EOTech 512 comes with an auto-shutdown feature that's user-programmable. This feature allows you to extend the optic's battery life. Its reticle is also equipped with an indicator that flashes on startup when the battery is low and should be changed.
Design, Material, and Size
Like every EOTech sight, the 512 is constructed from materials of excellent quality, so its durability and ruggedness are guaranteed. It is also streamlined so that it doesn't get in your field of view. However, one thing that could be improved is that the sight is a little too long, limiting mounting possibilities.
Mounting Options
The 512 is compatible with both 1″ Weaver and Mil-STD -1913 Picatinny Rail. And it takes pride in its versatility when it comes to mounting options. Aside from carbines, it can also be mounted on crossbows, small-caliber machine guns, and bolt guns.
FAQS
Is the EOTech 512 worth it?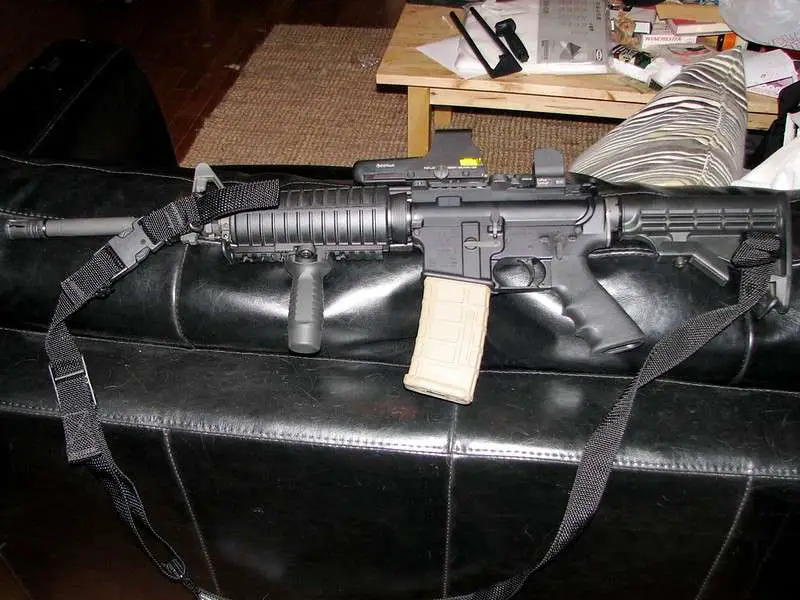 Definitely! Not only is the EOTech 512 designed to last, but it also offers pinpoint accuracy, so it's worth every penny. If you're looking for an optic with night vision, though, you should look at other options. 
Does the military use the EOTech 512?
EOTech has been an optics and magnifiers provider for the military for years. And naturally, the military prefers EOTech's more premium and combat-proven models such as the 553 and the EXPS3 holographic weapon sights.
How many yards is the EOTech 512 good for?
The EOTech 512 is good for 100 to 200 yards since it only has 1x magnification. If you want to extend your range, you'll need a magnifier.
Conclusion​
The EOTech 512 is a competitive entry-level choice for those looking for an affordable yet reliable holographic sight. Now that we've dropped everything you need to know about it, don't think twice and hit that Buy button!
Last update on 2023-08-29 / Images from Amazon Product API