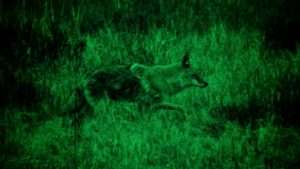 Best Overall
Orion H30 Hunting Light
Highly durable and cost-effective.
Check Price
Best Value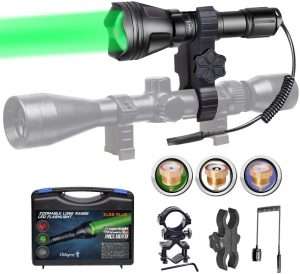 Odepro KL52Plus Zoomable Hunting Flashlight
Reliable for both long and short-distance use.
Check Price
Best for Long Range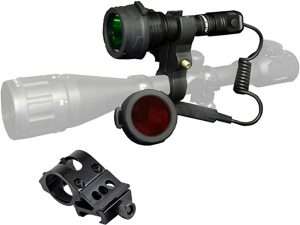 Nitecore P30 Hunting Light
Perfect for multiple hunting applications.
Check Price
Best Premium
Streamlight 69219 TLR-1 HPL
Great long-term investment.
Check Price
Aside from being intelligent predators, coyotes are adaptable creatures. And these qualities make hunting them a little challenging (and exhilarating at the same time!). So don't worry if you don't succeed your first time, you'll have to acquire experience and skills to outsmart coyotes. And even if you're a skilled hunter, you'll need top-notch hunting equipment, including the best light for coyote hunting at night.
A Quick Glance: Best Lights for Coyote Hunting at Night
Model
Orion H30 Red Premium 273 Yards Long Range Predator Hog Varmint...
Odepro KL52Plus Zoomable Hunting Light with Red Green White IR850...
Nitecore P30 1000 Lumens 676 Yards Red and Green Rechargeable Hunting...
Streamlight 69219 TLR-1 HPL 1000-Lumen Long-Range Rail Mounted Weapon...
Model
Orion H30 Red Premium 273 Yards Long Range Predator Hog Varmint...
Model
Odepro KL52Plus Zoomable Hunting Light with Red Green White IR850...
Model
Nitecore P30 1000 Lumens 676 Yards Red and Green Rechargeable Hunting...
Model
Streamlight 69219 TLR-1 HPL 1000-Lumen Long-Range Rail Mounted Weapon...
How We Choose + Must-Have Features
Battery Life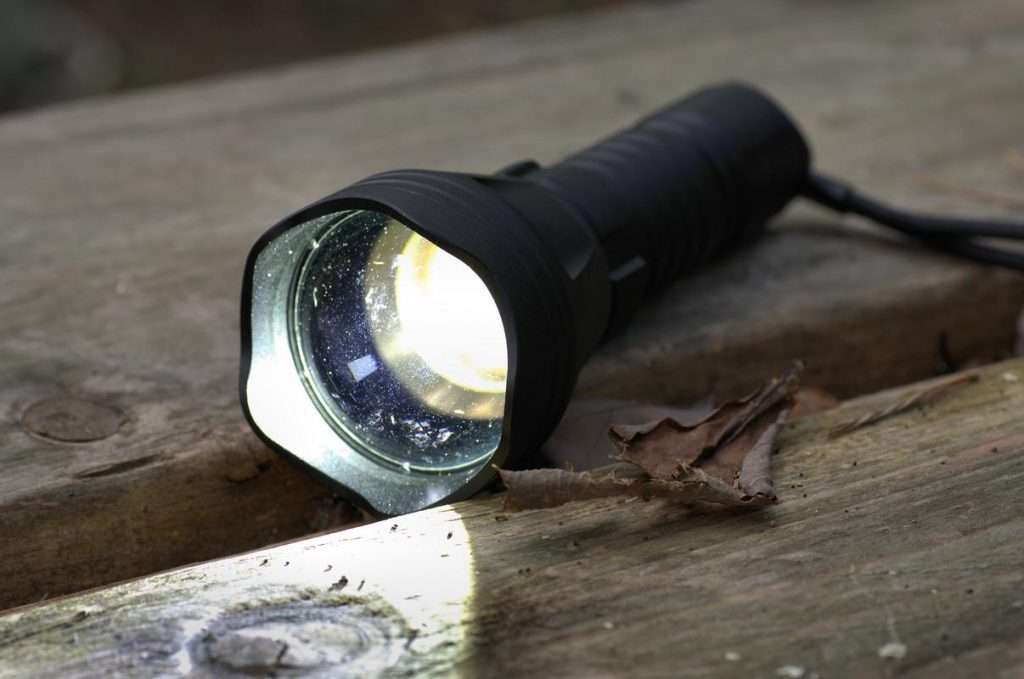 You don't want to run out of power while in the middle of the hunt. That would be a total buzzkill! Get a hunting light with batteries that can last up to 3 to 5 hours on the highest setting. Most lights last even longer when set at lower settings. All of our picks below are rated with long battery life so they're guaranteed to last throughout your hunting trip. If you'll be hunting all night or multiple days without a chance to recharge your batteries, we suggest bringing extra rechargeable batteries as your backup.
A battery life indicator is also a helpful feature to warn you when it's time to change batteries. Sometimes this feature is paired with a charging status indicator for when your hunting light is plugged into a power source. If these features are some of your priorities, you should check out the Nitecore P30 below.
Color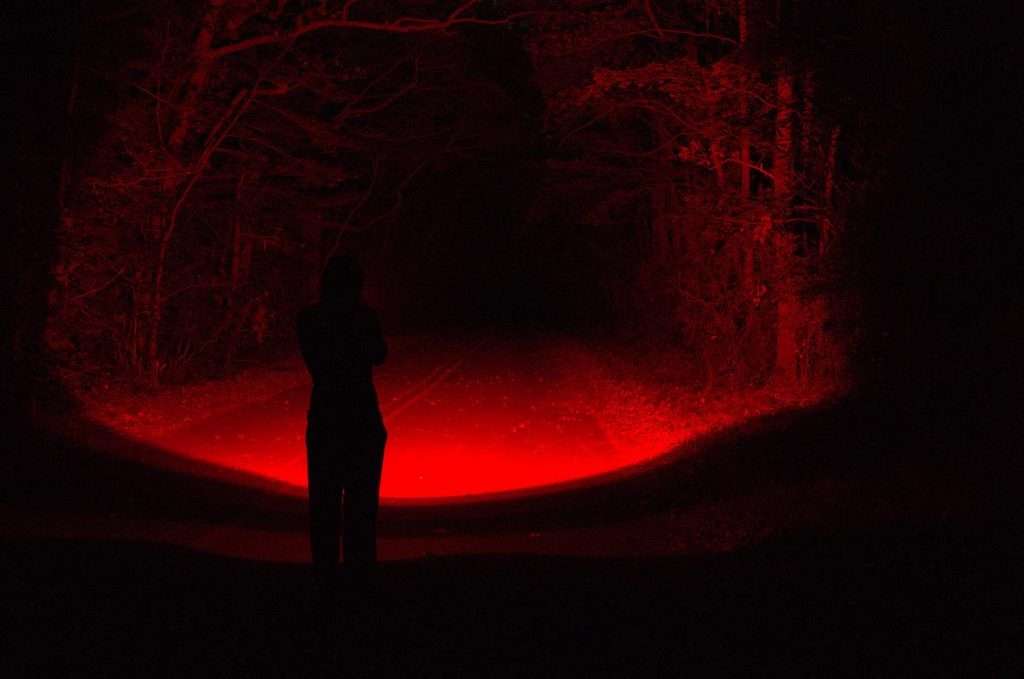 Most hunting lights come in either green or red, sometimes white LED lights as well. But some brands like the Odepro KL52 Plus and the Wicked Lights ScanPro come with multiple LED modules (red, green, and white) that are interchangeable depending on what game you're hunting. 
Both red and green light are better than white light when it comes to hunting applications. But some hunters still prefer to use it. White light is also best for people in law enforcement and filming at night.
Red light offers better eyeshine for quickly locating your game than any other color, particularly at night. It's best for hunting predators such as coyotes, bobcats, and foxes as it doesn't agitate them. 
The reason behind this is that, unlike us humans, some animals such as coyotes and other predators have dichromatic vision. This means they can only see two primary colors, which are yellow and blue. That's why they can't see red light.
https://www.iflscience.com/plants-and-animals/inside-colorful-world-animal-vision/
Be careful not to buy a low-quality red light as those are usually closer to the color orange and usually with cheaply-made lenses and reflectors, making them hard to use at long ranges. Look for a light with deep red color as it's one of the characteristics of a high-quality hunting light. All our picks below guarantee that plus durable lenses and reflectors for better shining distance. 
Green light covers further distances than red light, but predators are more sensitive to it, so coyote hunters use it the least.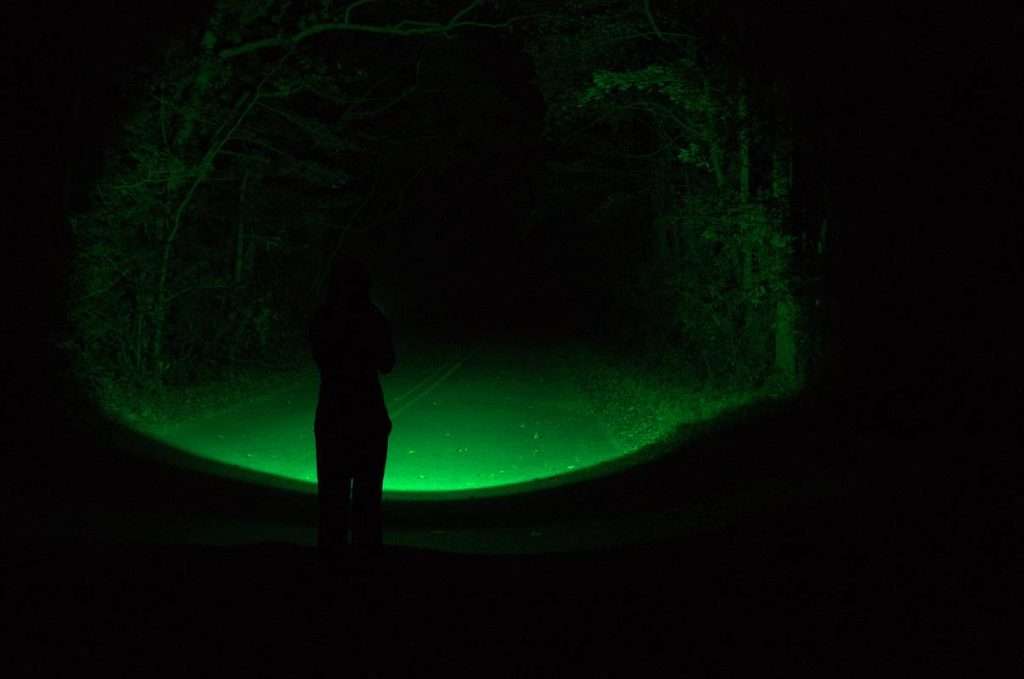 If you'll be hunting hogs, green light is fine since hogs are not spooked by it. Like most placental mammals, hogs have dichromatic vision. They can "detect the color blue but struggle with colors on the green and red spectrum." Also, green light shines brighter than red, and hogs tend to "move towards brightly lit areas." https://sitlersledsupplies.com/science-behind-led-dim-red-swine-lights/
Adjustable Zoom/Adjustable Focus
What's better than a hunting light that you can conveniently zoom in for a wider view and zoom out for better focus? Using a hunting light as a spotlight allows you to reach targets at longer ranges while using it as a floodlight widens your view, letting you search for targets easily.
If these features are your priorities, the Odepro KL52 Plus zoomable hunting flashlight won't disappoint. Check out our detailed review below for more details.
Mounting Type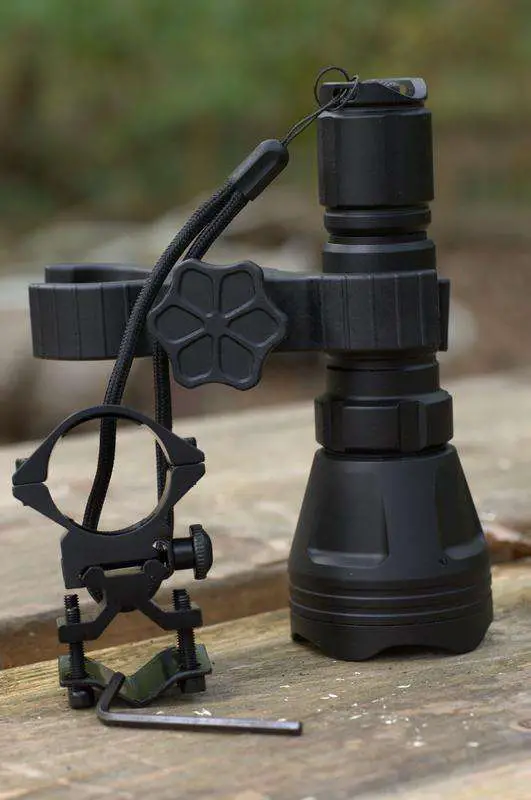 A great hunting light can be mounted on different types of guns, just like the Odepro KL52Plus. It should also come with sturdy mounts that are easy to install. Our pick from Wicked Lights below can be used as a headlamp so it's a great choice for those who prefer using headlamps over mounting the light on their scopes. 
5 Best Lights for Coyote Hunting at Night
Best Overall: Orion H30 Hunting Light
Aside from being affordable, our best overall pick emits a focused 273-yard beam, making it a great choice for all types of hunting applications. It features a Cree XP-E2 LED, a kind of light that emits 100% pure red or green without affecting its quality even after going through a filter.
The Orion H30 hunting light is constructed from military-grade materials, so it can withstand all kinds of impact and external pressure. The 18650 rechargeable battery that comes with this hunting light lasts for 4 hours when set at its maximum brightness of 300 lumens and can last up to 120 hours when set at its lowest brightness setting of 4 lumens. Plus, it recharges in less than an hour!
The H30 is equipped with two types of power buttons – a normal button that turns the light on and off like usual flashlights and a remote pressure switch that only turns the light on while you're pressing it.
The Orion H30 kit also comes with a charger and several mounts that are easy to install.
Pros
Waterproof and impact-proof
Very affordable
Long battery life
Comes with rechargeable batteries
Cons
Pressure pad for mounting is difficult to compress
What Customers Say
"This light works perfect. I received my light on Thursday 9/17/15. and I killed a 225lbs boar with it at 150yds and could easily see the hog. I killed the hog at 2:30am. I had the light on high power since 10:30pm. The battery still had plenty of power left. IMO you cant go wrong with this light. I do believe that the quality of scope matters on how far you will be able to see clearly."

Brandie
"Used this light for hog hunting for the first time. Amazing results. This little light packs a punch. The shot was about 80 yards and when I flipped this light on my target, the shot was clear. Harvested our first hog with this light! 80 yards was the target. But I'll bet another 40-60 yards would have been no problem. Easy to mount to the top of my scope. I can't comment on battery life since I only used it once so far."

Michael M.
Best Value: Odepro KL52Plus Zoomable Hunting Flashlight
Our best value pick features an adjustable focus that can reach up to 450 yards when used as a spotlight and functions as a floodlight when zoomed in, giving it the edge when it comes to versatility. 
The Odepro KL52 Plus offers great value for its price, as it comes with four easily interchangeable LED modules – an IR850nm light, a red light, a white light, and a green light. So you can use it both for different hunting applications, whether it be stalking predators, hunting hogs, or pest control.
The Odepro KL52 Plus is built from high-grade aircraft aluminum that's ideal for rugged outdoor use. It also features a smart and quiet remote switch that the user can press and hold to turn the light on and release to turn it off. This switch offers hands-free operation so you can use still hold your gun with both hands.
It also comes with two types of mounts; a POM quick-release mount that's compatible with various scopes, and a K185 aluminum mount that's compatible with Picatinny rails.
Enhanced aircraft aluminum body designed for rough outdoor use, that is perfect for use in the rain.
Pros
Affordable
Waterproof and shock-resistant
Comes with a remote switch
Rechargeable
Easy to mount
Cons
Lights are not that bright
What Customers Say
"Very complete hunting light kit, able to mount to gun or scope, with 4 lighting modes including IR. This kit really has everything, right down to the rechargeable batteries and charger. One issue, my case (and I love having cases for things) arrived with both clasps broken off, one of which wasn't even in the box. That irritates me because they knew when packing it they were broken or both would be in the box. Other than that, a really nice setup so far, will add to the review if there are significant changes."

keygirl
"I've been using this setup for a few weeks and am loving it. The pictures say it all, this light finished my DP-12 shotgun. It comes with everything I needed which I really liked, no rounding up other parts to get going. All parts are well made and holding up fine."

RJ
Best for Long Range: Nitecore P30 Hunting Light
The Nitecore P30 hunting light has an incredible range of up to 676 yards and is as bright as 1000 lumens! You can sit by your kitchen window and easily take out coyotes from far away!
The 4000mAh battery that comes with the Nitecore P30 can last up to 40 days of extended runtime. Initial charging takes at least 6 hours, though, but after that, charging time is shorter. It's also compatible with 18650 and CR123A batteries. It comes with a charging status and battery life indicator which are helpful reminders when you get too engrossed in hunting.
Even though it's constructed from aircraft-grade aluminum alloy, the Nitecore P30 is so compact and light that you can use it handheld. Of course, it's also easily mountable on any system using the included high clearance scope mount and offset Picatinny rail mount.
The Nitecore P30 hunting kit also comes with a lanyard, and a LumenTac hunting kit with a NITECORE RSW3 pressure switch, 50mm red filter, 50mm green filter, UI1 battery charger, offset mount, and scope mount.
Pros
Comes with rechargeable batteries
Incredibly bright
Great for long-range use
Waterproof and impact-resistant
Compact and lightweight
Cons
The filters that come with the kit cut down the brightness a lot
What Customers Say
"Incredible hotspot, designed for long throw. It lights up the side of barns over 500 yards away. This makes larger spotlights obsolete! I love the green and red filters, this kit is the ultimate. The hotspot is so intense that it makes jetbeam and surefire 1000 lumen lights look weak on side-by-side comparison. A friend bought this kit, and i was so impressed i had to have one for myself. I intend to use it nighttime coyote calling. Also, the beam has a perfect, minimal amount of side spill to see eyes glowing outside of the hotspot."

Rouzer
"I dont have dislike for the Nitecore P30 that is best lamp what i have. Very good trow beam around 400-500m I can recognize animal and after only recognize eyes. I use only for coyote, and hog hunting I dont have night or thermal vision."

Darko
Best Premium: Streamlight 69219 TLR-1 HPL
Our next pick may be a bit pricey, but that's because of its unparalleled durability and reliability. With the Streamlight TLR-1, you can efficiently pop coyotes up to 300 yards.
First, it's built from long-lasting anodized aluminum. It mounts directly to all MIL-STD-1913 Picatinny rails and weapons with Glock-style rails, but you'll need an MLOK to Picatinny adapter if you want to mount it on an MLOK rail. Plus it comes with a specially designed rail clamp for quick installation as well as rail locating keys so you can easily mount it to different types of rails.
Like the Nitecore P30, the Streamlight TLR-1 also has a brightness of 1,000 lumens. It features a shock-proof high power LED technology with a peak beam intensity of 60,000 Candela! What's great is that no matter how bright that is for the human eye, coyotes won't know what's waiting for them until it's too late!
Battery replacement is also pretty easy because it comes with a tethered battery door and a latch mechanism to avoid misplacing the battery door.
One thing that we think could be improved by Streamlight, however, is increasing this gun light's battery life, as its brightness consumes power very quickly.
Pros
Very bright
Extremely long throw
Compact
Comes with a limited lifetime warranty
Cons
Short battery life
Not rechargeable
Expensive
What Customers Say
"No need to hold a flashlight with your second hand, your light and full-sized pistol are one. Easily toggled on/off and stun strobe with your gun index finger, even for small hands. Wide-angle illumination past 200 yards, it burns the night. Have extra batteries in stock, this performance takes power."

Steven Siemens
"This is exactly what I wanted. A bright, focused beam to throw down range. I usually buy another brand of high end flashlights but kept coming back to this one in my search for what I needed. I am very impressed with the quality to price point. Will have to start looking at this brand more in the future."

Phil Roberts
Wicked Lights ScanPro iC 3-Color-in-1 Night Hunting Headlamp Kit
The Wicked Lights ScanPro is built from anodized and precision-machined T6 Aircraft grade aluminum so it will still last a long time even after getting bumped around or getting rained on.
It also comes with an adjustable bezel where you can adjust the beam width from narrow to wide, so you can use it both as a spotlight and as a floodlight. Plus it features a rubberized halo shield that reduces splash. This hunting light will produce visible eye reflections from animals out to 400 yards. And its beam intensity can be precisely controlled using a rheostat knob so you can slowly adjust the brightness without alarming your game.
The Wicked Lights ScanPro comes with three lights – green, red, and white LED. It features a patented center axis LED design so your light remains centered even while changing colors. Its battery also lasts for 4 hours when fully charged.
One feature that could be improved, however, is that the rubberized coating quickly peels off after some time.
Pros
Water-resistant
Lightweight
Long battery life
Comes with a warranty
Cons
Expensive
Rubberized coating is low quality
What Customers Say
"Love my light. It works great, has great range, durable and great battery life. It's a little front heavy. I normally wear it on top of my hat and it's pretty comfortable."

Cathy P.
"Had the light for a little over 3 years and it did not disappoint! It went through it all between rough nights coon hunting, coyote hunting, bird hunting, and working on stuff in the shop!"

Caleb
FAQs
Can coyotes see a red light?
Coyotes have exceptional vision, and unlike humans, they have intuitive night vision and are more sensitive to movement. But like most canines, it's difficult for them to see higher wavelength colors. They mostly see things in shades of blue and yellow, that's why using red or green light when hunting them is most recommended as those are harder for them to pick up. The red and green reflections from the coyotes' eyes make them easier to target.
What is the best red light for coyote hunting?
We like the Orion H30 the best for coyote hunting at night for all the reasons listed above.
Do flashlights scare coyotes?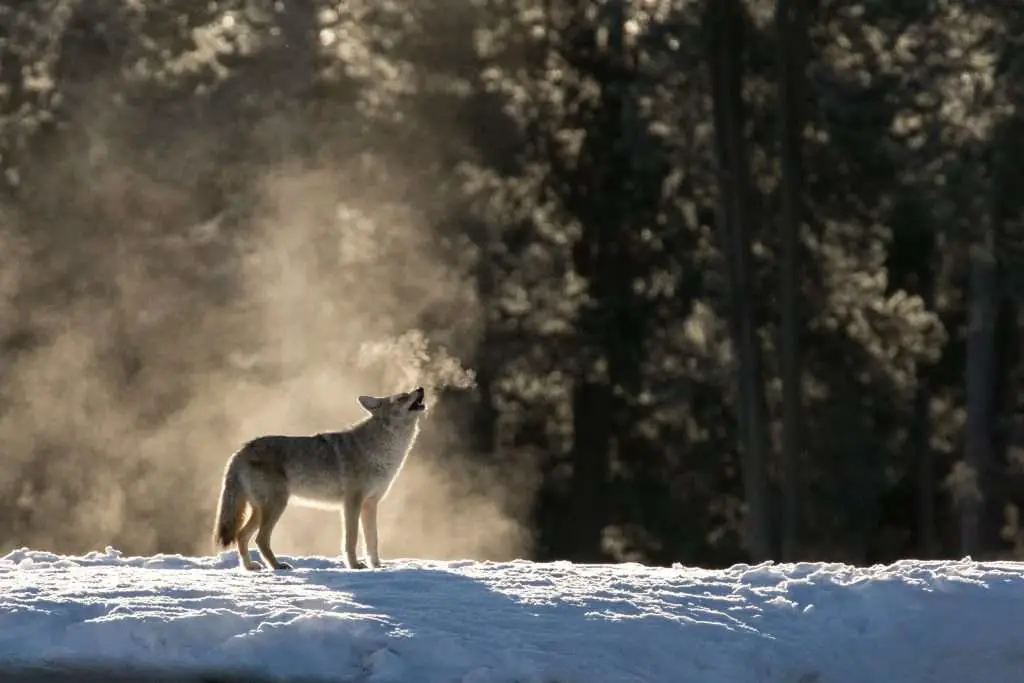 A normal white flashlight will scare away most coyotes. The hunting flashlights we reviewed in this article are specially designed for hunting coyotes and general predators so they won't scare them. 
What color light is best for night hunting?
The best color light depends on what you'll be hunting. Green light is best for hunting hogs, while red lights are ideal for hunting predators such as coyotes, foxes, and bobcats. 
Final Thoughts
Hunting the hunter is thrilling, and at the same time, dangerous. So aside from having the best hunting gear, be sure you get a crash course on predator hunting, whether it be coyotes or foxes. And, if you really enjoy being out hunting at night, pick up a light and go coon hunting too! Have fun!
If you're into bow hunting, we put together a comprehensive guide for you!
Last update on 2023-09-24 / Images from Amazon Product API