Best Overall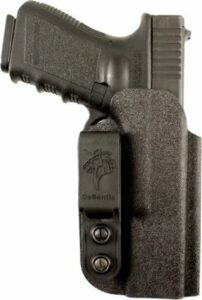 DeSantis Slim-Tuk Holster
Known for its secure retention and slim profile.
Material Quality: 9/10
Comfort: 8/10
Cost: 9/10
Check Price
Best on a Budget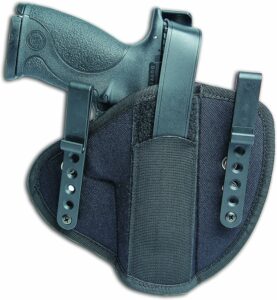 Uncle Mike's Tactical Inside-the-Waistband Tuckable Holster
Guarantees value without sacrificing performance.
Material Quality: 7/10
Comfort: 8/10
Cost: 9/10
Check Price
Most Comfortable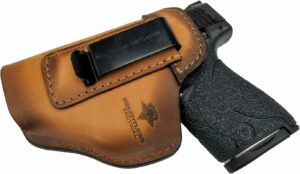 Relentless Tactical The Defender Leather IWB Holster
This holster is not only robust but also incredibly comfortable.
Material Quality: 9/10
Comfort: 10/10
Cost: 8/10
Check Price
Whether you're a professional in law enforcement, a firearm enthusiast, or just someone who values personal protection and self-defense, having the right concealed carry holster makes a world of difference. Today, we'll be exploring the realm of small of back concealed carry holsters, breaking down what makes a great one, and highlighting some of the best options available. Let's dive right in!
How to Choose the Best Small of Back Holster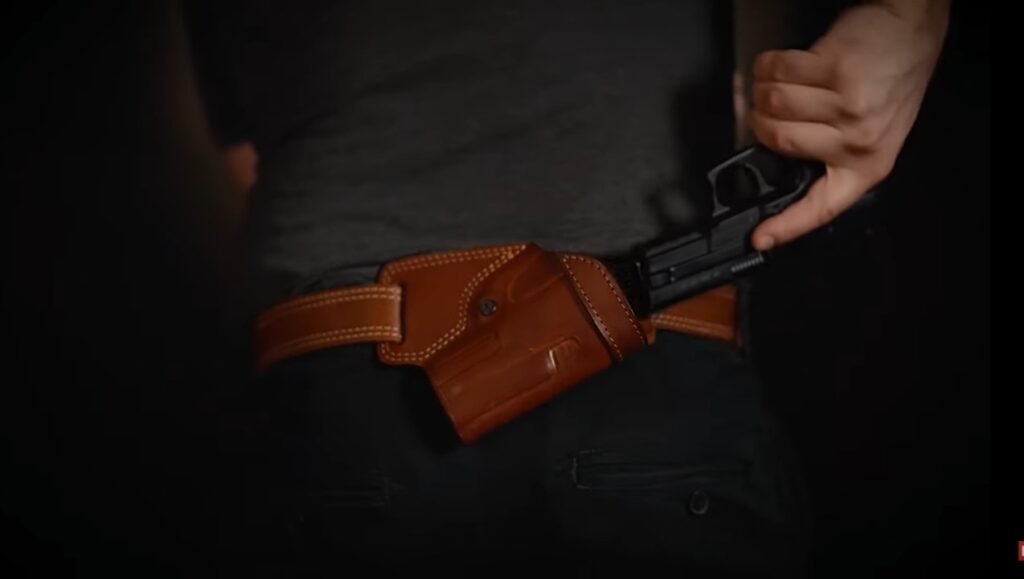 Choosing the right small of back concealed carry holster (SOB) requires careful consideration of several factors:
Fit and Comfort
Comfort is paramount when it comes to carrying a concealed firearm, especially for extended periods. An ill-fitting holster can cause discomfort and even impede your ability to draw the firearm quickly if needed.
Concealability
The main purpose of concealed carry is just that – to conceal. Your holster should allow you to discreetly hide your concealed carry gun without drawing attention.
Material
Holsters come in various materials, including leather, nylon, and Kydex. Each has its pros and cons. Leather is known for its durability and comfort, whereas Kydex offers rigidity and easy reholstering.
Retention
Retention refers to how securely the holster holds your firearm. Good retention ensures your firearm stays put, even in physically demanding situations.
5 Best Small of Back Concealed Carry Holsters
Best Overall Small of Back Concealed Carry Holster: DeSantis Slim-Tuk Holster
This ambidextrous, KYDEX holster offers both durability and comfort. It's known for its secure retention and slim profile, which promotes excellent concealability. For us, the best thing about the DeSantis Slim-Tuk is the Tuckable 360 c-clip as it offers an infinite number of carry options. It also gives a reassuring click so you can tell that your weapon is seated securely in the holster.
However, the clip on this concealed carry holster is only compatible with wide belts.
Pros
Excellent retention
Affordable
Ambidextrous
Cons
Holster clip not compatible with narrow belts
What Customers Say
G42 fits absolutely perfect in this slim and light holster. I had been looking for a holster that would accommodate a rail mounted holosun, and this fits the bill perfectly. Holds the gun tight against my body with negligible printing. Adjustable retention and can't. Sits comfortably "deep". Easy, clean, draw.

Louie
It fits so well, sometimes I forget it's there….with the side location I can get/out of my SUV and the seatbelt does not prohibit me from removing the weapons if need be.

Phast Phil
Best Small of Back Concealed Carry Holster on a Budget: Uncle Mike's Tactical Inside-the-Waistband Tuckable Holster
If you're looking for value without sacrificing performance, we recommend Uncle Mike's tactical holster.
This holster offers a comfortable fit, good concealability, and can be adjusted for different carry angles. It features an extra-thin laminate with a kodra nylon outer shell.
Whether you're left-handed or right-handed (or both), Uncle Mike's has your back (literally, it's comfortable on the small of your back!). And cross-draws? Smooth like butter.
However we find this holster to be bulkier than other models, so it takes more effort to conceal.
Pros
Affordable
Ambidextrous
Comes with retention strap
Tuckable
Easily adjustable
What Customers Say
For the price I think it will do fine. This is my back up carry anyway so I won't be using it all that much.

Donald Peterson
Good product for the money. Sturdy and holsters easily. Took a while to adjust to the ride height and cant I wanted.

CW Jackson
Most Comfortable Small of Back Concealed Carry Holster: Relentless Tactical The Defender Leather IWB Holster
If you, like us, have a penchant for not just functionality but also a dash of classic charm, the Defender Leather IWB Holster is a game changer.
Crafted from genuine leather, this holster is not only robust but also incredibly comfortable. It molds to your body over time, creating a custom, snug fit. Day-in, day-out, this baby feels like a second skin. No pinching, no chafing.
What truly won us over, though, is its durability. None of that synthetic, fall-apart-in-a-year nonsense – this holster promises longevity.
Pros
Wide compatibility
Made from high-quality leather
Comes with lifetime warranty
Comfortable
Reasonably priced
What Customers Say
I bought this holster about six months ago and use it practically every day and it's held up really well. I'm very pleased with the quality of the leather; it's firm enough to properly hold my firearm in place but comfortable enough as an IWB that it doesn't bother me.

Kevin TX
Comfort, Fit, and Quality. It checks all boxes. Great secure fit for CZ P10C. Leather is thicker around mag release button, which protects the mag from being accidentally released when leaning on the holster. Easy on and easy off. Very pleased with the purchase.

Jack
Kydex IWB Holster
The KYDEX IWB Holster boasts a streamlined design, providing users with a comfortable concealed carry option. It offers adjustability and quick draw capabilities. We also appreciate its solid and positive click when holstering and unholstering. Plus, the KYDEX material ensures durability, maintaining its shape over time, while its rounded edges prevent unnecessary wear on clothing.
However, while KYDEX is renowned for its rigidity and retention capabilities, it might not offer the same level of comfort as some softer materials.
Pros
Comes with a sweat guard
Smooth draw
Comfortable 
Great retention
What Customers Say
This holster fits my Rock Island Armory STK100 perfectly. The fit is tight enough to be secure but loose enough for it to be drawn smoothly and quickly. The holster is easily adjustable with no slippage on the adjustment.

Vincent
This is actually a really good holster. It wears really good. I love the positive "click" retention. My only complaint is, the inside corner tends to dig into your inner thigh when sitting down. They should have rounded it off at the factory.

Shane Sierra
Muddy River Tactical IWB Holster
Our final small of back concealed carry holster pick is a favorite among many CCW enthusiasts like us. Why, you ask? The Muddy River Tactical IWB Holster stands out for its combination of comfort and functionality. This holster is handcrafted, which ensures attention to detail. The leather backing offers a cushion between the firearm and the body, enhancing comfort for all-day wear.
Leather, while comfortable, might require more maintenance compared to synthetic materials like KYDEX. Over time, the leather may lose its shape or elasticity, which might affect the holster's retention capabilities. It's also typically pricier than non-leather alternatives.
Pros
Very comfortable
Handcrafted
Comes with a metal belt clip
Cons
Leather material is a bit thin
Pricey
What Customers Say
Beautifully soft leather when wearing and very comfortable against the body. Too flimsy to re-holster one-handed. Otherwise, it is so comfortable to wear.

Christopher Klautky
Absolutely love this holster. Conceals great and feels wonderful. Sometimes it feels like it's not even there. They have earned my business for life.

Kory
Small of Back Concealed Carry Holster Pros and Cons
While SOB carry offers numerous benefits like excellent concealability and comfort, it's not without its downsides. On the pro side, SOB carry is hardly noticeable, even under tight clothing. On the downside, it can be uncomfortable while sitting and might be harder to reach in a hurry compared to other carry positions.
Our Key Takeaways
Finding the right small of back concealed carry holster takes some effort, but it's worth it in the long run. It's all about balancing comfort, concealability, retention, and your budget. And remember, no matter how good your holster is, practice is key. Make sure to practice your draw and reholstering regularly to ensure you can respond efficiently and safely when needed. We hope this guide aids you in finding the perfect holster for your needs.
Last update on 2023-09-03 / Images from Amazon Product API