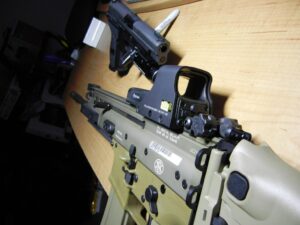 Welcome to the EOTech 512 vs. 552 showdown! If you're a firearm enthusiast or a professional in search of the perfect holographic sight, then you know that choosing the right one is crucial. 
Today, we're comparing two widely acclaimed models from EOTech: the 512 and the 552, to help you decide which one fits your needs the best. Let's get ready to rumble! 
EOTech 512 vs. 552
At a glance, the EOTech 512 and 552 may appear quite similar, but there's a fundamental difference that sets them apart. 
While both models offer the trusted performance and robust design EOTech is known for, it's the night vision compatibility in the 552 that truly differentiates it. This feature makes the 552 a go-to choice for those who may find themselves operating in low-light or nighttime conditions, and needing the added benefit of night vision. 
In contrast, the EOTech 512, without this feature, is more suited for standard daylight operations, making it a more budget-friendly option without the night vision capability for typical hobbyists.
Before we get into specifics, here's a quick refresher on EOTech's holographic weapon sights. 
EOTech 512
EOTECH 512 Holographic Weapon Sight
EOTECH 512.A65 - Holographic Weapon Sight in black with 68 MOA ring & 1 MOA dot reticle
Mount - Compatible with both 1" Weaver and MIL-STD 1913 Rails
Adjustable Brightness - The 512 has 20 brightness settings for use in any lighting scenario
Specs: 
Magnification: 1x
20 Brightness settings
Reticle: 68 MOA ring & 1 MOA dot
Mount: 1″ Weaver
Weight: 11.5 oz
Batteries: AA
Pros:
Reliable and robust design
Easily available and affordable AA batteries
Suitable for both daytime and low-light conditions due to various brightness settings.
Cons
Water-resistant only up to 10 ft 
Not compatible with night vision
Bulky because of the AA batteries
EOTech 552
Specs:
Magnification: 1x
30 Brightness settings (10 for night vision)
Reticle: 68 MOA ring & 1 MOA dot
Mount: 1″ Weaver
Weight: 11.5 oz
Batteries: AA
Pros: 
Compatible with all Gen 1-3 night vision devices
Water-resistant up to 33 ft
Cons
Pricier than the 512
Bulky because of the AA batteries
EOTech 512 vs. 552: Features Comparison
Night Vision Compatibility [Winner: 552]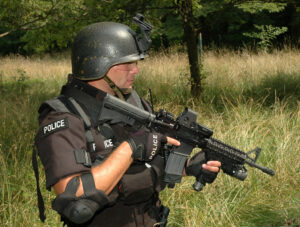 One of the standout differences between the EOTech 512 vs. 552 is the night vision compatibility of the latter. 
The 552 comes with 20 daylight brightness plus 10 additional night vision settings, making it versatile for operations in low-light conditions. This means that when you equip a night vision device, the 552's reticle brightness can be adjusted to levels that won't oversaturate or bloom in the night vision view. 
This feature can be a game-changer for those who frequently operate in nighttime environments or want the flexibility to do so in the future. 
On the other hand, the 512 doesn't have this capability, so its use in complete darkness with night vision equipment is limited.
Reticle [Winner: Tie]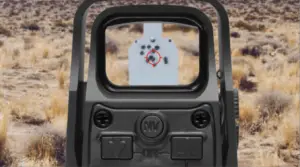 The reticle is a crucial component of any sight. Both the EOTech 512 and 552 offer the same holographic reticle. Their reticle pattern consists of a 1 MOA (Minute of Angle) central dot surrounded by a 68 MOA outer circle. 
What does this mean for you? 
The combination of a precise dot and a larger ring facilitates speedy target acquisition at close quarters and accurate aiming at distant targets. In layman's terms, it's like having a pin-point accurate dot for longer shots and a larger "guiding" circle for those fast, closer shots.
Holographic Window [Winner: Tie]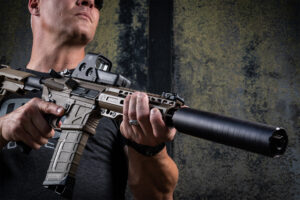 The holographic window is the transparent surface you look through to see the reticle and your target. Both these EOTech models have been built with durability in mind, so expect tough, scratch-resistant windows that can withstand rough handling. 
The clarity of these windows ensures that the holographic reticle is sharp, and the outside environment is represented without distortion, which can be essential during dynamic shooting scenarios.
Battery [Winner: Tie]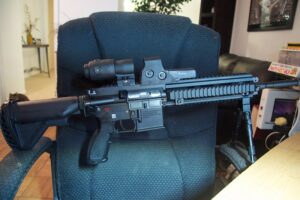 Powering these sights are the common AA batteries. This choice by EOTech is a nod to practicality. AA batteries are readily available in most parts of the world, and they won't break the bank when replacements are needed.
Both models offer reliable battery life, ensuring that you won't frequently find yourself in a situation where your sight is out of juice.
Brightness Buttons [Winner: Tie]
The sun doesn't always cooperate when you're out shooting. Sometimes it's too bright, and other times you might find yourself in dim conditions. This is where the brightness settings come into play. 
With 20 adjustable settings in both the 512 and 552, you can customize the reticle's brightness to your liking, ensuring it's always visible against any backdrop, whether you're shooting in bright daylight or at dusk.
Mount [Winner: Tie]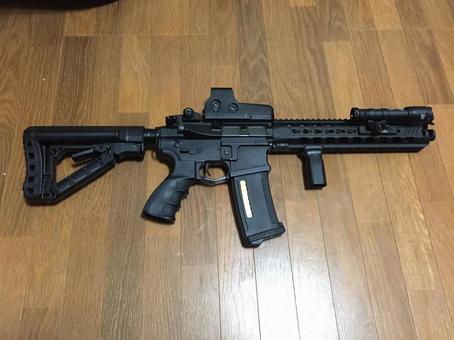 Installation should be hassle-free, right? EOTech seems to think so too! Both the 512 and 552 come with a built-in mount that's compatible with the popular 1″ Weaver and MIL-STD 1913 Rails. 
This means easy installation for most standard firearms. Plus, the secure fit ensures that your sight remains stable, even during rapid movements or when firing multiple rounds.
EOTech 512 vs. 552: Conclusion
So, after going toe-to-toe, which one takes the trophy, the EOTech 512 or 552? Well, if night vision compatibility is crucial for you, the 552 is your go-to. However, if you're looking for something more budget-friendly and don't need the night vision, the 512 won't let you down.
In the end, the winner really depends on your individual needs and preferences. Both models are top-tier, featuring exceptional reliability, robustness, and clarity, guaranteeing that whichever you choose, you're in for a treat. Happy shooting!
Last update on 2023-12-05 / Images from Amazon Product API