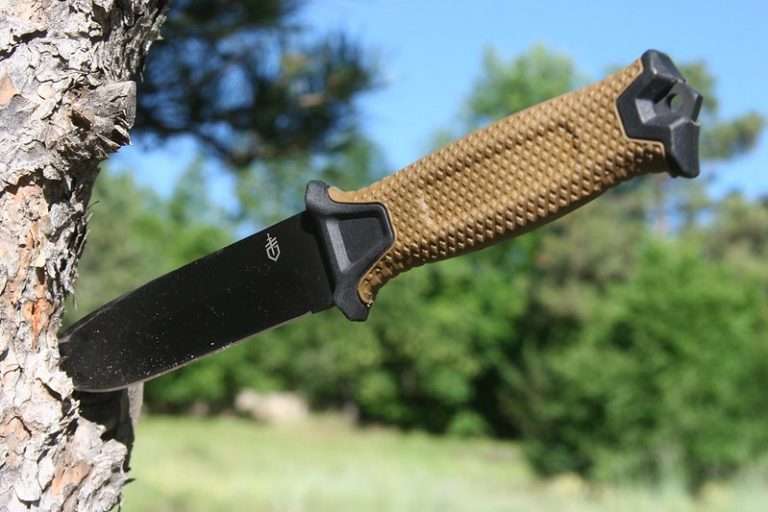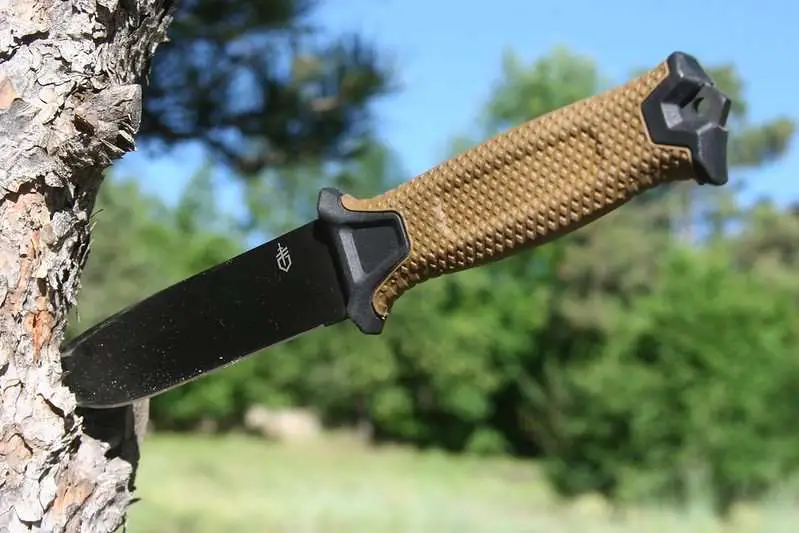 Our Top Picks
Best Overall Combat Knife
GERBER StrongArm Fixed Blade Knife
Our best overall pick is an excellent all-around knife.
Check Price
Best Budget Combat Knife

Smith & Wesson High Carbon S.S. Fixed Blade Knife
This combat knife is handy and affordable.
Check Price
Best Fixed Blade Combat Knife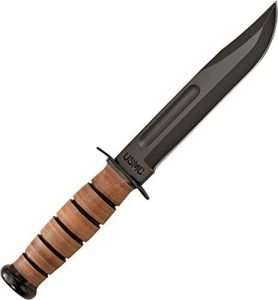 KA-BAR US Marine Corps Fighting Knife
This fixed-blade combat knife is made from high-quality materials.
Check Price
Best Combat Knife for Self-defense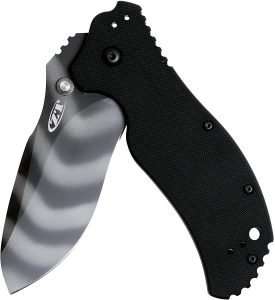 Zero Tolerance Folding Pocket Knife
This foldable combat knife is durable and reliable.
Check Price
Best EDC Knife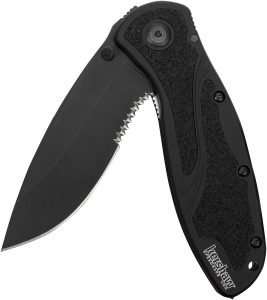 Kershaw Blur Glass breaker Folding Knife
This combat knife is perfect for everyday use.
Check Price
Knives are valuable survival and utility tools for self-defense, camping trips, hikes, or your EDC. If you're new to the world of knives, we've got you covered! Join us as we review the best combat knife in the world.
Comparison of the Best Combat Knives
Last update on 2023-02-24 / Images from Amazon Product Advertising API
Features We Considered
Material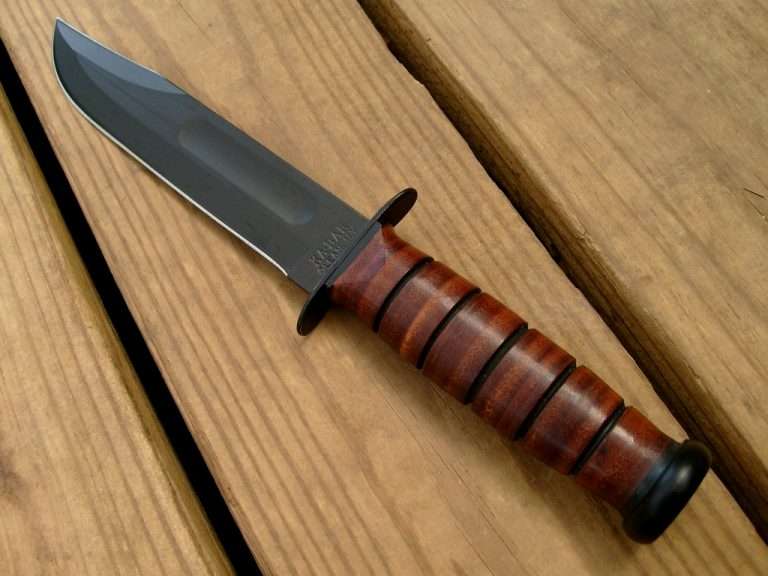 Safety always comes first. Your life may depend on it, so get a knife that's made from high-quality materials. While it's good to stick to a budget, remember that you get what you pay for. The last thing you want is a dull or broken blade when your life depends on it.
Overall length
There's no perfect combat knife length, as long as it's between 3 to 12 inches. And, it depends on your personal preferences. While longer knives provide more leverage and cover more volume when stabbing, they may be too big for your hands. And while shorter knives are great for working in detail, they may be too small for you. So consider this carefully.
Blade shape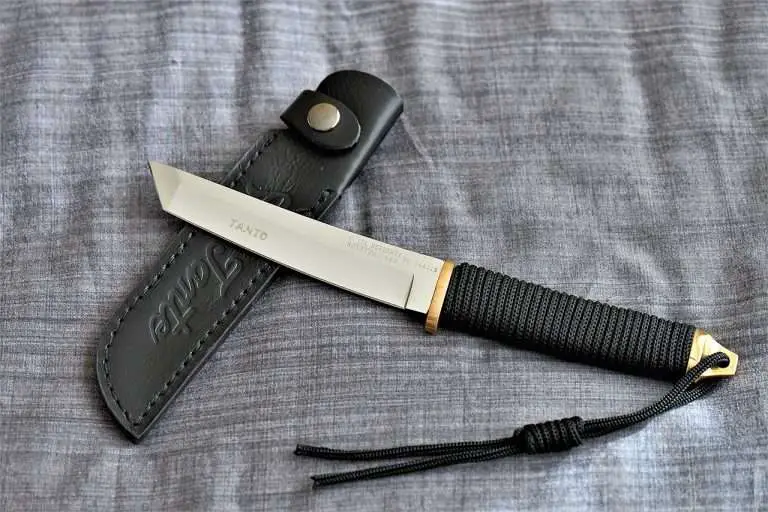 The most common blade shapes are Drop Point, Spear Point, Tanto, and Clip Point. Here's a short description of these blade types for your reference.
A drop point blade has a convex curve and is most effective at stabbing strikes. A spear point blade's tip is parallel to its center so it's great for stabbing so it's often used on throwing knives. A tanto blade is great for outdoor and survival applications so it's preferred by the military. Lastly, a clip-point blade features a concave curve and is great for piercing and stabbing.
Knife handle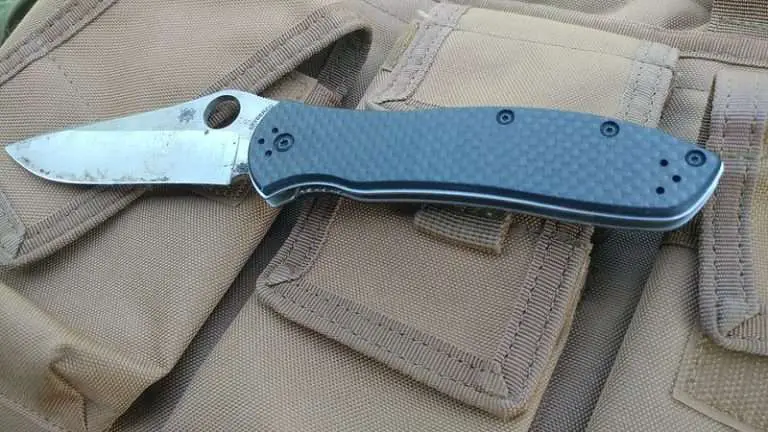 Choose a knife with a handle that's made from a non-slip material. A great knife should maintain a firm grip even in the worst weather or when your hands are a mess. After all, you don't want your knife flying out of your hands when you most need it.
Fixed or Foldable
While fixed blades are more recommended for combat, some foldable knives also serve as great combat knives. Just like our foldable picks below that offer one-hand blade deployment so it'll feel as if you're holding a fixed blade knife. Keep in mind, though, that foldable blade knives are limited in length.
If this is your first time buying a knife, our guide to knife blade types is a must-read.
5 Best Combat Knives
Best Overall Combat Knife: GERBER StrongArm Fixed Blade Knife
Last update on 2023-02-24 / Images from Amazon Product Advertising API
Our best overall pick is tough enough to break through hard surfaces such as glass.
The Gerber StrongArm Fixed Blade Knife is compact and can be carried multiple ways. Its high-quality thermo-plastic sheath is compatible with the traditional vertical belt carry but can also be carried horizontally or via Molle strap.
The StrongArm's blade tip is also tapered and designed for deeper penetration when stabbing. Its high carbon steel blade is also more rust-resistant than other brands and is reinforced with ceramic blade coating for added durability.
Pros
Affordable
Deep stabbing penetration
Lightweight
Rubberized texture grip
Cons
What Customers Say
"One of the best designed and made combat knives you'll find. This thing offers a very well-rounded package in terms of durability and versatility. It's an extremely functional knife that often sells at budget prices of fifty bucks or less. Gerber really put some thought into this one. Even if it's not your very favorite, it's hard not to be a little wowed by the utter utility of the design. Definitely a knife worth keeping around."
"Buy this knife! I'd certainly buy this knife again in a heartbeat! This knife is certainly worth it's the exceptional price point of $47 as of June, 2016. For that price, I would pick up two and put one away as a backup! I'm a strong believer of the "two is one, and one is none" motto! Highly recommended! Hopefully this knife will change a lot of people's minds about Gerber!"
Best Budget Combat Knife: Smith & Wesson High Carbon S.S. Fixed Blade Knife
Last update on 2023-02-24 / Images from Amazon Product Advertising API
The Smith & Wesson Fixed Blade Knife is a high-quality and cost-effective option if you're on a budget.
For its price, this fixed blade knife is well-machined and very functional. Its tanto blade is made from high carbon stainless steel and its handle has a handguard that grips firmly even when wet.
You can also hear a click once the knife is locked in its sheath so you can rest assured that it won't accidentally slip out.
Pros
Ambidextrous sheath
Affordable
Cons
Low-quality sheath
It's a little big
What Customers Say
"S&W offers a well designed blade here, with a basic survival style and no frills. The steel used is comparable to 440c used by Harnds and other top brands. Produced in China, the QC and appearance is very good . This is one of the most useful knives I own. Weight, balance and non slip grip. The only question is durability over time and use. Being a Taylor brand I would not hesitate to buy again. I bought for $30. Recommended for serious duty."
"Well balanced and feels as if it would be a good throwing knife if needed. Remember the scene in the first Matrix movie, when Trinity throws a knife into the soldier's head on the rooftop? Makes you feel like it is the same knife and you could do the same if you needed to. However, the sheath is a rigid plastic without a snap to secure knife from coming out. On the plus side, the weight of the knife is substantial by comparison; you feel it there."
Best Fixed Blade Combat Knife: KA-BAR US Marine Corps Fighting Knife
Last update on 2023-02-24 / Images from Amazon Product Advertising API
Our next pick is manufactured by one of the pillars of the knife industry.
The Ka-bar US Marine Corps Fighting Knife features a blade made from 1095 Cro-van steel. And is equipped with a gold-plated brass guard and pommel. Its durable leather sheath also guarantees that your blade stays protected and sharp at all times. It's also equipped with a crossguard to protect your hands and prevent the knife from slipping.
A lot of customers have also sworn on this fighting knife's durability and how it's able to survive daily use and abuse.
Pros
Very sharp blade
Solid metal butt
Multifunctional
Cons
What Customers Say
"This is a no-nonsense knife. It begs to be used and abused, but I probably won't. The quality of everything, from the box to the literature, to the sheath to the blade, to the handle is way better than I expected. "
"You'll be hard-pressed to find a better outdoor knife than this one. The knife is useful for everything from hammering, prying, opening cans, and digging trenches to cutting wood, roots, wire, and cable. It is virtually indestructible and will last a lifetime. I mean, come on, it's been used by the U.S. military for decades. That says a lot."
Best Combat Knife for Self-defense: Zero Tolerance Folding Pocket Knife
Last update on 2023-02-24 / Images from Amazon Product Advertising API
Our best combat knife for self-defense is ultra-tough, thanks to its diamond-like carbon coating. This state-of-the-art coating reinforces it into an extra hard, corrosion-resistant, and wear-resistant blade.
Zero Tolerance's well-centered blade is made from S30V steel for guaranteed durability. Removing the knife from its sheath involves the use of a torsion bar for quick deployment.
What we love most about the Zero Tolerance Folding Pocket Knife is that it offers one-handed blade deployment, which is very helpful during emergencies. This knife's clip offers solid retention, but it would have been better if it was longer for a deeper carry.
Pros
Corrosion-resistant blade
Compact and lightweight
Quick deployment
Cons
What Customers Say
"I am presently surprised just how great this knife is!! The craftsmanship is superb. The fit and finish are above reproach. It is just slightly smaller than what I like in a pocket knife but it's not an issue. The blade is VERY SHARP!! The instructions are excellent as it tells you the correct angle to sharpen the blade. I really like the spring assist feature. It's a little stiff but I'm sure that will smooth up after repeated openings. The lock engages correctly and there is no movement after lockup. If you want a high-quality knife but don't want to pay a premium price just because of a name, then this is the one you need. You won't be disappointed."
"This knife is my EDC. I thought it might be too big, as I owned its slightly bigger brother the 300 before, but this one is just right. Lightning-fast opening. I love the G10 grip. Way better than a metal-bodied knife for grippiness. Sharpening knives is my hobby/art. This steel took a mirror sharp edge you can shave with. Decent edge retention. The only downside is the tip. I know some people prefer more of a drop point. For me the blade shape is fine. It's stout. I know it's not going to break off when I use it !"
Best EDC Knife: Kershaw Blur Glassbreaker Folding Knife
Last update on 2023-02-24 / Images from Amazon Product Advertising API
Our best EDC knife features a glass-breaker tip that's tough enough to slice through hard and fibrous surfaces.
The Kershaw Blur folding knife's handle is equipped with Trac-Tec inserts for a firmer grip when the going gets tough. The knife's pocket clip is also versatile so you can choose to carry your knife tip-up or tip-down.
We also love Kershaw Blur's secure locking system that keeps the knife open, preventing any accidental closure. The knife also features a torsion bar and a thumb stud for quick one-hand blade deployment.
Pros
Comes with a limited warranty
One-hand flip
Corrosion and wear-resistant
Cons
What Customers Say
"Had to use the glass breaker for the first time the other day. A car had caught fire and I used the glass breaker to bust out the front driver's window. Just a simple hammer fist with minimal pressure shatter the glass immediately. As for the rest of the knife, I've used it for varied tasks over the last 2 years. It's a great knife, sturdy, well constructed, and holds a sharp edge. I would trust my life with it, I have already and it has not failed me."
"I am very happy with the USA-made quality. The spring-assist is very fast to open, feels good in the hand and it's a great everyday carry knife. Yes, you can shave the hair off your arms very easily with this one."
FAQs
What is a combat knife?
A combat knife or a tactical knife is a self-defense weapon that's best for close-range or hand-to-hand use. Combat knives were initially used solely by the military until they became commercially available to civilians.
Aside from self-defense purposes, combat knives are also very useful for everyday carry and surviving in the wild.
What is the best combat knife in the world?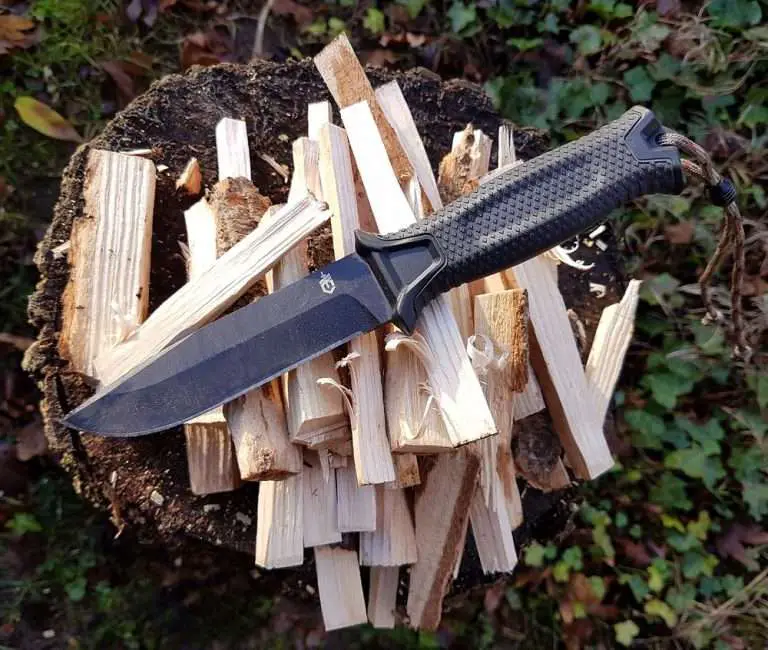 We pick the Gerber StrongArm Fixed Blade Knife as the best combat knife in the world. It's the combination of toughness and affordability. Its blade is a little shorter compared to its rivals, but it makes up for it with its versatility.
What knives do Navy SEALs use?
The US Navy SEALs get a standard issue of the Ontario MK3 Navy Knife.
Who makes the best military knives?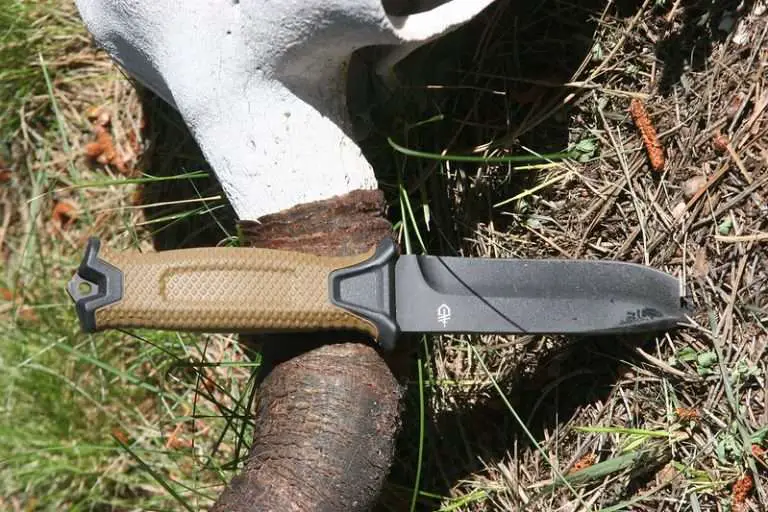 Gerber is one of the manufacturers that makes the best military knives. Gerber's knives are also great for EDC or for use downrange, at the worksite, or at the campground.
Who makes the best tactical knives in the world?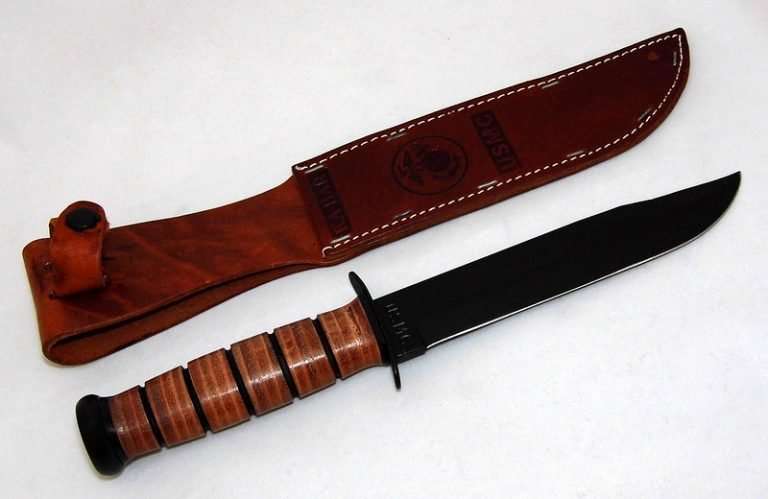 If you want a high-quality knife, get one from these manufacturers – Gerber, Ka-bar, Smith & Wesson, Zero Tolerance, and Kershaw.
Conclusion
The best combat knife in the world can get you through the most life-threatening situations, even the apocalypse. And you can bet your life on all of our choices above so be sure to pick one from them.
A concealed carry gun is another reliable self-defense weapon that's also preferred by many.  There are many types of gun holsters,  so choosing a concealed carry holster (or the best concealed carry purse) can be tedious. Click on the links above for the simplest and most comprehensive guides we put together. We also reviewed the best belly band holster, find out which brands make it to our top five.
Above all, it's important to know how to defend yourself in threatening situations, with or without a weapon.